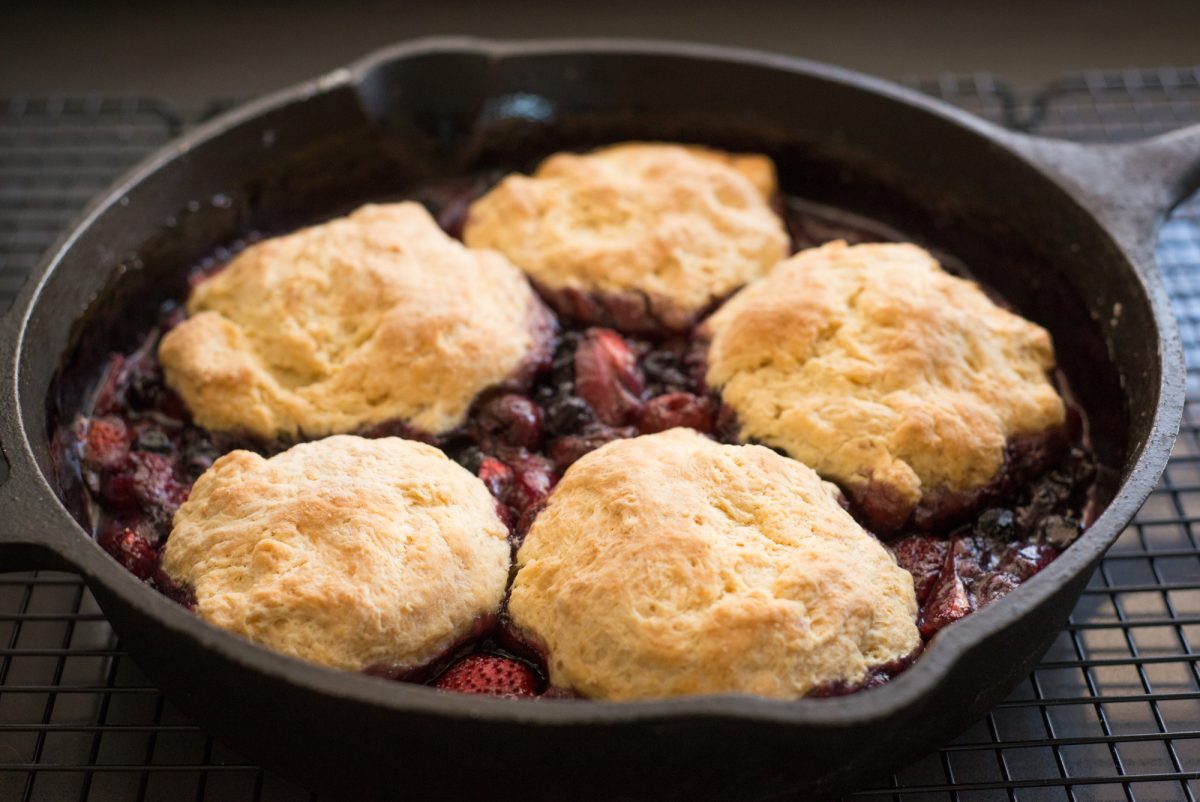 Summer's the very best time for all the fruit. I can't get over just how much I am in into berries right now, you guys. I originally was going to make this a cherry cobbler, but then I saw the strawberries and blueberries and thought, "Oh, yeah" and before I knew it, I was putting all the berries into this.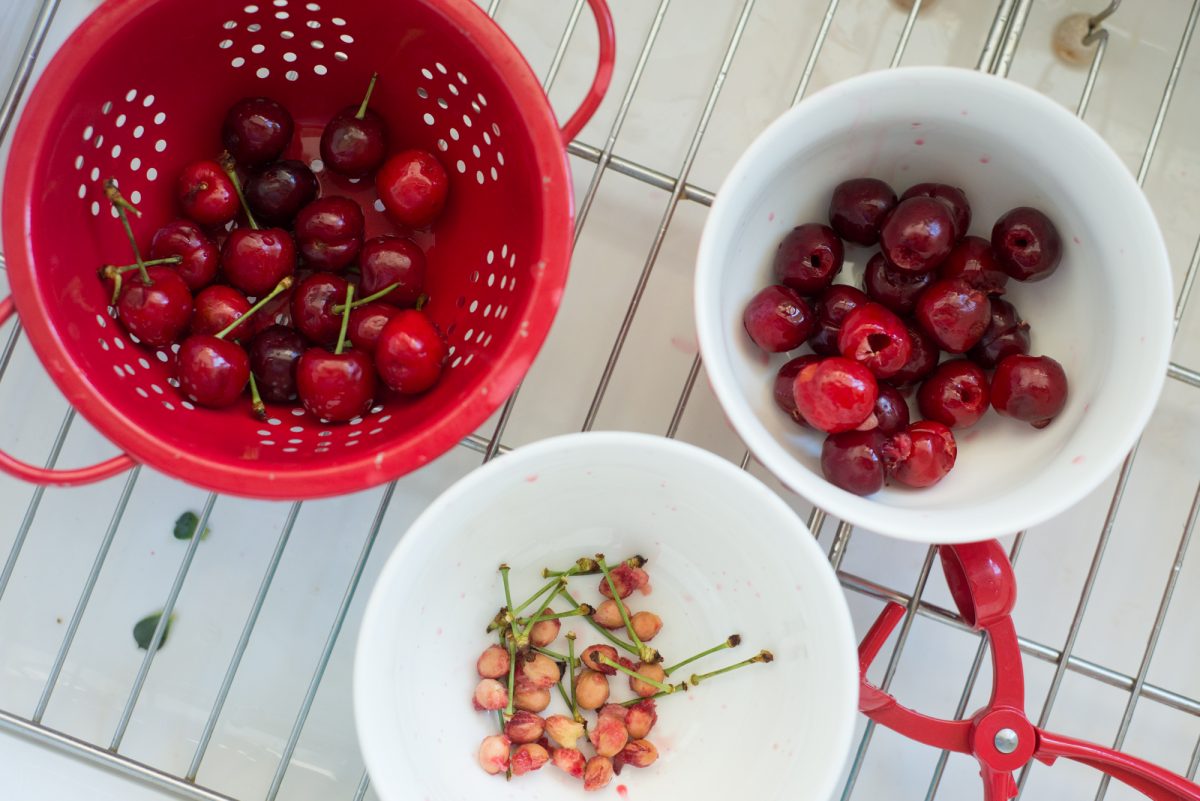 Pitting cherries can be quite satisfying. Now, you can do it with a wine bottle and chopstick, like we used to, because as I have mentioned before I'm not that into one-use tools; however have a cherry pitter does make these that much easier to eat. (PSST that's not the one I have, but I am sure it'll work just fine.)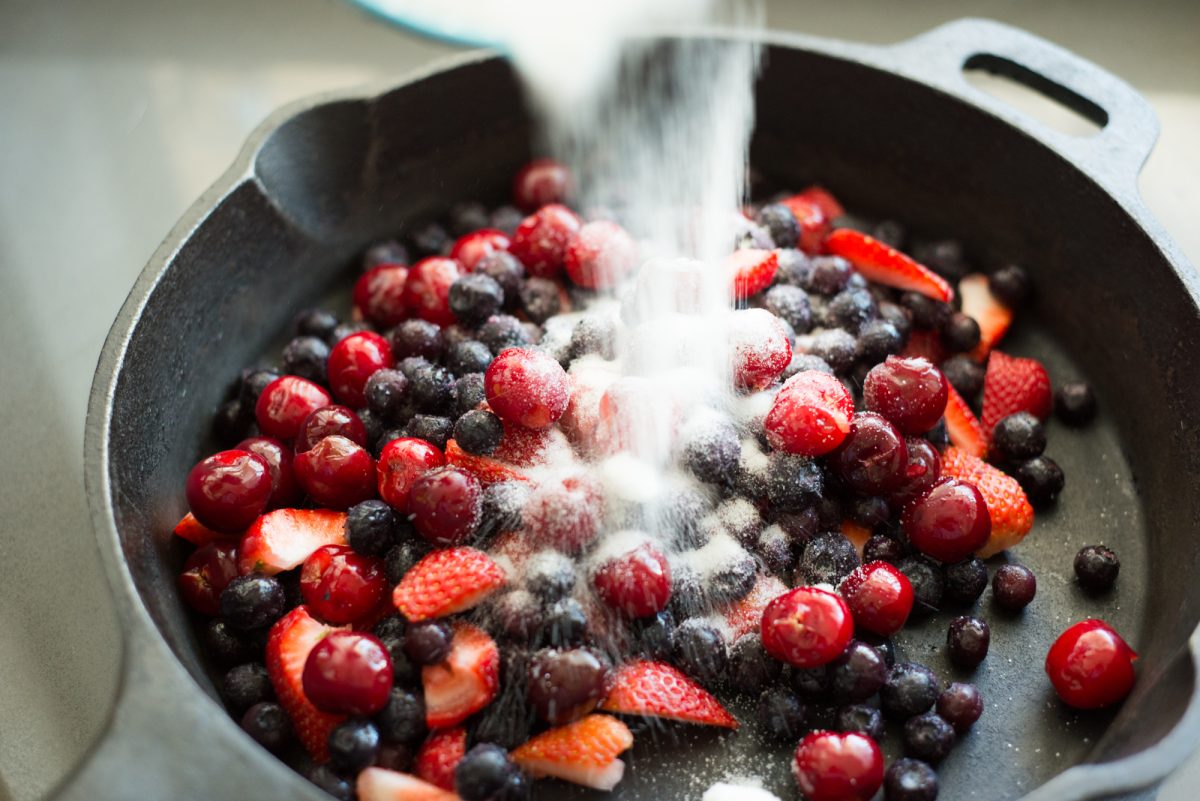 Cobbler is great because you can adapt it to whatever fruit combo you're into. I am not a huge fan of raw strawberries, for example, but they're pretty delicious when cooked, so I like them in a cobbler. Use whatever you want – raspberries would also be PERFECTO in this.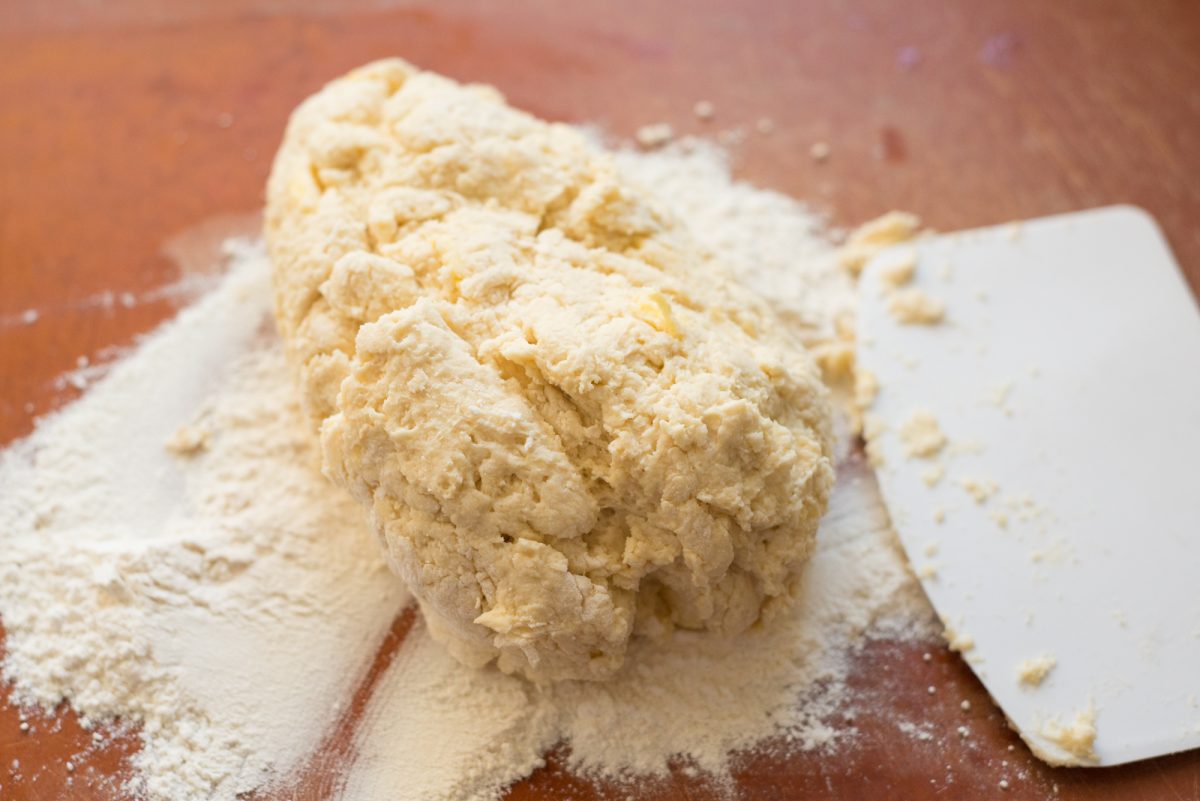 I used the dough like biscuits on top, but you can use it to make one big piece, if you want. Whatever you feel in your heart. The recipe is adapted from King Arthur Flour, so you know it's perfect. I used my cast iron, but you can use a casserole dish if you want – just make sure the sides go up high enough so the cobbler insides don't bubble over.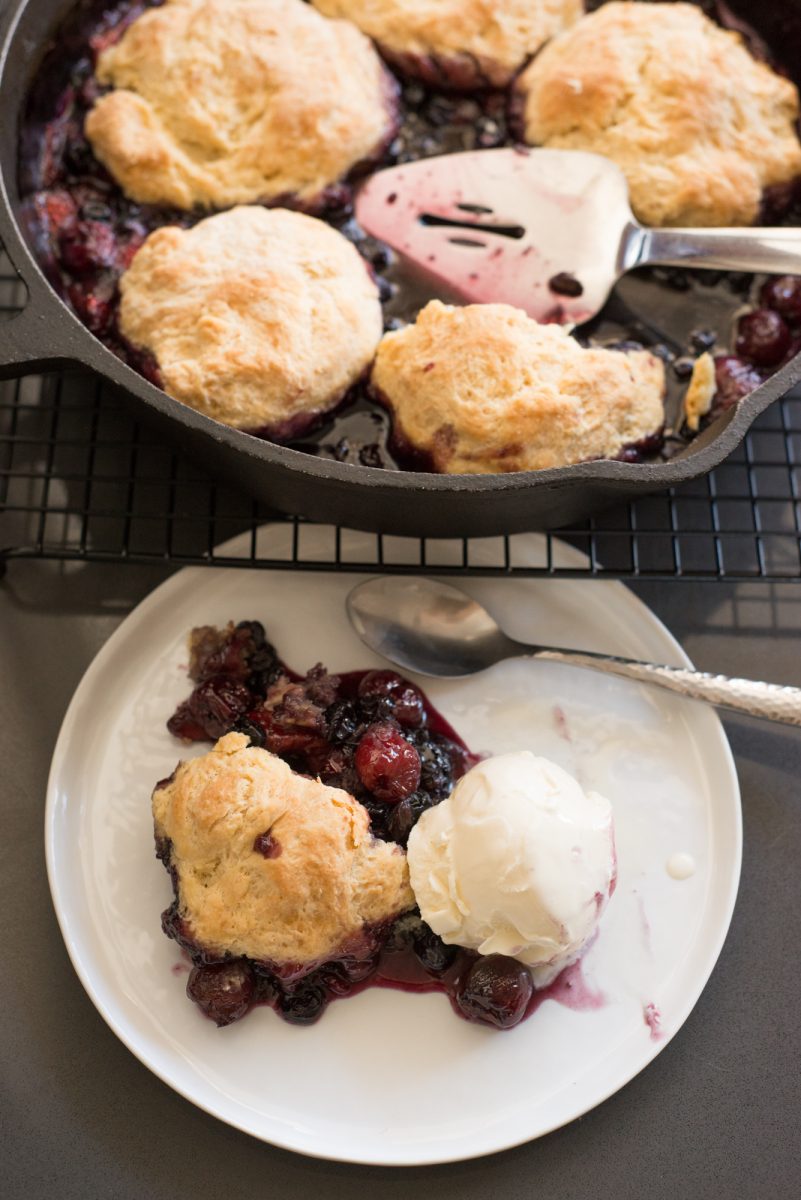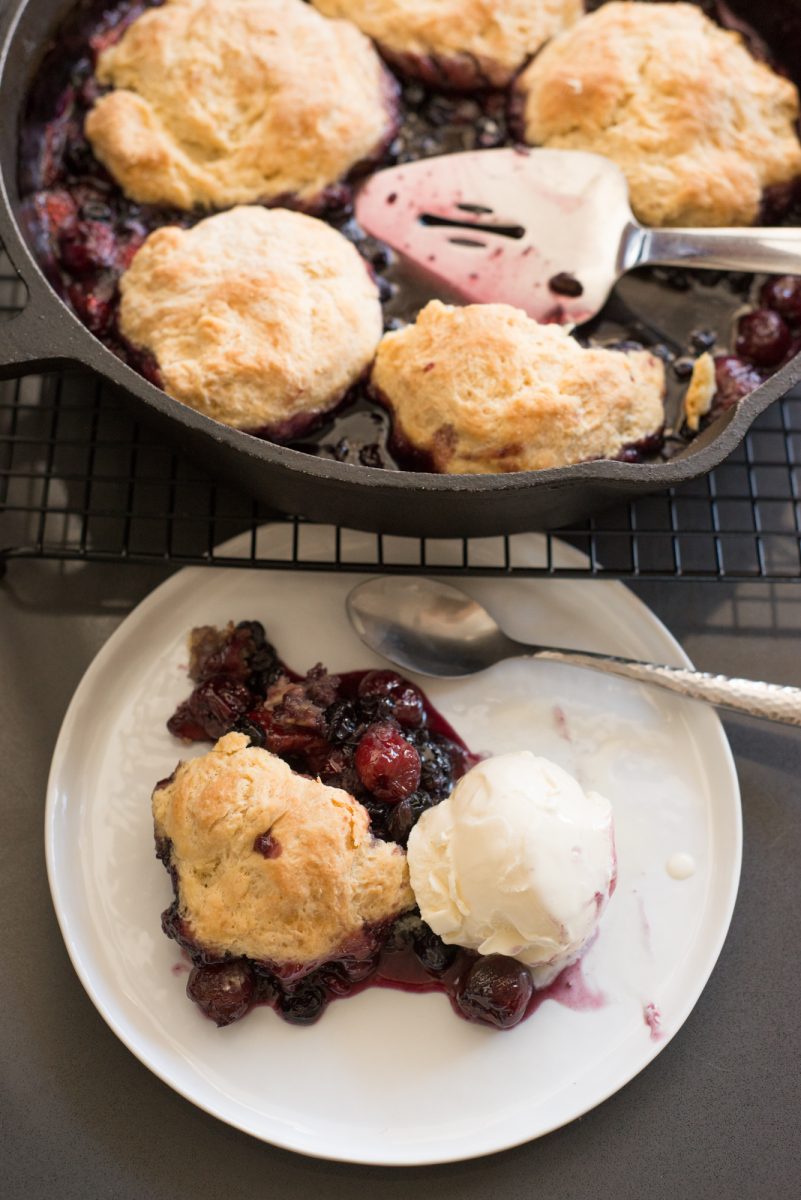 Recipe below – happy summer baking, my friends!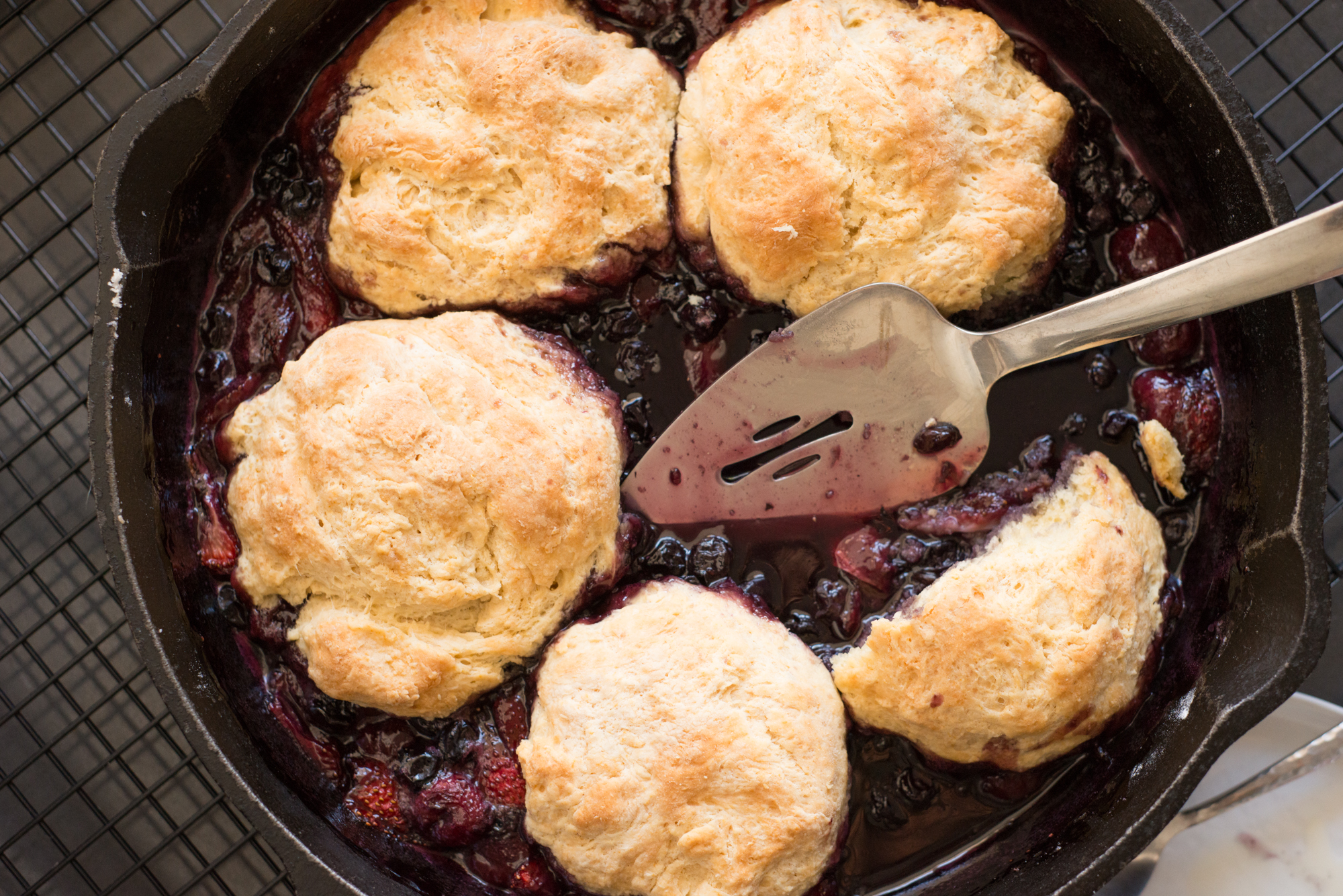 Type: Baking, Treats
Author: Jennie
Oven Temperature: 350°
Difficulty: Intermediate
Prep Time: 30 minutes
Cook Time: 45 minutes
Servings: 6-8
Summary
Adapted from the KAF All-Purpose Baking Cookbook.
Ingredients
2 pounds (8 cups) blueberries, cherries, strawberries
1 cup sugar (white or brown)
1 tablespoon cornstarch
2 1/3 cup all-purpose flour
1 tablespoon sugar
1/4 teaspoon salt
1 tablespoon baking powder
4 tablespoon unsalted butter
3/4 cup buttermilk
1 egg
Directions
Rinse fruit, and pit your cherries.

Grease a cast iron - I used a 12-inch cast iron that has 1.5 inch sides - you need the sides so that your insides don't bubble over.

Put your fruit, cornstarch, and 1 cup sugar into a bowl and mix well. Let sit, and meanwhile make your dough.

Measure flour, then add remaining dry ingredients - 1 tbsp sugar, 1/4 tsp salt, 1 tbsp baking powder. Then, cut up your butter and add in the butter until it looks like course cornmeal.

In a wet measuring cup, measure out 3/4 cups of buttermilk and add your egg. Mix well. (Hint: if you don't have buttermilk, add 1/2 tbsp white vinegar to milk and let sit for 10 minutes then use as buttermilk.)

Add your wet to your dry, and mix together quickly. Turn your oven on now - 350 F.

Now, turn out your dough onto a floured surface and "fold over gently until it's reasonably cohesive" (what a great quote, right?)

Shape your dough into a ball. Dump your fruit into your cast iron, then cover with your dough. I broke my dough into 4-5 dumpling-sized balls; do what you feel in your heart.

Bake for about 45 minutes, or until the top is browned. Serve warm with vanilla ice cream or whipped cream.
[addtoany]