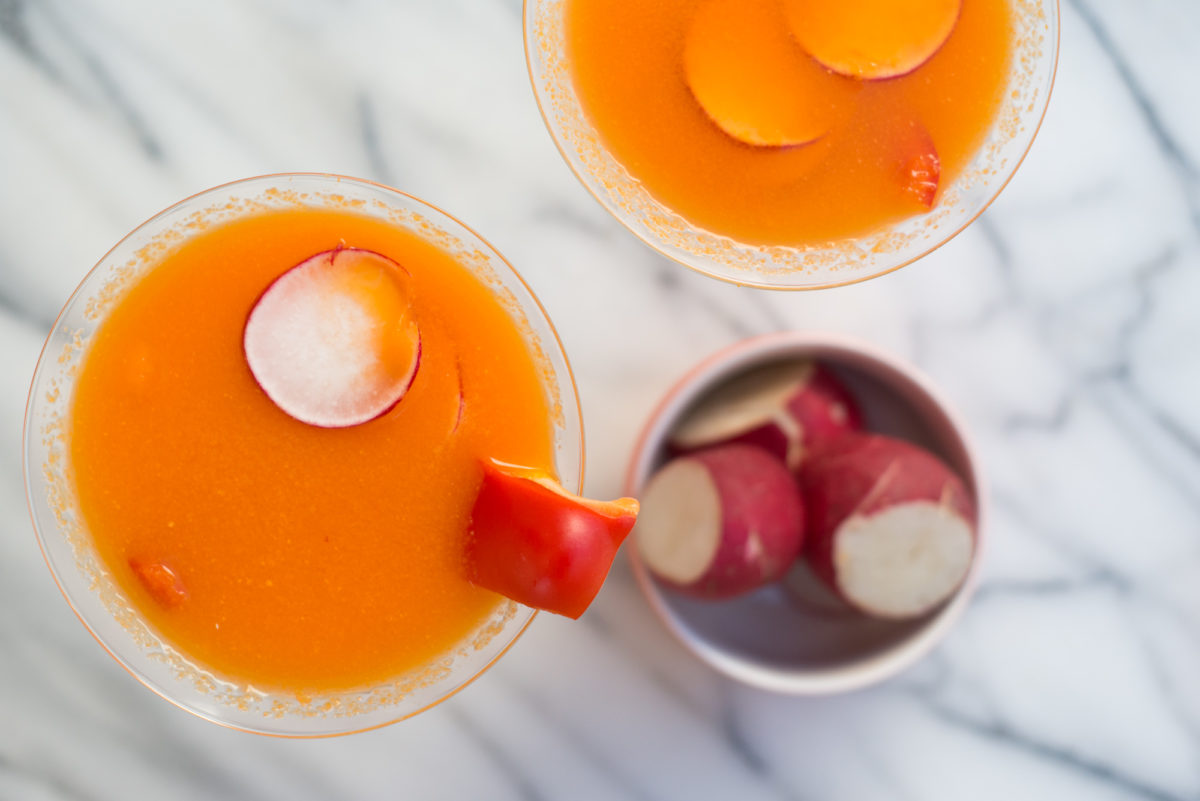 Summertime is here in full swing, and that means HOT weather and long afternoons. July has been hot and sticky here, and we've been in great need for a drink in the backyard that's not going to be too heavy for the weather. Garden cocktails are absolutely necessary from now until October in SoCal.
Enter this sweet yet vegetably cocktail, which packs in a couple veggies and some vodka for good measure. It's almost like you're drinking a super healthy juice, except ice cold with some vodka. The idea came to me when I was thinking about how sweet bell peppers can be, and how they get undermined a lot as a juice of choice.
Carrot juice is everywhere, beet juice is showing itself at Trader Joe's, but no bell pepper juice! And why, when they're so beautiful and delicious? So I grabbed an orange and a red one, and off I went to make a cocktail.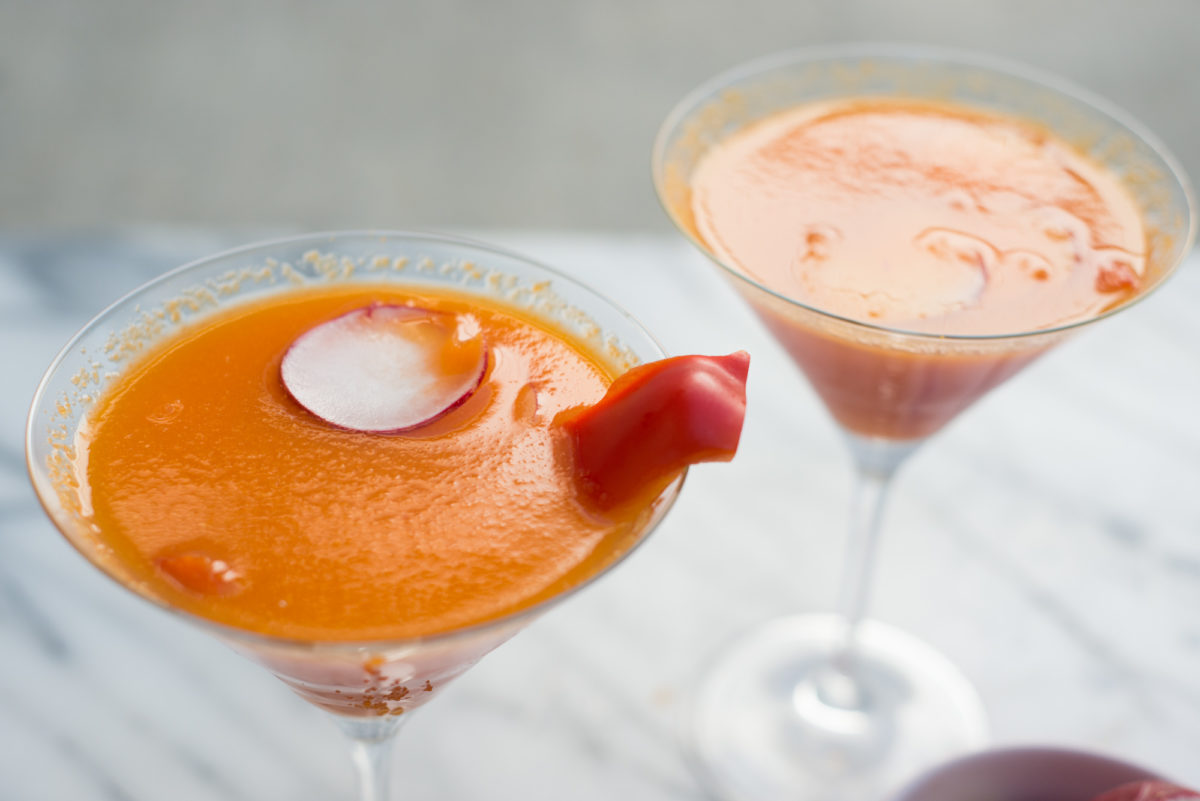 Of course, like all good things, I added some chilled vodka because it's summer and vodka make us feel like it's vacation all over again. And a radish, because I like my vegetables a little spicy – feel free to add a little black pepper, even, if you like! This was the right choice for an eighty-five degree afternoon sitting under an umbrella in my backyard reading a book and munching on a snack.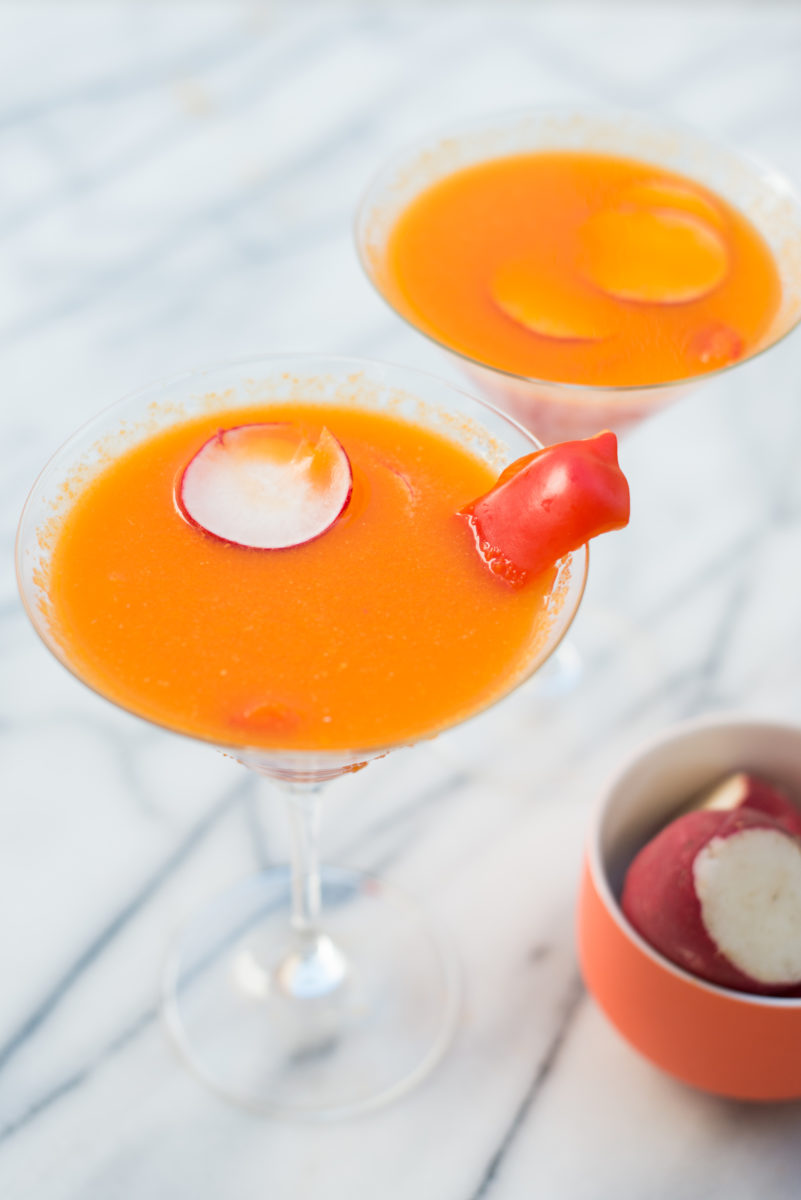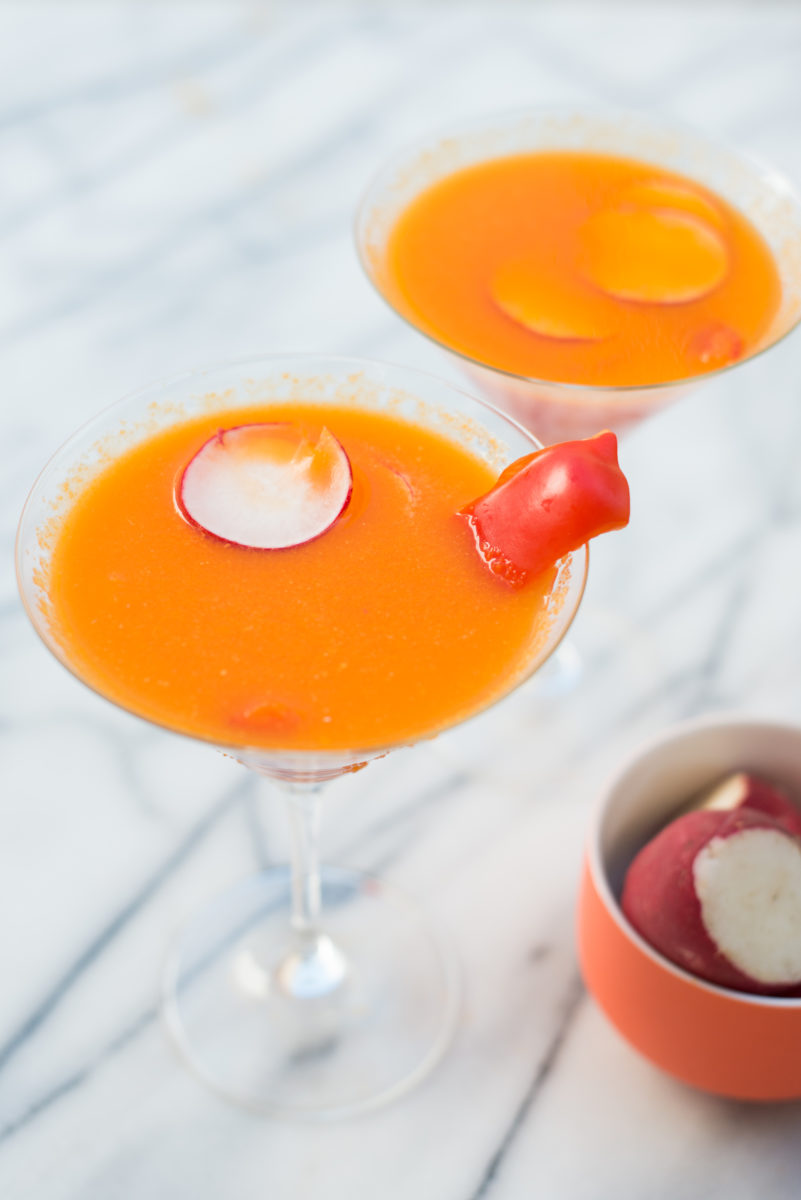 This cocktail is great with a tray of snacks – cheese and crackers anyone? Or, have it with a grilled salmon or steak – perfect sweet to savory. Or let's be real, have it alone then call it a vegetable serving, because it really is…just with an added bonus. Whatever you do, try this soon because it's easy and delicious and a great departure from overly sweet summer drinks that leave you sour the next day. Veggies are the way to go, alright!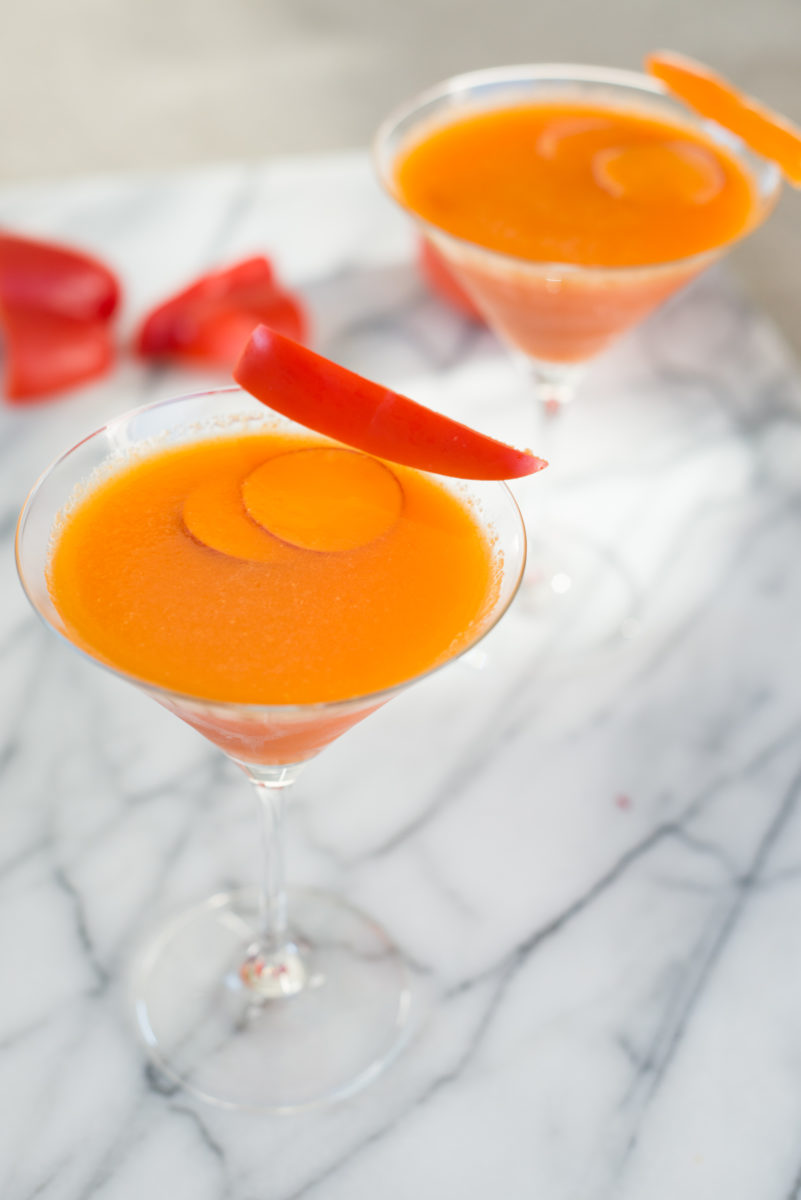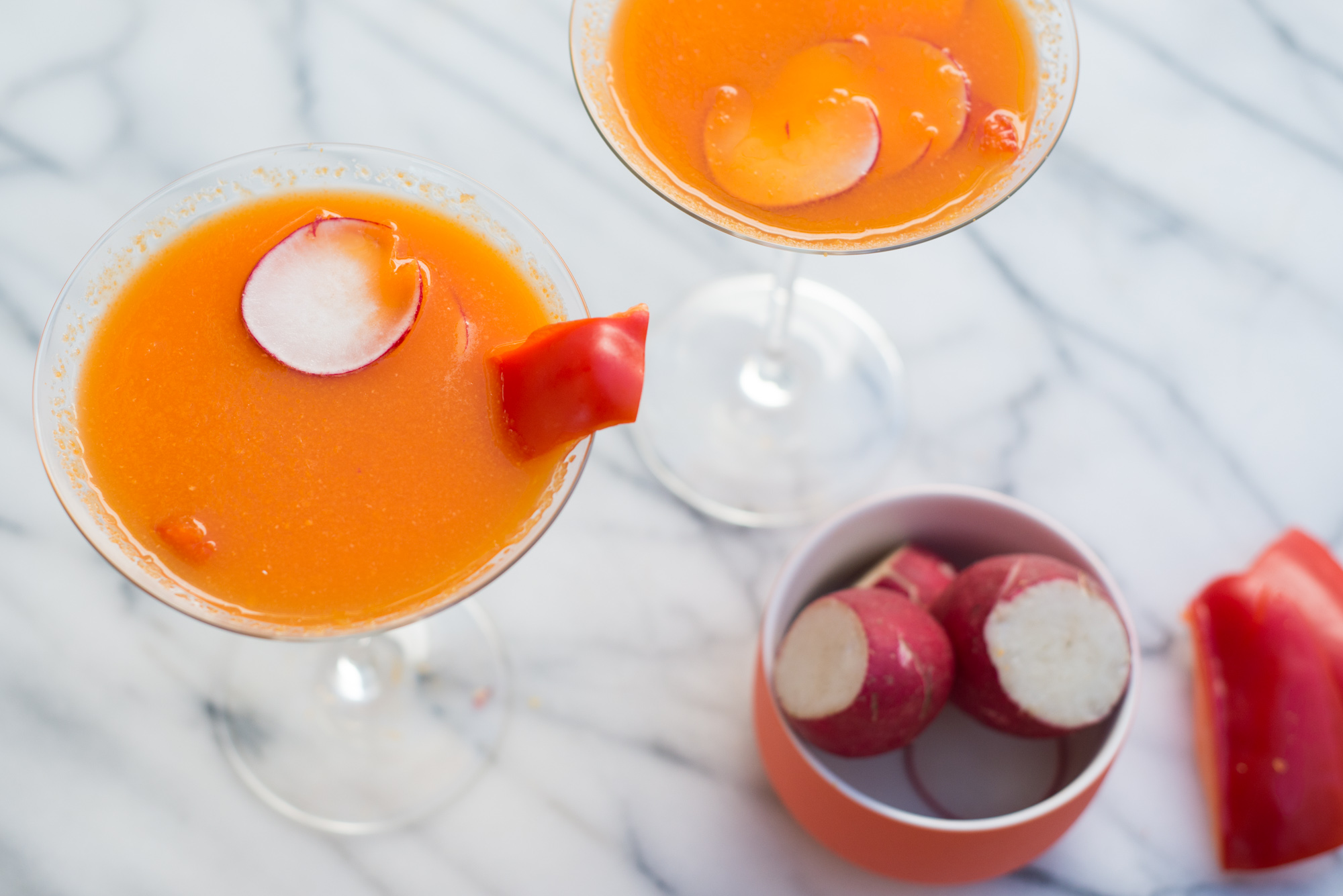 Type: Spirits
Author: Jennie
Difficulty: Easy
Prep Time: 5 minutes
Servings: 2
Ingredients
4 ounce vodka, chilled
1 bell pepper, roughly chopped (plus 2 pieces for garnish)
3 radishes, roughly chopped (plus 1 thinly sliced for garnish)
2 ounce carrot juice (optional)
Directions
Chop your bell pepper and radishes. With everything but the garnish, run through blender until smooth.

If desired, add carrot juice to blender and blend until smooth.

In a jar or cocktail shaker, shake vodka and ice vigorously for about 30 seconds. Strain into martini glasses.

Top with juice from the blender. Serve cold with pepper and radish slices.
[addtoany]
Yum