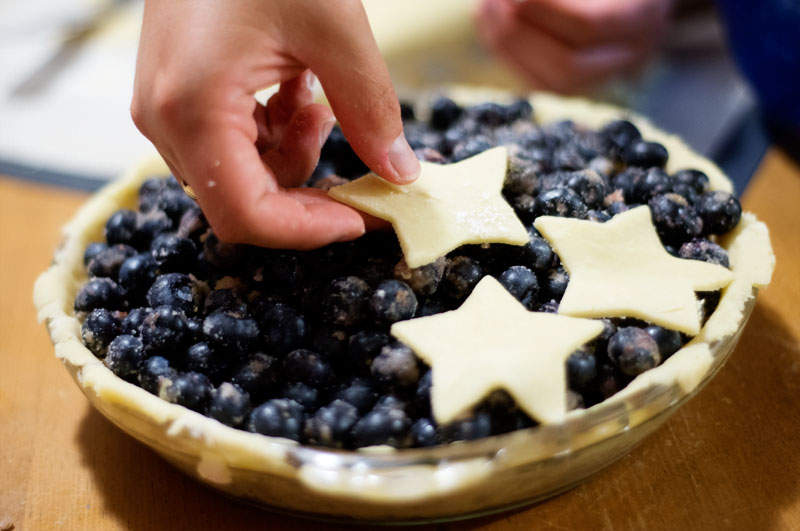 2 Crust Dough
Time: 20 minutes active, 70 minutes nonactive
2.5 cups King Arthur Gluten-Free Multi-Purpose Flour
2 tablespoons sugar
1teaspoon xanthan gum
1 teaspoon salt
12 tablespoons cold butter
2 large eggs
4 teaspoons vinegar
1. Mix dry ingredients (flour, sugar, xanthan gum, salt.)
2. Chop cold butter into pats. Incorporate into dry ingredients.
3. Whisk together eggs and vinegar.
4. Add to dry ingredients, roll into ball.
5. Refrigerate for 1 hour prior to rolling, and let sit at room temperature 10 minutes before rolling.
Pie filling
Time: 20 minutes active, 60 minutes nonactive 
2.25 lbs fresh blueberries, rinsed and stems removed
1/2 tsp lemon zest
1 tbsp lemon juice
1/4 cup gluten free multi-purpose flour
1/2 cup white granulated sugar (100g)
1/4 tsp cinnamon
2 tbsp butter (unsalted), cut into small pieces
1. Mix all ingredients except blueberries and butter.
2. Add blueberries and mix well.
3. Put blueberries into pie crust.
4. Top blueberries with butter pieces.
5. Top buttered blueberries with top crust (or crust stars).
6. Refrigerate 30 minutes (Pre-heat oven at this point).
7. Egg wash the top.
8. Place in oven for 20 minutes at 425.
9. Lower heat to 350 and let bake 30-40 more minutes.
Yum