If you're not into our baklava from yesterday, or maybe there is a nut allergy at your Thanksgiving, you should give crisp a try. Crisp is easy. It's forgiving. It has fruit, even! We love apple crisp, but something about pear crisp screamed simple and delicious to us. Plus, whenever we've made apple crisp in the past the apples get watery – not so with these pears!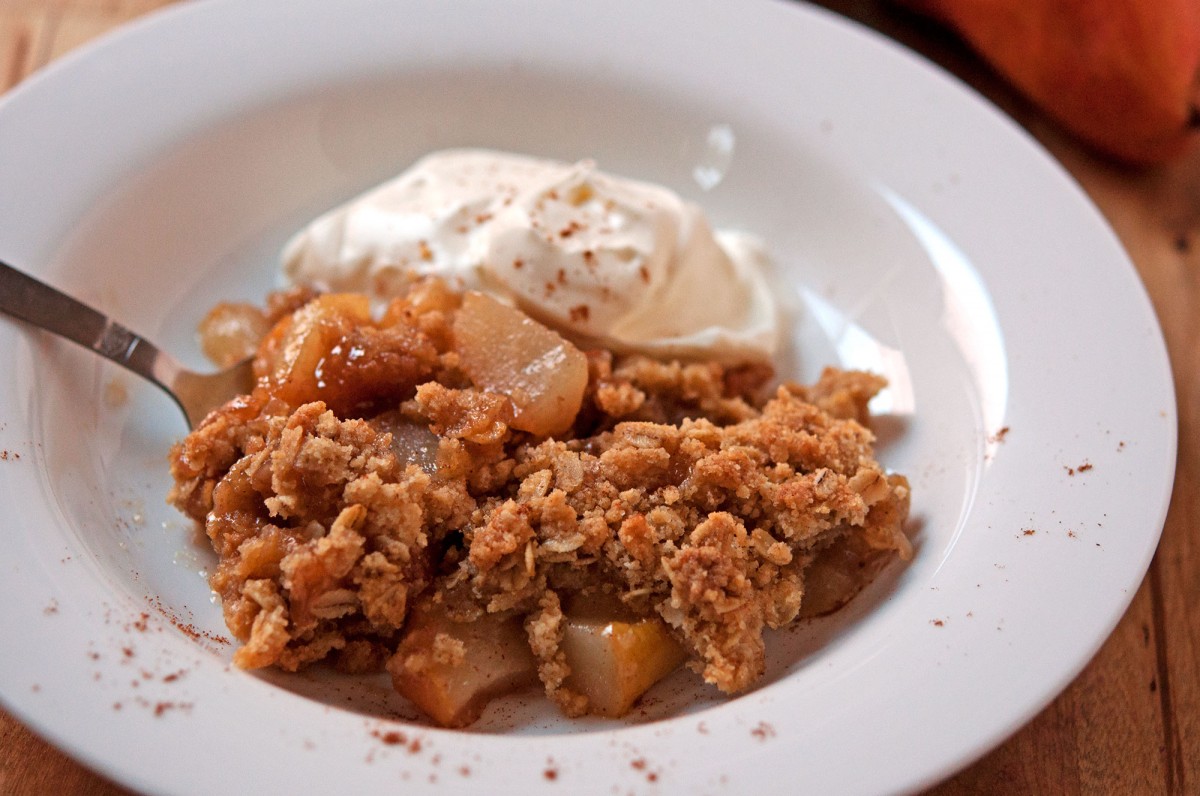 This dish is best served with crème fraîche or ice cream or whipped cream – the key is cream of some kind. For this dish, we used a 9 inch cast iron.
Ingredients:
For the filling:
3 large red Bartlett pears
1 teaspoon grated lemon zest
2 tablespoons freshly squeezed lemon juice
1/4 cup granulated sugar
3 tablespoons all-purpose flour
1/2 teaspoon ground cinnamon
1/2 teaspoon ground nutmeg
For the topping:
3/4 cup all-purpose flour
6 tbsp sugar
6 tbsp brown sugar
1/4 teaspoon kosher salt
1/2 cup old-fashioned oats
1  sticks cold unsalted butter, diced
Directions:
1. Preheat your oven to 400 degrees. Start with your pears. Chopped them roughly – they don't need to be too small, and you don't need to skin them. Add the lemon juice, lemon zest, sugar, flour, cinnamon, and nutmeg and mix well – hands are fine.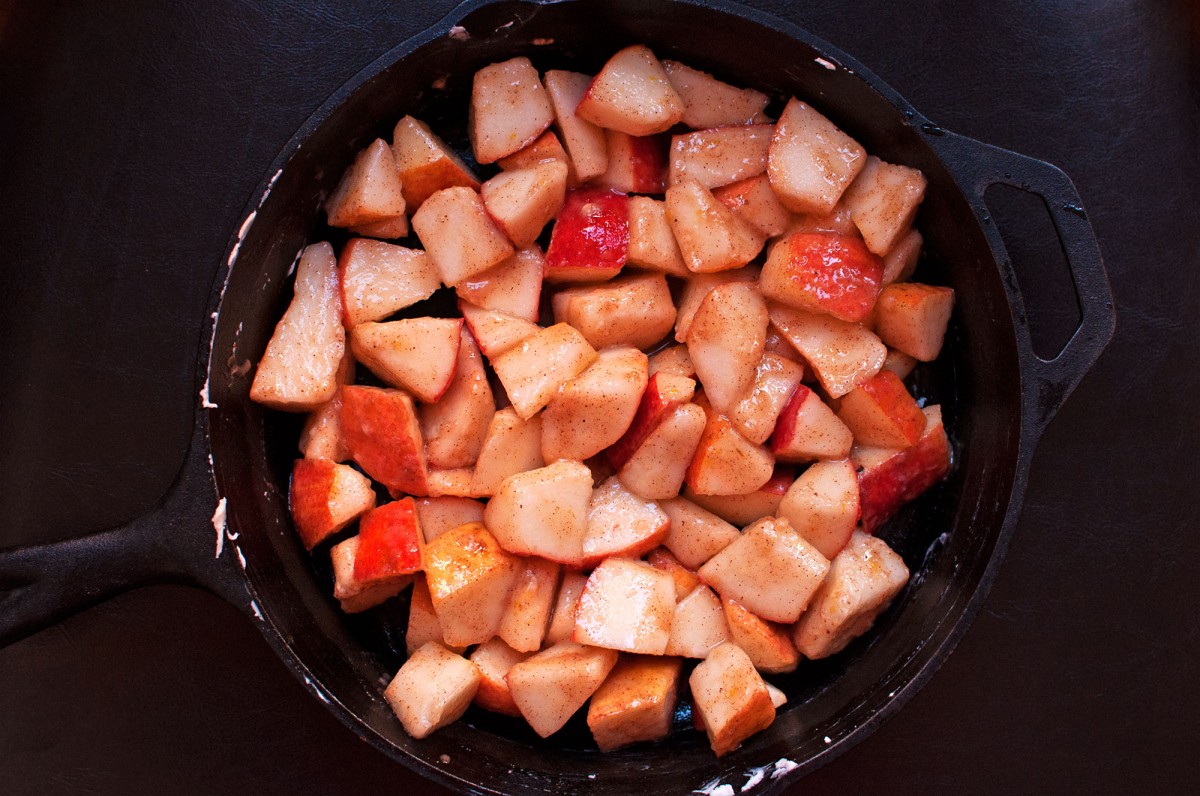 2. Put your nicely sugared pears in your buttered cast iron. Buttering it probably isn't necessary, but it is delicious.
3. Next, make your topping. Dice your cold butter, and put it in a bowl with your flour, sugars, salt, and oatmeal. Mix together (hands also work) until the butter is crumbly and the mixture is coarse. Don't do it too fine – you want some butter to be visible.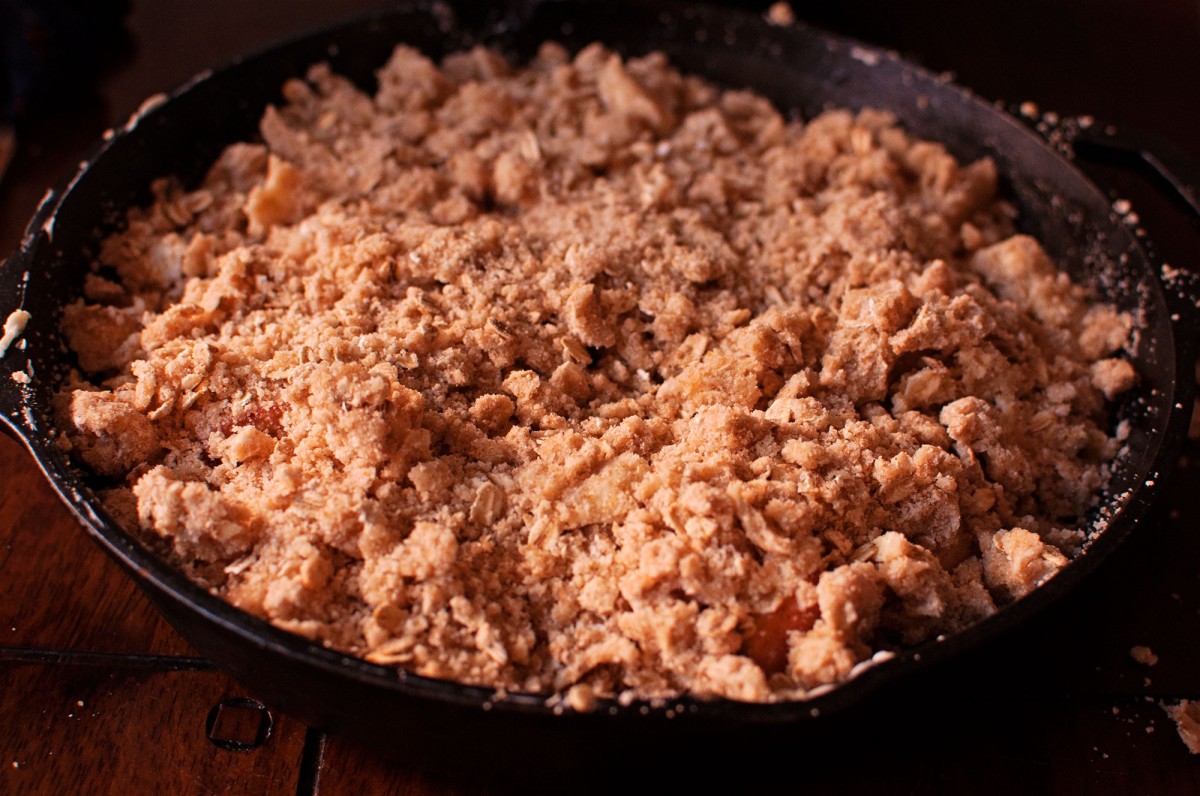 4. Now, stick the topping across all the pears, as shown above. Try not to leave any pear showing! Once you've done that, stick it in the oven for about 45 minutes, until browning and bubbling.
5. Serve warm with some kind of cream and a little sprinkle of cinnamon.
There you have it – a couple of steps and you have a crisp to make the others jealous. This crisp warms up nicely again, can be served cold, and can be doubled to feed a larger crowd.
Tell us – what's your fave crisp for the fall?
[addtoany]
Yum