Our dear friend Cricket's birthday was last week, and of course Rebecca and I signed up to make the cake. OK, well I signed Rebecca and I up to make this cake.
I wanted to make PW's chocolate sheet cake, but some research proved that we made that for her birthday last year! Luckily, PW also had another recipe to try.
Milky Way cake. Despite the fact that I didn't really know what a milky way contained, I was more than excited to make the cake. 11 candy bars? Sign me up.
Here's the recipe.
11 whole Milky Way Bars (regular Size), Divided Use
3 sticks Margarine, Divided Use (or butter, if you're a snob)
2-½ cups All-purpose Flour
½ teaspoons Salt
½ teaspoons Baking Soda
½ cups Buttermilk
3 teaspoons Vanilla Extract, Divided
2 cups Sugar
4 whole Eggs
2 cups Powdered Sugar
1 dash Salt
½ cups Milk (more If Needed)
1 cup Finely Chopped Pecans
We went to Ralph's, where I found 10 for $10 fun packs of Milky Ways. This led to Becca and I (mostly me) frantically doing math in the check line to make sure we had enough ounces of Milky. The Ralph's woman proceeded to laugh at Rebecca and I the entire check out time.
Turns out, I didn't get enough – I never claimed to be a mathematician. I did go to Emerson, after all. Never fear, as we had some leftover Snickers bars from Megan's birthday party. I sat for 10 minutes unwrapping all the fun sized Milky Ways. I did not anticipate the extra waste plastic wrappers. Whoops.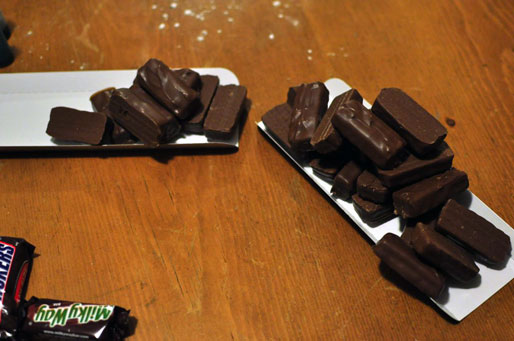 Delicious. And I was about to find out just what was in a Milky Way.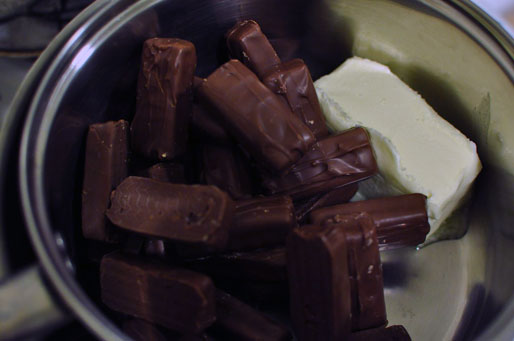 Double boil eight Milky Way bars, or 25 and a half fun sized Milky Way bars, and a stick of margarine, slash butter if you don't believe in margarine.
Ahh, so this is what is in a Milky Way – nougat, and caramel, and chocolate! I think I like Milky Ways!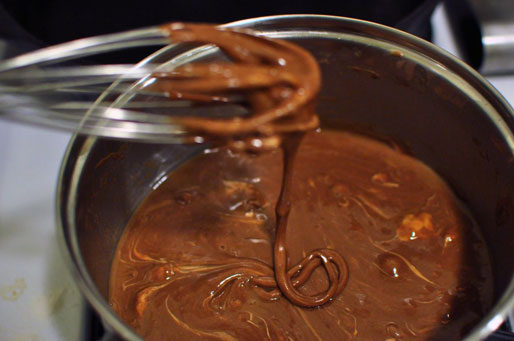 Meanwhile, cream together your butter and sugar.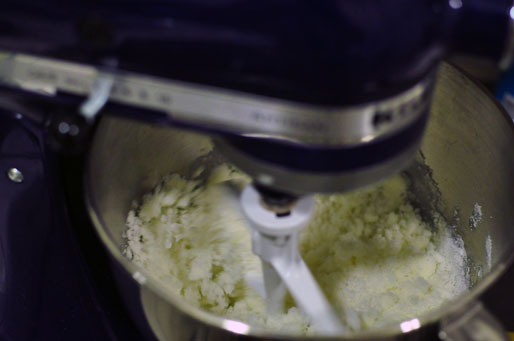 Meanwhile, cream together the sugar and some butter, and then add one egg at a time.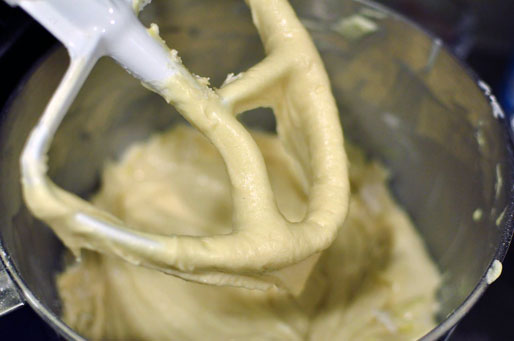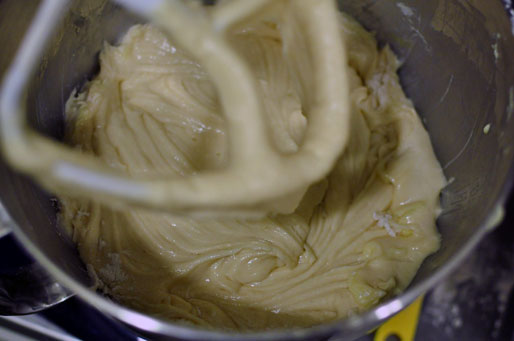 Then add the buttermilk mixture (see the recipe for more depth instructions) and add the flour.
Now it's time for Milky Ways.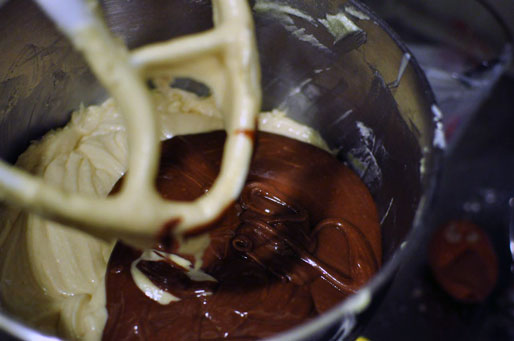 Add your Milky Way/butter mixture.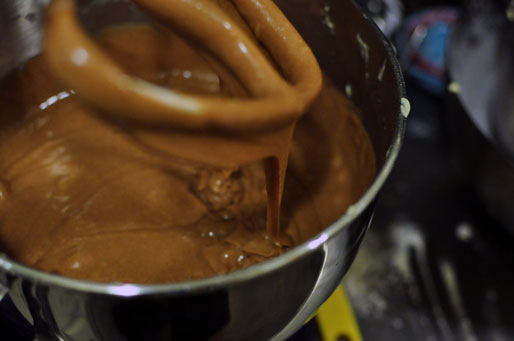 Mix well.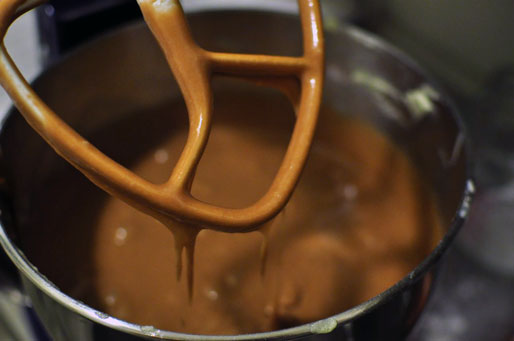 Delicious.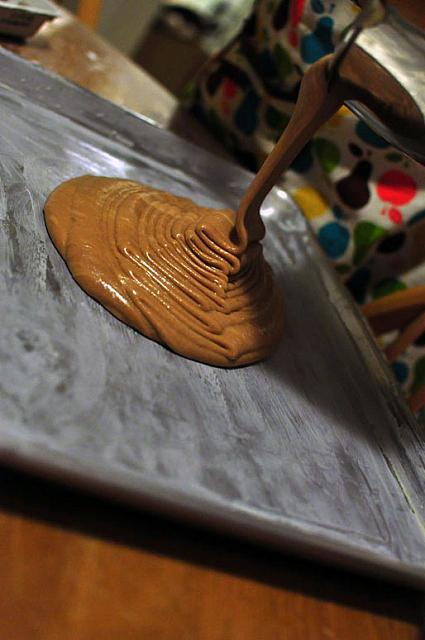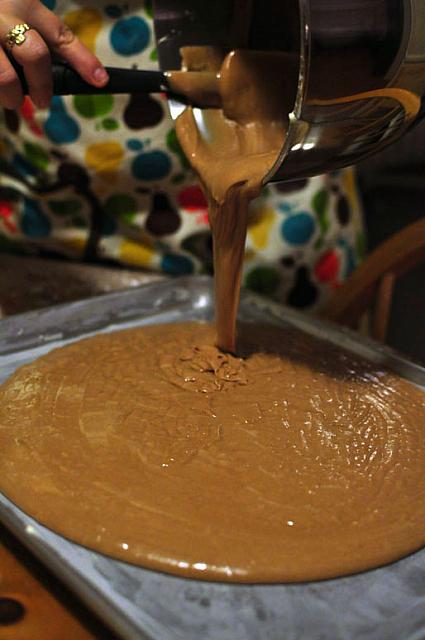 Pour it out, spread it out…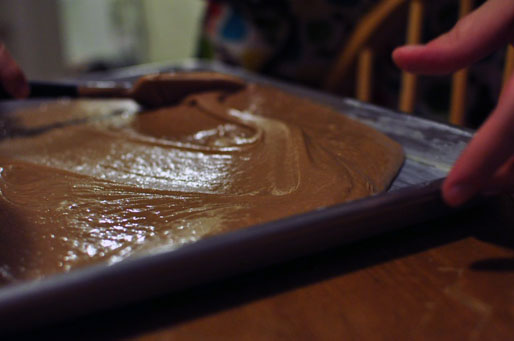 Spread it, spread it, spread it…stick in the oven.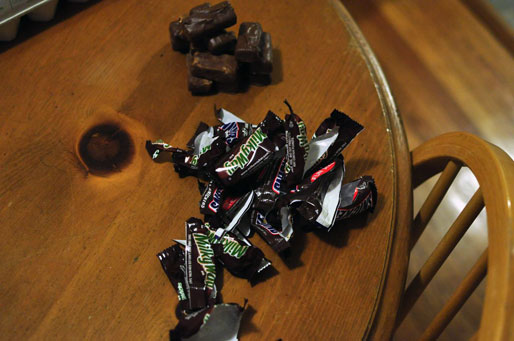 Then you need to unwrap some more Milky Ways, and your Snickers.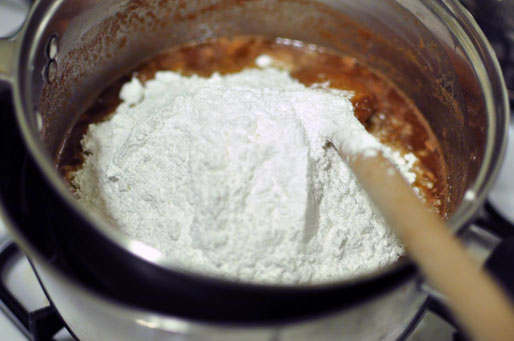 So melt your chocolate and then add some powdered sugar.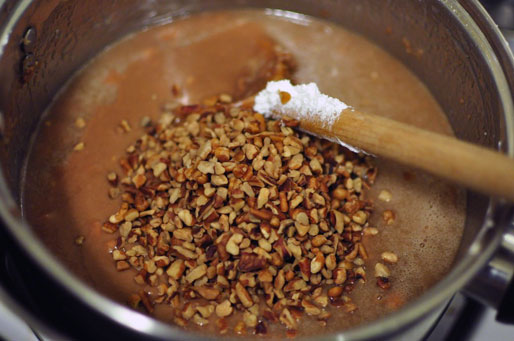 Add your pecans.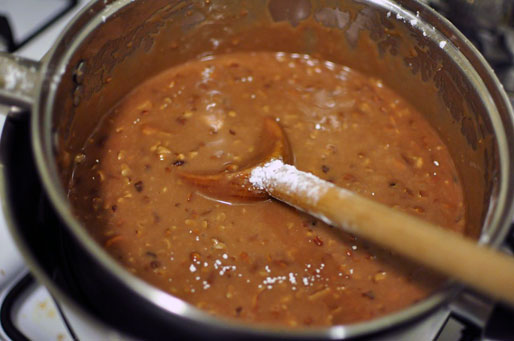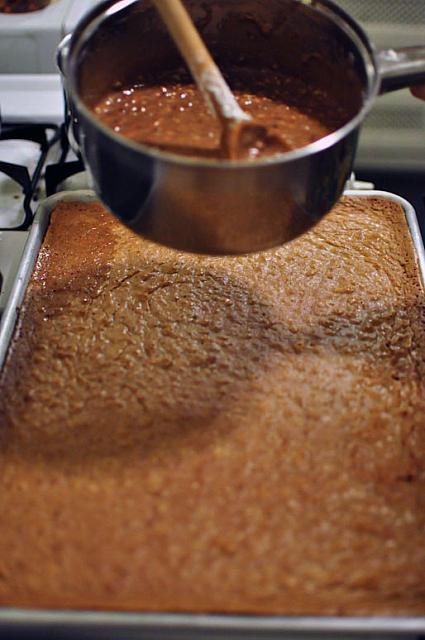 And, yep, you guessed it…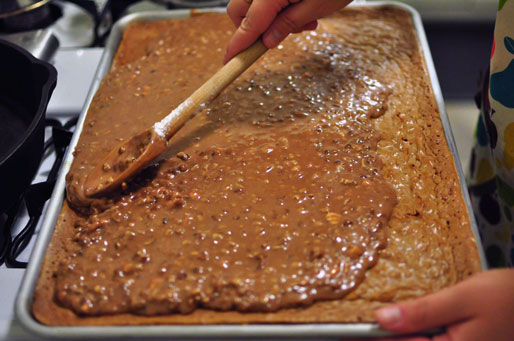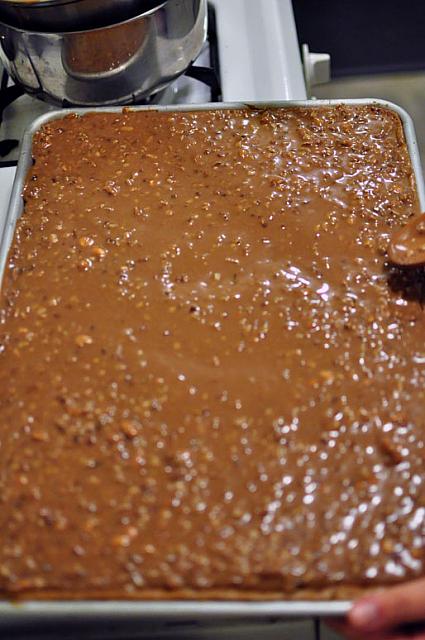 Serve to hungry friends. They'll thank you. Then, bring the leftovers to work, and your co-workers will love you forever!
[addtoany]
Yum