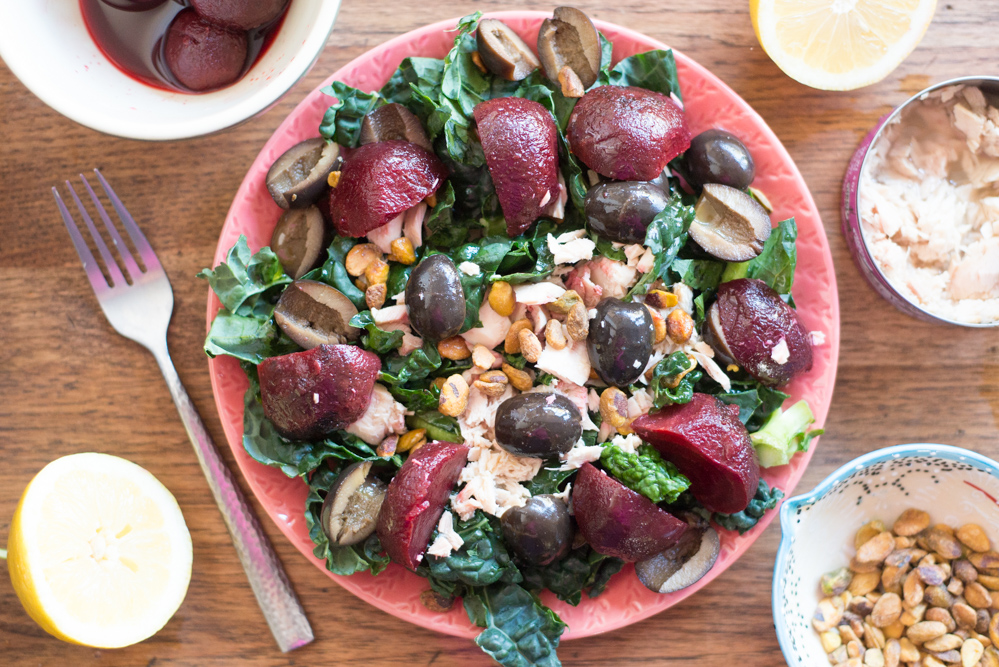 Damn doing this Whole30 in January, you guys. July seems like a much better month – berries everywhere, the grill's out and ready for all the steak…maybe I'll have to do another (starting July 5, of course.) Anyways, despite the fact that it's January and cold(er) in LA, I did want to get you guys a salad recipe.
I love salads because they're easy and feel fancy even when they're not. When Jeff's traveling, I reach for a big salad with goat cheese, chicken, a couple of veggies, some lemon-sumac dressing, and sun dried tomatoes! It was hard for me to figure out how to make a salad without cheese (first world problems) but I persevered and here's this salad that doesn't even feel like anything's missing.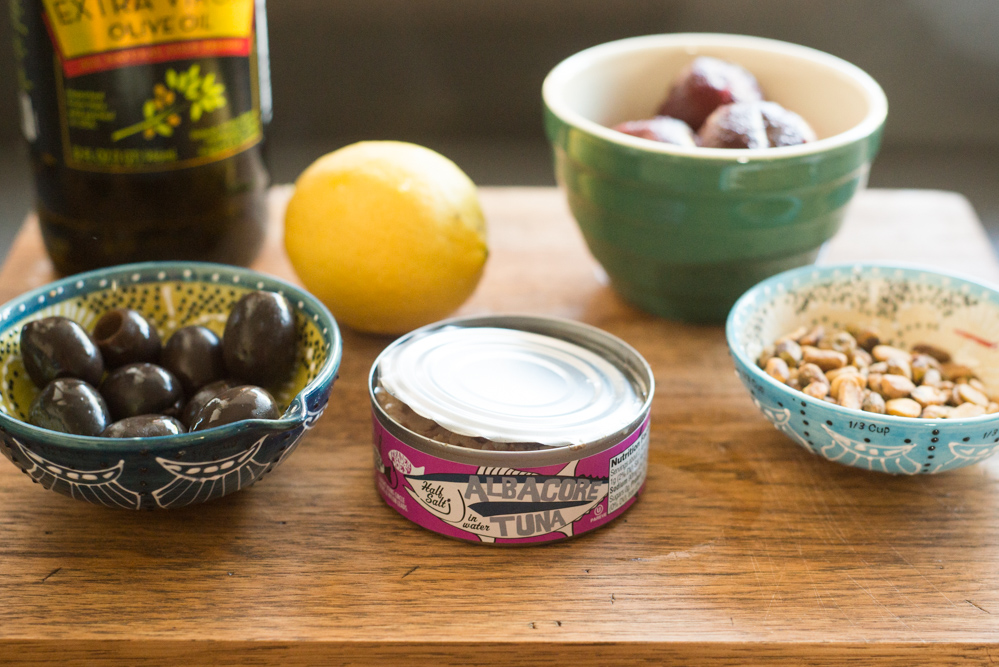 First off all, this salad has tuna. If you don't like tuna, you probably should do some soul searching and try it again. BUT if you still don't like it, use chicken, or tofu, or steak, or just leave it out and this salad will still be good (but not as good, tuna is delicious, you guys.) We also have olives here. If you don't like those, then I don't know what to tell you because this becomes an entirely different salad. BUT I LOVE OLIVES. Ahem.
I used pistachios here, because I love those too (basically this is a salad of foods I love but don't eat enough of!) but you could use cashews too, if you feel like it. Then beets – I get the ones that are precooked at TJs, or just roast some up and put them on this salad warm (YUM.) I use kale as the base of this one, because I like the heartiness of it – the lemon juice breaks it down a little so it's not TOO strong. If you're wary of kale, throw it in with the lemon juice for 5-10 minutes before you add the rest of the ingredients.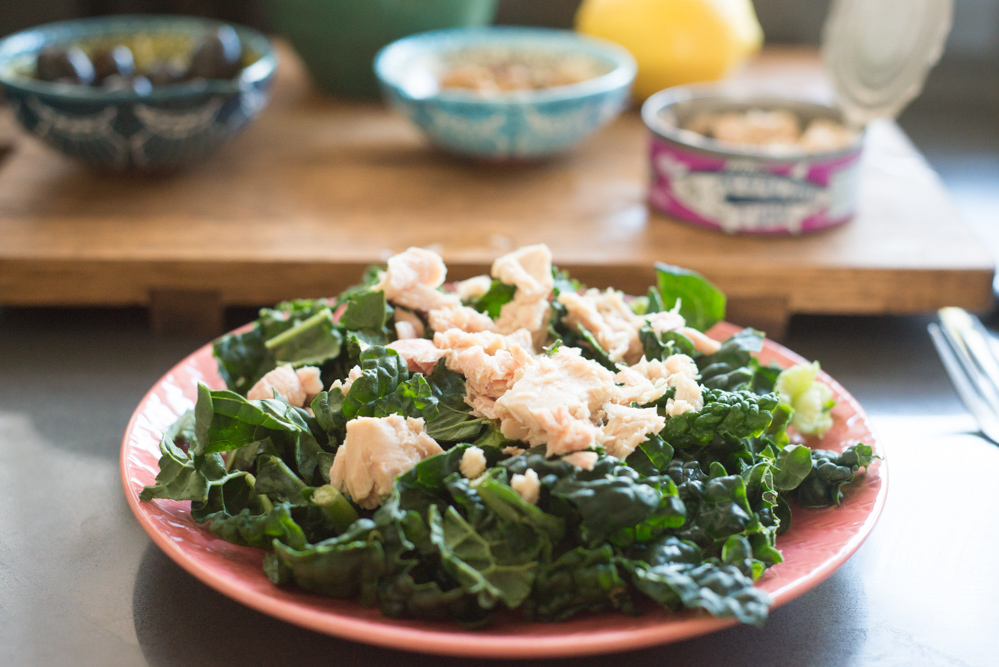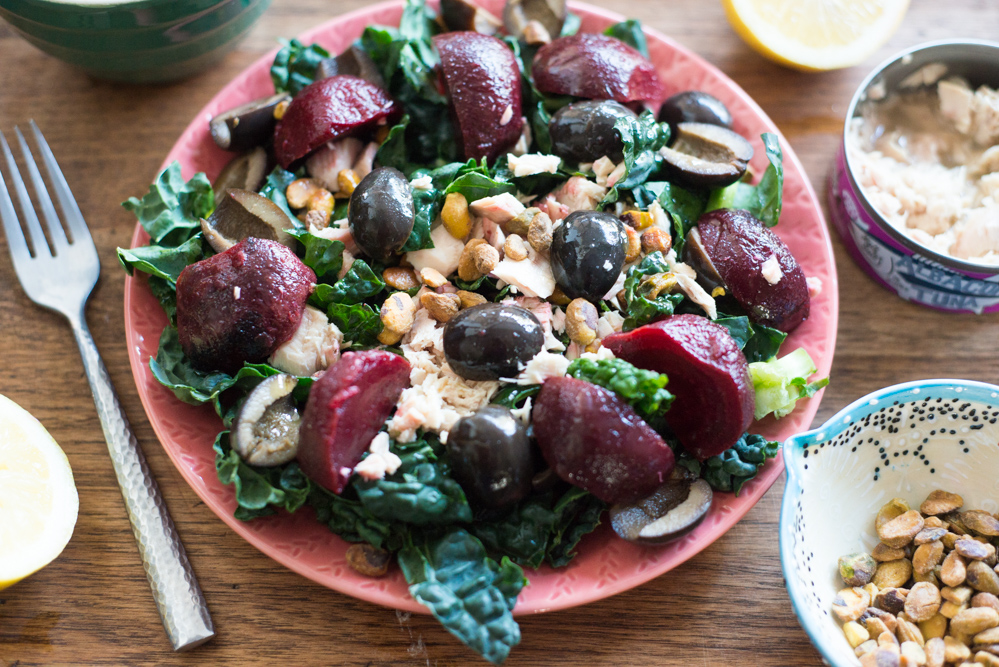 Type: Main Course, Paleo, Salad
Author: Jennie
Difficulty: Easy
Prep Time: 10 minutes
Servings: 2
Ingredients
1 can tuna
1 can olives, cut in half
4-6 beets, chopped
1/3 cup pistachios, shelled
1 bag/bunch kale
juice of 1 lemon
olive oil
Directions
Open tuna and drain. Separate it with a fork.

Chop olives and beets.

Shell pistachios if needed.

In a bowl, toss kale, lemon juice, and a gulg (about 1-2 tsp) olive oil.

Add pistachios, beets, olives, and tuna. Toss well, serve.
[addtoany]
Yum