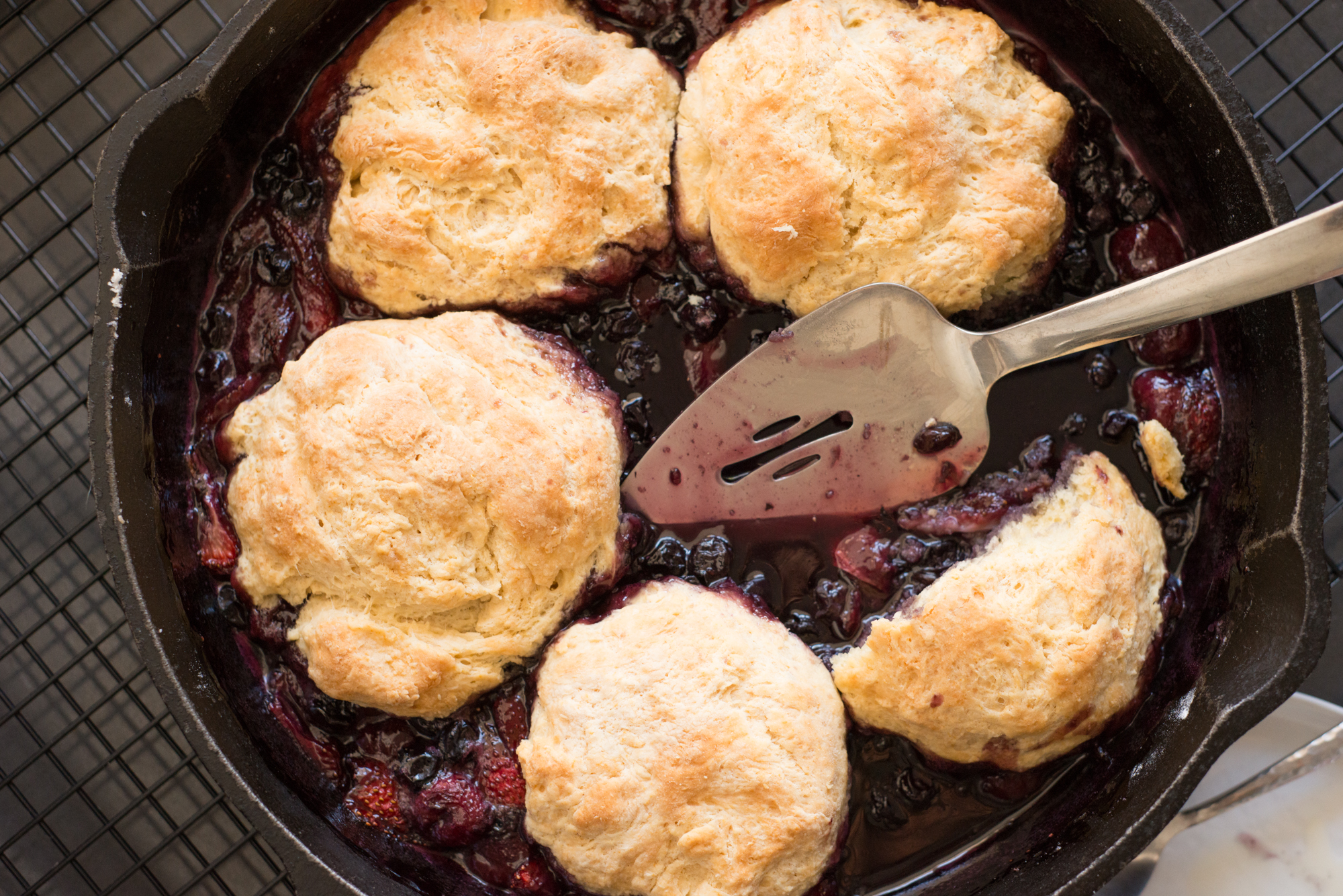 Type: Baking, Treats
Author: Jennie
Oven Temperature: 350°
Difficulty: Intermediate
Prep Time: 30 minutes
Cook Time: 45 minutes
Servings: 6-8
Summary
Adapted from the KAF All-Purpose Baking Cookbook.
Ingredients
2 pounds (8 cups) blueberries, cherries, strawberries
1 cup sugar (white or brown)
1 tablespoon cornstarch
2 1/3 cup all-purpose flour
1 tablespoon sugar
1/4 teaspoon salt
1 tablespoon baking powder
4 tablespoon unsalted butter
3/4 cup buttermilk
1 egg
Directions
Rinse fruit, and pit your cherries.
Grease a cast iron - I used a 12-inch cast iron that has 1.5 inch sides - you need the sides so that your insides don't bubble over.
Put your fruit, cornstarch, and 1 cup sugar into a bowl and mix well. Let sit, and meanwhile make your dough.
Measure flour, then add remaining dry ingredients - 1 tbsp sugar, 1/4 tsp salt, 1 tbsp baking powder. Then, cut up your butter and add in the butter until it looks like course cornmeal.
In a wet measuring cup, measure out 3/4 cups of buttermilk and add your egg. Mix well. (Hint: if you don't have buttermilk, add 1/2 tbsp white vinegar to milk and let sit for 10 minutes then use as buttermilk.)
Add your wet to your dry, and mix together quickly. Turn your oven on now - 350 F.
Now, turn out your dough onto a floured surface and "fold over gently until it's reasonably cohesive" (what a great quote, right?)
Shape your dough into a ball. Dump your fruit into your cast iron, then cover with your dough. I broke my dough into 4-5 dumpling-sized balls; do what you feel in your heart.
Bake for about 45 minutes, or until the top is browned. Serve warm with vanilla ice cream or whipped cream.
Yum