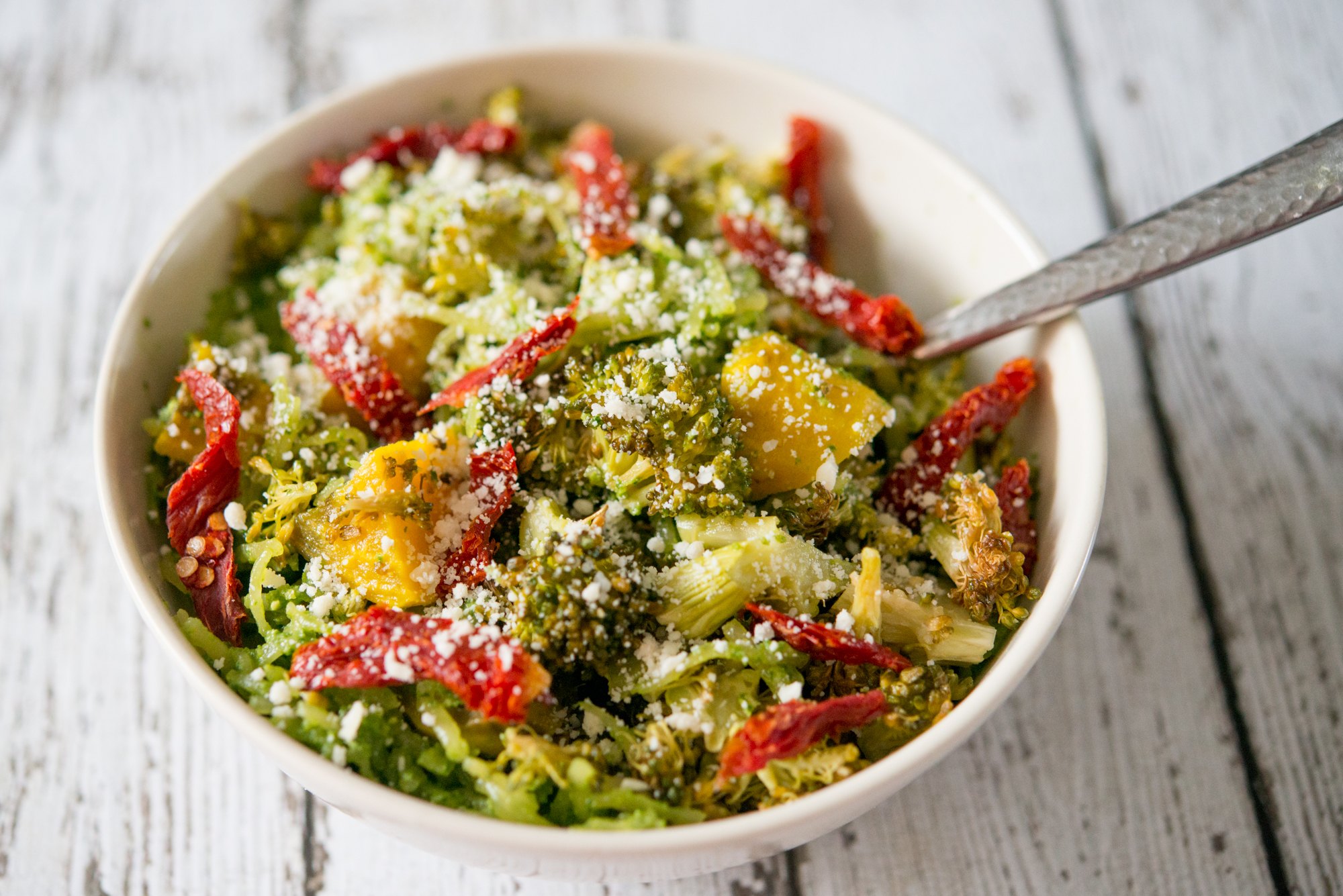 Type: Gluten Free, Main Course
Author: Jennie
Oven Temperature: 400°
Difficulty: Intermediate
Prep Time: 30 minutes
Cook Time: 35 minutes
Servings: 4
Ingredients
1 spaghetti squash
1 package pesto sausage (We use TJs)
1 recipe arugula pesto
olive oil
s/p
3 medium sized beets
1 crown broccoli
1/2 cup sun dried tomatoes
1/4 cup Parmesan cheese
Directions
Turn on your oven to 400 degrees. Start by roasting your spaghetti squash. First, chop off the bottom or top to give yourself a flat surface, then cut your spaghetti squash length wise (also known as hot dog.) Scoop out the seeds. Place on a rimmed baking sheet with about a half inch of water skin side up.
Now, roast your vegetables: dice your beets and chop up your broccoli, then drizzle with olive oil and salt and pepper. Stick in the oven.
Set a timer for 15 minutes. Meanwhile, make your pesto (see the link above for the pesto recipe.) You can also use store bought pesto (also - note - pesto freezes really well!)
On your stove top, put some olive oil in a pan over medium heat. Cut up your sausages and roast on medium until browned on both sides. When your timer goes off, be sure to rotate the spaghetti squash to skin-side down. Check your other veggies, too, they might be done or need a few more minutes - watch 'em!
After about 30 minutes, your spaghetti squash should be done - test by running a fork along the inside of the squash. If spaghetti-like strands start to appear, you're in good shape. If not, stick back in the oven for another 5-10 minutes.
Here comes the hard part: remove all veggies from the oven and rake the inside of the squash with a fork to release the spaghetti-goodness. Use an oven mitt if necessary - the squash will be hot!
Put all your spaghetti squash in a bowl, add your pesto, roasted veggies, sausage, and then sun dried tomatoes. Top individual bowls with Parm cheese and enjoy!
Yum