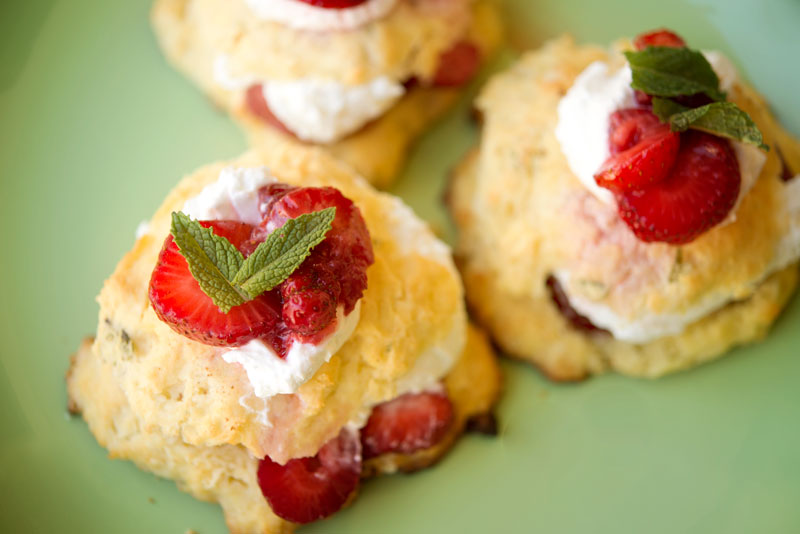 Oven temperature: 450 degrees
Prep time: 15 minutes
Cook time: 10 minutes
6 cups strawberries, sliced
1/2 cup sugar
2 cups all-purpose flour
2 teaspoons baking powder
1/2 cup butter
1 beaten egg
2/3 cup milk
1 tablespoon fresh mint, chopped
1 cup whipping cream, whipped
1. Here's what you do. Preheat your oven to 450. Mix together 1/4 of your sugar with your sliced strawberries, and set aside.
2. Meanwhile, put your flour, baking powder, and remaining sugar together. Then, cut in your (cold) butter until your have a crumbly dough.
3. Beat one egg in with your milk, then add to your dry ingredients, adding your mint here, too. Break your dough into eight pieces. Bake for about 10 minutes, until starting to brown (be wary not to over cook them, as the bottoms will scorch before you realize it!)
4. Now, let them cool, and meanwhile whip your cream by placing it into a bowl and whipping the dickens out of it with a whisk.
5. After you've baked the shortcakes for 10 minutes, pull them out and let them cool for another 10.
6. Cut each shortcake in half, then layer whipped cream, strawberries, then the other half of the shortcake, then more whipped cream and strawberries. Add some mint, and you're on your way to a happy treat that'll make your heartstrings sing.
Yum