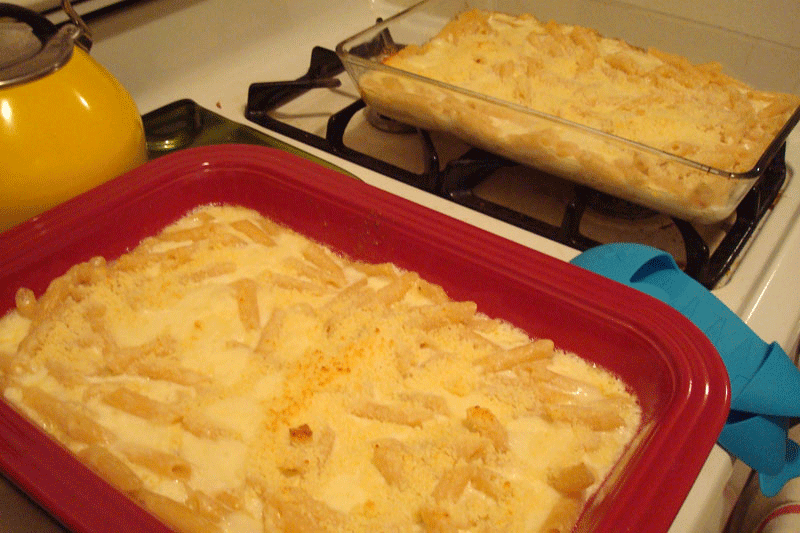 Prep time: 10 minutes
Cook time: 20 minutes
Oven temperature: 450 degrees
Servings: Serves 6 (as a main course)
Ingredients:
1 cup Parmesan cheese (freshly grated)
Salt and Pepper to taste
6 ounces of Talleggio or Fontina cheese, diced (about 1 ¼ cups)
1 tablespoon unsalted butter
1 cup heavy cream
½ cup pasta cooking water
1 pound penne pasta
Directions:
1. Cook pasta to 2-3 minutes short of al dente.
2. Shred Parmesan cheese and dice other cheese. Set ¼ cup Parmesan cheese aside for topping. Combine remaining cheese in a bowl large enough to also hold the cooked pasta. Melt the butter.
3. Right before the pasta is ready to come off of the stove reserve ½ cup of cooking water.
4. Add butter, cooking water, cream, and pasta to cheese mixture and stir thoroughly.
5. Pour pasta and sauce into a baking dish, sprinkling extra Parmesan over the pasta.
6. Bake at 450 degrees until topping is golden brown or approximately 10 minutes.
Adapted from Jack Bishop's recipe in A Year in the Vegetarian Kitchen
Yum