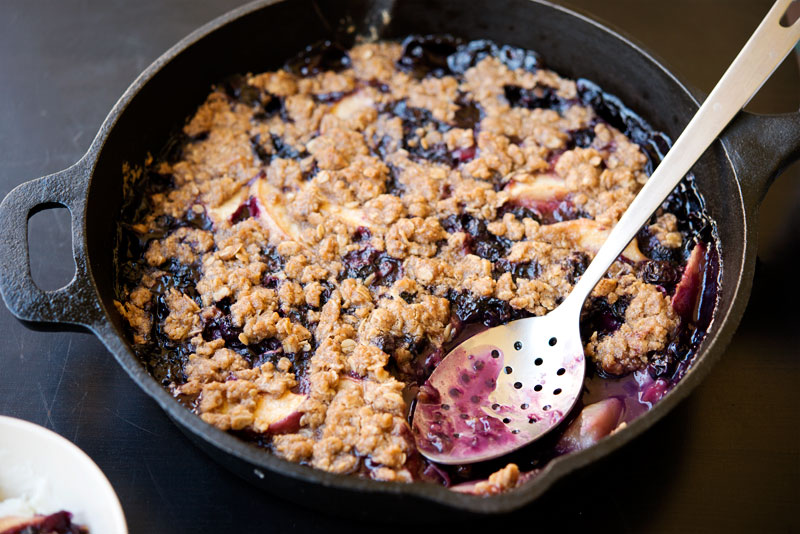 You guys, it's high-blueberry season. And blueberries are having a bumper crop, which means they're cheap, they're plentiful, and they're EVERYWHERE.  Which means I bought a two pound box of them, and then promptly had to find a use for them.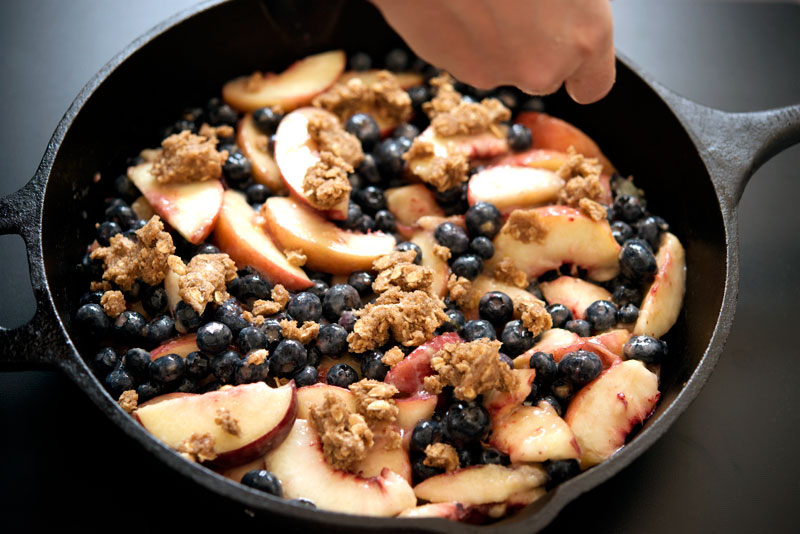 This was an easy peasy recipe to put together, and smells amazing as it's cooking up in your oven. Thanks to Two Peas & Their Pod for coming up with such a delicious way to celebrate the seasonal fruits!
Here's the recipe:
Prep Time: 15 minutes
Cook Time: 40 minutes
Ingredients:
2 cups blueberries
5-6 peaches, sliced
1 tablespoon fresh lemon juice
1 teaspoon lemon zest
1/4 teaspoon vanilla extract
1/2 cup granulated sugar
1/4 cup all-purpose flour
For the crumble topping:
1/2 cup all-purpose flour
1/2 cup old-fashioned oats
1/3 cup brown sugar
1/4 cup granulated sugar
1/2 teaspoon salt
1 teaspoon ground cinnamon
6 tablespoons cold butter, diced
Directions:
1. Preheat the oven to 350 degrees F.
2. In a large bowl, combine blueberries, sliced peaches, lemon juice, lemon zest, vanilla extract, granulated sugar, and flour. Gently toss until fruit is well coated. Let the fruit mixture sit while you prepare the crumble topping.
3. For the crumble topping: in a large bowl, combine the flour, oatmeal, brown sugar, granulated sugar, salt, and cinnamon. Stir together with a whisk. Mix in the butter with your fingers until the mixture comes together and you have big crumbles.
4. Place the fruit mixture in a 2 quart ceramic or glass baking dish. Sprinkle the crumble mixture evenly over the fruit. Place the pan on a baking sheet pan lined with a Silpat or parchment paper and bake for 40 to 45 minutes, or until the tops are browned and crisp and the juices are bubbly. Serve warm or at room temperature.
Note – you can make the crumble in individual ramekins. You can also make the crumble ahead of time-just store the unbaked crumble in the refrigerator and bake when ready! Store the crumble in the refrigerator for up to 2 days.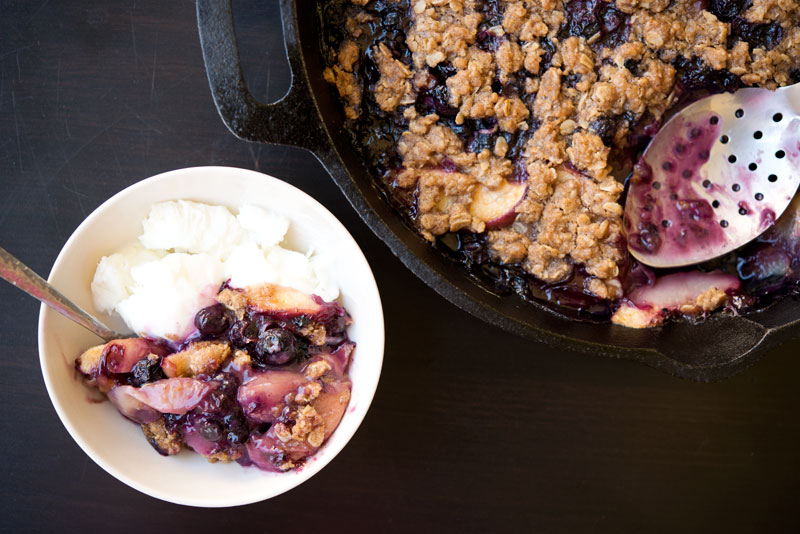 Serve your crisp with frozen yogurt or ice cream – whatever you prefer. I served it with froyo and I was definitely not disappointed – the tartness of the yogurt went perfectly with the sweetness of the blueberry.
Yum