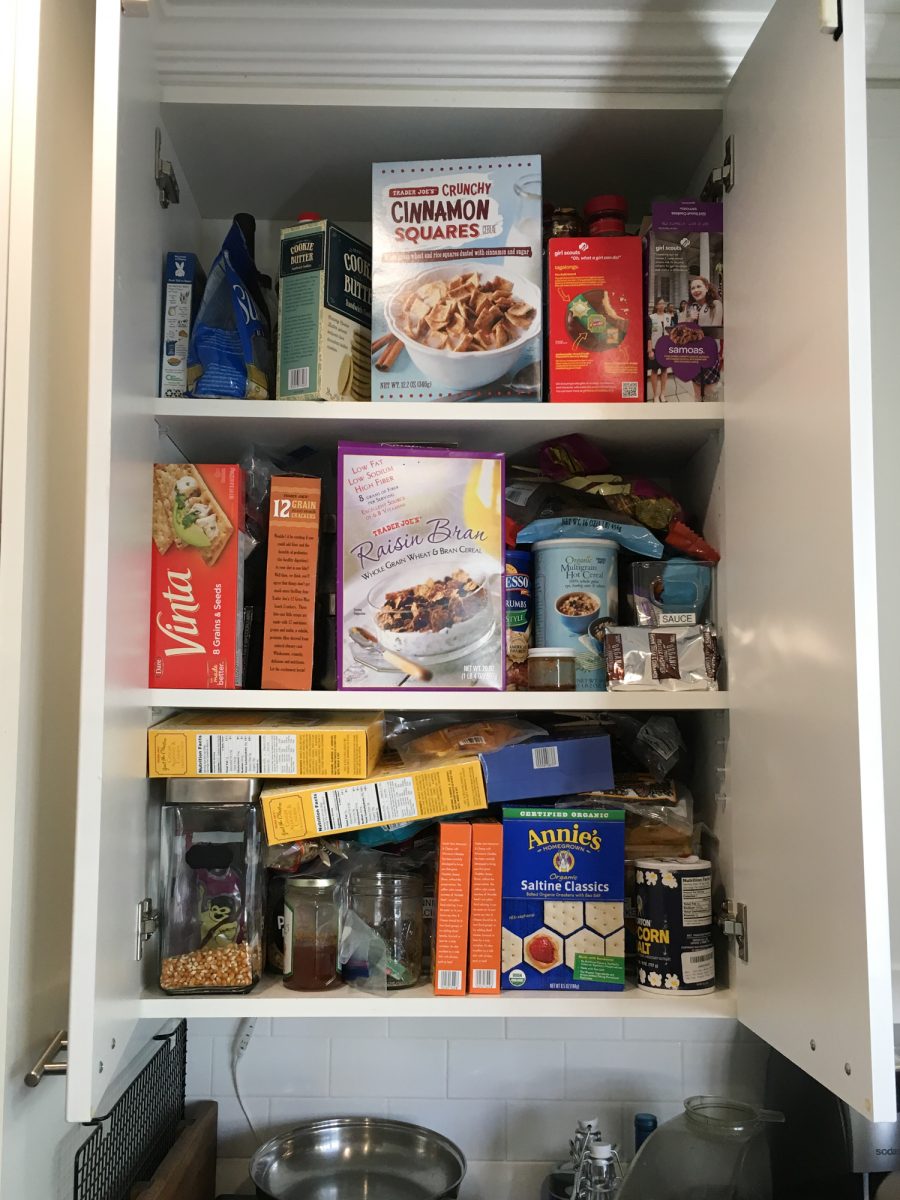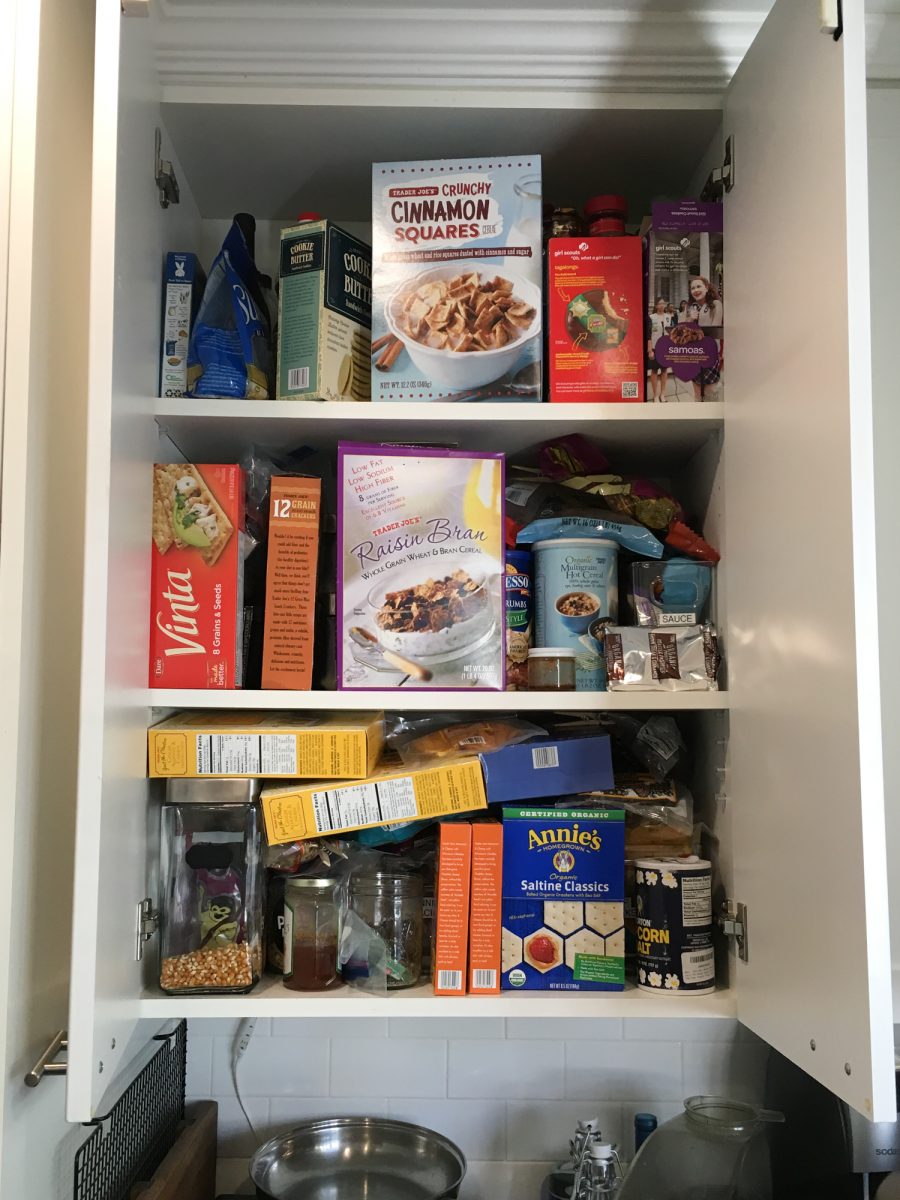 So guys, ever since I moved into my house my pantry has been a GD disaster. We had a few pizza paddles to the left of the cupboard (where you see that black wire cooling rack) and it meant you couldn't open the cabinet fully. As a result, the cabinet was mostly open, chuck it in, and close it.
The above was what the cabinet looked like for months and months. (Maybe a year…) Last weekend I decided enough was enough and cleaned out the pantry and organized my shit. And I thought you might like a glimpse into what I always have on hand, because I'm a voyeur and would like to know what YOU are snacking on, too.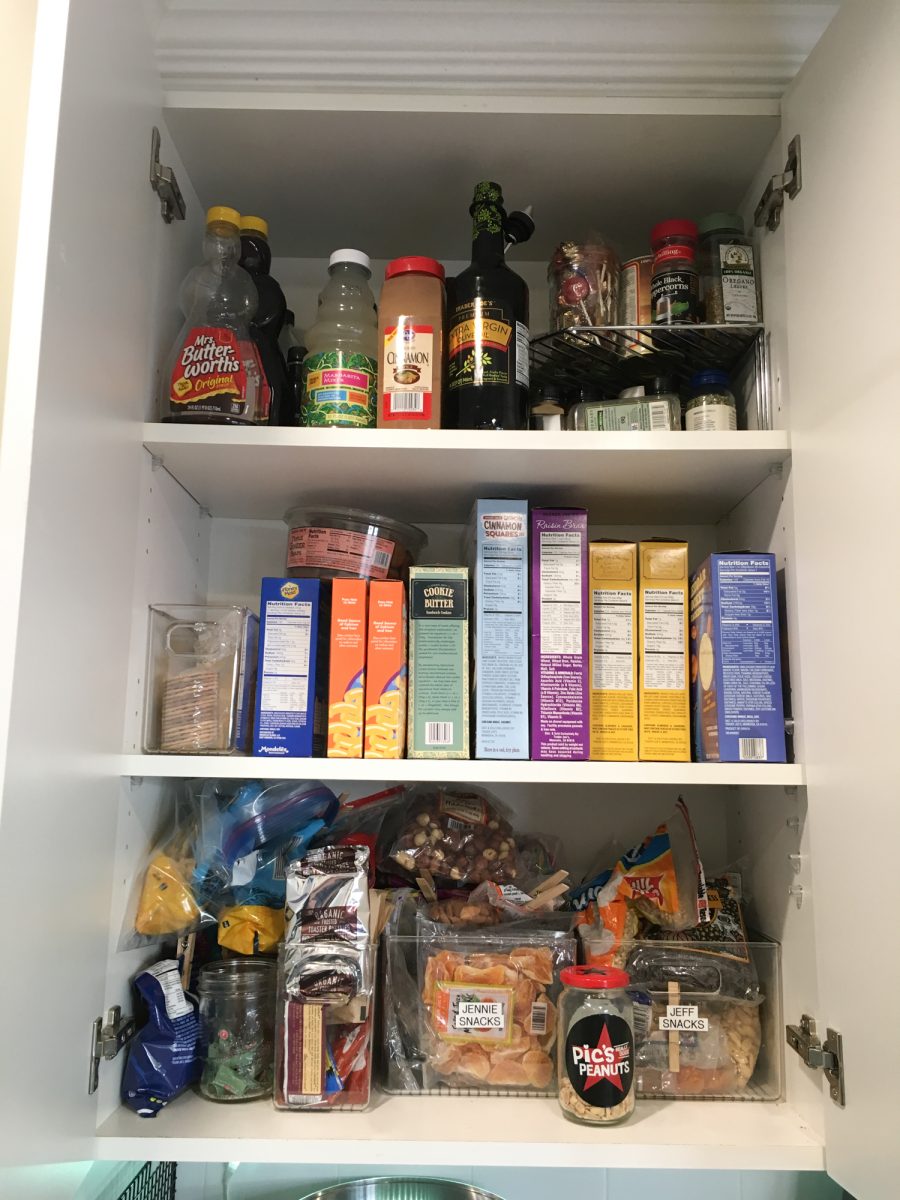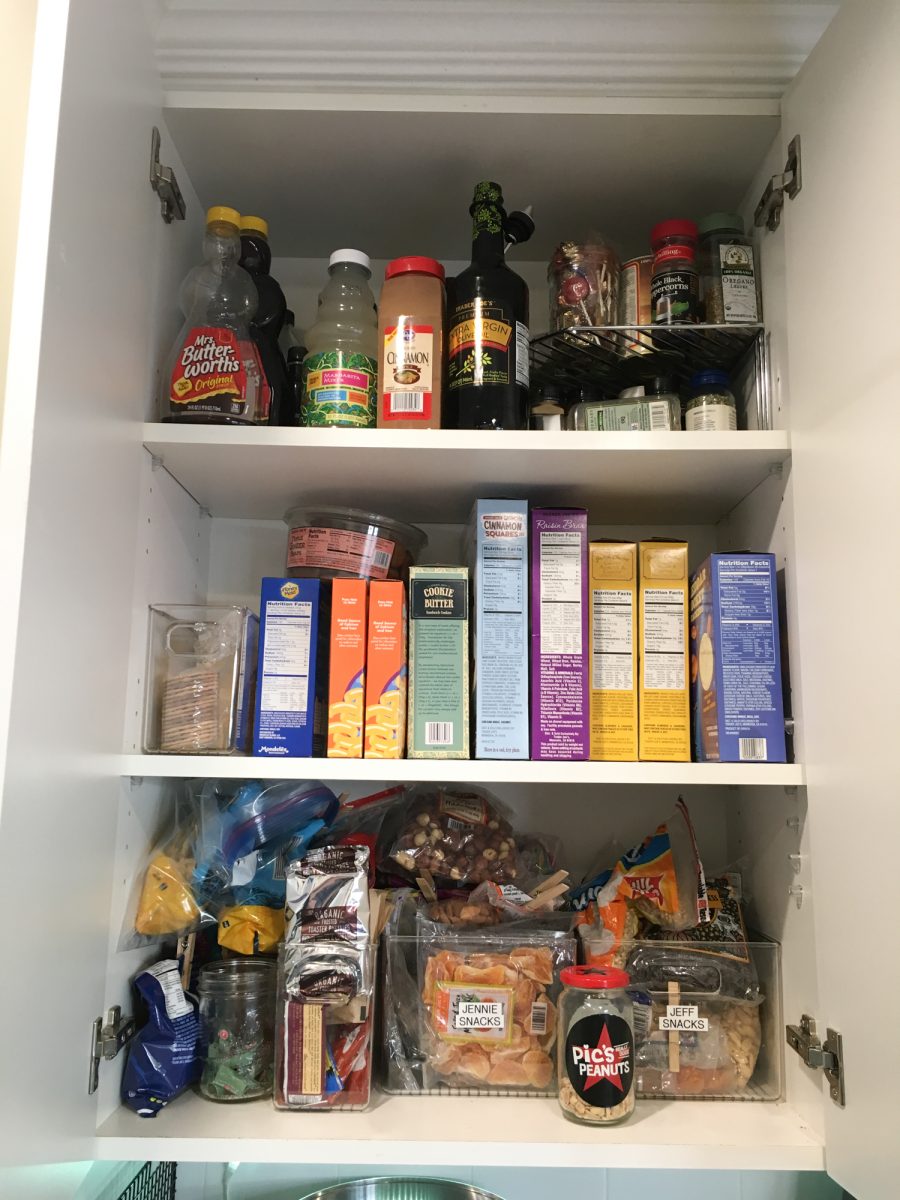 This is now what the cabinet looks liked. This is my "quick" cabinet full of stuff that moves quickly. My end cap, if you will. The bottoms shelf is snacks and open crap – the things we go through the fastest. Dried fruit, granola bars, and chips on the bottom shelf. Lots of nuts in there. I try to always have on hand:
Lara Bars – these are from when I was doing Whole30, but some of the flavors are great and I like to have something to grab-and-go, especially now that I am pregnant and ALWAYS hungry.
Other Bars – Guys, bars are just easy to eat. I am really into Chia Bars (TJs) and Fiberful Bars (TJ) right now. Yes, the Fiberful Bars have sugar but only 6 g compared to way worse other bars. I also dig the "That's It" bars that are just fruit (thanks to Ana for that rec.) Also in this category of snack is fruit leathers.
Dried Fruit – We're big fans of dried mango and raisins in this house, but I've also got dried prunes (fiber, what what!) and have recently really been enjoying dried mandarins. I have a bit of a sweet tooth, and these are basically candy without just straight up eating candy, so they're good for avoiding the jelly beans at work.
Nuts – I'm not going to lie, I definitely hated nuts for the beginning of my pregnancy. It's like after Whole 30 (I got pregnant around Day 8 of Whole30) I was adverse to literally ANYTHING I had eaten. But I know nuts are good for me and I try to keep them around for snacks and baking. I usually have hazelnuts (for this recipe), pecans, walnuts, peanuts, cashews, and maybe almonds (although I really dislike almonds because of the bees.) Cashews are by far my fave for snacking, and I like the rest for adding to granolas.
Misc Snacks – The rest of the snacks in here are tortilla chips (for dipping in salsa and guac, obviously) and pita chips (for dipping in the garlic dip from TJs and hummus) as well as ALL THE POPCORN. Which actually isn't all that bad for you as long as you don't over salt and over butter it. We have an air popper and it's a great snack for when you're hungry because it takes a bit to eat. Also you probably spy some leftover poptarts from when I wasn't eating much during my first trimester. Also on the list? Cheddar Rockets (TJs, similar but not superior to Goldfish), ginger snaps, ginger chews, graham crackers, and assorted crackers for cheese.
Cereal – I tend to eat granola/cereal in the morning, and right now I am into the Almond Ginger flavor from TJs, and I like to have raisin bran on hand too. Jeff is digging the cinnamon cereal from TJs (basically Cinnamon Toast Crunch…I know, delish but not healthy at all.)
Misc/Top Shelf – We also always have mac and cheese and (not pictured) tomato soup for simple dinners. The top shelf (which I cannot reach without a stool) houses extra spices, olives, vinegars, and Jeff's "syrup."
Fridge Snacks – Obviously not pictured, but for snacking I usually have: 2-3 fruits (hello cherry season!), cheese (mini Babybel or some kind of cheddar), as well as some snacking veggies – carrots, sugar snap peas, and cucumbers are my fave right now.
Next up in this series? What I keep in my baking cabinet/where all the grains go…stay tuned!
What are you snacking on? What keeps you going?? Help me because I am hungry ALL THE TIME.
[addtoany]
Yum