Recently, I decided that I wanted to make a spaghetti squash for dinner. But I wanted to do something different with it than using it as a base for red sauce. So I decided I wanted to make pesto. I've thrown around a few different recipes of pesto – one from the Pioneer Woman, one from my mind, one from the Better Homes and Garden Cookbook, one from Barefoot Contessa. I've always liked them, but I always am craving something different. And so, I searched for another right under my nose…from the cookbook I bought Jeff when he moved to California way back in 2007.
It's called the North End Italian Cookbook, and comes from the North End of Boston, where I lived during part of college, and a place that Jeff holds near and dear to his heart – as do I.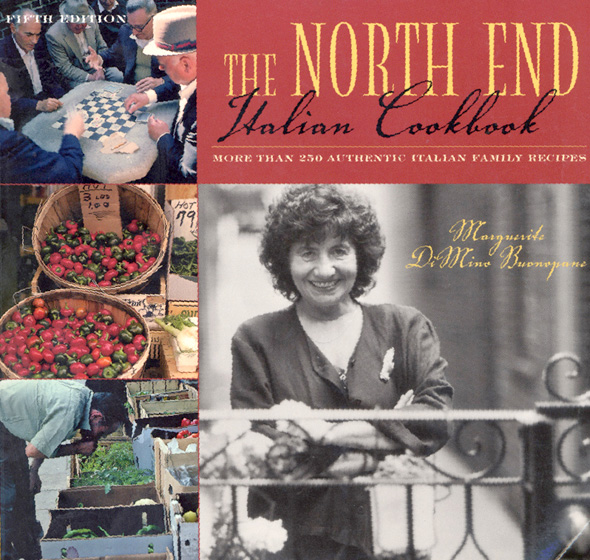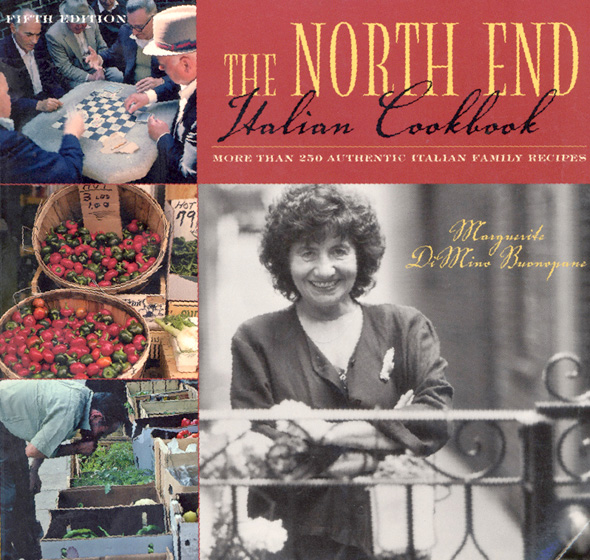 This is the book I bought – and it didn't get much use out of it until the end of 2008, when I moved to California. Every now and then I pull it out to help me make the classic things I remember from my childhood and favorite Italian dishes.
And so, to put a twist on pesto, I used spaghetti squash as pasta, and made this pesto recipe:
2 cups olive oil
2 cups fresh parsley leaves
2 firmly packed cups basil leaves
1/2 cup lemon juice
1 cup freshly grated Parmesan cheese
4 garlic cloves
1/2 cup pignoli
1 tablespoon fresh ground black pepper
1 teaspoon salt
Here's what you do: put all of the items (except the basil) in a blender, and mix well. Then, add basil and blend into smooth! It's so easy you'll be smiling all night as people tell you it's delicious (I know I did!) The pesto is a little sweet, which is just how I like it. Here's how the meal went down. If you are trying to decided what blender to get check out the reviews for nutribullet vs magic bullet.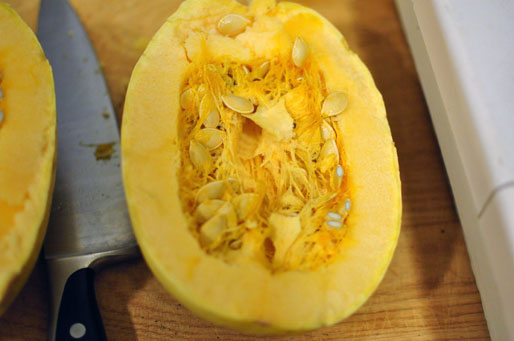 Cut your spaghetti squash, preferably with a cleaver (which I don't have, but my sister does and she says it's splendid.)
This is what the spaghetti squash looks like. Scoop all the seeds out. True fact: once my sister scooped out all the insides, threw the squash away, and baked only the insides. She's come a long way since then. That was probably when she was 14. Which was 13 years ago. Take a minute for that.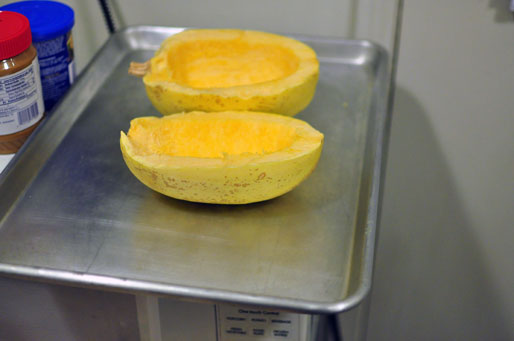 Put it in about an inch of water on a jelly roll pan (see above) and stick in the oven at 400. You'll want to roast for about 35 minutes, flipping halfway through (onto the rind side.)
Meanwhile, make your pesto.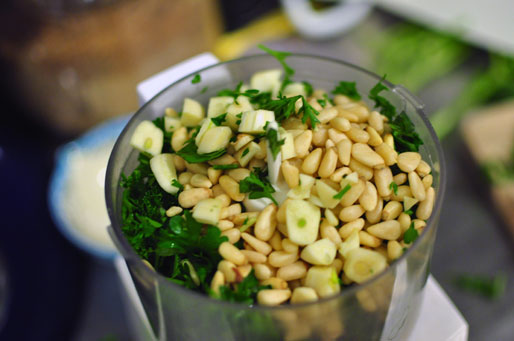 All ingredients in my food processor.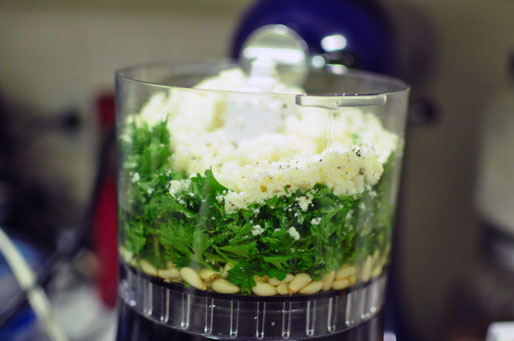 Do not forget the cheese. Please note how this is in a different food processor. I quickly realized that my ingredients weren't going to fit into my small food processor.
When it looks like this, add your basil (I've added my basil on top!)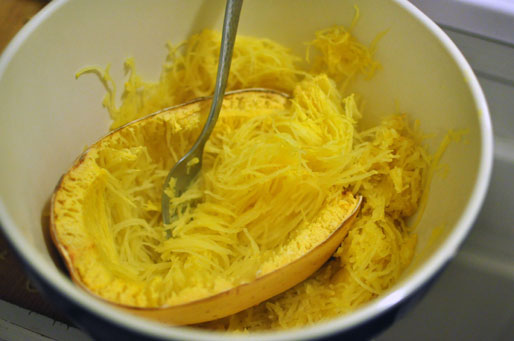 When your spaghetti squash is done, you can scoop it out with a fork!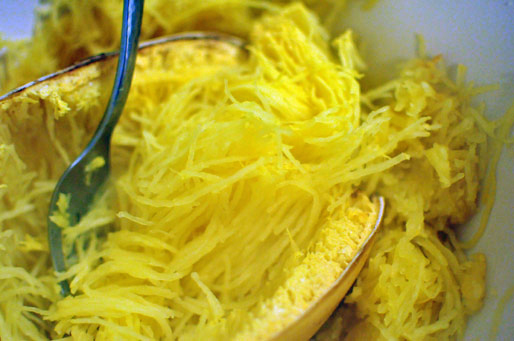 Delicious.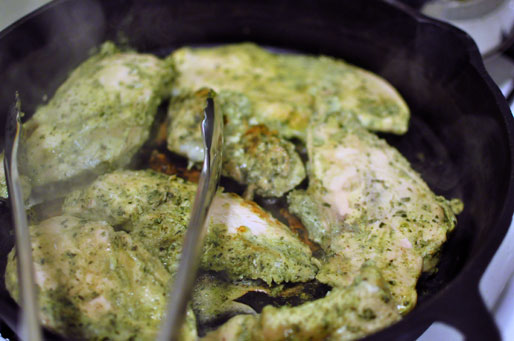 You can make it with chicken – this is the kind from Trader Joe's that comes with pesto on it already!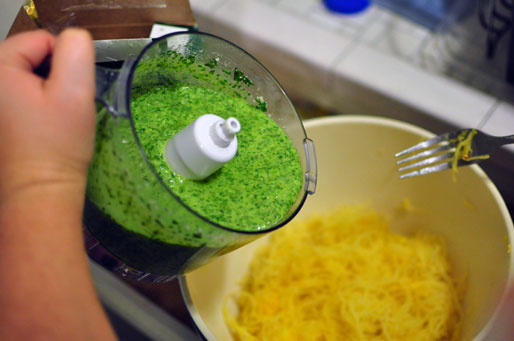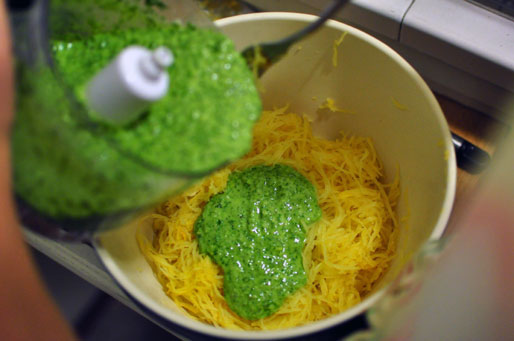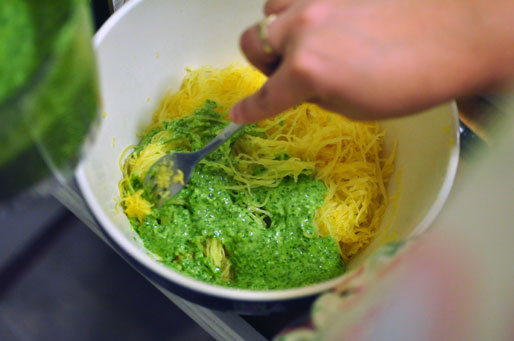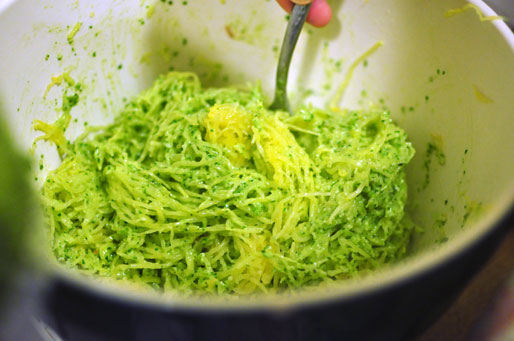 Serve with chicken and maybe some asparagus!
How do you make pesto? How do you make spaghetti squash?
[addtoany]
Yum