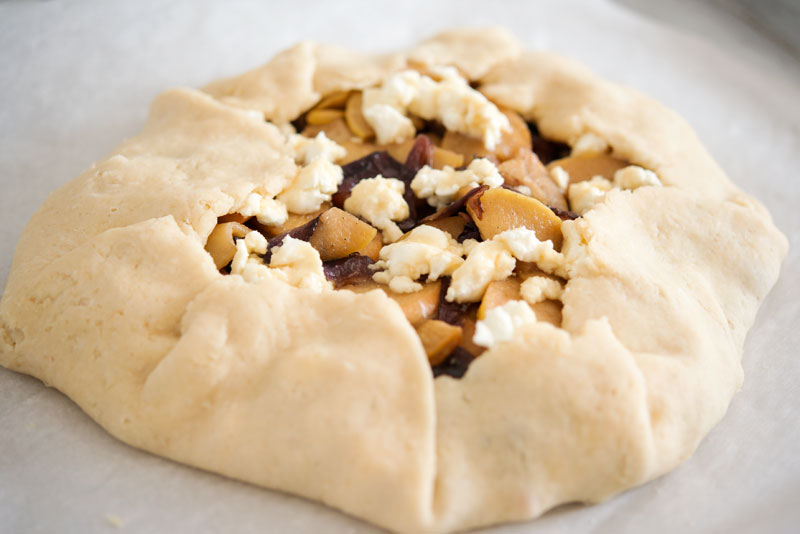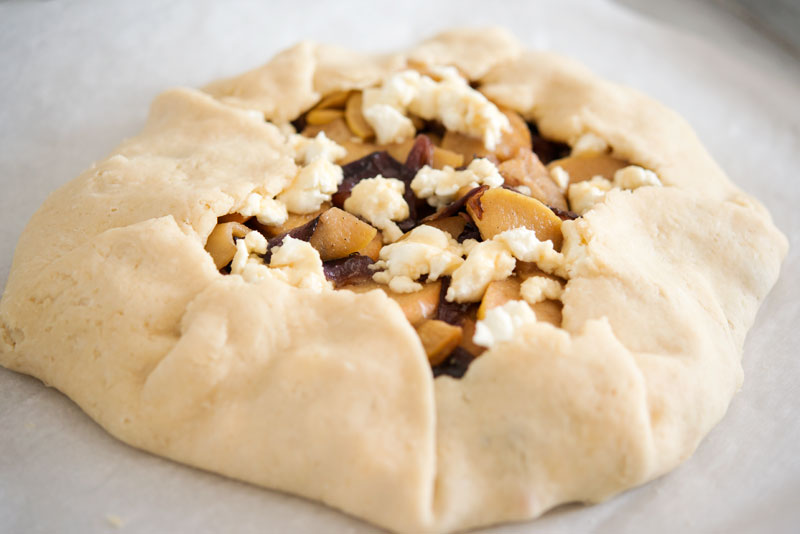 We love The Hunger Games at Garlic, My Soul, and we also love Fanboy Comics. And, as you know from our Katniss' Lamb Stew, we also love The Katniss Chronicles, which was why we were thrilled to create another recipe for the series!
This Savory Apple Tart is straight from The Hunger Games. Peeta mentions it to Katniss, in a scene when you realize that even the baker's family didn't have an easy life. We made it into more of a galette, which seems to fit with the country lifestyle of District 12, rather than a dainty tart.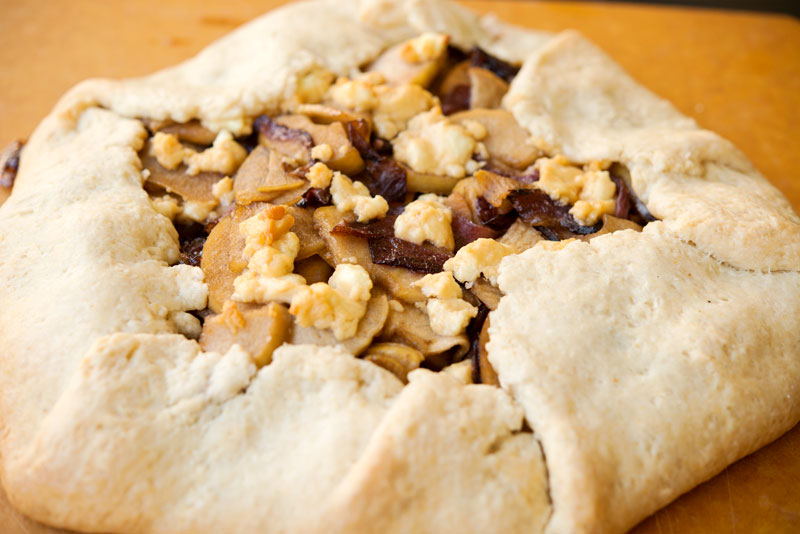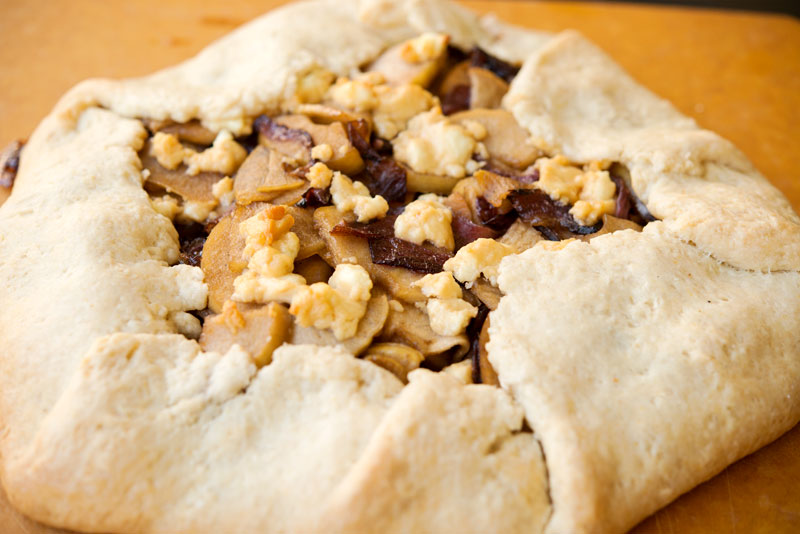 Active Time: 45 minutes
Nonactive Time: 2 hours
Oven temperature: 375, then 350
Pastry Dough
1 3/4 cups flour
2 tablespoons sugar
1 teaspoon kosher salt
1/2 teaspoon baking powder
1/2 cup (1 stick) butter, cut into 1/2 -inch pieces and chilled
Mix the flour, sugar, salt and baking powder. Add the butter and use a pastry blender or fork to incorporate until butter is pea sized. Add 5 tablespoons of ice water and pulse until the dough just comes together (if still too dry, add additional water, a teaspoon at a time). Turn the dough onto a sheet of plastic wrap and form into a flattened round about 6 inches in diameter. Wrap and refrigerate for at least 1 hour. While the dough is chilling, make the filling.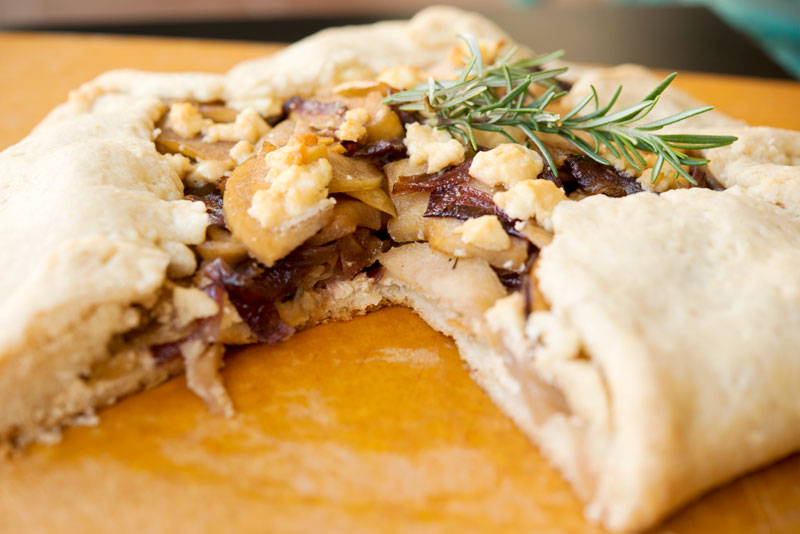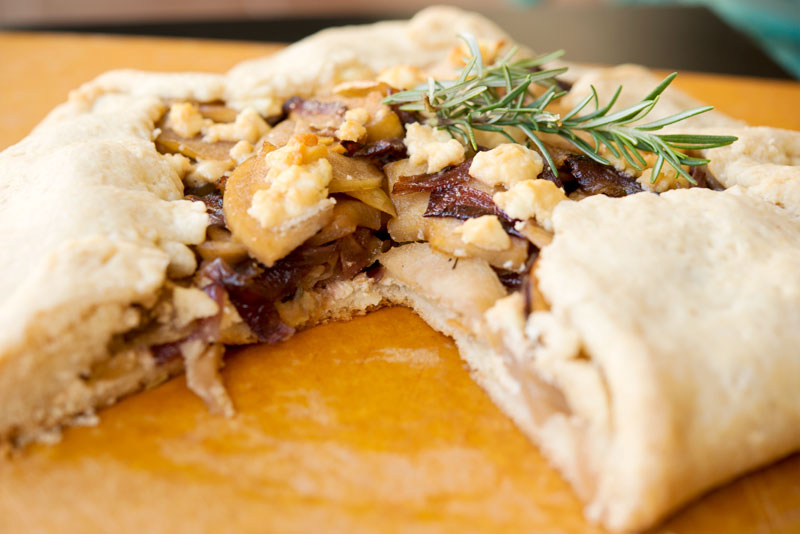 Filling
3 medium apples
1 red onion, sliced and caramelized
1/4 cup (1/2 stick) butter
1/4 cup sugar
8 ounces goat cheese
2-4 tbsp honey
Pinch of salt
1 recipe pastry dough (see above)
1. Core your apples and halve them lengthwise, then slice each half lengthwise into one-half-inch slices. You should have about 4 cups of sliced apples.
2. Caramelize your onions: pour olive oil in your skillet, then add your sliced onion. Lower heat and let caramelize over medium-low heat about 30 minutes. Once caramelized, set aside in a separate bowl.
3. Melt the butter in same skillet you were just using over medium heat. After it melts, continue to cook, stirring occasionally until it turns light golden brown, about 4-6 minutes. Add sugar and the apples and sauté until the apples are slightly softened but still firm, about 2 to 4 minutes. Add in your caramelized onions, stir well, and turn off heat, allowing to cool slightly.
3. Remove the dough from the refrigerator and allow to rest for 10 minutes at room temperature. Place a large piece of parchment or wax paper on a work surface and place the dough round on top. Top the dough with a second large sheet of paper and roll out into a 12-inch circle. Remove top layer of paper.
4. Assemble your galette: crumble half of your goat cheese over the center of your dough.Loosely arrange the apples and onions on top. Crumble the remaining goat cheese and sprinkle this over the apples and onions; then sprinkle over with the salt. Fold the edges of the dough back over the filling. Drizzle the top with your honey. Place the entire tart in the freezer for 45 minutes. When your tart has been chilling for 30 minutes, turn the oven on.
5. After 45 minutes, remove the chilled tart from the freezer and place it in the oven on the lowest rack. Bake the tart for 40 minutes, checking after 30 minutes to make sure the top is not overly browned (if so, loosely cover it with a sheet of aluminum foil). Lower the oven temperature to 350 degrees and rotate the tart pan. Bake for an additional 15 to 20 minutes, until the crust is uniformly golden brown and the filling is caramelized on top.
6. Remove the tart from the oven and allow to cool on a rack. Allow the tart to cool slightly, at least 30 minutes, before serving warm.
We hope you make this and our Katniss' Lamb Stew to get the full The Katniss Chronicles experience. Tell us – what do you think sounded like the most delicious Capitol recipe?
Check our recipe out over on The Katniss Chronicles site, or on Fanboy Comics!
[addtoany]
Yum