These were first posted last fall by Ellen. These are delicious, simple, and scream fall. And, since today's the first day of fall, I figured you might want to make these this weekend. Happy Autumn, folks!
*****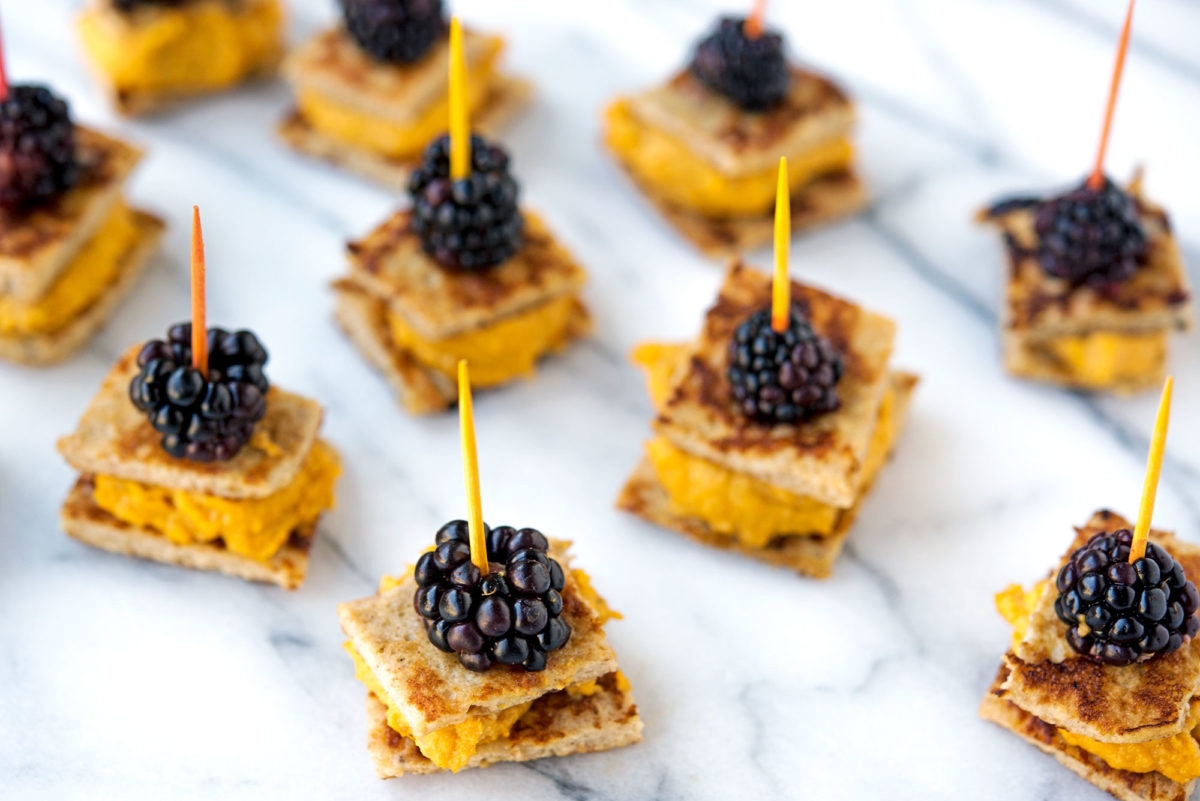 We've cooked up a new paleo creation at GMS, and we are really excited to share it with you! It combines a version of the super simple paleo pancakes and some delicious fall ingredients. This is a lovely fall treat, perfect to have for dessert or just anytime! The recipe makes enough for a crowd (about two dozen bites).
*Recipe requires a food processor. My mini food processor worked fine!
The "sandwich" part of the bites are made from paleo pancakes.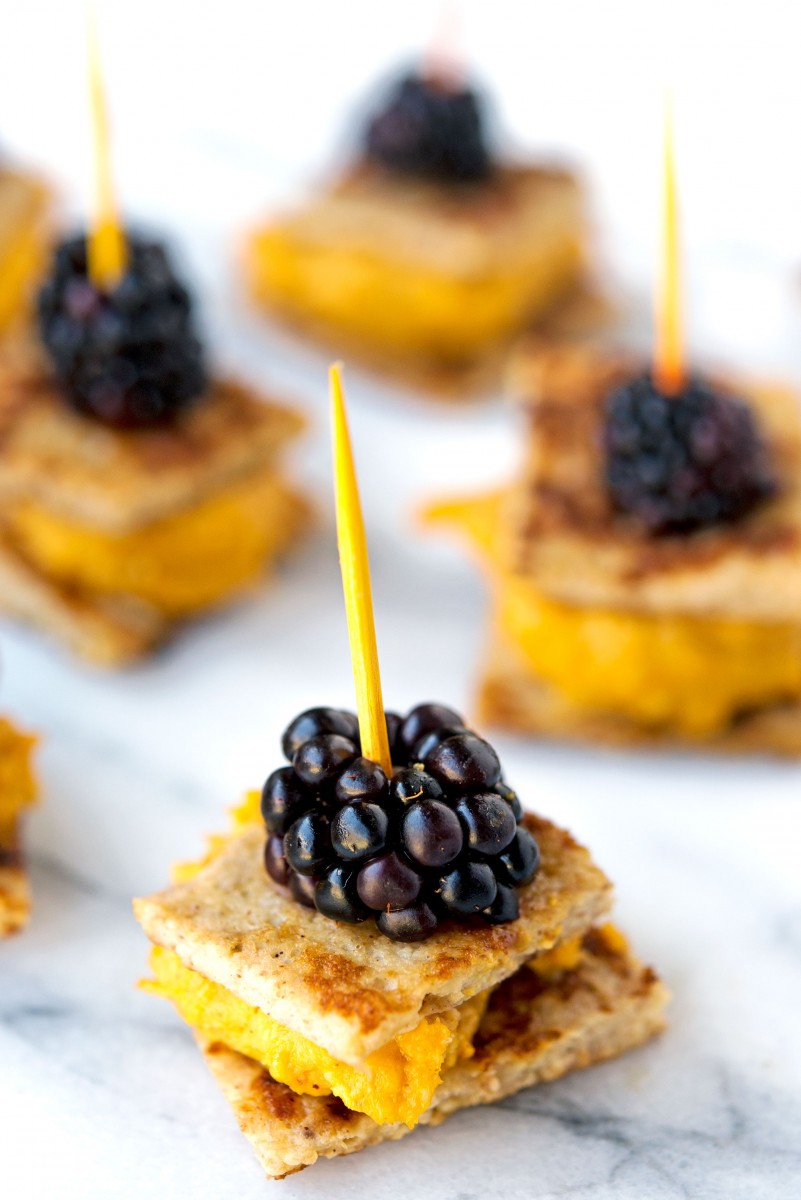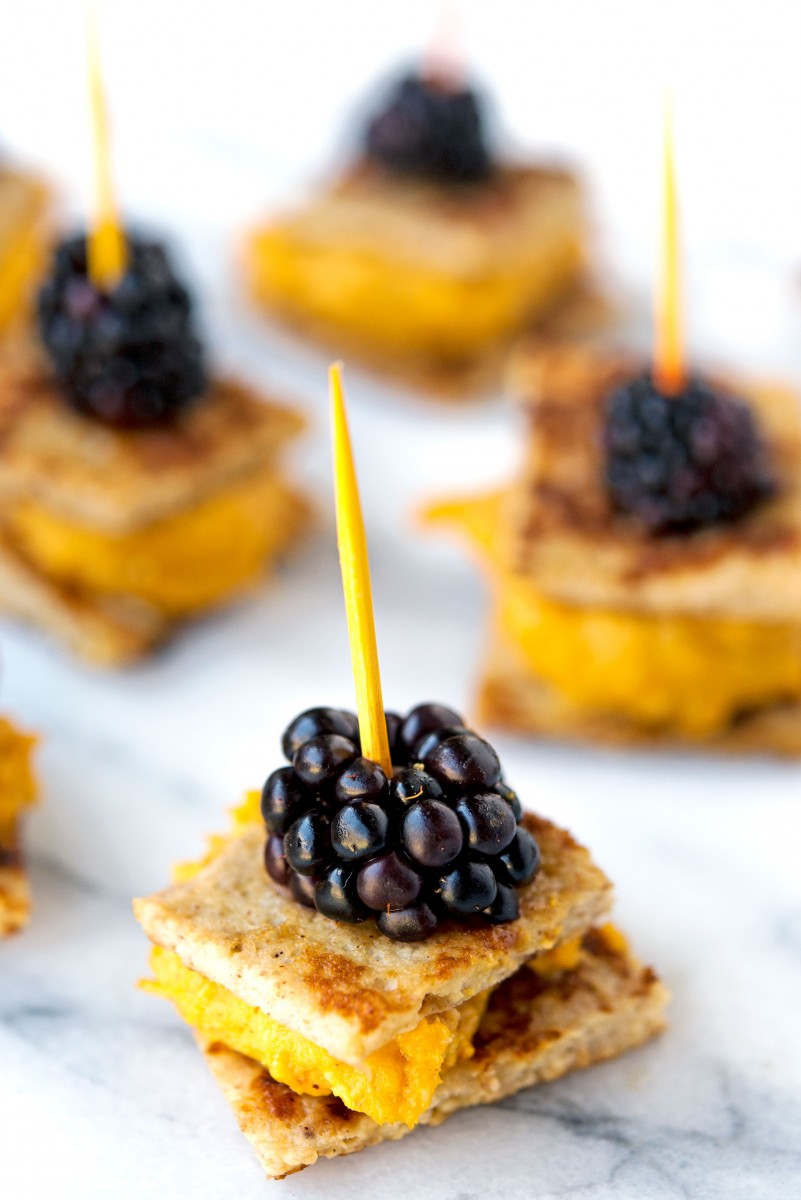 Ingredients for paleo pancakes:
3-4 soft bananas
5 eggs
Ground Cinnamon
Olive oil spray or coconut oil spray
Ingredients for pumpkin cashew butter filling:
1 cup roasted, unsalted cashews
2 tablespoons olive oil
1/2 can pumpkin
1 tsp pumpkin spice
salt
Other ingredients:
Blackberries
Also needed:
Toothpicks
Directions for paleo pancakes:
1.) Mash up 2/3 of a banana into a mixing bowl. Add a dash of cinnamon.
2.) Add 1 egg and mash everything together. Add another dash of cinnamon. Mix again.
3.) Spray a pan with oil of your choosing and set pan over medium-high heat.
4.) Pour the batter into pancake-sized circles (4-5).
5.) Once golden brown on one side, flip and cook the other side.
6.) Re-grease pan between batches.
6.) Set the pancakes aside.
Directions for the pumpkin cashew butter filling:
1.) Add 1 cup roasted cashews to food processor
2.) Add 1/2 tablespoon of olive oil and pinch of salt to the cashews at a time. Blend. Repeat until the cashews have a butter consistency. Be careful not to add too much olive oil or else the flavor will get overwhelmed with an olive oil taste! The cashew butter doesn't have to be completely smooth.
3.) Add 1 tsp pumpkin spice and 1/2 can of pumpkin. Blend until smooth.
Putting It All Together:
1.) Cut the pancakes into 1 inch squares.
2.) Put a dollop of the pumpkin cashew butter on top of a square of pancake.
3.) Top with another pancake square
4.) Cut a blackberry in half. Add it to the top of a toothpick and place the toothpick through the rest of the mini sandwich.
And, you're done! These bites are delicious and great for fall parties! I just made a batch of the pumpkin cashew butter to keep around and use as a filling for other dishes as well. And, we've talked about using the cashew filling in a Thanksgiving paleo pumpkin pie!
[addtoany]
Yum