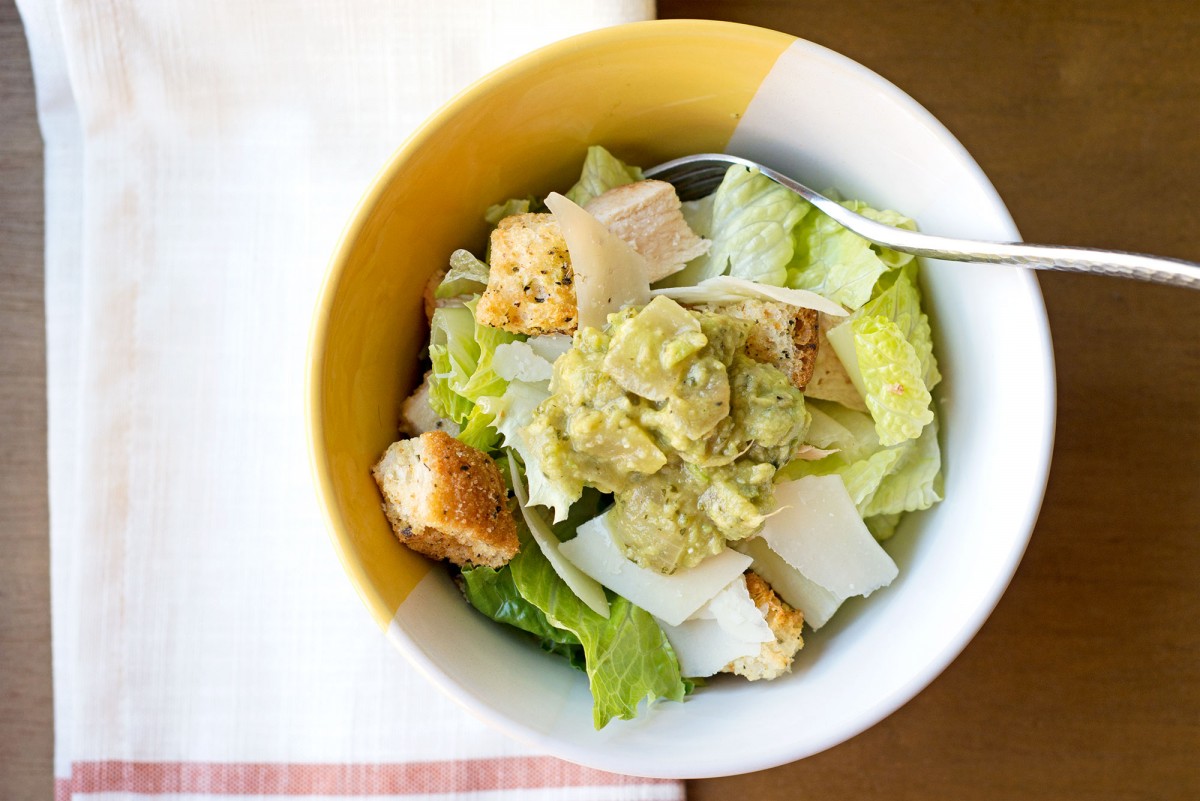 Since it's not quite fall temperatures yet in Los Angeles we have been avoiding long bouts in the kitchen and have been eating lighter meals.  We're huge fans of Rick Bayless not only for his yoga skills, but also for his amazing Mexican recipes.  This twist on a classic Caesar salad is now in our weekly rotation and it comes from Rick's Mexican Everyday cookbook.  Our only complaint is that the recipes are written as paragraphs of text, which is not always the easiest to follow, but it's still a great cookbook.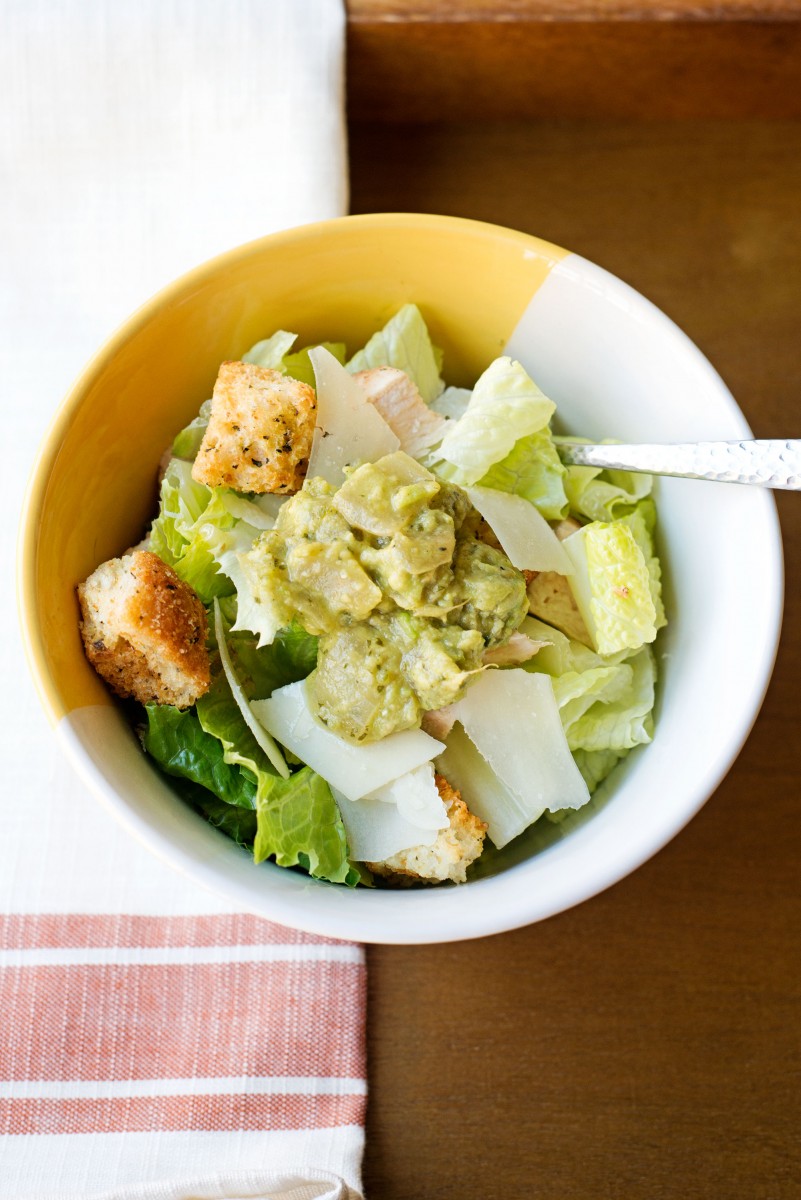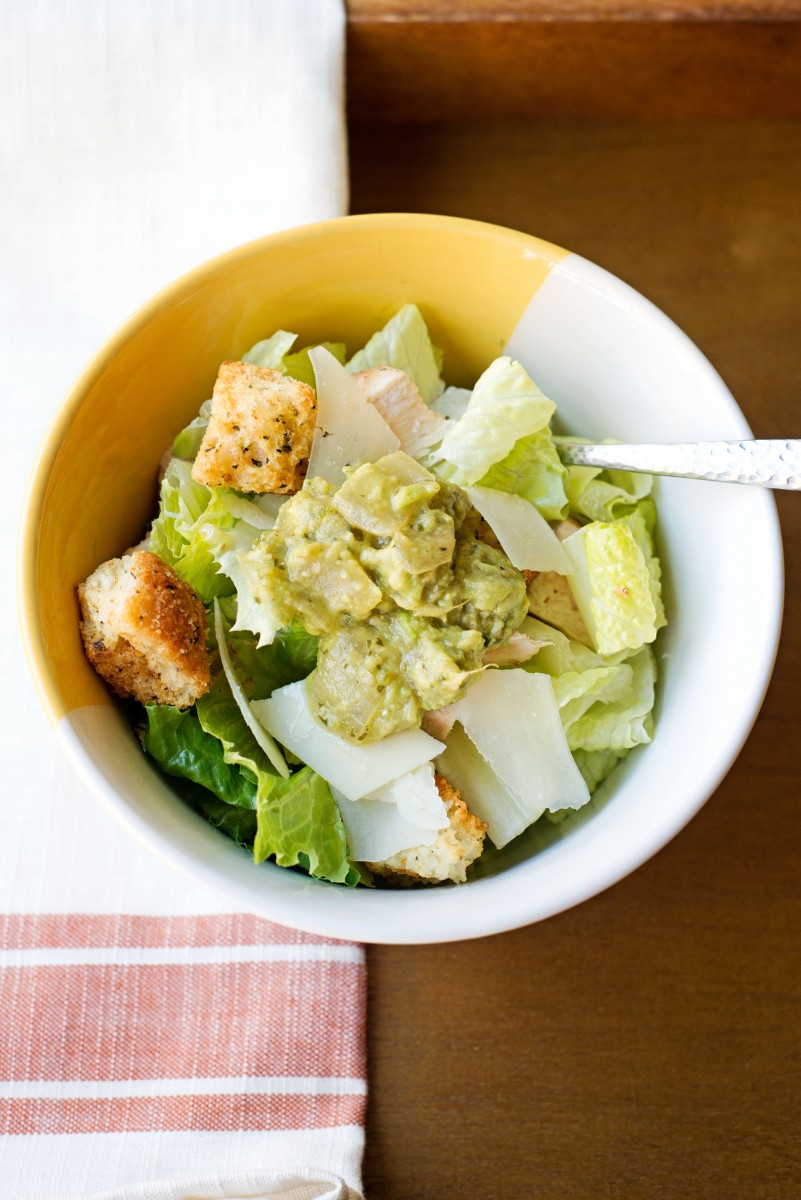 Everything comes together quickly and the only element that needs to be cooked is the onion and chicken which can be done easily on the stove. You can control the level of spice by seeding the jalapeno. To keep your chicken juicy, cook the breasts whole and cube after they are cooked.  
Ingredients:
Dressing:
1/4 cup olive oil
4 garlic cloves, peeled and halved
1 large jalapeno, stemmed and halved
1/2 cup lime juice
1/4 cup cilantro
1/4 teaspoon black pepper
1 teaspoon salt
Rest of Salad:
4 chicken breasts (approximately 1 1/4 pounds)
1 medium white onion
2 avocados
2 romaine hearts, cut in 1/2 inch ribbons
1/3 cup shaved Parmesan cheese or Mexican queso
Directions:
1. Heat 1/4 cup oil over medium heat, cut onion into 1/2 inch slices, toss with salt, then brown onion.
2. Add oil, garlic, jalapeno, lime juice, cilantro, black pepper, and salt to food processor and blend until smooth.
3. Coat chicken breasts with 1/3 of dressing mixture and cook on medium heat.  Set aside chicken to cool when done cooking.
4. Place cooked onion in a bowl and add avocado flesh and 1/3 of the dressing. Mash all together until consistency of guacamole.
5. Toss romaine with remaining 1/3 of dressing in large bowl, then distribute into four servings.
6. Cube cooked chicken and distribute chicken and guacamole mixture among the four servings, then top with cheese of choice.
What are your go-to stovetop recipes? It's still in the 80s here, and we're craving new recipes, as always!
[addtoany]
Yum