A  few weeks ago, I got these two pictures in my email from my Mom (Hi Mom!)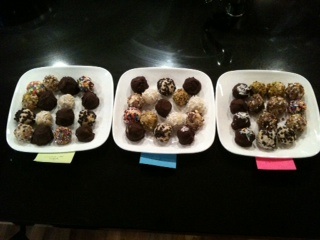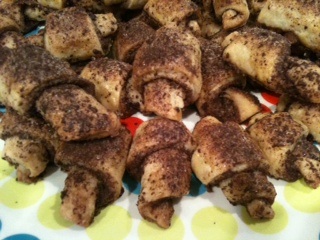 I was so impressed with her ingenious use of toppings for her cake balls (she used chopped pistachio, chopped chocolate covered pretzels, coconut, sprinkles, and mini chocolate chips). Well done! I was equally impressed with her rugelach, and became inspired to make some of my own! I asked Mom for the recipe she used and she sent me this recipe from Barefoot Contessa:
8 ounces cream cheese at room temperature
1/2 pound unsalted butter at room temperature
1/4 cup granulated sugar plus 9 tablespoons
1/4 teaspoon kosher salt
1 teaspoon pure vanilla extract
2 cups all-purpose flour
1/4 cup light brown sugar, packed
1 1/2 teaspoons ground cinnamon
3/4 cup raisins
1 cup walnuts, finely chopped
1/2 cup apricot preserves, puréed in a food processor
1 egg beaten with 1 tablespoon milk, for egg wash
Yields: 48 cookies (and it's accurate!)
Rugelach is traditionally a Jewish dessert eaten on Shabbat (basically, Friday night at sunset through Saturday night until sunset). That doesn't mean you can't make it on a Sunday, which is what I did. I enlisted the help of Jennie for this undertaking. We assembled our ingredients, and got to work. Rugelach isn't difficult to make, however I do warn you, it is time consuming. After making the dough, it has to chill for an hour. The cookies have to chill again after they are fully assembled for about 30 minutes. All in all, it took us around 3 hours to complete the cookies, between multiple chillings and then finally baking. Trust me, it's worth it though! Rugelach is quite delicious, and can be made with a wide variety of fillings, such as chocolate, raspberry, and of course, the apricot ones we made.
Start by mixing the butter and cream cheese with a mixer until light and fluffy.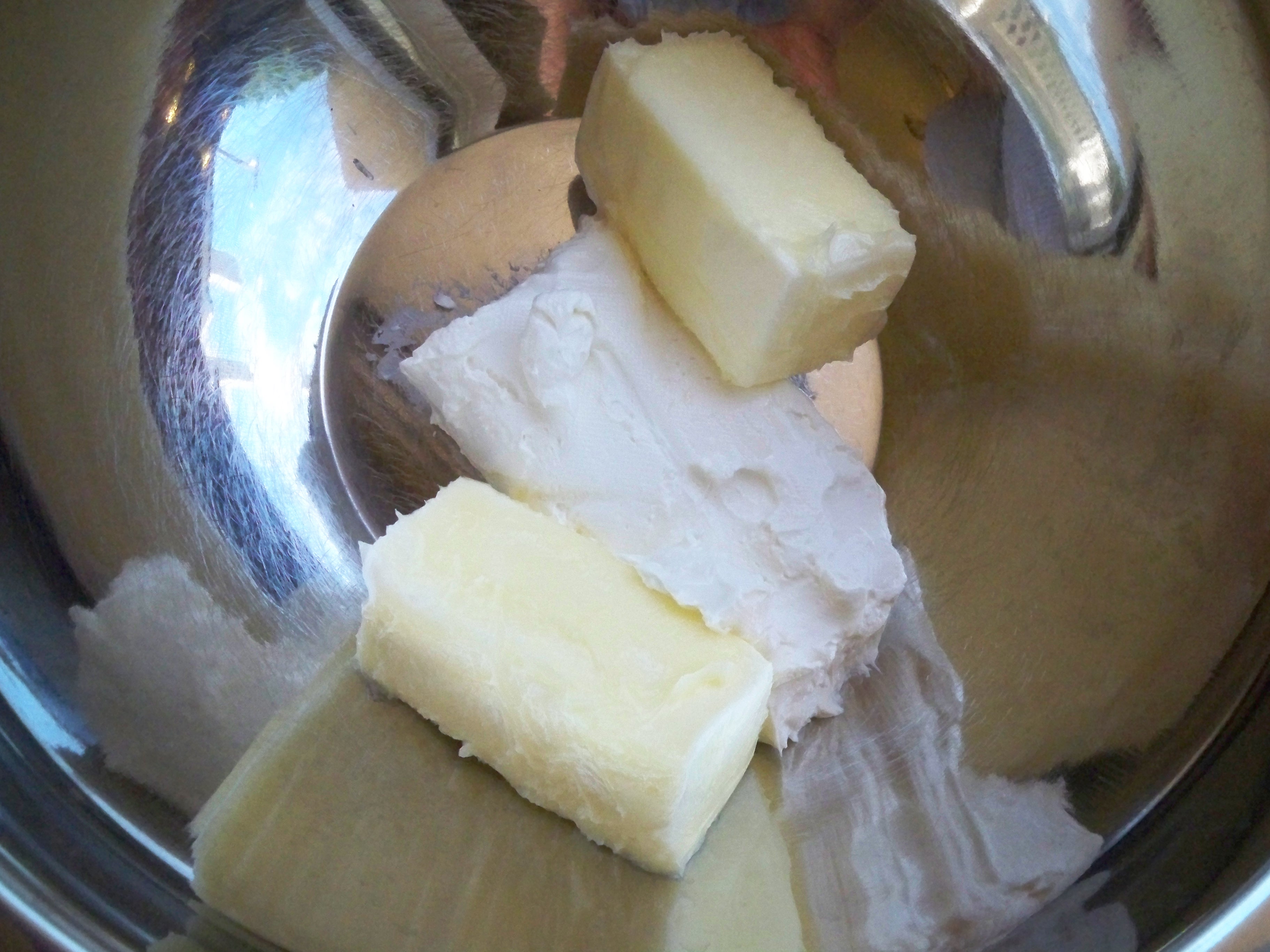 Add 1/4 cup granulated sugar, salt, and vanilla to the deliciousness. Next up is the flour. If you are like me, your mixer may say it has multiple speeds (1-5 for example), but considering I bought mine for 10 bucks at Target, I can't really blame it for really only running fast, super fast, or way to fast to add anything to what you are mixing, as far as speeds go. Therefore, I recommend stopping the mixing in between flour additions so as not to douse yourself (or your helper) in flour.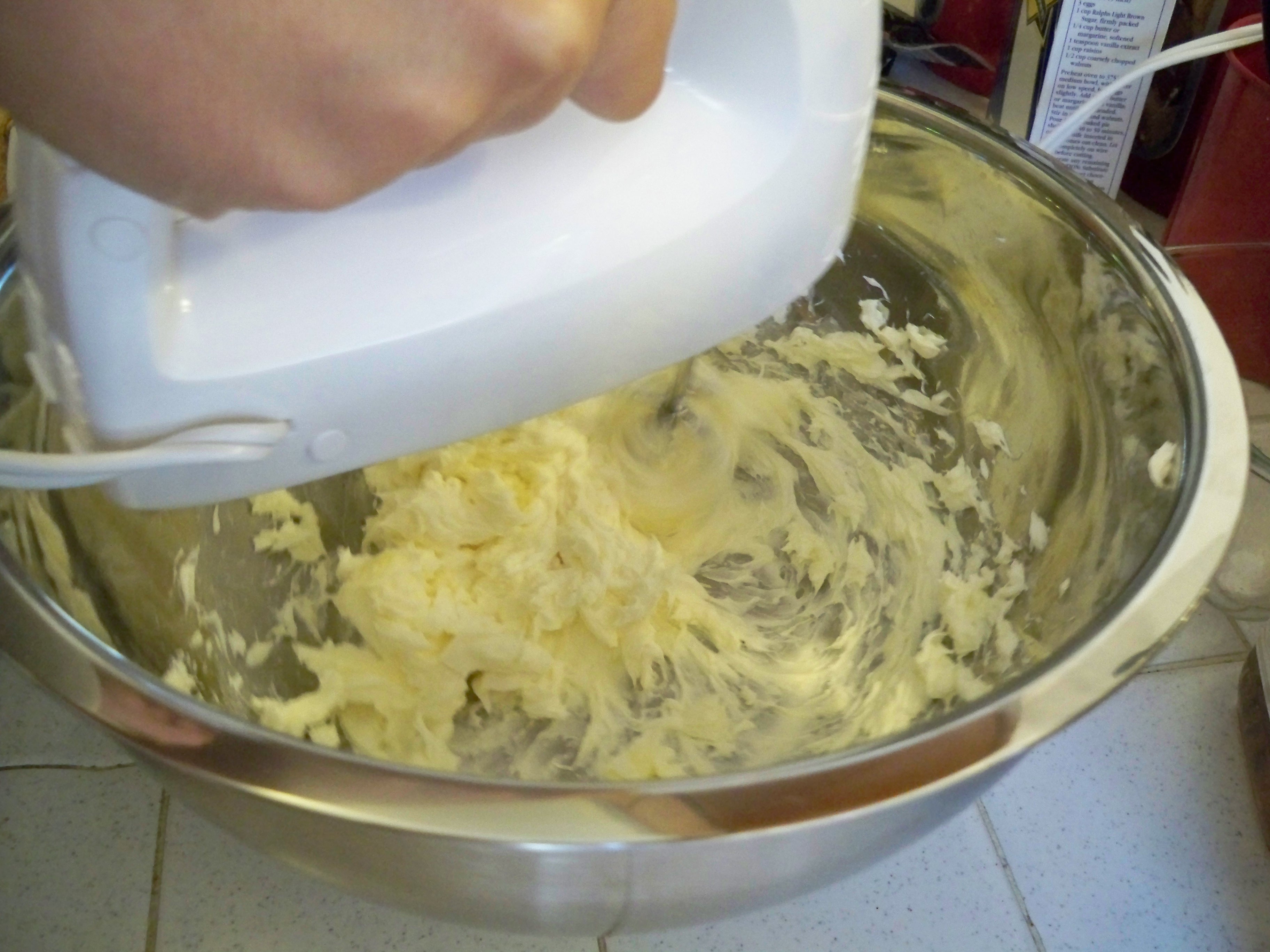 Dump the dough out onto a well-floured board and roll it into a ball.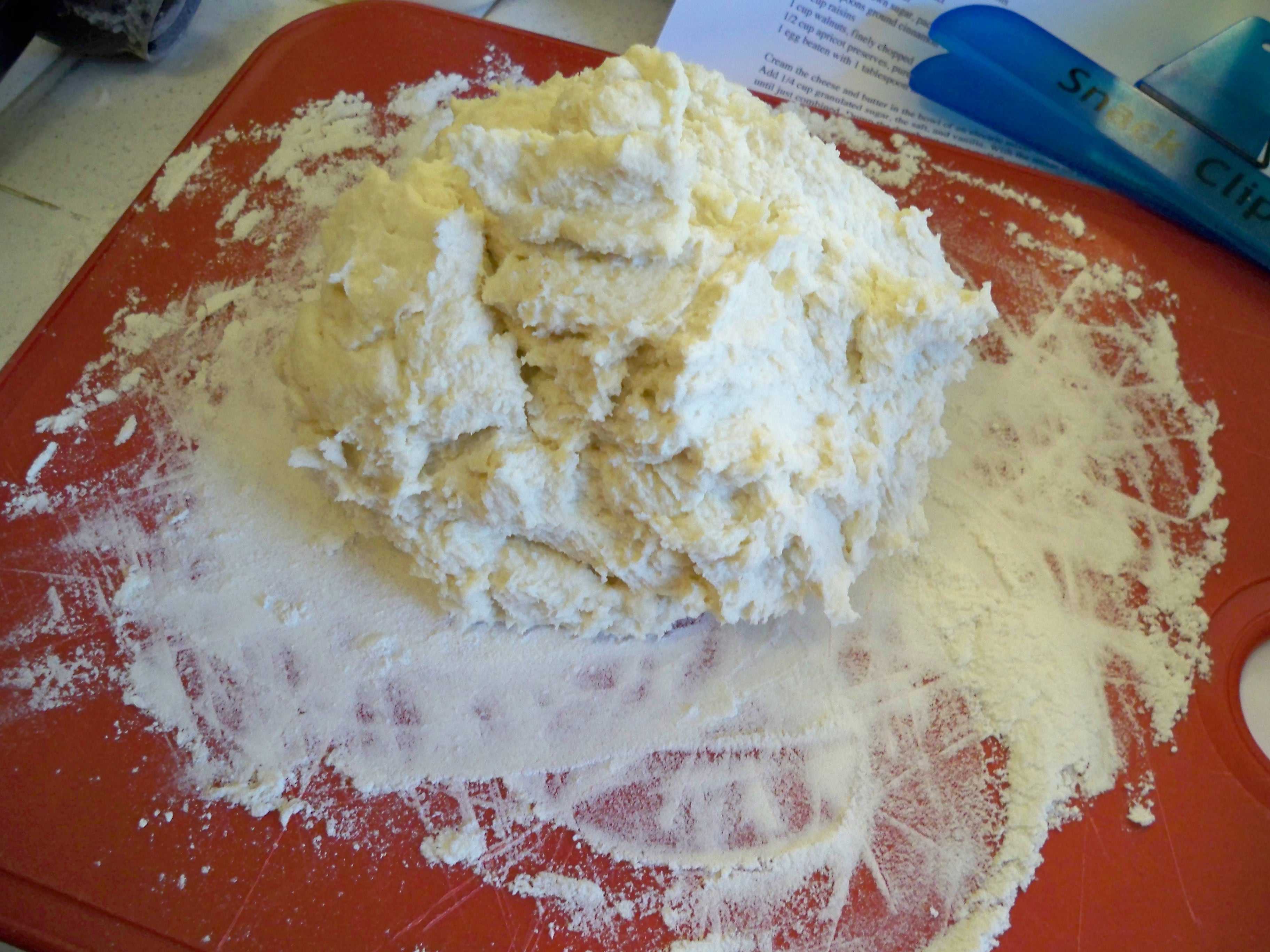 Divide your dough into four balls, wrap them up in plastic, and "chill." Now, Jennie and I interpreted chill to mean freeze, but after a quick consultaion with the internet, we determined it meant refrigerate. I'm impatient, so we should have put them in the freezer, but we settled on the fridge this time around.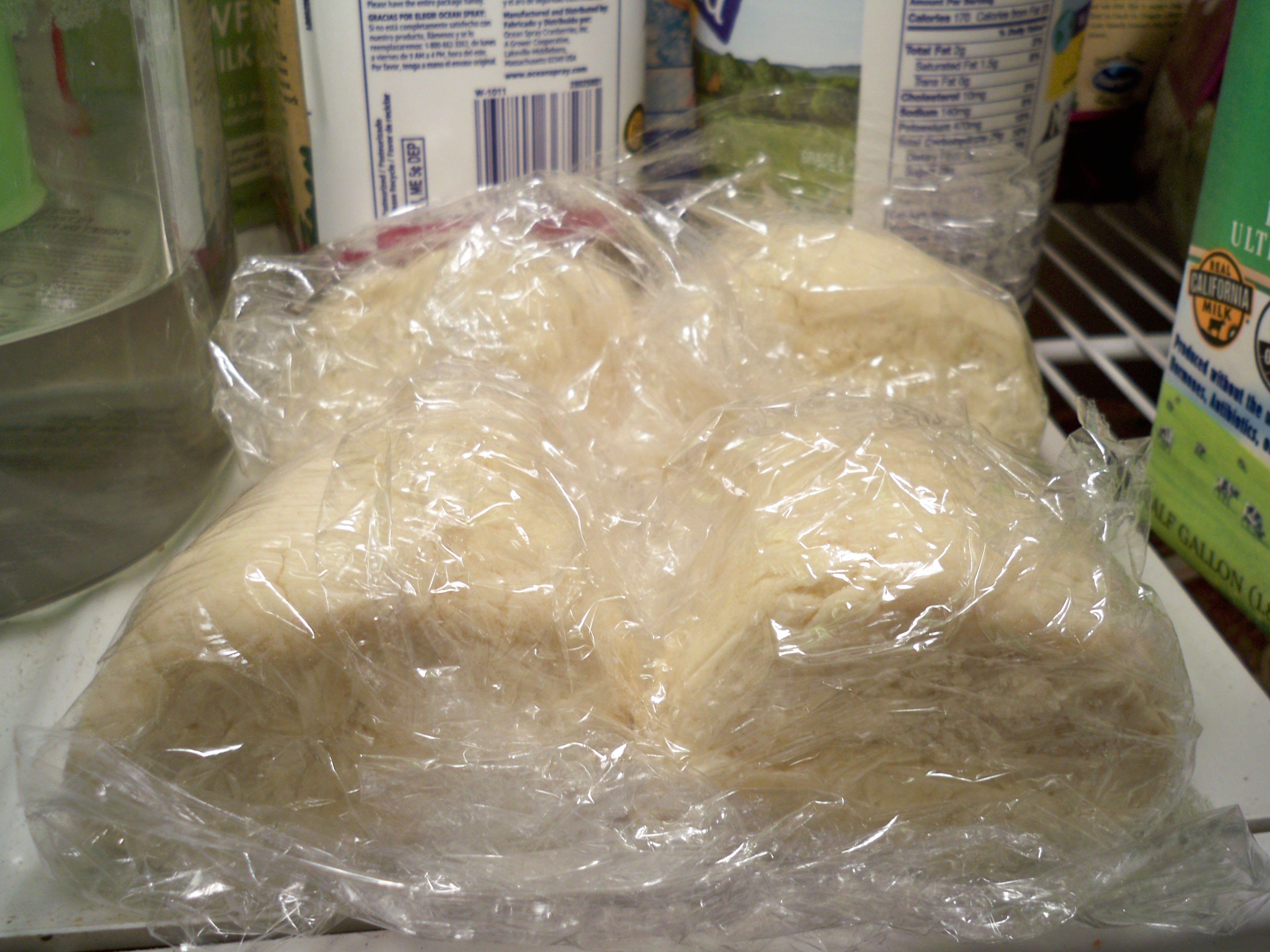 While our dough chilled, Jennie and I worked on a side project – staining my dresser. Check it out!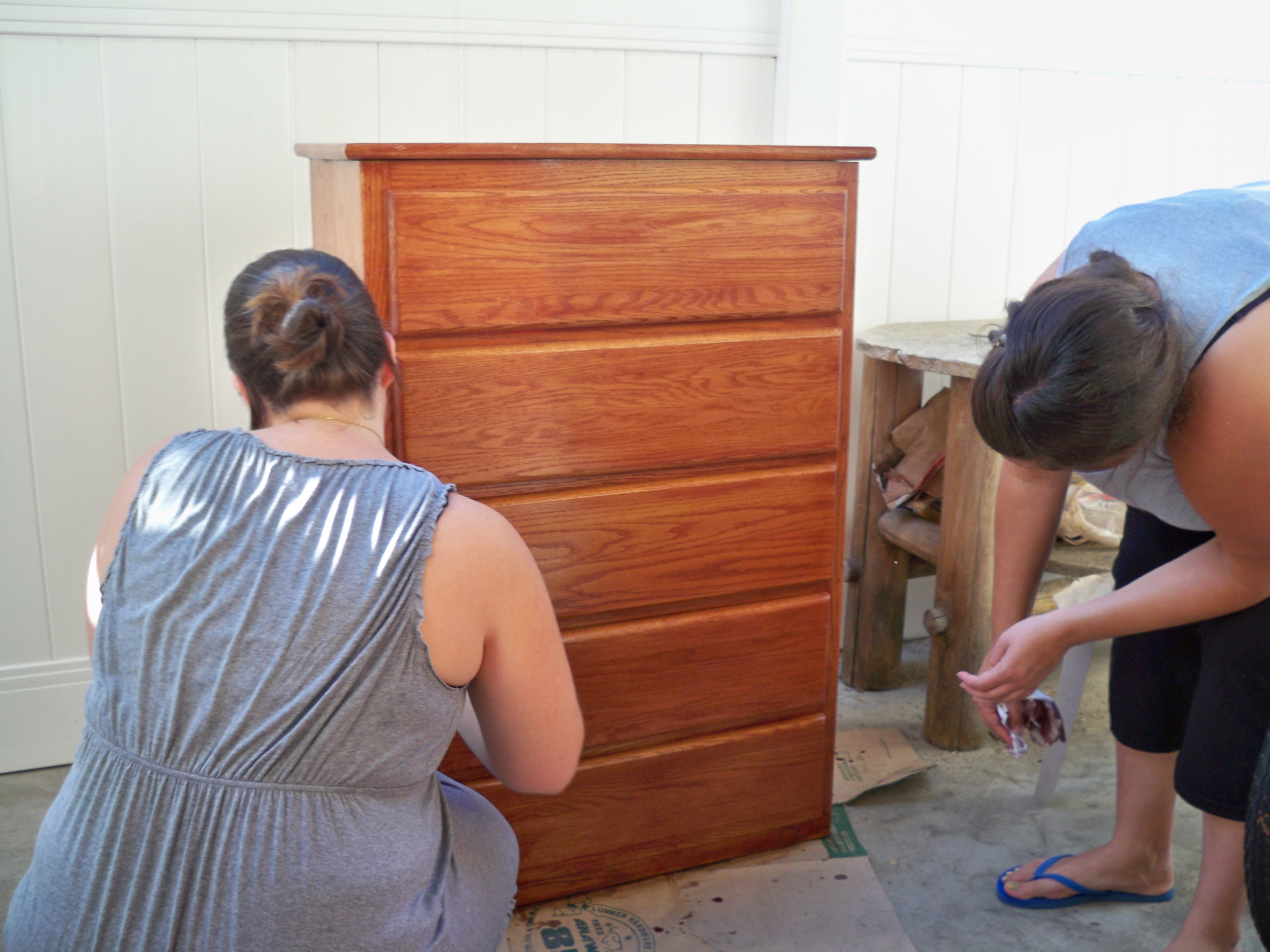 Five minutes before the dough is done chilling mix the filling. To make the filling, combine 6 tablespoons of granulated sugar, the brown sugar, 1/2 teaspoon cinnamon, the raisins, and walnuts. Or, if you are Jennie, just put all 1 ½ teaspoons of the cinnamon in. No big deal.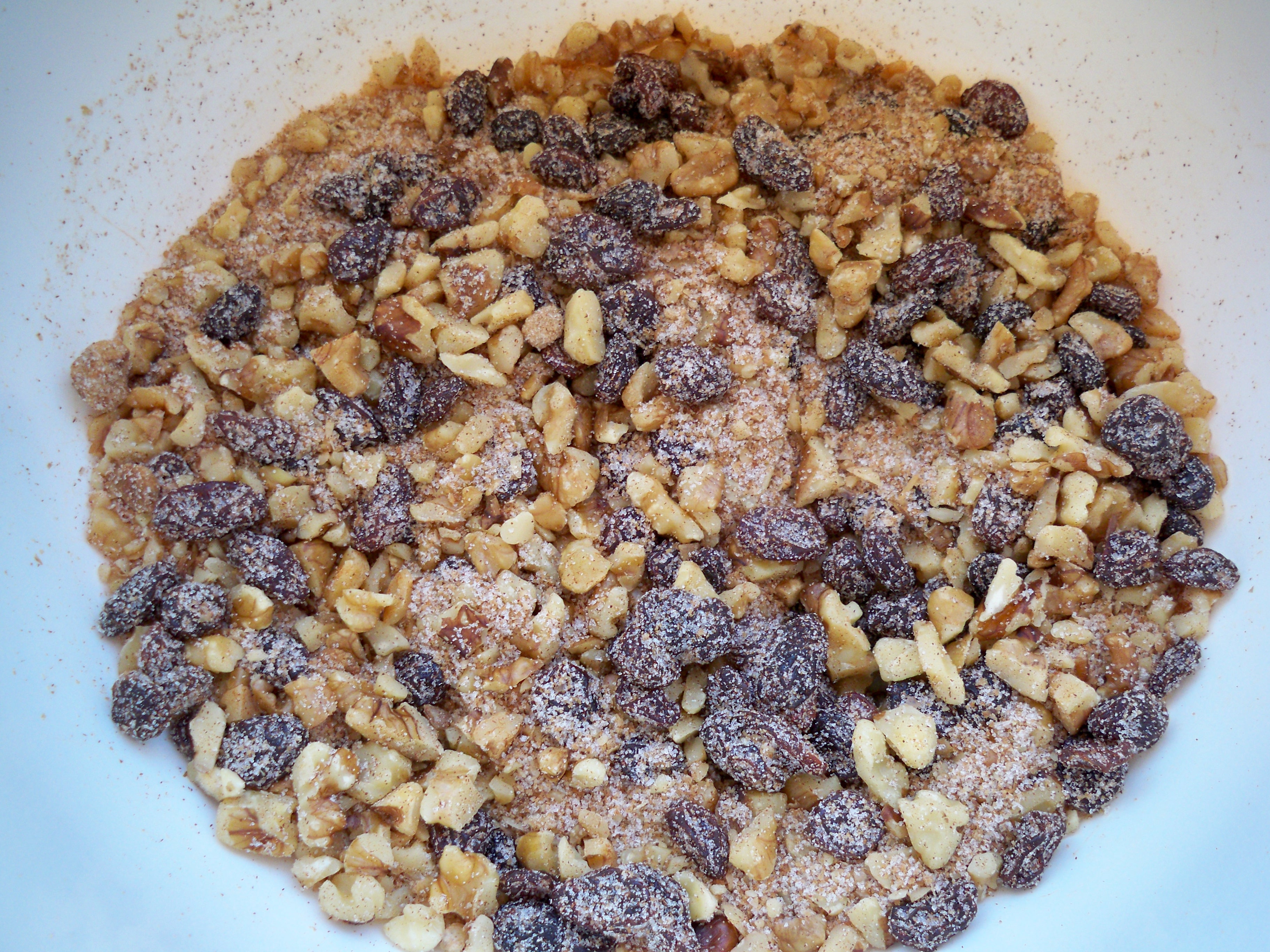 When the dough has been chilled for an hour, flour a cutting board and roll out each of the 4 balls into a 9 inch circle.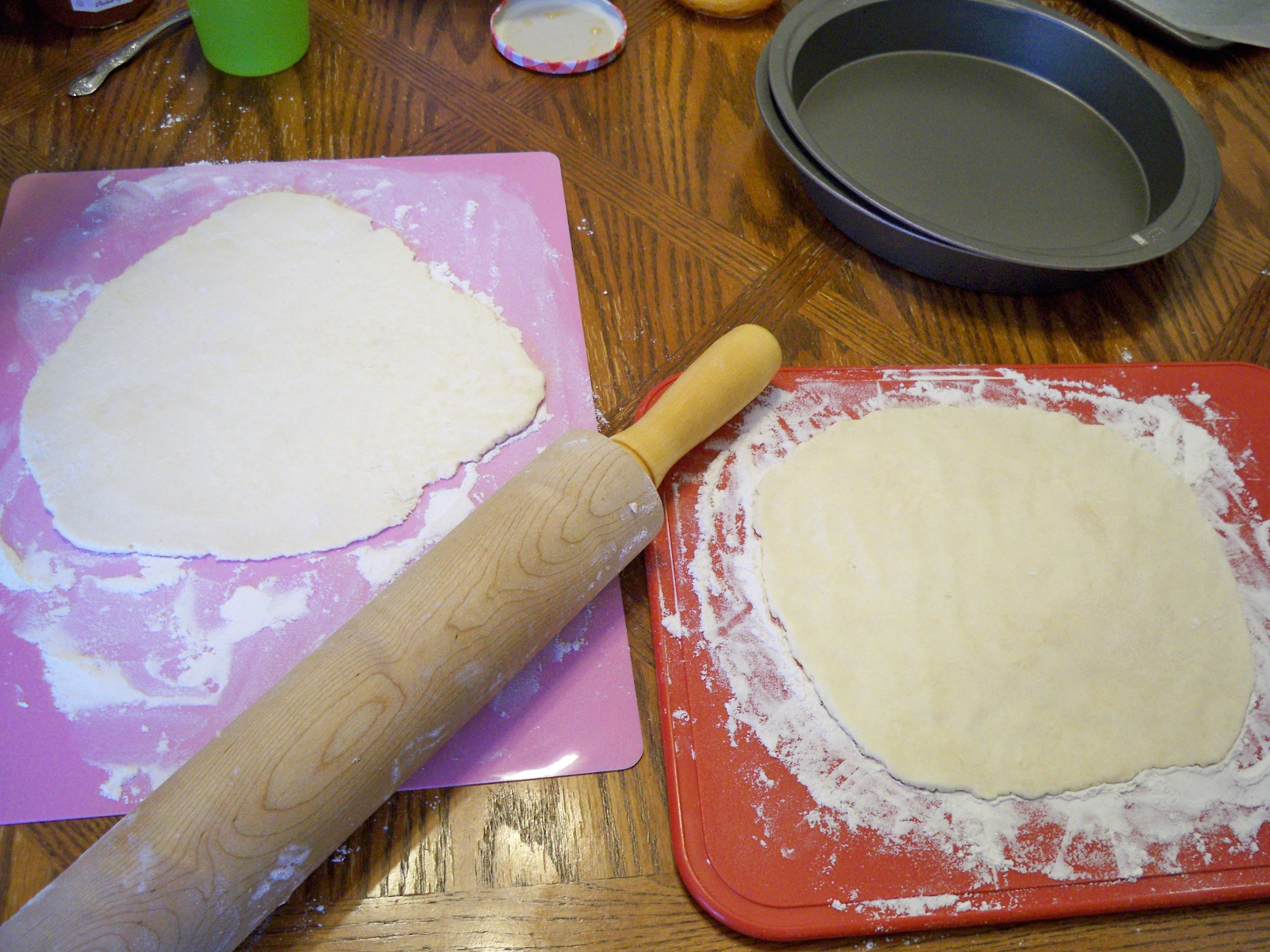 Spread the preserves like you would sauce on a pizza, using about 2 tablespoons for each 9 inch circle. Recipe says to puree the preserves, but we just picked out the chunks instead. Whatever works…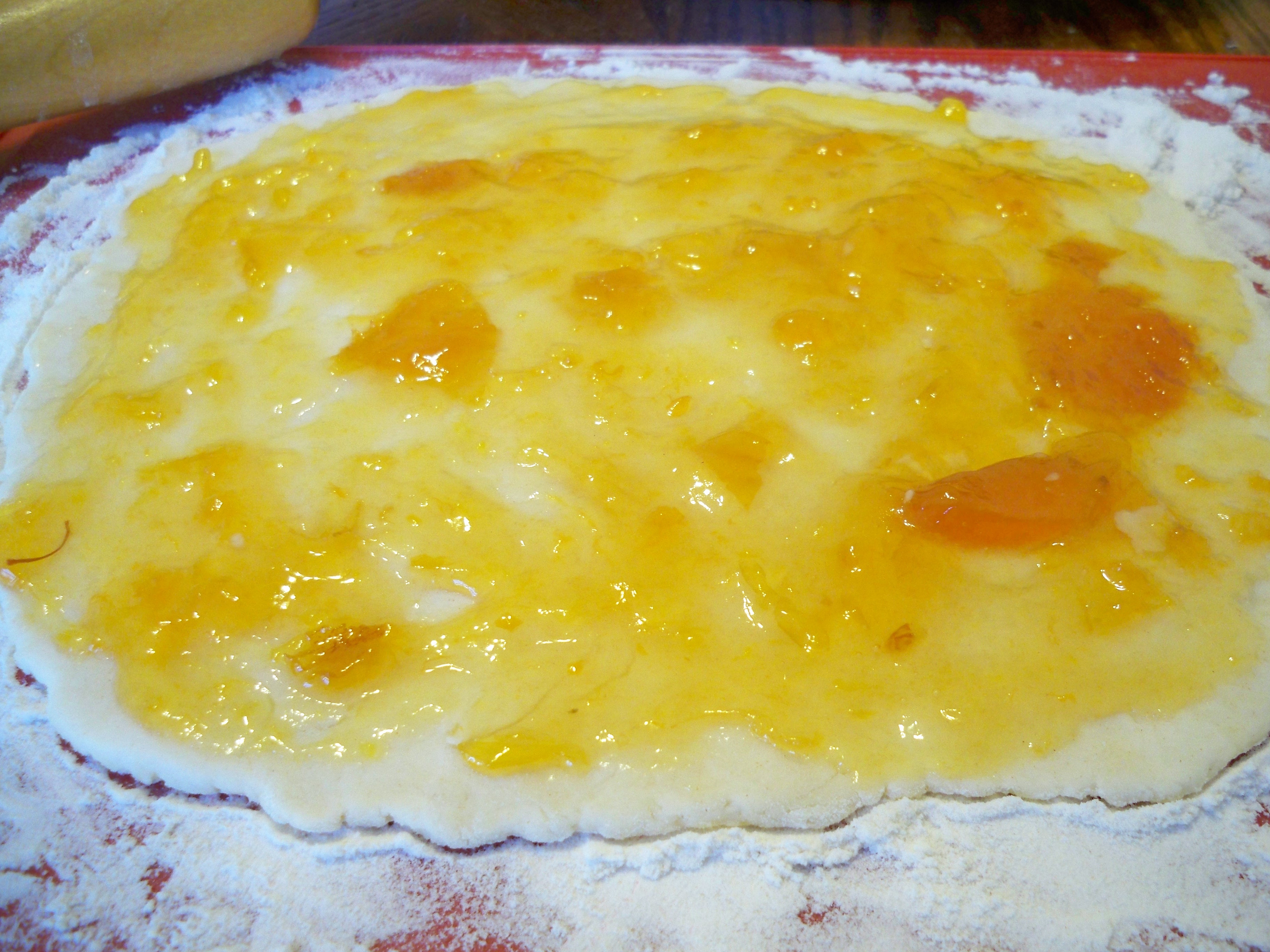 Then, add your filling (about ½ cup). As I generally tend to be, I was heavy handed on the filling of the cookies.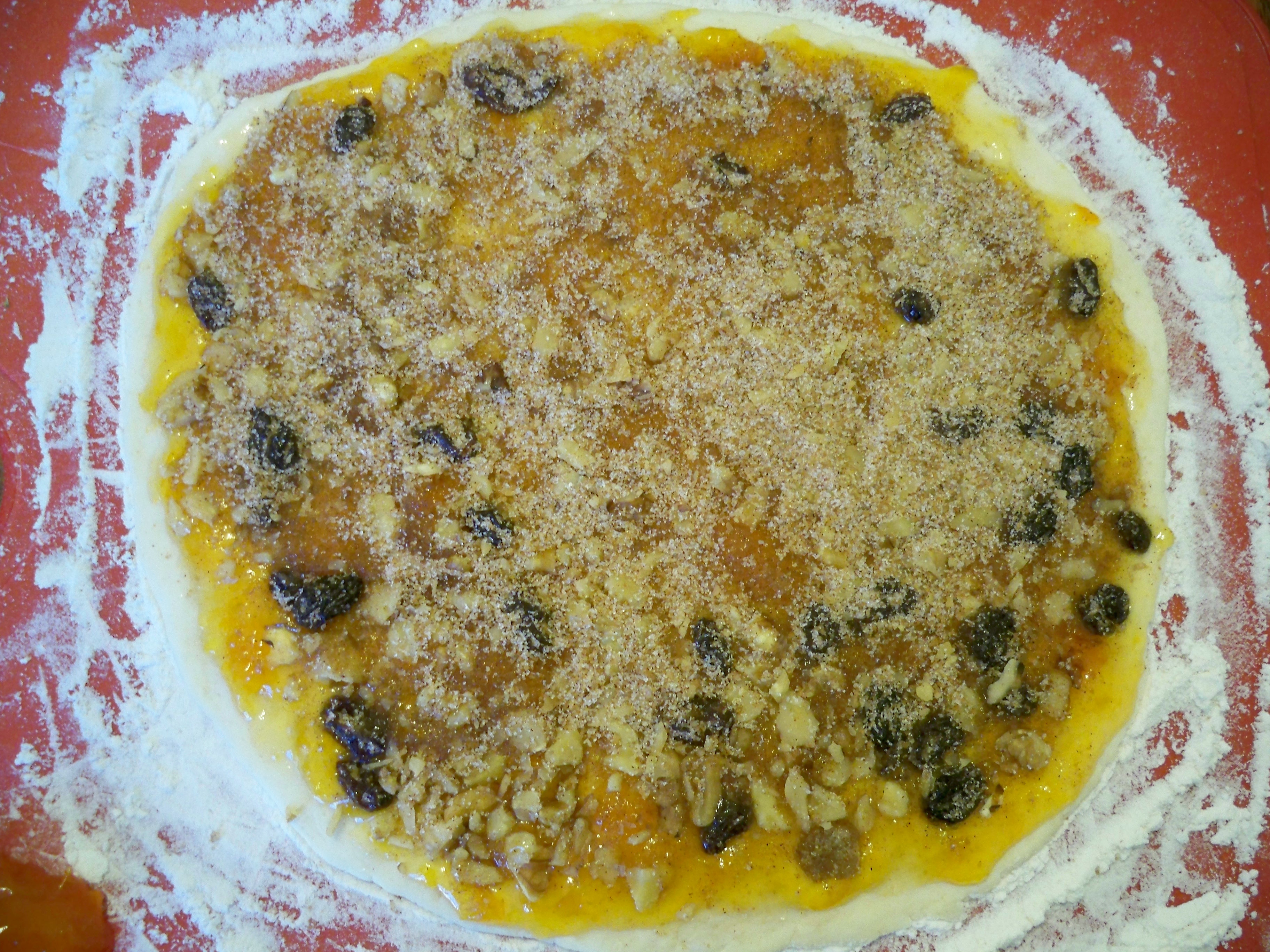 Press everything gently into the dough, and cut your cookie circle into quarters. Then cut each quarter into thirds. You should have 12 little cookie slices that look like miniature pizza slices.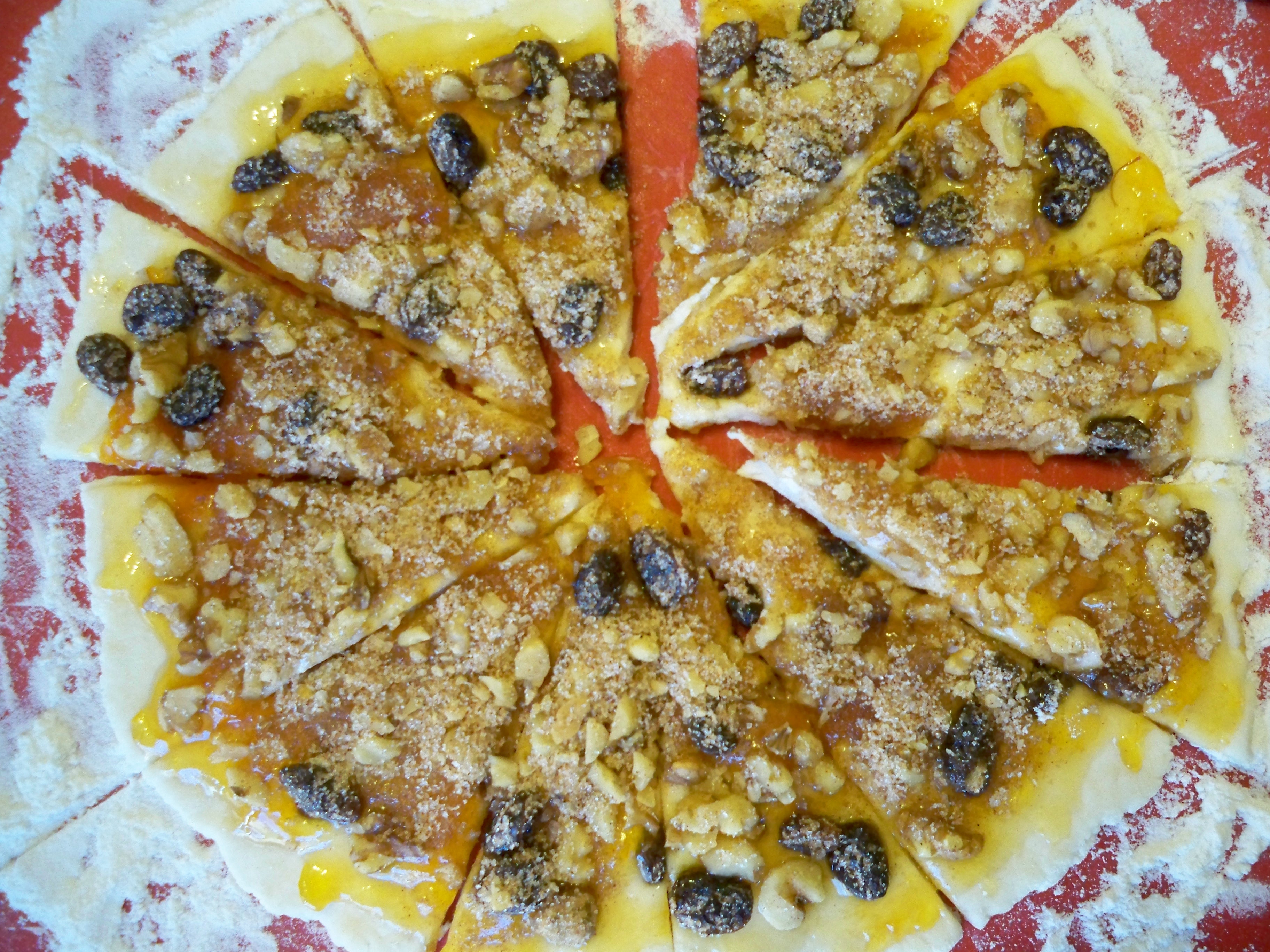 Roll them up, starting at the wide end, and place them point side down on a cookie sheet lined with wax paper.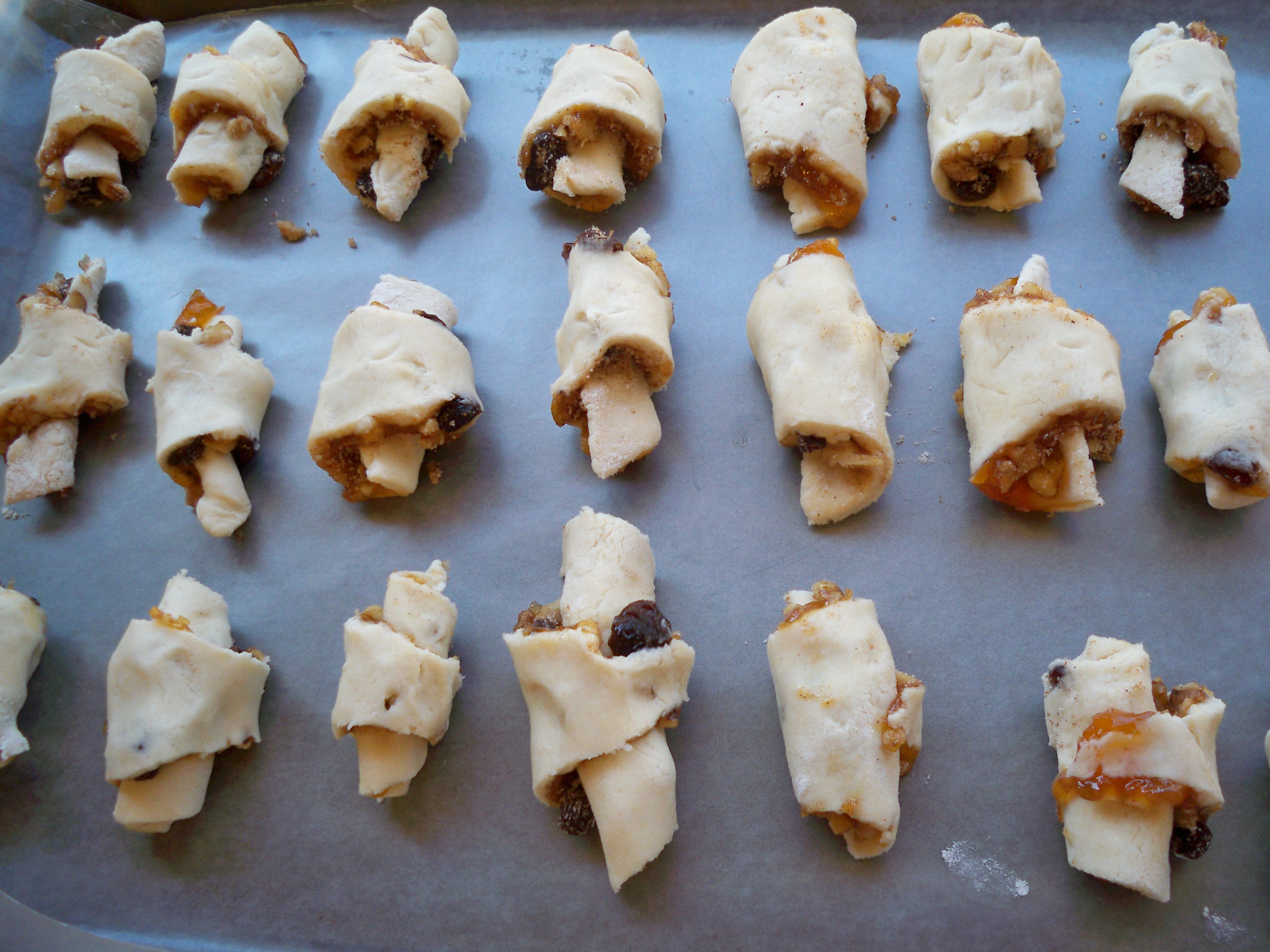 Once all four doughs are done, it is time to chill again. This time I used the freezer. Preheat the oven to 350 degrees. After 30 minutes, combine the egg with 1 tablespoon milk for the egg wash. Brush the tops of each cookie with the egg wash. Sprinkle any leftover sugar/cinnamon combo filling you may have, which is what we did, or if you happen to have used it all up in the filling, mix 3 tablespoons granulated sugar with 1 teaspoon cinnamon.
Let the baking begin! This recipe says with your oven on 350, the cookies should bake for 15-20 minutes. Jennie and I wound up cooking them for more like 25-30 minutes to get them properly browned. Of course, she sampled one approximately 3 seconds after they came out of the oven and burned off a few taste buds. I waited, and was rewarded with a warm, gooey, tasty cookie.
We brought them into work the next day to pass around to coworkers/brown nose/woo new friends with food. It was very successful!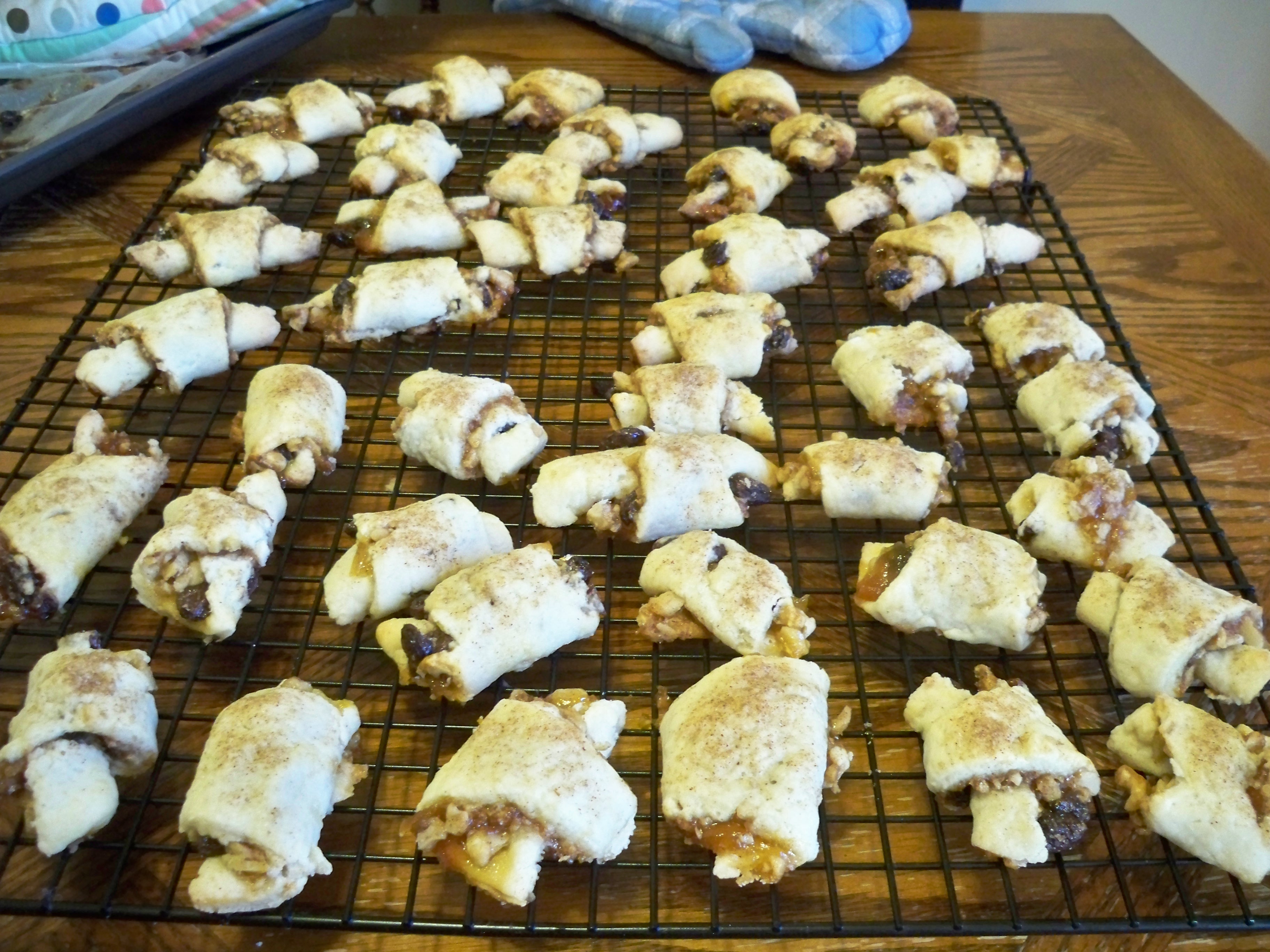 [addtoany]
Yum