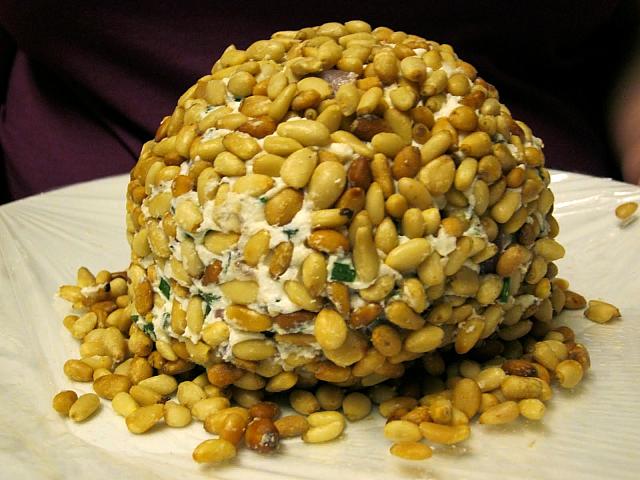 Prep time: 25 minutes
Cook time: 2 hours (to chill)
Servings: 8

Ingredients:
12 ounces soft goat cheese

4 – 6 ounces pine nuts

1 small red onion, chopped
1 tbsp olive oil
2 tbsp honey
2 tbsp fresh chives, chopped

2 tbsp fresh rosemary, chopped
Directions:
1. Set the cheese out to soften while you prepare other ingredients.
2. Caramelize the onions using a little olive oil, cooking slowly over medium-low heat. It should take about 20 minutes, and the onions will turn brown and sweet.
3. Use a toaster oven or cast iron skillet to toast the pine nuts.
4. In a medium sized bowl, mix the goat cheese, herbs, honey, and caramelized onions until evenly combined.
5. Arrange the toasted pine nuts (give them time to cool!) in an even layer on a plate or platter covered in plastic wrap.
6. Form the cheese mixture into a ball and roll in the pine nuts to coat all sides.
7. Cover the ball in plastic wrap and place it in the refrigerator to chill for two hours before serving.
Yum