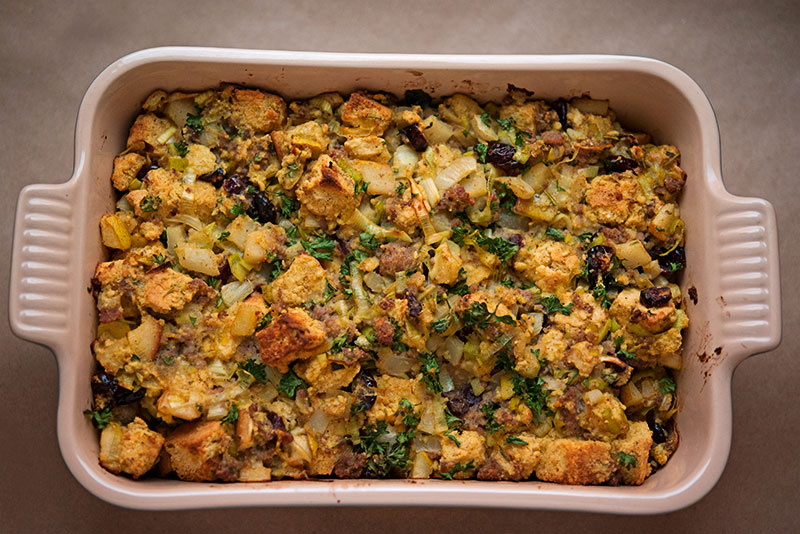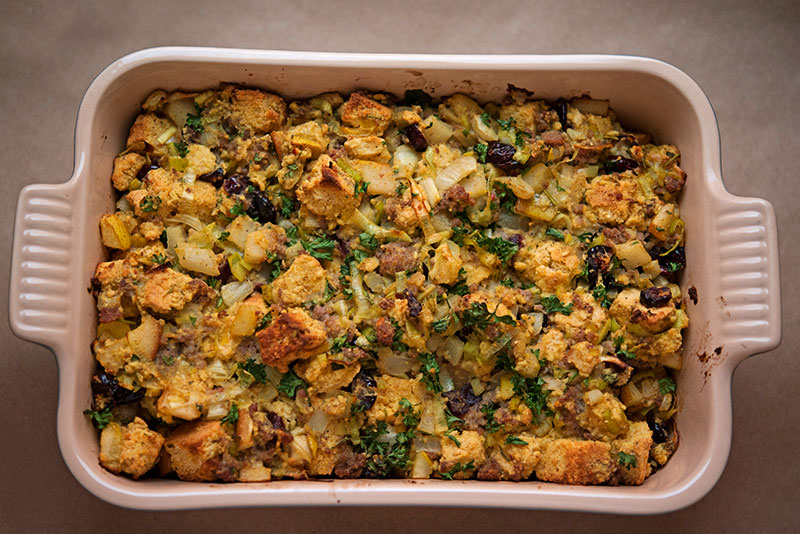 Oven Temperature: 375
Prep Time: 45 minutes
(not including time to make cornbread)
Bake Time: 35 minutes
Ingredients:
6-8 cups cornbread cut into cubes
(or 1 package Bob's Red Mill Gluten Free Cornbread Mix,  prepared ahead of time) 
2 leeks, sliced thin
3 stalks celery, chopped
1 large fennel bulb, chopped
3 pears, chopped
1 lb pork sausage, browned
2 cups turkey or chicken stock 
2 large eggs, beaten
1/3 cup unsalted butter, plus extra for greasing pan
2 tbsp fresh rosemary, finely chopped
2 tbsp fresh sage, finely chopped
1/2 tsp curry powder
1/2 tsp cinnamon
1 cup dried cranberries
1/2 cup fresh parsley, chopped finely
Directions: 
1. Make the cornbread ahead of time. Allow to cool. Cut into bite size cubes.
2. Heat oven to 350 degrees, and toast cornbread pieces in a single layer for about 10 minutes until they just begin to brown. Remove cornbread, then turn oven up and let it preheat to 375 degrees.
3. Heat butter in a large skillet. Add pears, fennel, leeks, celery, cinnamon and curry. Cook over medium heat until they begin to soften. About 10 minutes.
4. In a separate pan, brown your sausage and set aside to drain on paper towels.
5. Combine cornbread, vegetables and sausage in a large mixing bowl. Add rosemary, sage, eggs and cranberries. Mix well.
6. Place mixture in a greased casserole dish, and pour chicken stock on top.
7. Top with parsley and bake for 30-35 minutes at 375 degrees.
Yum