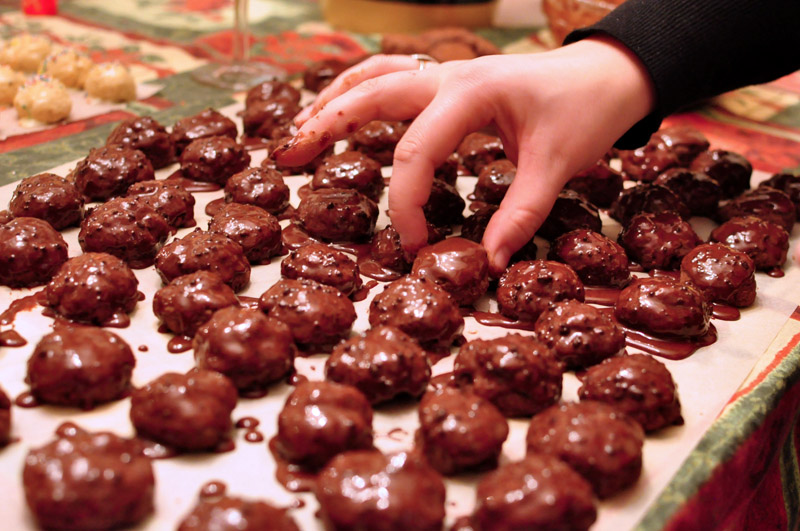 When I was home for the holidays, I made my first cheesecake (which was delicious, by the way, and I don't even really like cheesecake), along with four kinds of holiday cookies with my mom and sister. We always make gingerbread, chocolate pixies (the chocolate ones with a chocolate kiss in them), and two kinds of Italian cookies. The first are Chocolate Mice Cookies, or Italian Spice Cookies, which my mom passed down from my nonnie, and also had tweaked over the years due to changes in diet and my mom's tendency to make things up a little as she goes.
Prep time: 20 minutes
Bake time: 8-10 minutes
Oven temperature: 350 degrees

Ingredients:

4 cups flour
2 cups sugar
1 cup cocoa
3 tablespoons of baking powder
1 1/2 tablespoons of cinnamon
2 tablespoons of cloves
2 tablespoons of vanilla
2/3 cup of oil plus two tablespoons more (I like coconut oil)
1/2 cup of water
2 eggs
Frosting:
1 cup of confectionary sugar
1/2 cup of milk
1 1/2 tablespoon vanilla
1/2 cup of cocoa
Mix the cocoa and oil, followed by the eggs. Then add the sugar, flour, baking powder, and spices, including vanilla. Add 1/2 cup water, until cookie dough comes together. Add a little more water if it is not coming together.
Bake at 350 degrees about 8-10 minutes; they will look slightly undercooked, but you want them to be like fudge rather than hard! Allow to cool completely, then make icing and ice!
Yum