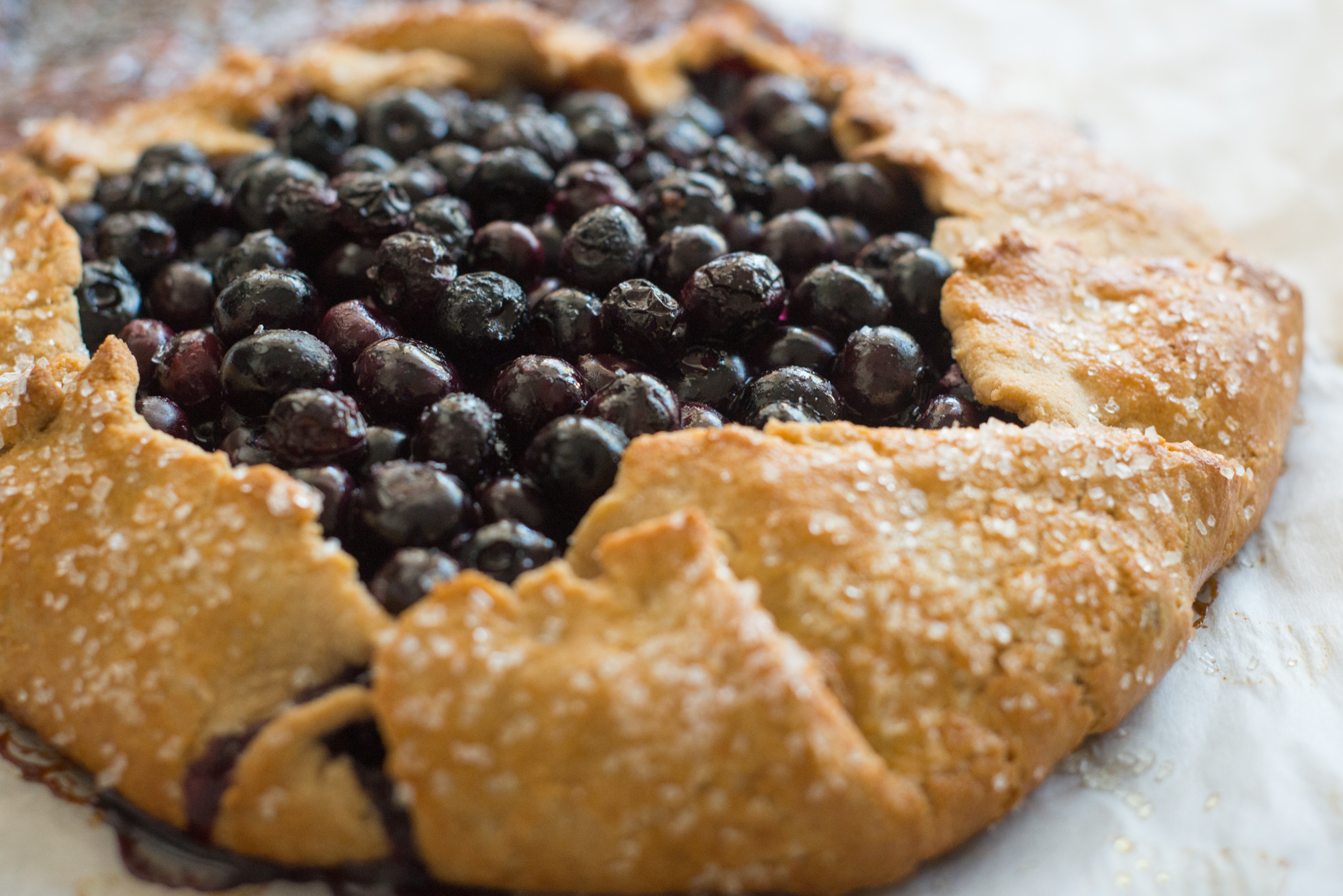 Type: Dessert, Treats
Author: Jennie
Oven Temperature: 375°
Difficulty: Intermediate
Prep Time: 30 minutes
Cook Time: 45 minutes
Inactive Time: 1 hour
Servings: 6-8
Ingredients
1 3/4 cup all purose or white wheat flour
6 tablespoon sugar, divided
1 teaspoon kosher salt
1/2 teaspoon baking powder
1/2 cup (1 stick) butter
2 1/2 cup fresh blueberries
1 tablespoon cornstarch
1 lemon, juiced and zest
1 teaspoon fresh ginger, grated
1/2 teaspoon cinnamon
2 tablespoon coarse sugar
1 egg, beaten
Directions
Mix the flour, 2 tbsp. sugar, salt and baking powder. Add the butter and use a pastry blender or fork to incorporate until butter is pea sized.
Add 5 tablespoons of ice water and pulse until the dough just comes together (if still too dry, add additional water, a teaspoon at a time).
Turn the dough onto a sheet of plastic wrap and form into a flattened round about 6 inches in diameter. Wrap and refrigerate for at least 1 hour. While the dough is chilling, make the filling.
Mix remaining sugar, cornstarch, lemon juice, ginger, and cinnamon together. Add blueberries and toss to coat. Refrigerate until it's time to put the whole thing together.
When the dough is ready: preheat oven to 375, then roll out dough onto a piece of parchment. Pile blueberries (including liquids) into the center, then pleat the dough up to the center.
Beat egg and put an eggwash on the dough, followed by a sprinkling of coarse sugar. Place in oven for 30-45 minutes, until blueberries are bubbly and dough is browned. Serve with ice cream!
Yum