When Kelly from Studio DIY asked if I had ever made cannoli before, I said no, but "How hard could it be?" She confessed she had never deep fried anything before, and I was horrified because of that. Never deep fried? I could deep fry in my sleep! And so I decided we must rectify this immediately…so I offered to collaborate.
The catch? Kelly, of course, didn't want to just make any cannoli – she wanted to make rainbow cannoli. Easy, peasy, I said.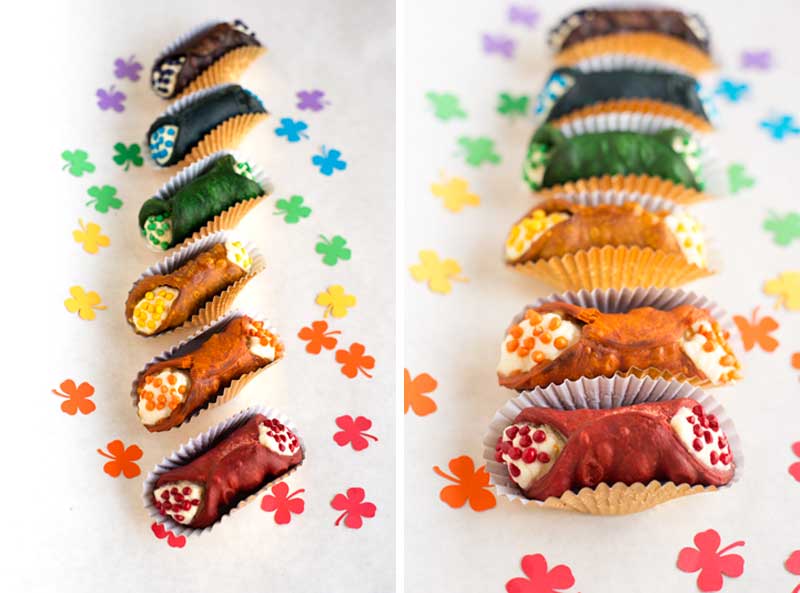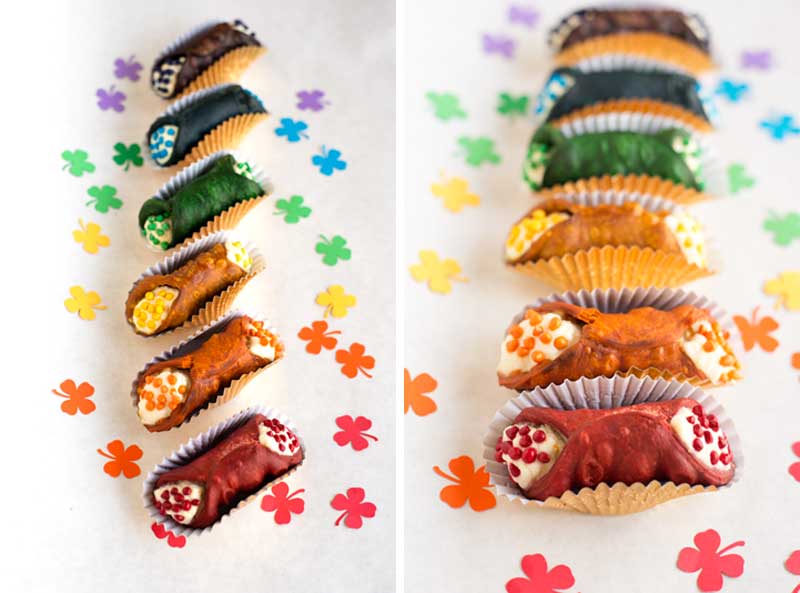 And so, we found a recipe, and we made some cannoli. Here's the recipe:
(Modified from Mario Batali's recipe)
Ingredients
Shells:
2.25 cups all-purpose flour
1/4 teaspoon ground cinnamon
1 teaspoon sugar
1 tablespoon unsweetened cocoa powder
2 tablespoons butter, unsalted
6 tablespoons Marsala wine
food gel for dying shells
Filling:
1 pound ricotta
1/2 cup superfine sugar
1/4 cup lemon juice
2 teaspoons vanilla
3 tablespoons grated orange zest, plus extra for garnish
1 egg white, lightly beaten
2 quarts oil, for frying
sprinkles for ends
Start with your dough – mix together your dry ingredients. Add your food gel to your butter and wine, then mix in with your dry ingredients, kneading if necessary to get the color throughout the dough.
Refrigerate the dough for at least 30 minutes before rolling out. Roll out using four-inch circles, then roll VERY thin (like 1/16 of an inch) and wrap around the cannoli forms. Brush with egg white and pinch close – if you don't, you risk losing a cannoli shell when it hits the oil! When you're pinching closed, make sure to only get the egg white on the dough – otherwise you'll have a hard time getting the cannoli off the forms later on!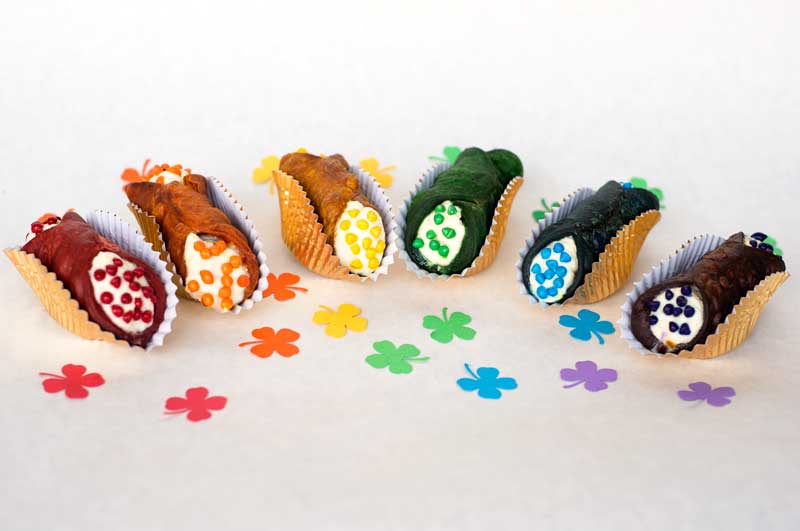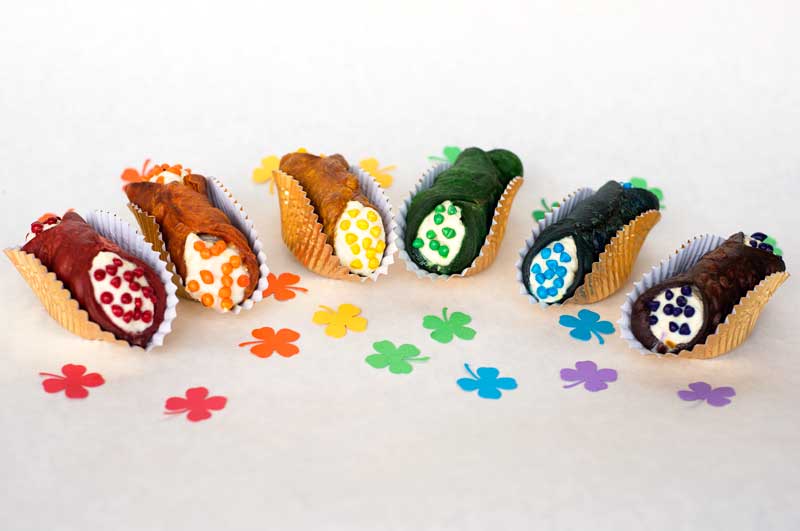 Now mix your filling – I found that the recipe's filling was a bit runny, so I've lessened the lemon juice, orange zest, and vanilla. Mix all your ingredients up and then put the filling in the fridge, too, so it can firm up.
Now, make sure your oil is about 375, and then drop 'em in two or three at a time, depending on how big your oil receptacle is. Let them fry for about two and a half minutes, then pull them out. You'll be putting them in on the cannoli forms, so be careful when pulling out – they're hot.
When cooled, simply twist off the cannoli form, and then let cool all the way before you fill (using a piping bag or a spoon) and stick sprinkles on the end.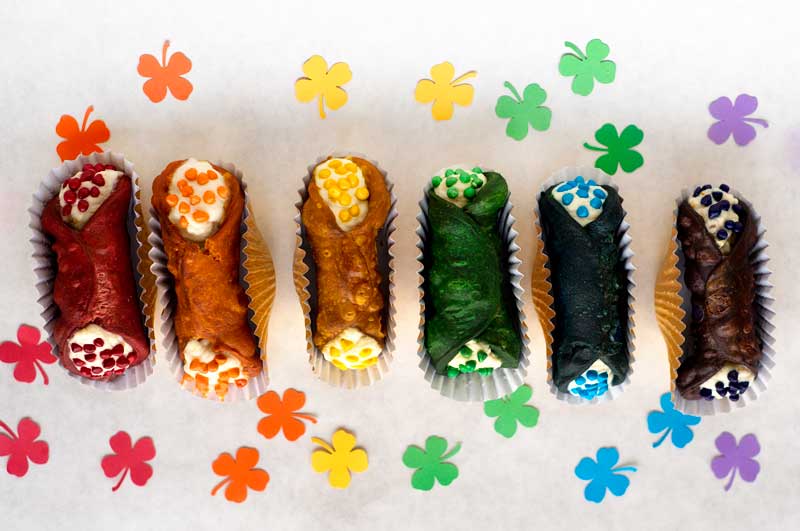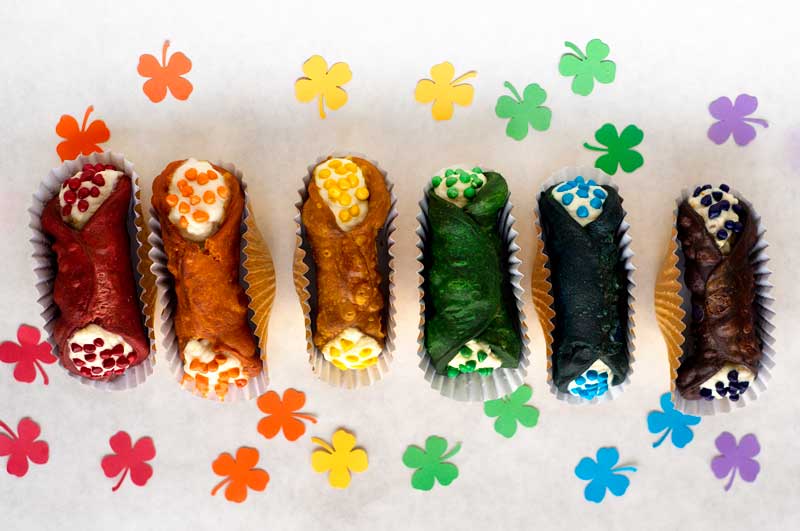 And there you have it – rainbow cannoli! Happy almost St. Patrick's Day, y'all!
[addtoany]
Yum