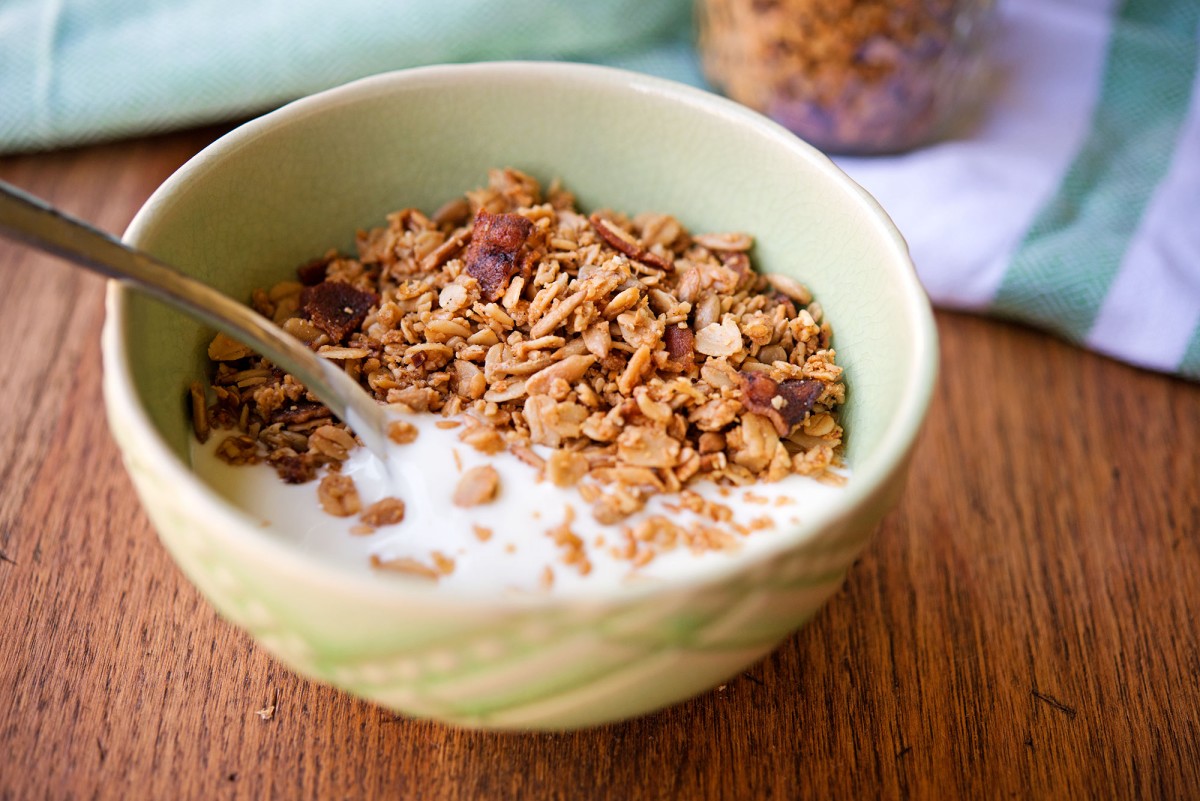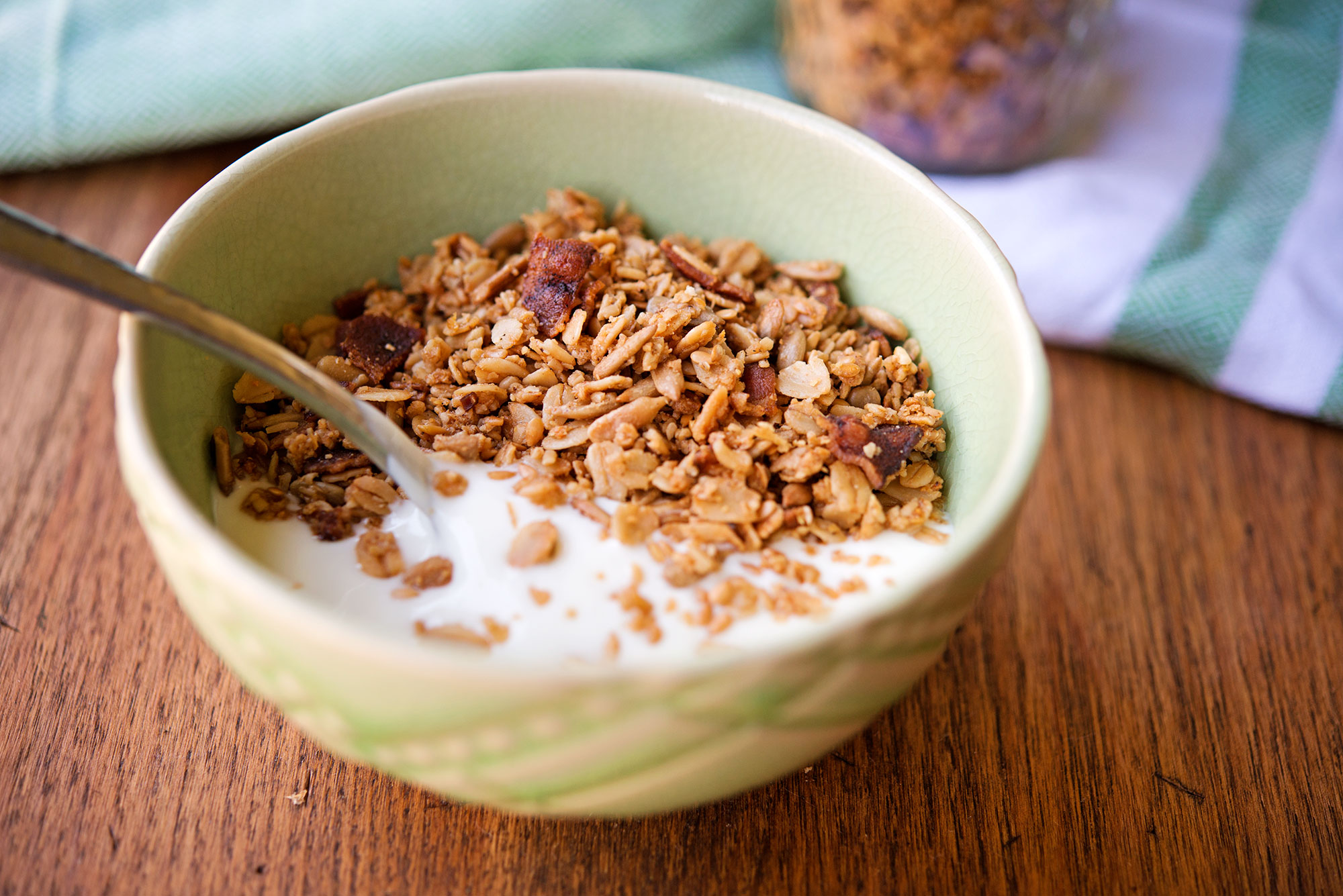 Fall is here, and we're reminding you of this delicious recipe we made because you guys, we deserve it. Fall is our favorite season, because the temperatures in Los Angeles cool off, we can finally turn the oven on again without feeling guilty, Thanksgiving is coming soon which is our favorite day of the year, and because PUMPKIN. Or, in this case, MAPLE. Both great, either make our hearts sing.
This is also gluten free, but you don't need to point this out because it doesn't really matter, it's delicious and amazing and just HAPPENS to be gluten free.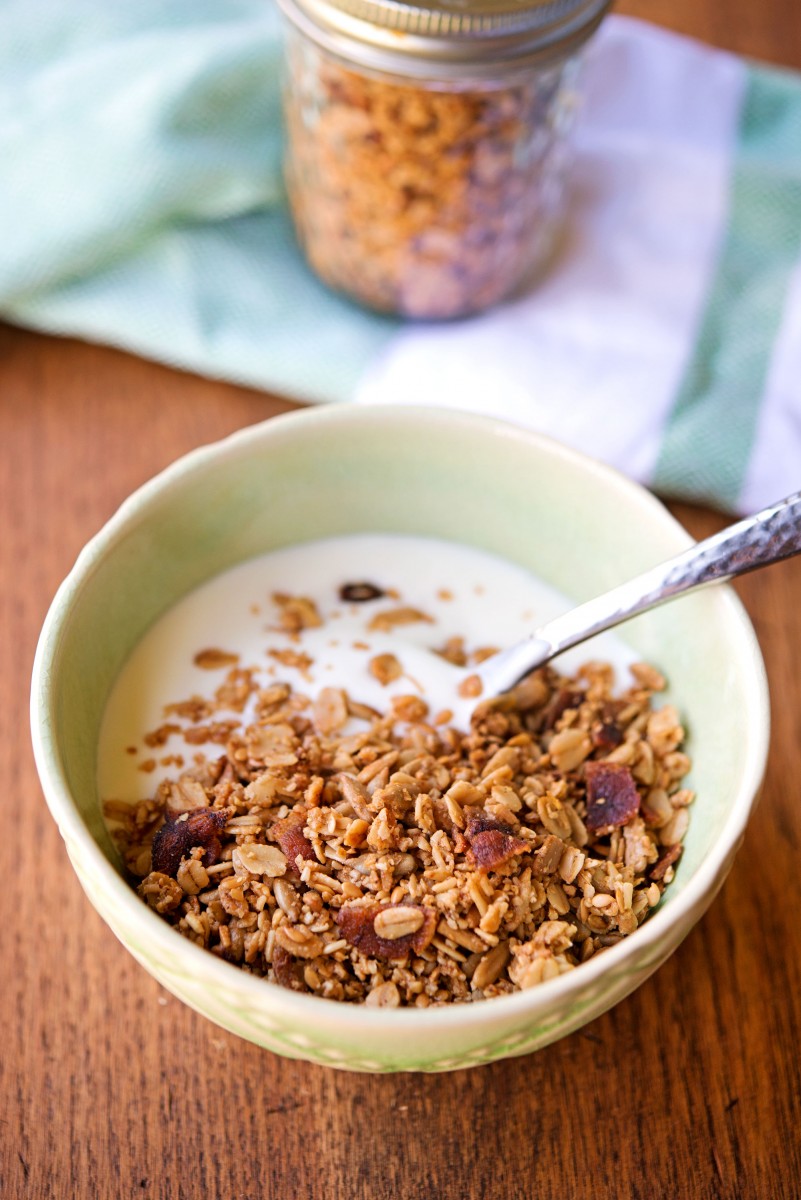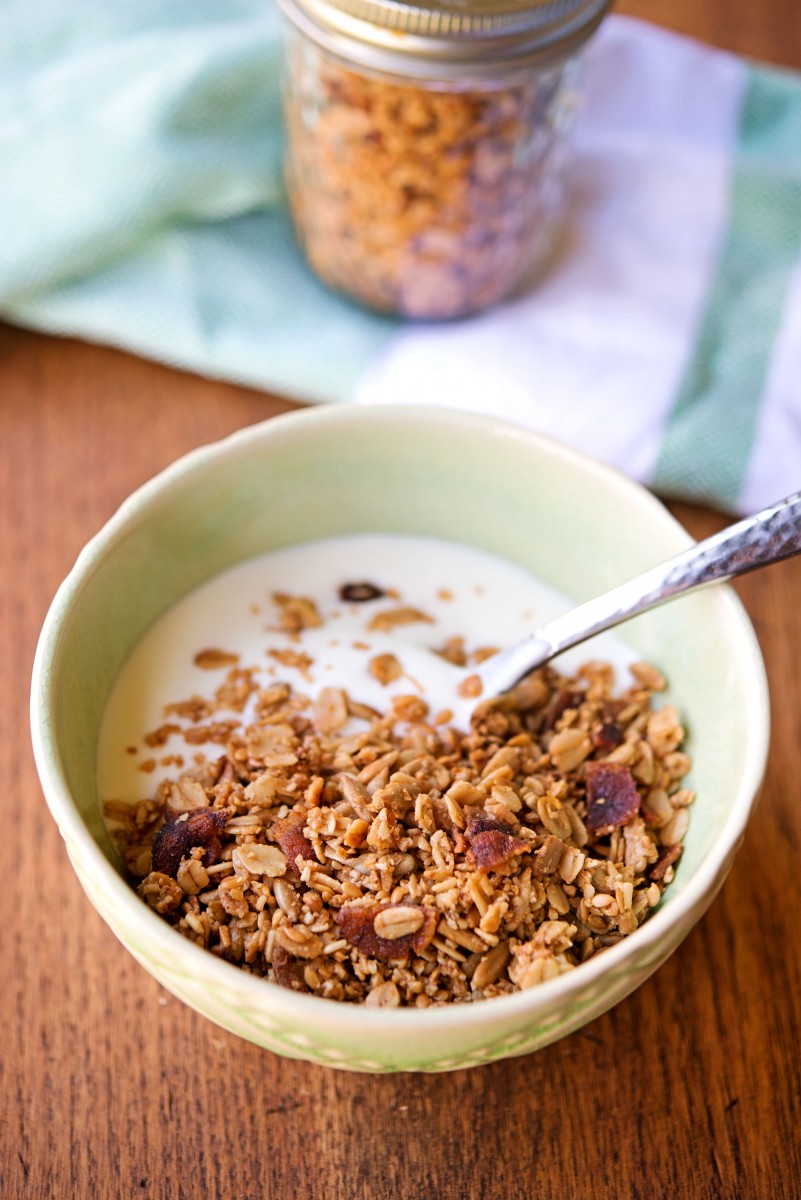 Even we weren't sure that bacon in granola was really going to work. But it exceeded all our expectations. We've been eating it for breakfast with a nice plain greek yogurt and it has been just heavenly. Salty, sweet…healthy? Probably not. But that's half the fun.
We didn't set out to but we did inadvertently prove that keeping to a gluten-free diet doesn't mean you always have to eat healthy either. Eat what you want (except gluten, duh) and live well, wheat-sensitive friends. You deserve it. Being gluten-free can be hard so why not make it fun and even sometimes enviable along the way?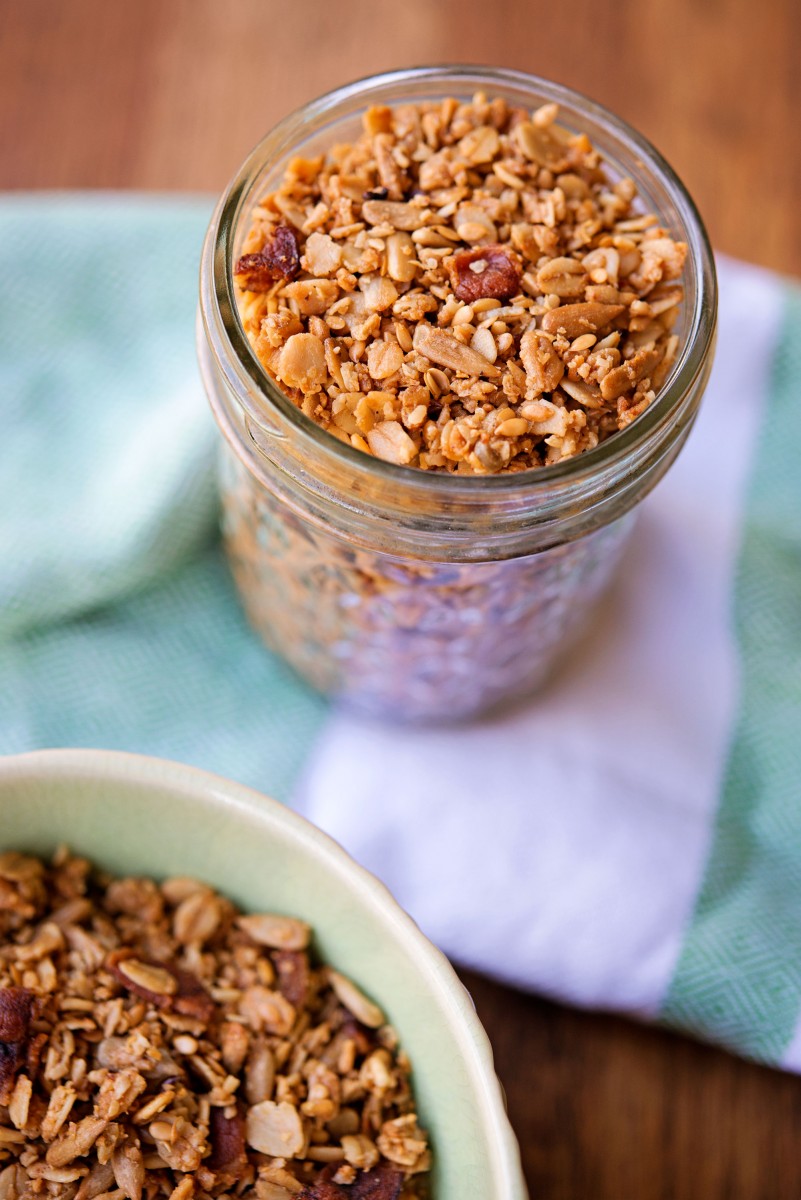 Treat yourself to that fancy cut of bacon you've been eyeing (we used Applegate brand) and pour in those bacon drippings unashamedly. For life is far too short not to eat bacon (if you adhere to that sort of thing. Sorry veggies! This is still a great gluten-free recipe just ditch the pork!)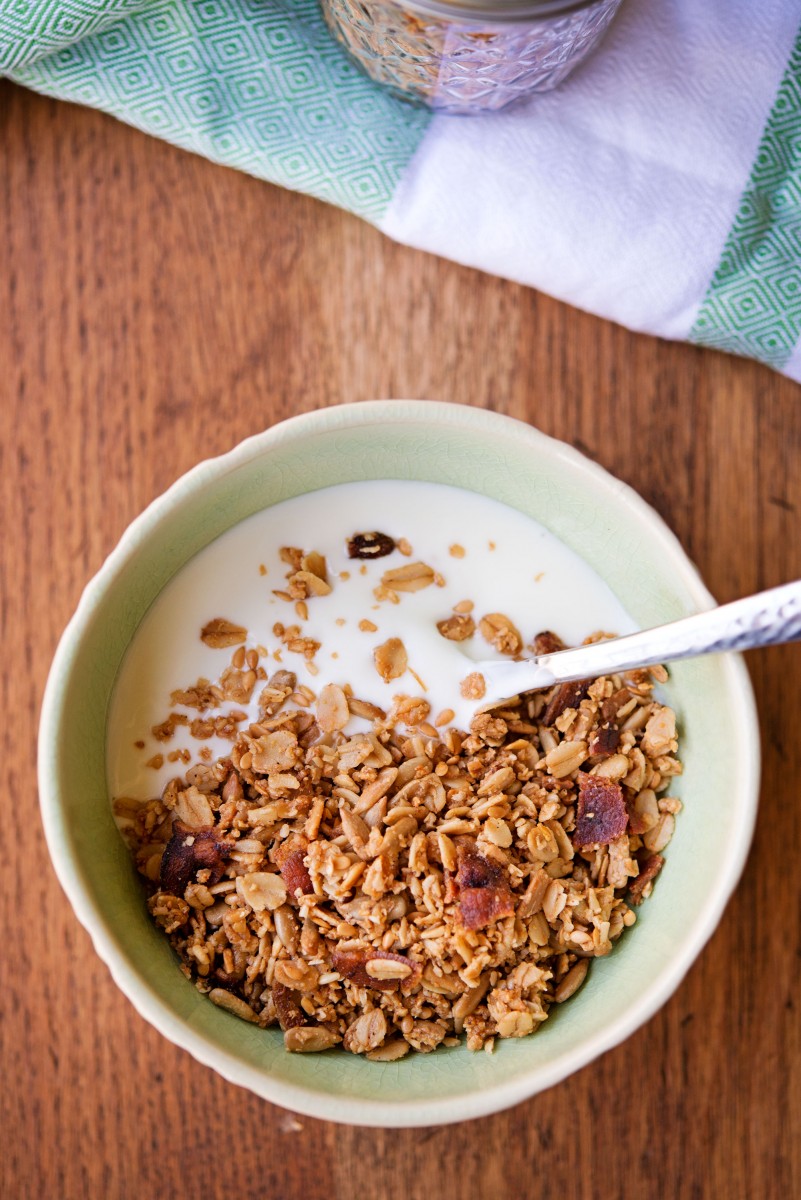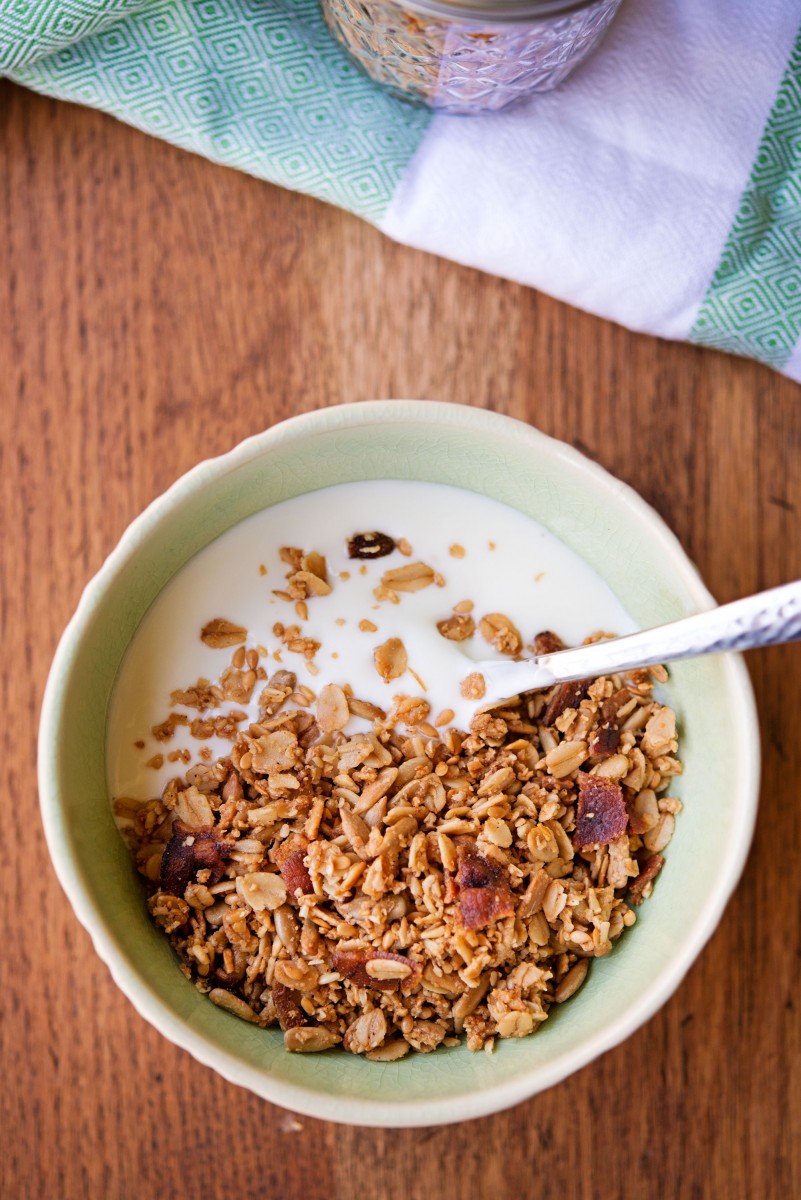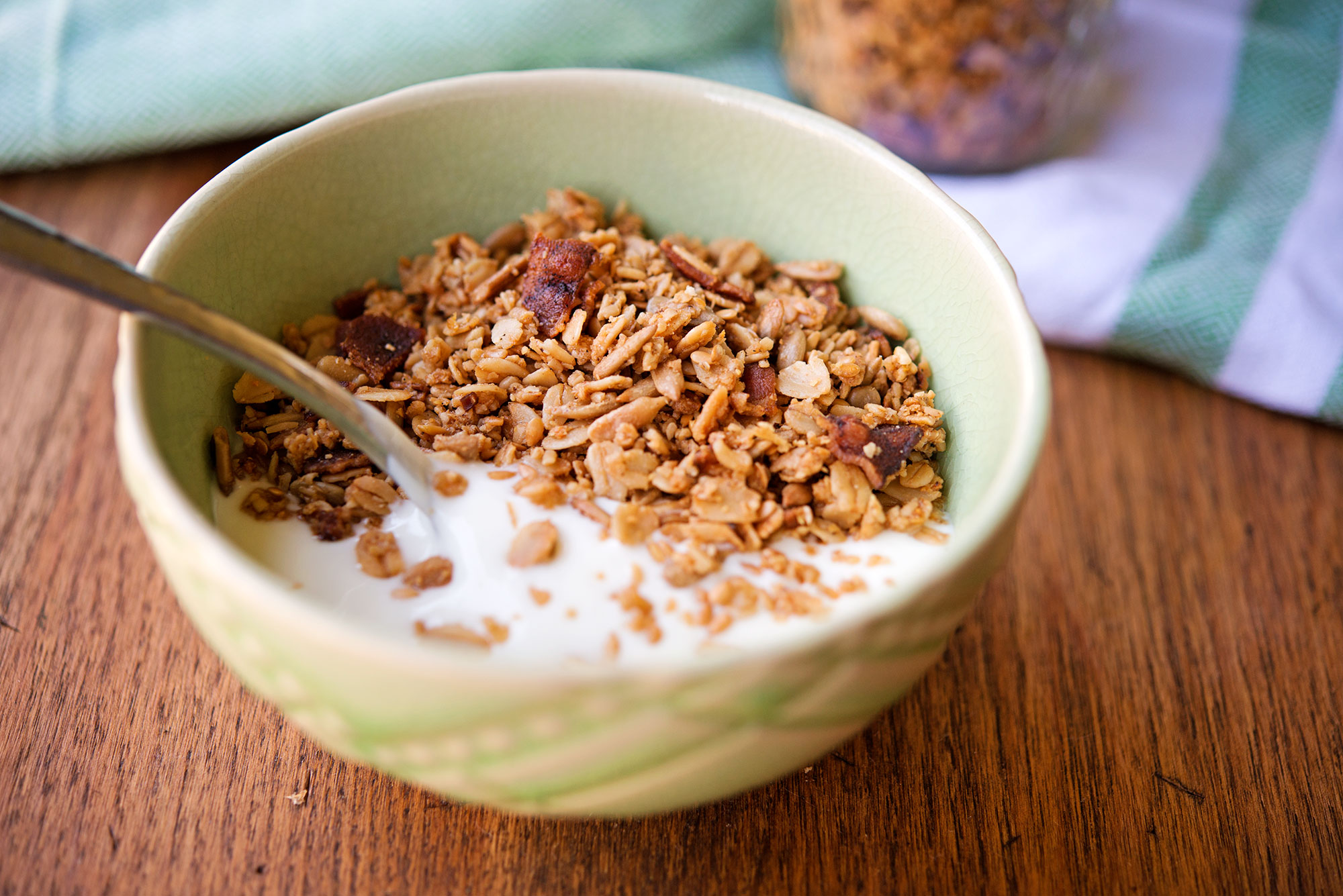 Type: Breakfast
Author: Jennie
Oven Temperature: 375°
Difficulty: Easy
Prep Time: 15 minutes
Cook Time: 20 minutes
Servings: 4-6 servings
Ingredients
½ cup gluten free steel cut oats
½ cup gluten free rolled oats
¼ cup golden flax seeds
2 tablespoons golden flax seed meal
1 tablespoon pure maple syrup
2 teaspoons coconut oil, in liquid form
All the bacon drippings (optional but amazing)
¼ cup chopped gluten free, preservative free bacon
Directions
1. Preheat the oven to 375.
2. Cover a large baking sheet with tin foil. Set aside.
3. Measure and mix all dry ingredients in a large bowl.
4. If you're preparing bacon yourself, cook to your own desired done-ness. We love ours extra crispy, which also just happens to work amazingly for this recipe. Just a tip.
5. Drizzle in maple syrup, coconut oil (heat/melt if your coconut oil is solid) and bacon drippings.
6. Mix until fully incorporated.
7. Spread evenly on foiled baking sheet.
8. Place on top rack for approximately 20 minutes, rotating after 10. Depending on your oven, you may need more time, you may need less. Keep an eye on it. It'll burn easily!
9. Remove from oven when it is your desired crispiness and enjoy with plain greek yogurt or even an egg. Go wild this morning!

[addtoany]
Yum