I bet many of you guys have Pinterest, yeah? When I first got Pinterest, it was the summer of 2011, and I made boards with "clever" titles and willy-nilly added pins. This was before Pinterest really took off, before Pinterest had a business value, and before I really knew what to use Pinterest for.
When I got married, Pinterest was invaluable for looking at venues, ideas for tables, cake options, dresses, colors…you name it! But mainly, I used Pinterest, both in 2011 and now, for recipes.
Originally (and this board still exists, don't be like me circa 2011) I had a board called "Recipes to Try." Great, right? WRONG. This board is a catch all for everything and anything – too many recipes in one place, with no clear organization. This meant I never actually made anything off of Pinterest, which was the whole point of pinning in the first place! When I go to Pinterest for a recipe, I am looking for that moment – a specific need – a breakfast, or a brunch item to share, a cocktail, dinner, etc.
I have a GMS Pinterest for y'all, and I try to keep it organized in a way that would help you out when looking for recipes. I recently revamped it, and I am here to help you get your Pinterest on (for food, that is) in a way that will help you cook more often, eat a diverse number of dishes, and even maybe eat healthier (or at least, eat more vegetables in your risottos).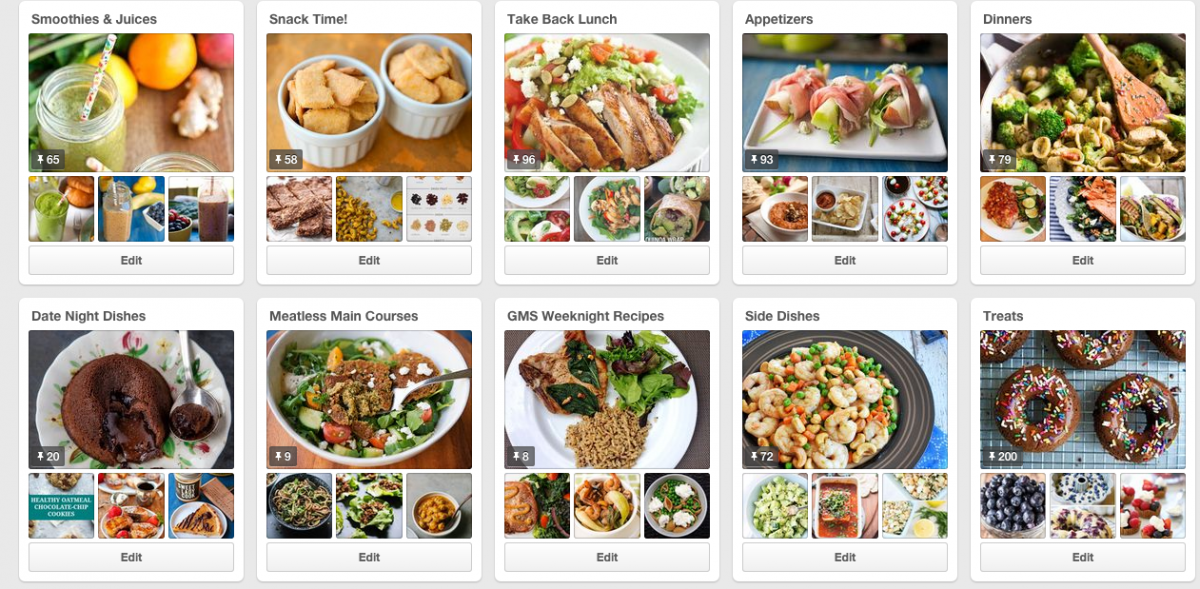 So one way that I have my Pinterest organized is by meal part…that is, by what meal I'd eat it for. You can break it up into as many as makes sense for you, but I recommend at least breakfast, lunch, dinner, dessert, appetizer, and snacks. As you can see above, I also have side dishes and weeknight recipes – this is because I like to think in terms of weekend cooking (a pot roast, chili, a stew) and weeknight recipes (fish tacos, baked chicken with potatoes, etc.)

Another section I have is seasons. For GMS recipes, I try to put everything in a couple places for you to find, but I do so much seasonal cooking (and eating!) that it makes sense to have them grouped this way. I have one for the major seasons, and of course Popsicles deserved its own board.

A final major section I have is holidays – whenever I am planning a party (or just to celebrate festively) I start a board for said holiday – this helps me figure out what I want to make or bring to any parties. Of course, Memorial Day recipes are mostly patriotic and grilling recipes, so you could also put some of those into a "Grilling" board, but we don't have a permanent grill right now…someday!
I also have a couple boards for major diets – paleo, vegetarian, gluten free, etc., so if you're looking to incorporate those into your life – or if you have a dietary restriction – I would recommend adding one or more of those, too.
I hope that this overview was helpful to you – let me know if you have other ideas, tips, tricks for me and my readers relating to Pinterest – I am all about using it as a recipe box tool!
Yum