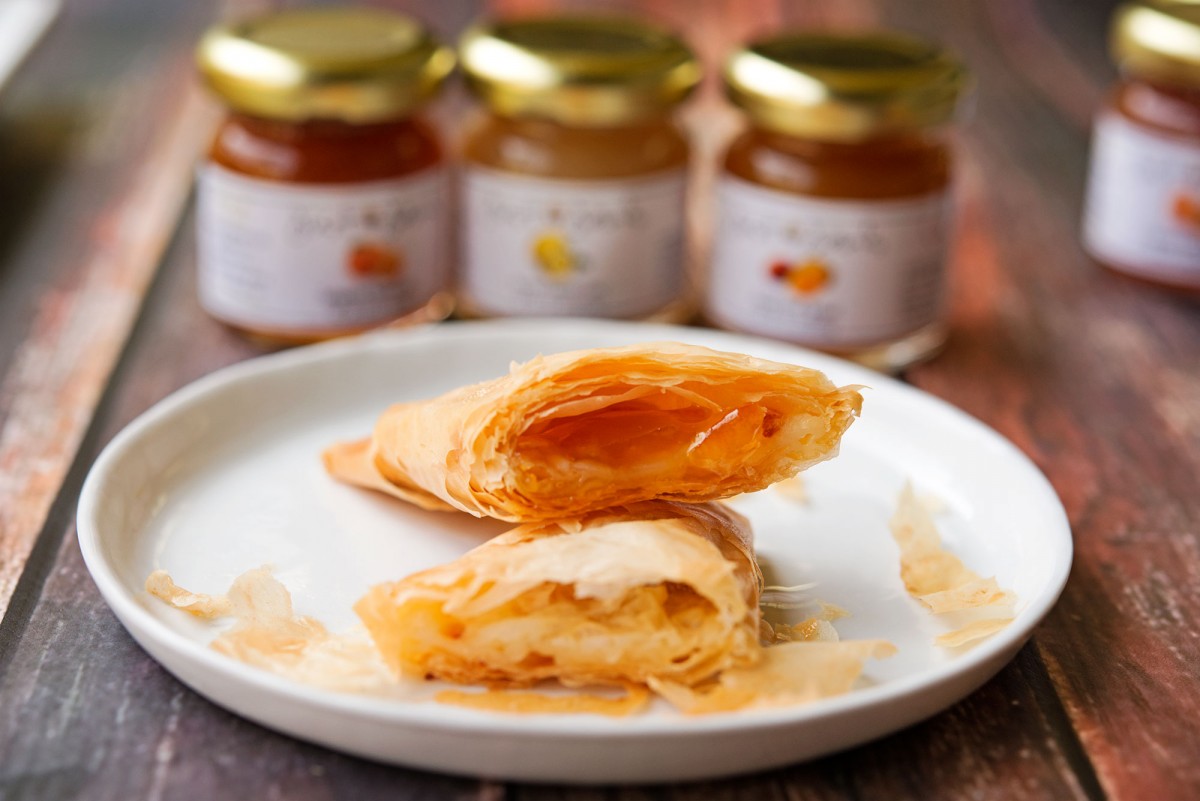 Remember those thumbprint cookies that I made that ended up being hot mushed mashed potato consistency disaster?! Well, originally I made those cookies because I wanted to tell you guys about Just Jan's. Their team sent me a handful of their spreads and jams, and I was floored – you guys they're so good!
So I set out to make another dish that would showcase a couple of spreads, and I settled on these cheese and jam pastries.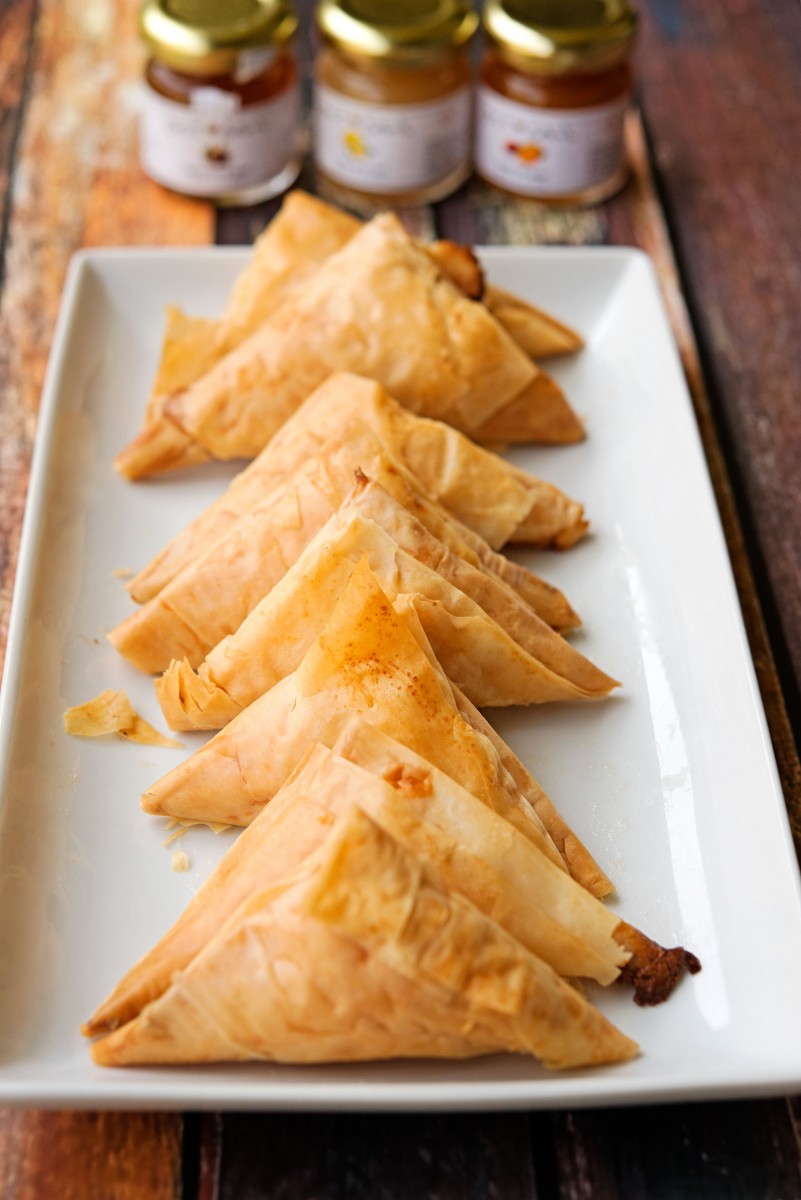 I made these the same way that I make Spanakopita. Mainly I did it this way because I had phyllo dough in my freezer, let's be real. But you could use regular pie dough, make your own dough, whatever floats your boat. I just love how flaky the phyllo is, and how it complements the gooeyness of the cheesey-jam. I'm making this sound really appealing, I know it.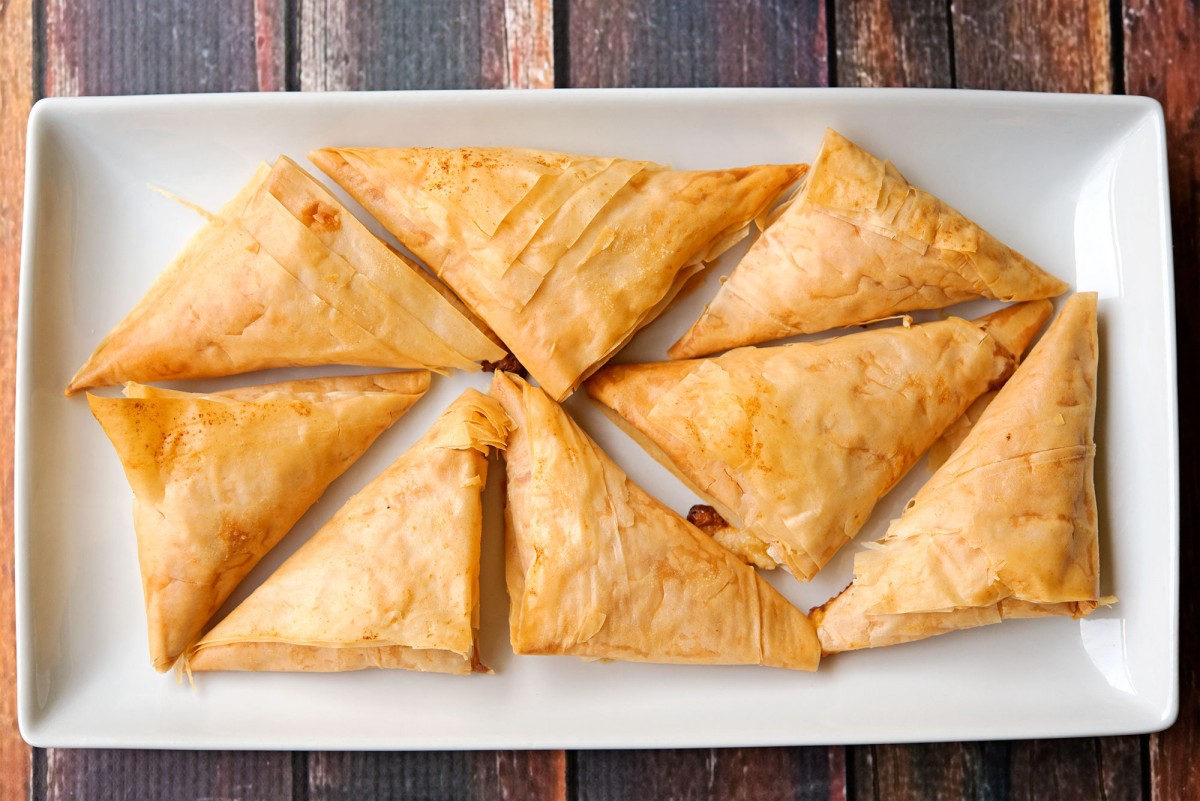 Ingredients:
8 oz cream cheese, room temperature
1/4 cup sugar
2 eggs, divided into yolks/whites
1 stick butter (probably less, start with 1/2 stick)
6 oz jam (I used several kinds, any flavor will do!)
1 package phyllo dough
Directions:
1. Whip together cream cheese and sugar. Add egg yolks.
2. Take a layer of phyllo dough and lay out on a cutting board. Melting 2 tablespoons of butter at a time, used this to brush in between each layer of phyllo dough. Layer two or three layers, buttering between each one. I used three layers for this, but two would have done it, as long as you're careful – phyllo is delicate!
3. Cut phyllo into about 1-inch thick strips – I ended up with four long strips per sheet, but it'll depend on your phyllo.
5. Fill the top of each strip with about a teaspoon of cream cheese filling, and a teaspoon of jam. Then fold the phyllo down (like a flag) until it's in a final triangle. Place on a cookie sheet and repeat with remaining phyllo strips, then repeat steps 3-5 until filling is gone, or you run out of phyllo.
6. Brush all triangles with egg white wash (two egg washes plus a tablespoon water), then stick in the oven for 25-30 minutes until golden brown.
These are great as a breakfast (not so healthful, but so delicious!) or as a sweeter appetizer – dealer's choice. I hope that you find some Just Jan's in your neighborhood and try this recipe with it (or just slather it on bread, like I often do!) What is your fave jam flavor? I used fig, strawberry, and tangerine for this, and I think I liked the fig the best!
Yum