A few weeks back, Jeff's brother Ryan was in town for a visit. We had a pizza night, as we like to do when friends from out of town are in, and so we planned one for the Friday he was here. Corelyn and I found ourselves alone in the kitchen, and realized that we didn't have anything to do. Veggies were cut, dough was rising, sauce was to be made by our favorite Hayfords…and people weren't coming over for two hours. The house was clean, it was cool out….what should we do? (Since we finished Everwood, we've really been grasping at straws…) Then, and idea struck us. "Isn't there a recipe in the PW for pizza dough?" It mattered not that the dough had already been bought — Jeff was worried there wouldn't be enough, I've been trying to use up my flour like nobody's business, and here we were…with two hours.
And so, obviously, we went to the store, got some ingredients for pizza, and made the dough.
Letting the yeast do it's thing. Why I always have extra yeast in my house, I will never know.
Look at all that kosher salt, ready to be added to the pizza dough…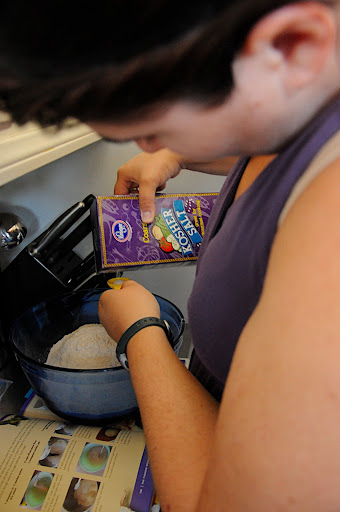 In it goes. My favorite.
Making it into a ball…
It didn't look the greatest, and I think that's because I refused to use all-purpose flour for all of it, and used white wheat flour instead.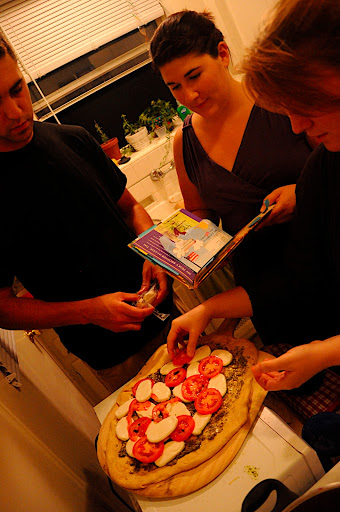 Ryan makes the pizza, while we directed him. Corelyn helped arrange, and I stood and surveyed, with the cookbook in hand.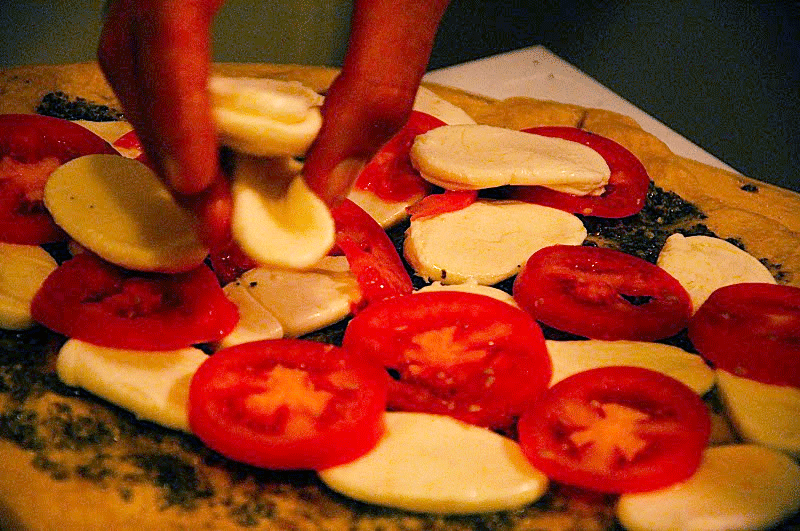 Ryan and I putting the pizza together.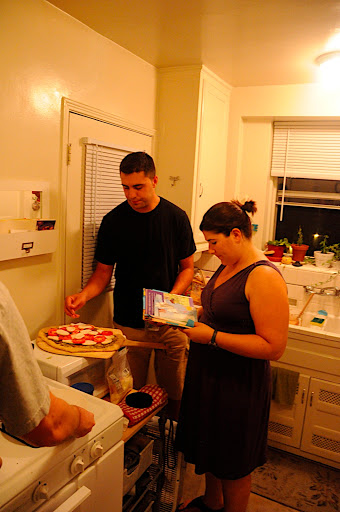 I am carefully watching to make sure he trusts the Pioneer Woman.
Corelyn helps out, adding a little love, and finesse.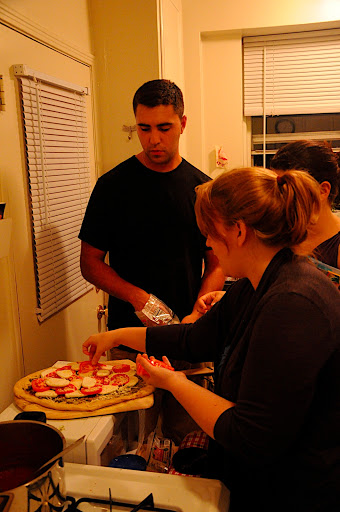 Our pizza, done. Beautiful, isn't it?
Compared to the other doughs, it was a little dry, but I think that had to do with my white wheat flour desires.
We'll have to make it again for the other pizza recipe, and the calzone, but for now, we did good — 2 recipes without even meaning to!
And, we had time to clean up our mess before Jeff even knew we had made it ;)!
[addtoany]
Yum