How do you tackle baking for the blogger on her birthday? It's not an easy task, but it sure was fun!
Step One: Send her a really weird email like the following: "In a hypothetical situation where you were to have a birthday and get a dessert… what would it be?" (Her answer is chocolate, always chocolate!)
Step Two: Head to the birthday girl's favorite food blogger for a recipe. (In this case, Ree, The Pioneer Woman to the rescue!)
Step Three: Acquire ingredients for cake and coerce a friend into helping you bake (Thanks Mary!)
Step Four: Lie about your whereabouts while making frosting for the cake when you are supposed to be meeting the birthday girl at Trader Joe's… (Sorry Jennie and Christie!)
Step Five: Throw a killer surprise party at work for her (Thanks Jasmine!)
Step Six: Enjoy this INCREDIBLE cake!
Prep Time: 25-30 mins
Cook Time: 35-45 mins
Yields: 2 two layer cakes
Ingredients:
Cake:
4 sticks butter, plus more for greasing
8 heaping tablespoons cocoa
4 cups all-purpose flour
4 cups sugar
1/2 teaspoon salt
2 cups boiling water
1 cup buttermilk
2 teaspoons baking soda
2 teaspoons vanilla extract
4 whole eggs
Frosting:
3 cups heavy cream
24 ounces semisweet chocolate, broken into pieces
2 teaspoons vanilla extract
Directions for cake:
Butter four 9 -inch cake pans. Cut parchment paper in a circle to line the bottom of each pan. Add some more butter for good measure on top of the parchment paper.
Preheat the oven to 350 degrees F.
Mix together flour, sugar, and salt. Set aside.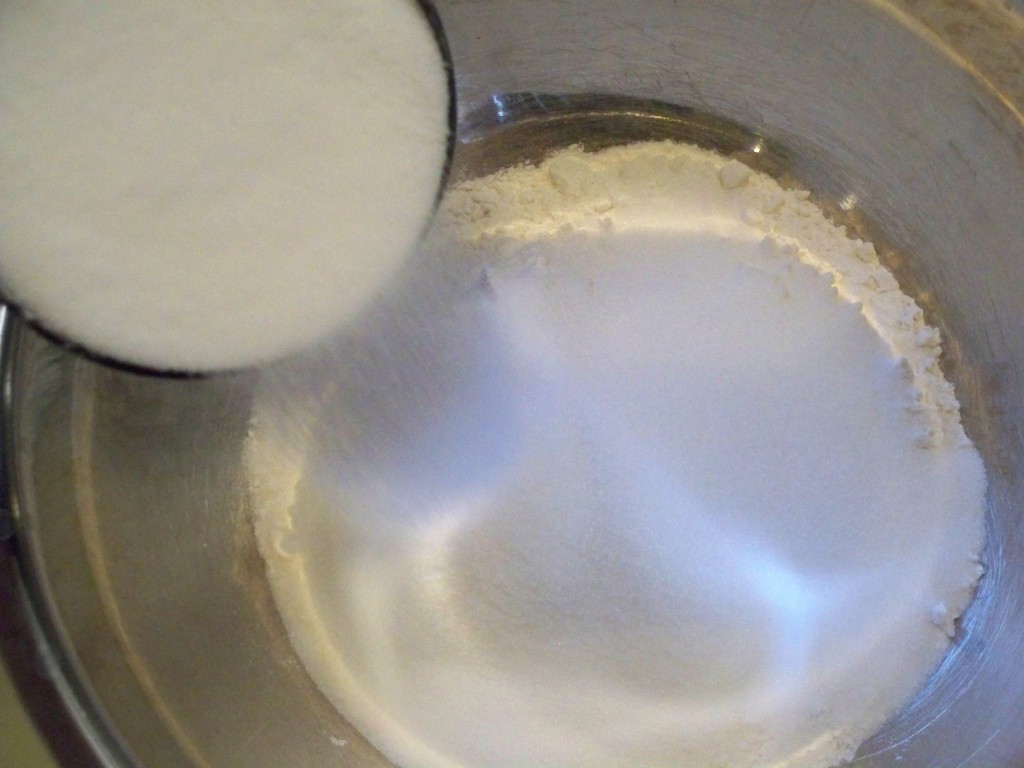 In a medium saucepan, melt the four sticks of butter (try not to freak out, it's a lot of butter.)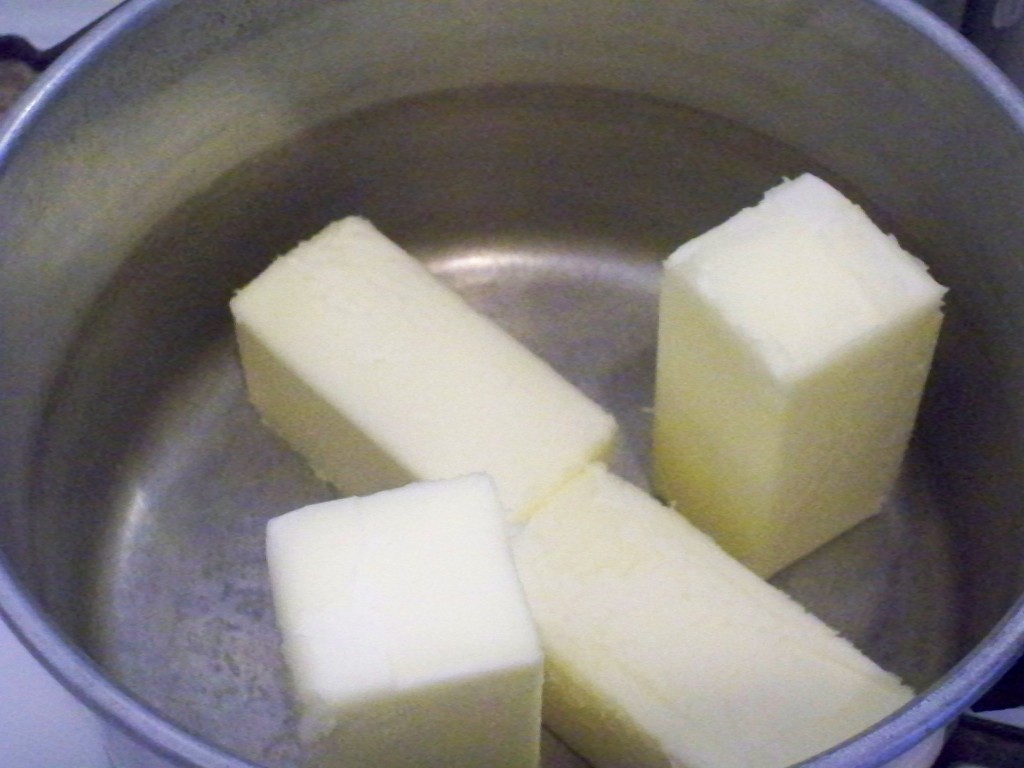 Add cocoa and boiling water. Or just some hot water because you are going to let it boil anyways. Oh Ree. Boil for 30 seconds. Remove from heat and let cool slightly.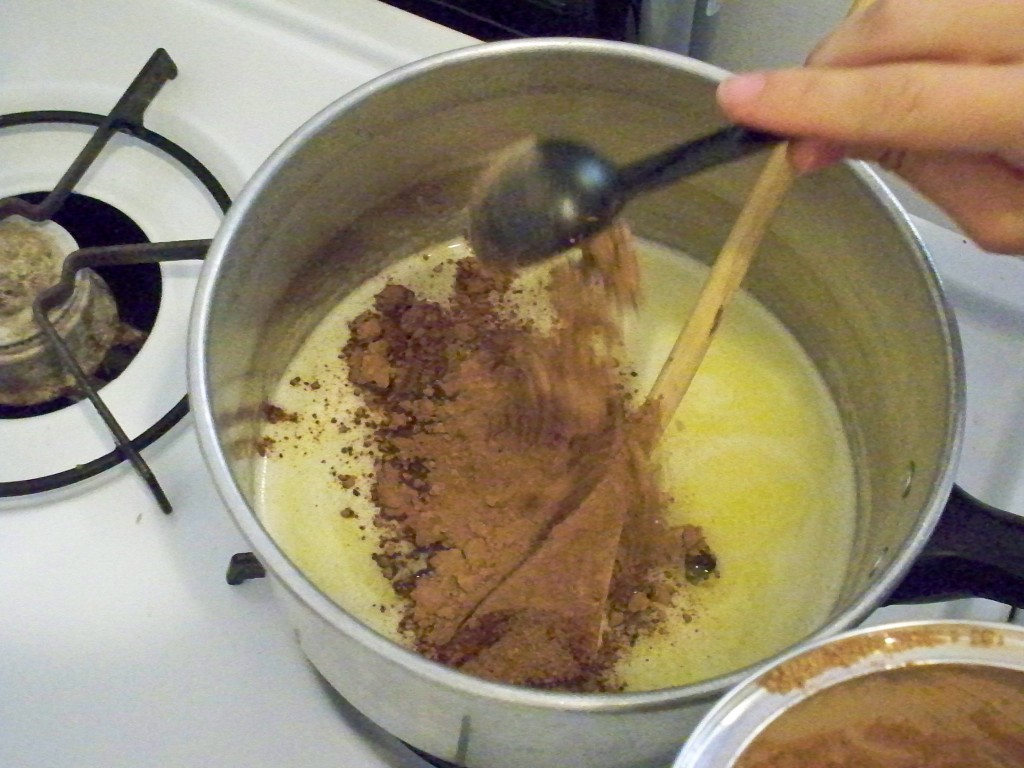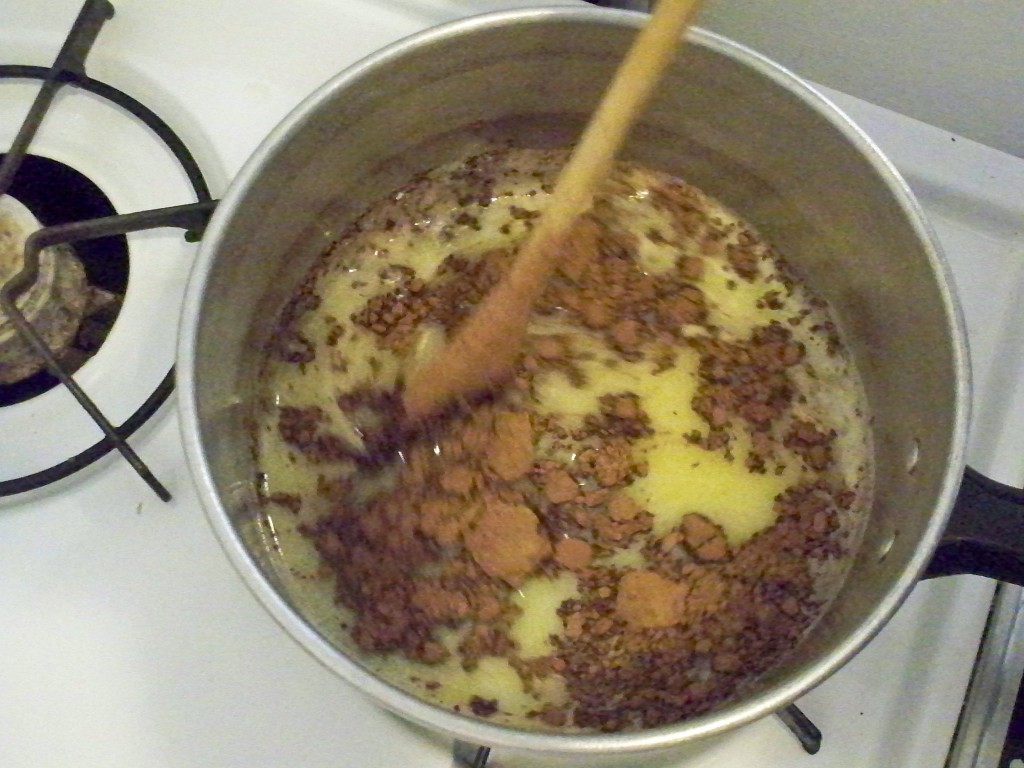 Pour into flour mixture and stir.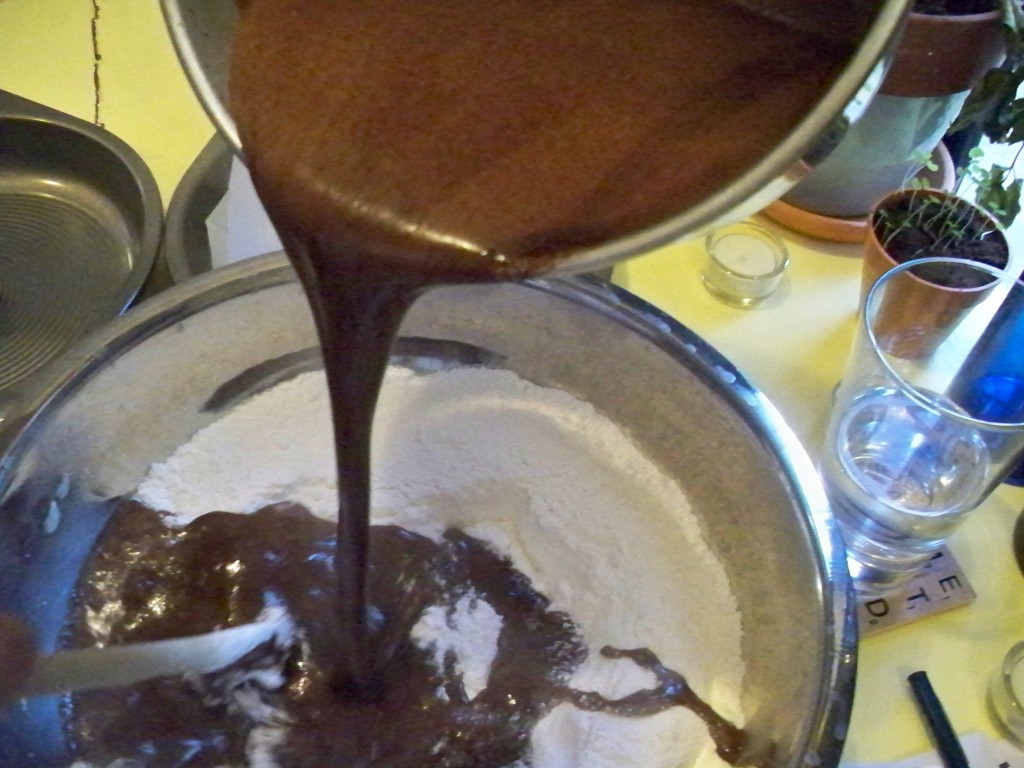 Mix buttermilk, baking soda, vanilla, and eggs together in a bowl, then add to the flour mixture.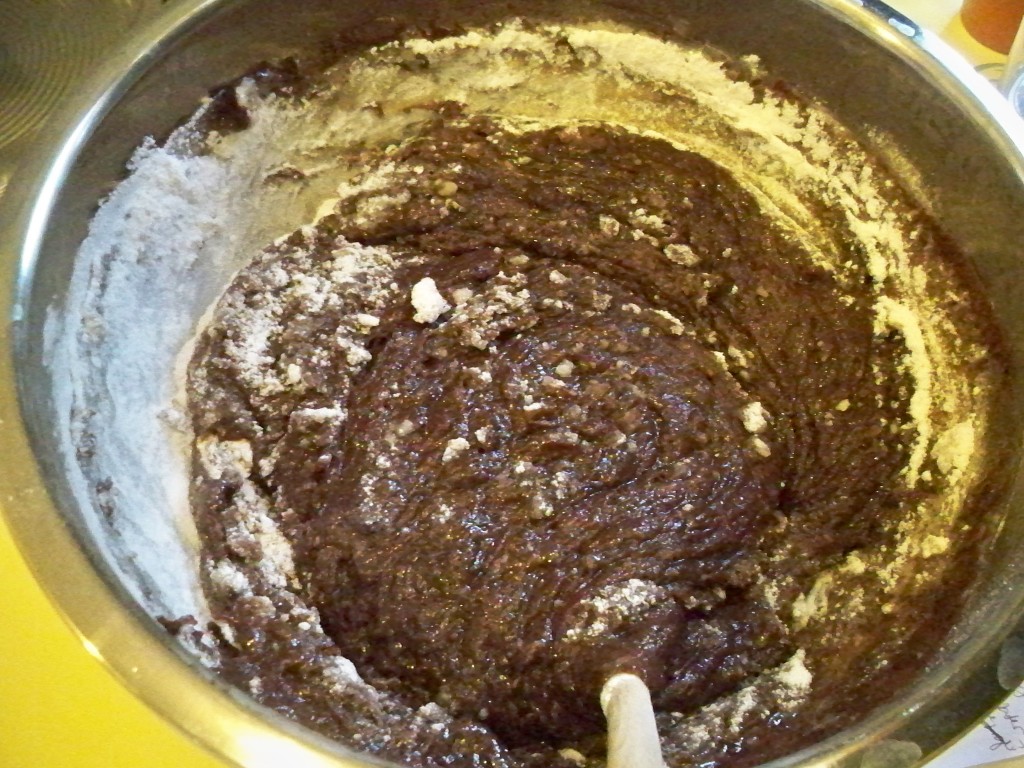 Pour evenly into your four baking pans.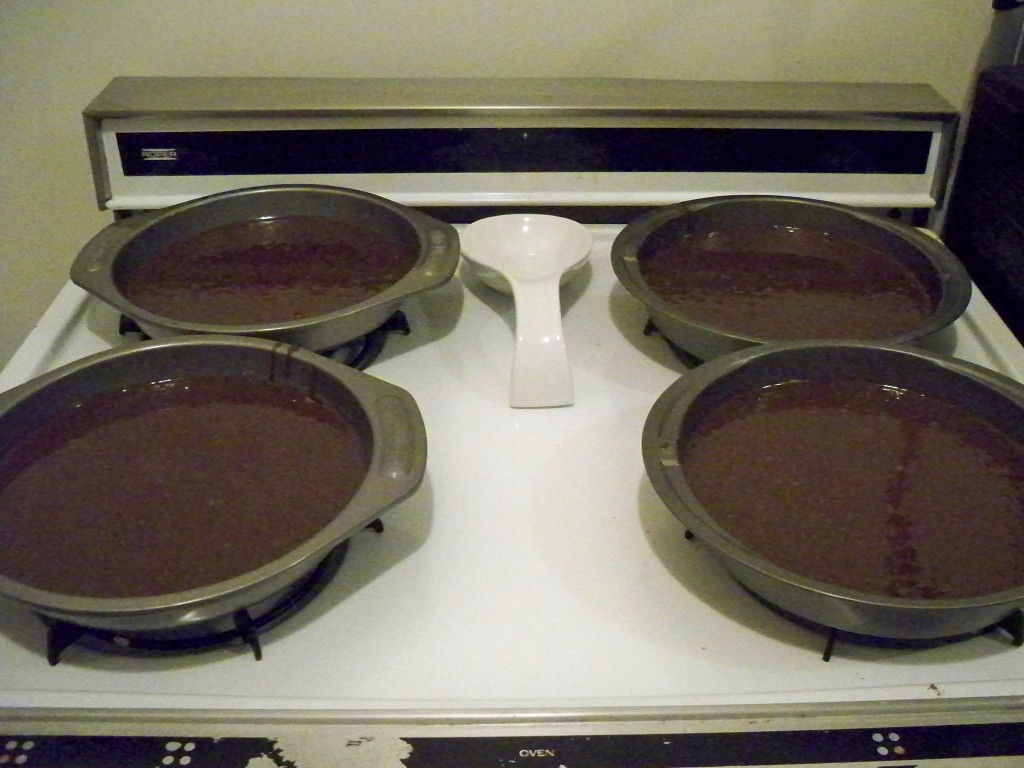 If your oven is as freaky as mine, it will take about 40 minutes to fully cook all four cakes. These are SUPER moist. Make sure to check all four cakes with a toothpick. If it comes out clean, it's all done! Let the cakes completely cool before frosting. I made the cakes one night, and the frosting the following evening.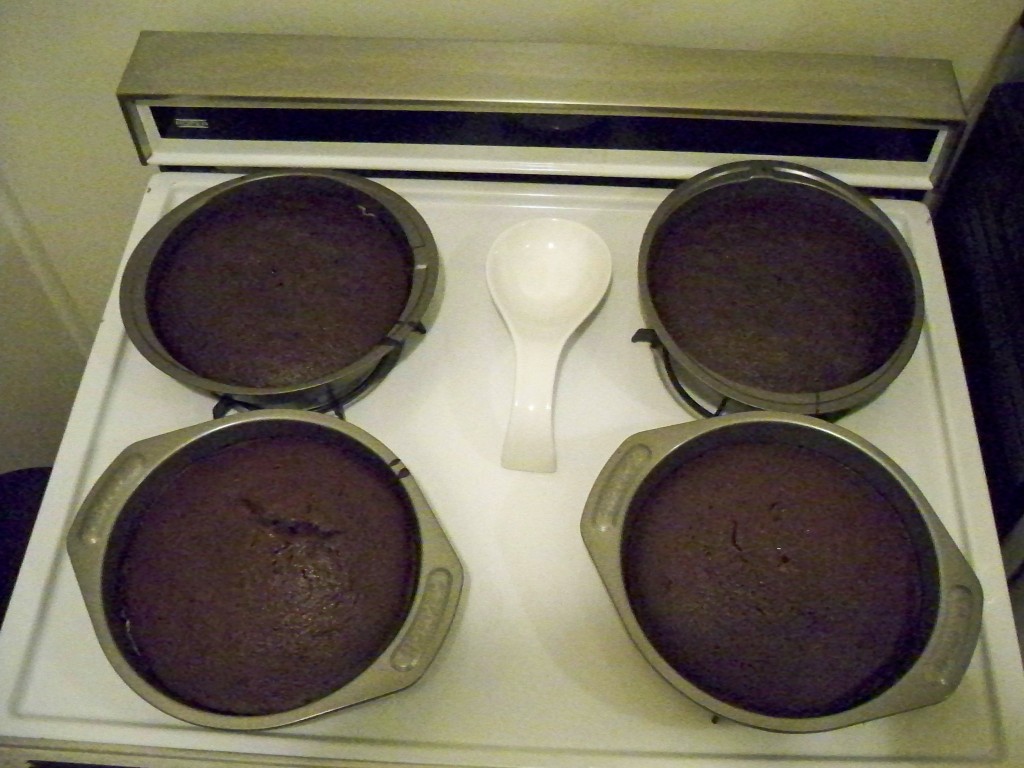 Directions for frosting: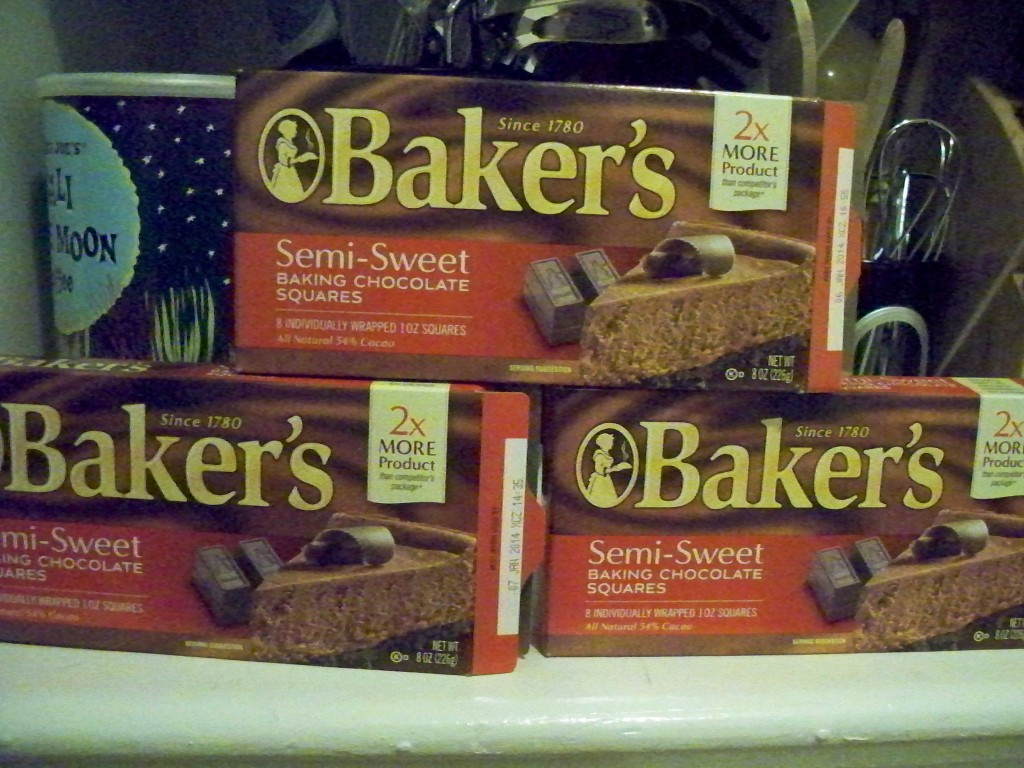 Heat heavy cream in a medium saucepan. Ree says to then pour the cream over the chocolate to melt, but since I was under time constraints, as in supposed to meet Jennie at Trader Joes and was running late, I just put the chocolate into the saucepan and let it melt that way. It was much faster, but be sure to stir continuously or the chocolate will burn!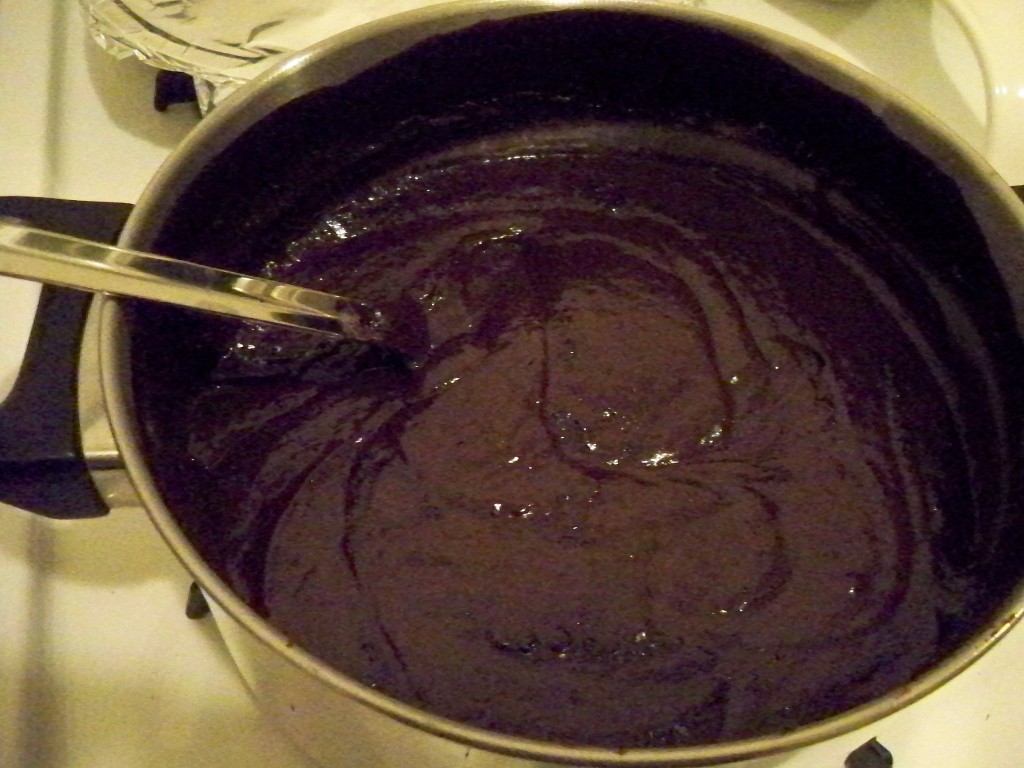 I let this sit for about 3 hours while I was out with Jennie. Ree says to refrigerate it until it cools. If you can, do it, I didn't have time, so I had to improvise.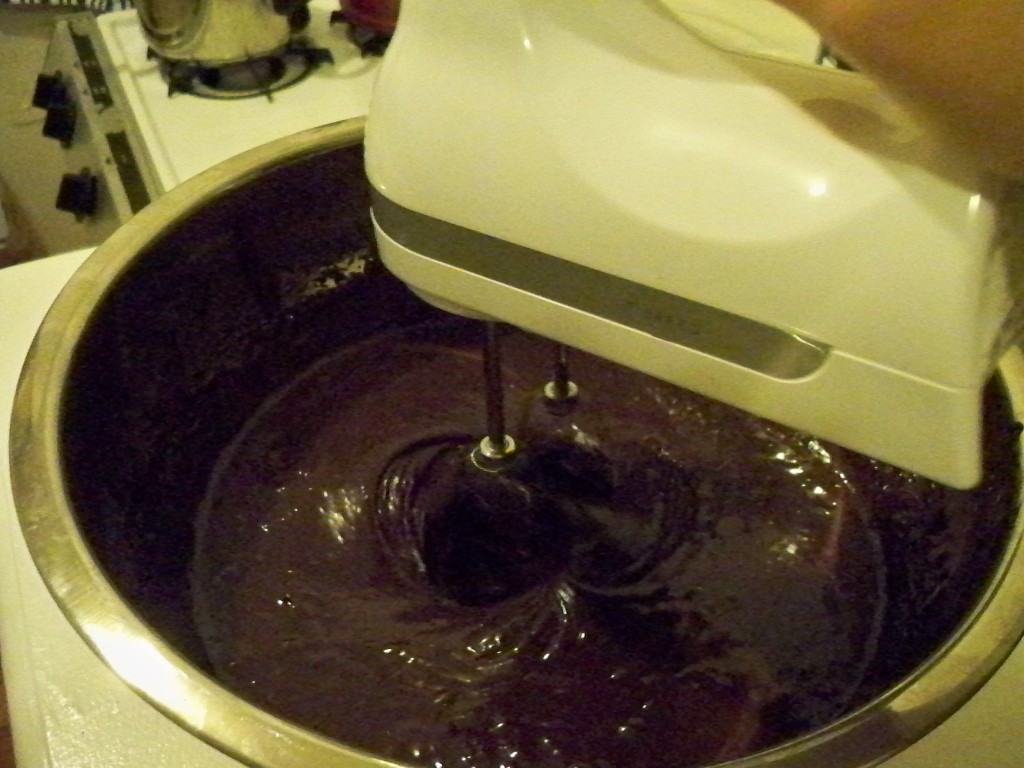 Once cool, add vanilla and beat until "light and airy" as Ree put it. REE WHAT ARE YOU TALKING ABOUT?? I beat it for 30 minutes and then had to stop and google "light and airy frosting" because my frosting was just about the furthest thing from light and airy. After about 20 more minutes of beating however, I started to notice a change in color and consistency. Stick with it! I promise it will become light and airy, just like Ree said.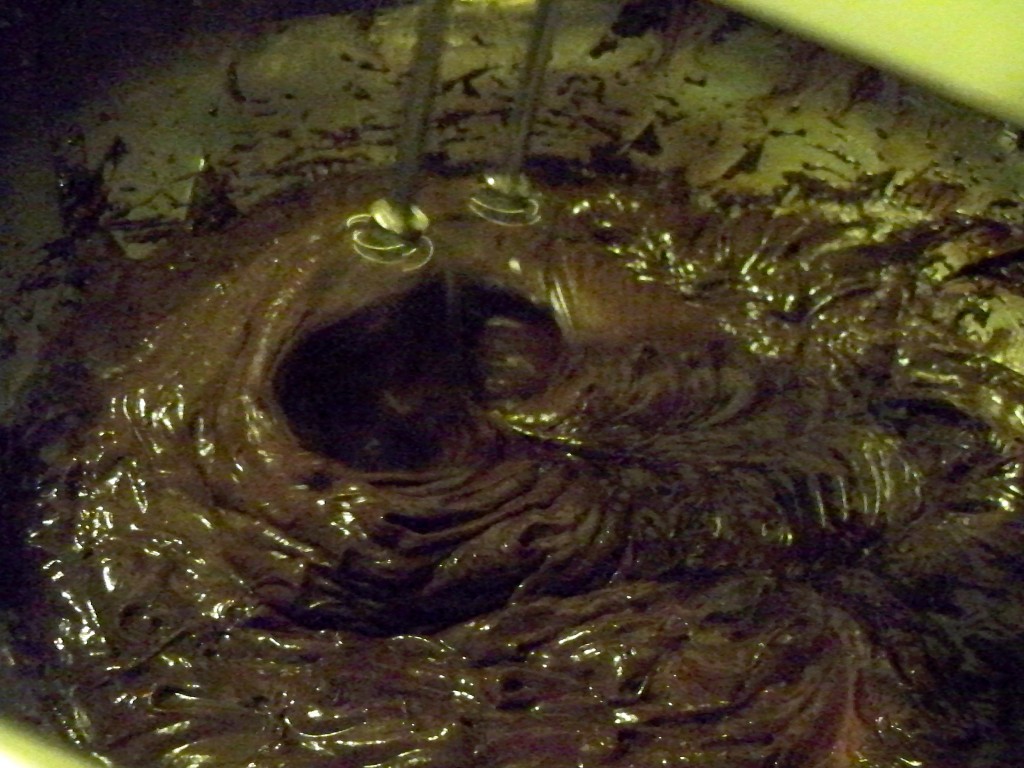 Keep in mind however, this frosting is nothing like butter cream. It looks like pudding and it is thick and heavy. This cake was supposed to be four layers instead of 2 two layer cakes, but my frosting would not hold four layers of this moist cake together. If I had more time, I would have kept beating for another 20 minutes!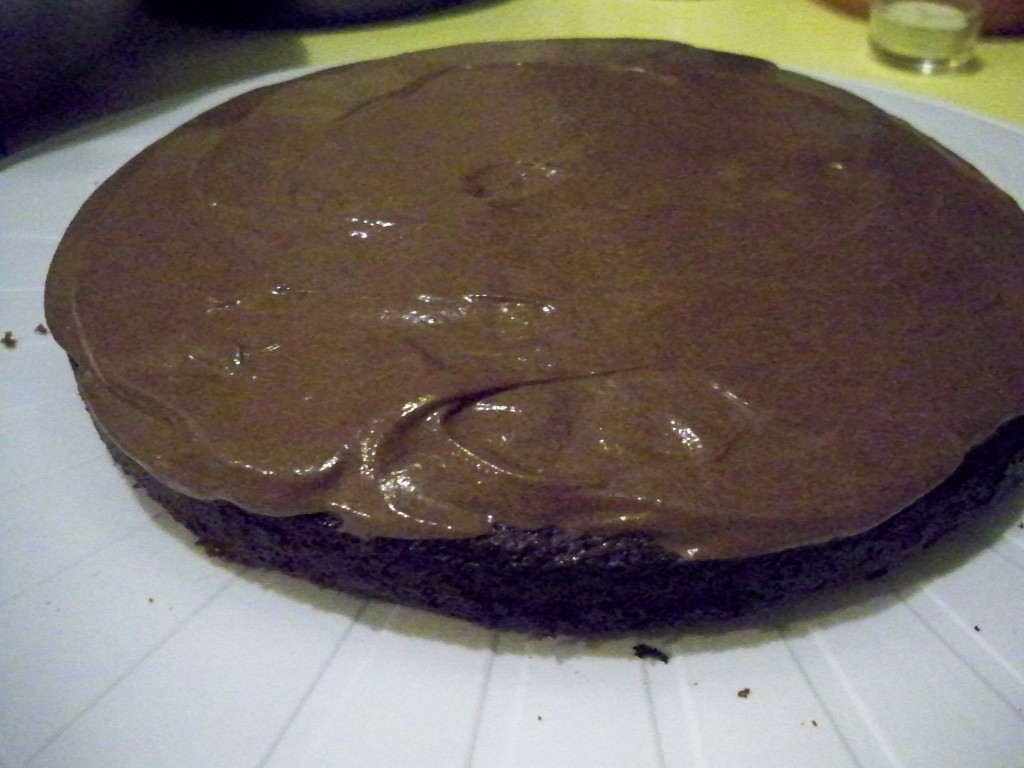 Frost in between each layer, on top and on the sides.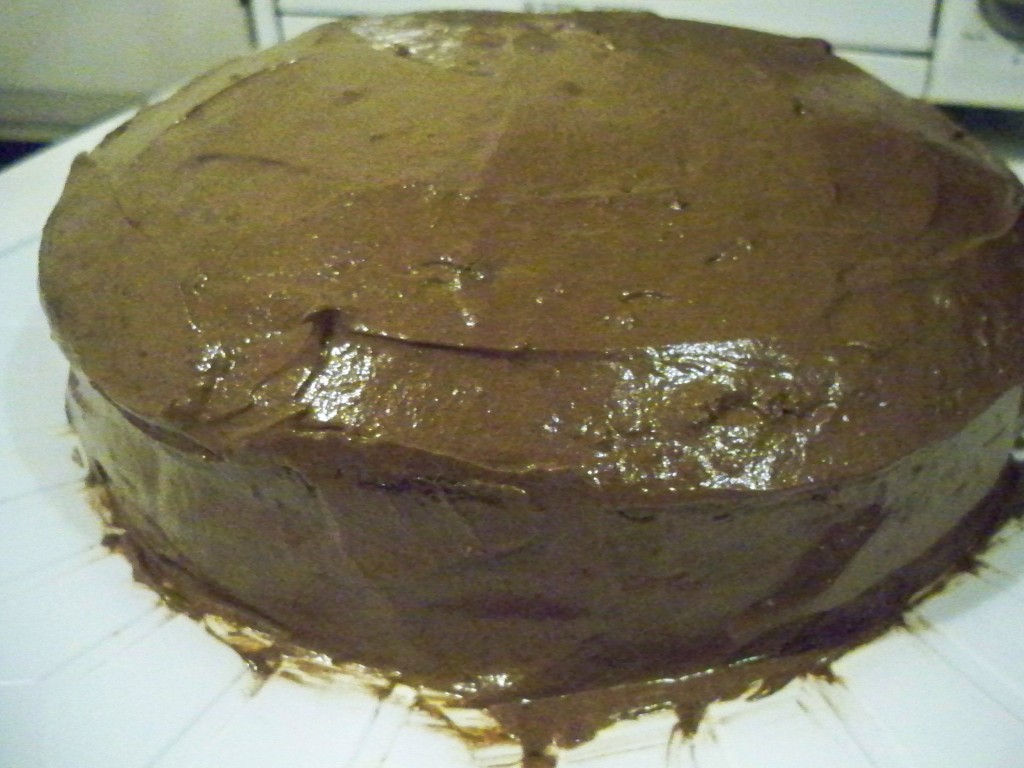 If the cake is for Jennie, add sprinkles. Refrigerate until ready to serve. Enjoy before this cake gets gobbled up by your coworkers!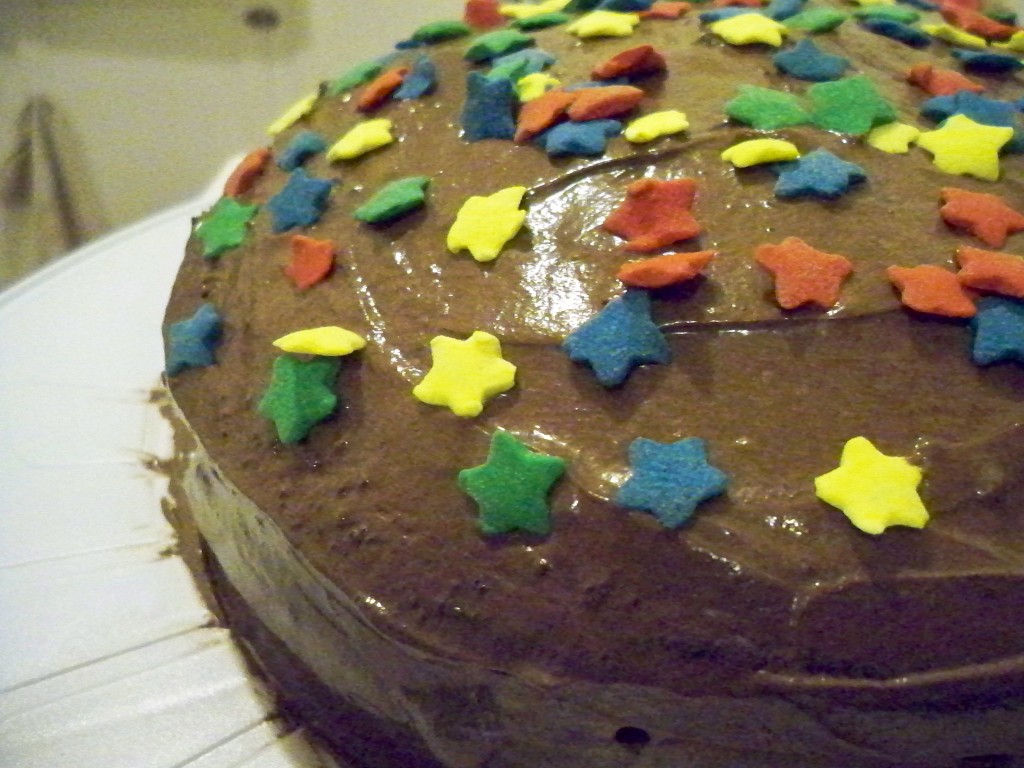 Yum