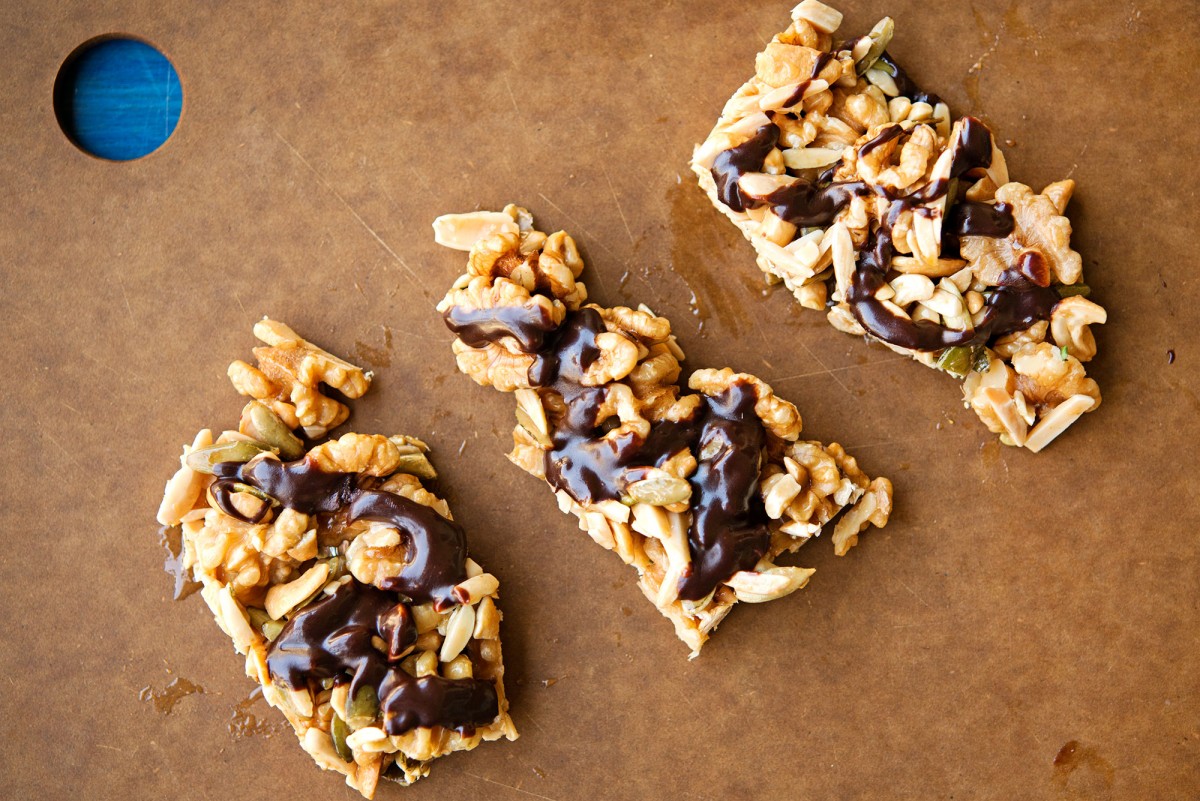 Recently, I wanted to make some kind of homemade granola bar because I am sick of buying ones that JUST miss the mark. First off all, I don't really always love super hard granola bars, because my teeth just don't like it. Secondly, I like the nuts I like, and I try to avoid eating almonds for environmental reasons (more here) which tend to be very prevalent in granola bars. Third, I don't want my granola bars to be super sugary, so I like the idea of being able to control that myself. Also, what are all those other ingredients in granola bars? They seem shady to me.
Enter these bars. I took inspiration from all over the web, but mainly this recipe stuck with me as delicious. Of course, I changed up the nuts to remove almonds and add cashews, and I added pepitas (where does one get puffed rice? I feel like this is an ingredient I'd use once and then never use again…but what do you think?)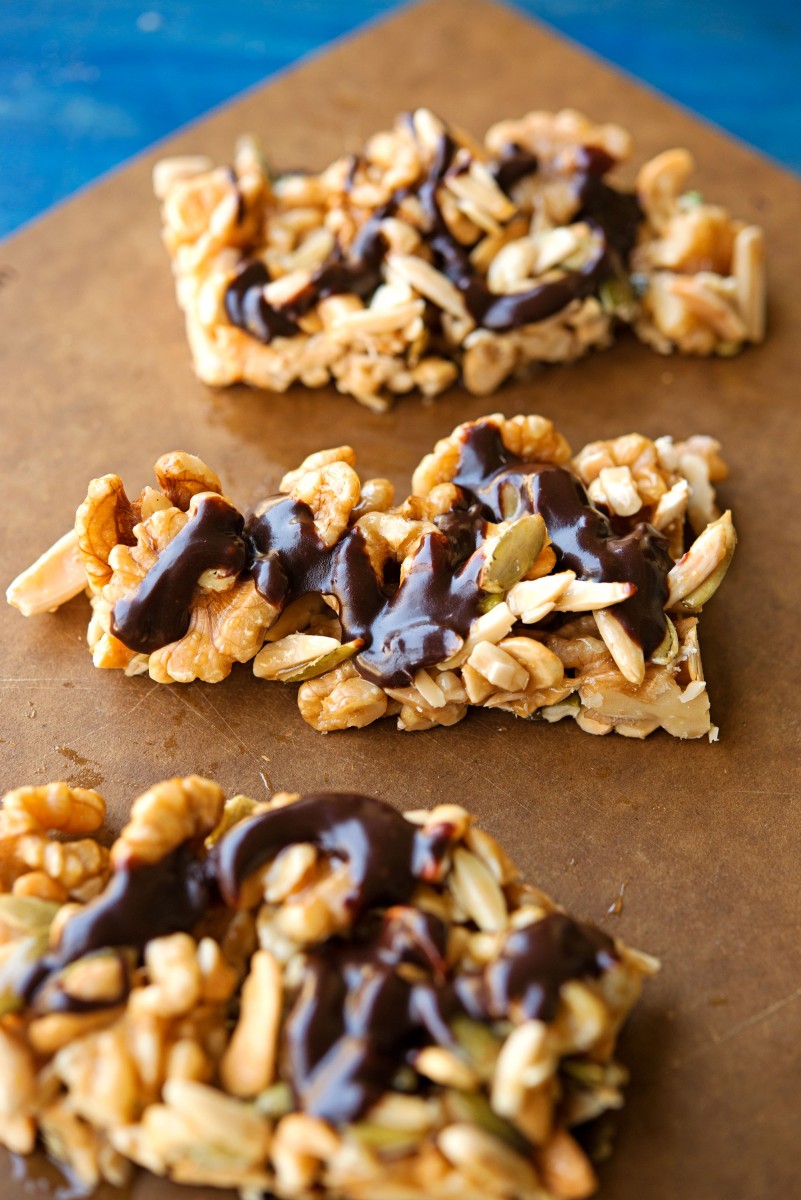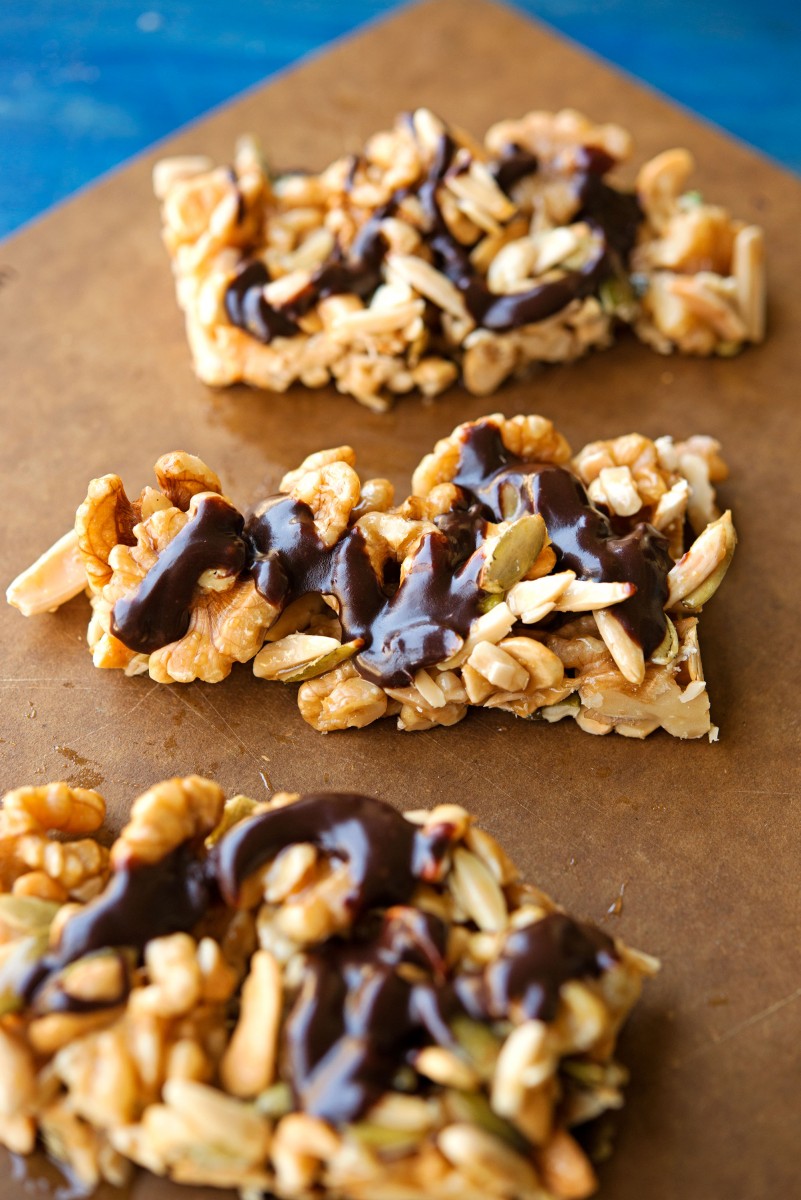 Anyways, here is what you do to make these yourself – but be forewarned: I didn't want to get brown rice syrup but I think they would have made these come together better. These kind of fell apart (I put them in the fridge to set) which was delicious but not convenient.
Ingredients:
1/2 cup cashews, chopped
2/3 cup walnuts, chopped
1/4 silvered peanuts, chopped
1/2 cup pepitas
1 tbsp flaxseed meal (optional, I happened to have some)
1/4 cup brown rice syrup (I used maple syrup, and they were VERY sticky)
2 Tbsp honey
1/2 tsp sea salt
1/2 cup dark chocolate chips
Directions:
1. Line a pan with aluminum foil leaving a couple of inches overhanging on each side to make it easy to move said granola bars.
2. Chop your nuts, then add nuts, pepitas, and flaxseed meal into a bowl.
3. In a small saucepan, combine brown rice syrup (or maple), honey, and sea salt and bring to a boil, continually whisking until it thickens. Make sure you do this or your bars will just fall apart! If you're worried about burning it, this should take about 2 minutes.
4. Pour syrup mixture immediately over nut mixture and stir to combine. Transfer into the lined pan and spread out into a layer as thick as you like your bars – I aimed for about an inch thick.
5. Allow to cool for about 30 minutes, then cut into bars (you can transfer on the tin foil to a cutting board if you think this'll help!)
6. If you want to add chocolate, melt your chocolate over low heat on the stove, whisking constantly, then drizzle over the top! When your chocolate has set, store in an airtight bag or fridge, and enjoy!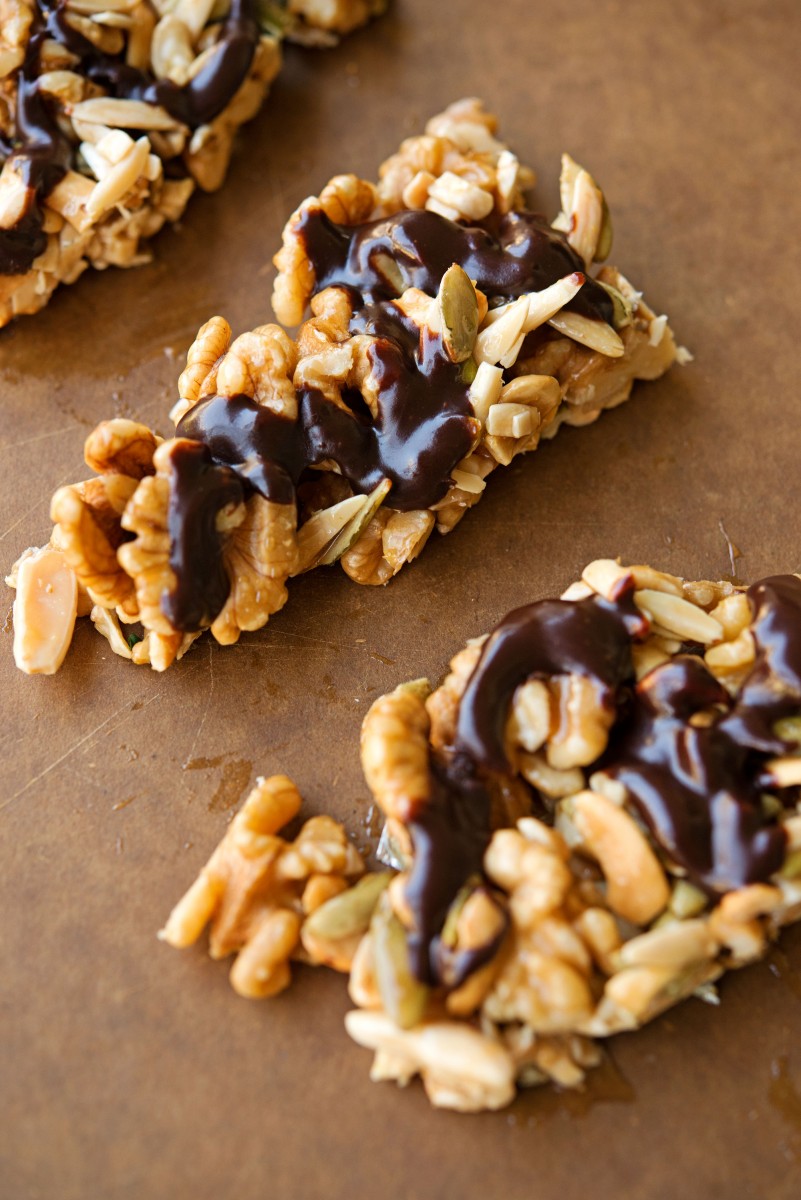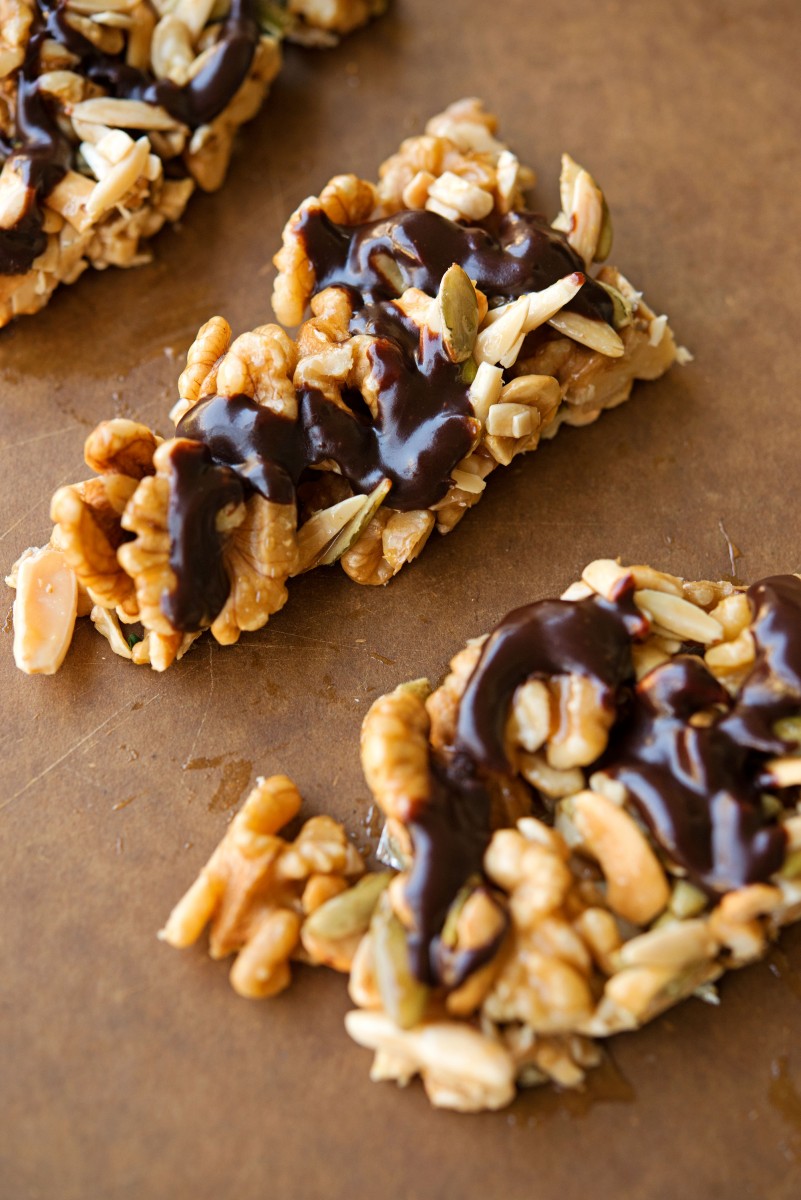 These were great for snacks during the week, and if you're worried about sugar you can reduce it, or if you're worried about needless chocolate (which you shouldn't be! Dark chocolate is the best!) then you can skip it. You can use whatever nuts you like, or all one nut if you want to get crazy. Cook with your heart! Do what feels right. Let me know what you come up with!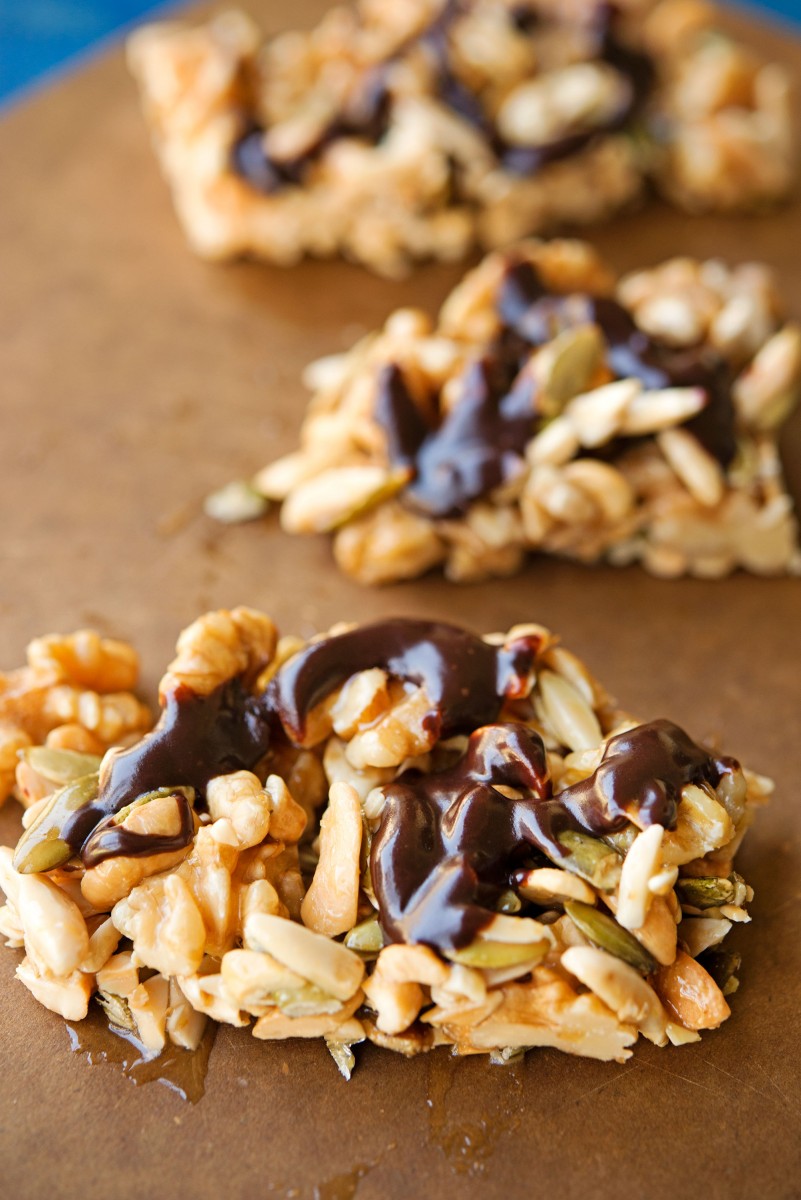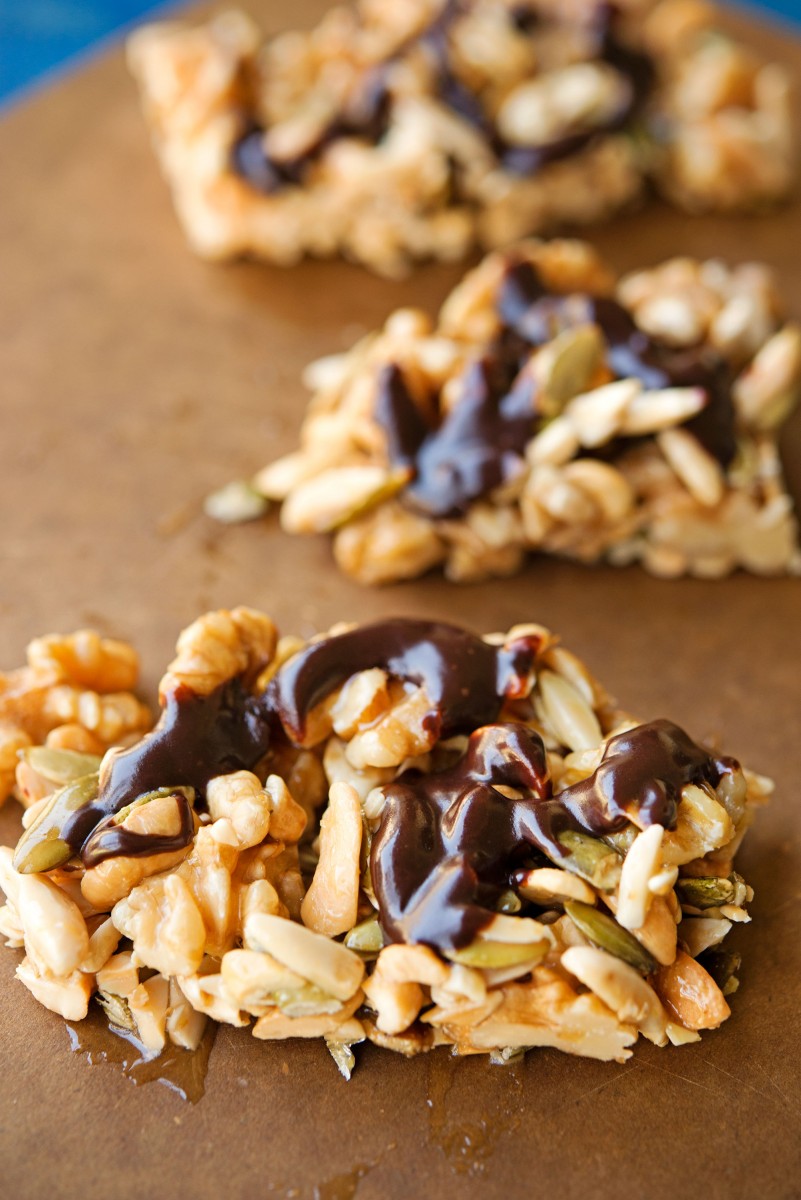 Happy Friday, kiddos! Here's to an amazing weekend – we hope you're cooking, wherever you are – don't forget to let us know if you're making our recipes with the hashtag #GMSForRealLife!
[addtoany]
Yum