When I visited Mary's hometown in New Hampshire last year, she took me to an adorable family owned grocery store as part of my tour. Mary used to go apple picking in their orchards as a kid. I bought this funky multi-colored lasagna there, and hand carried it back to California with me. It was only moderately successful as you can see by all the cracked noodles.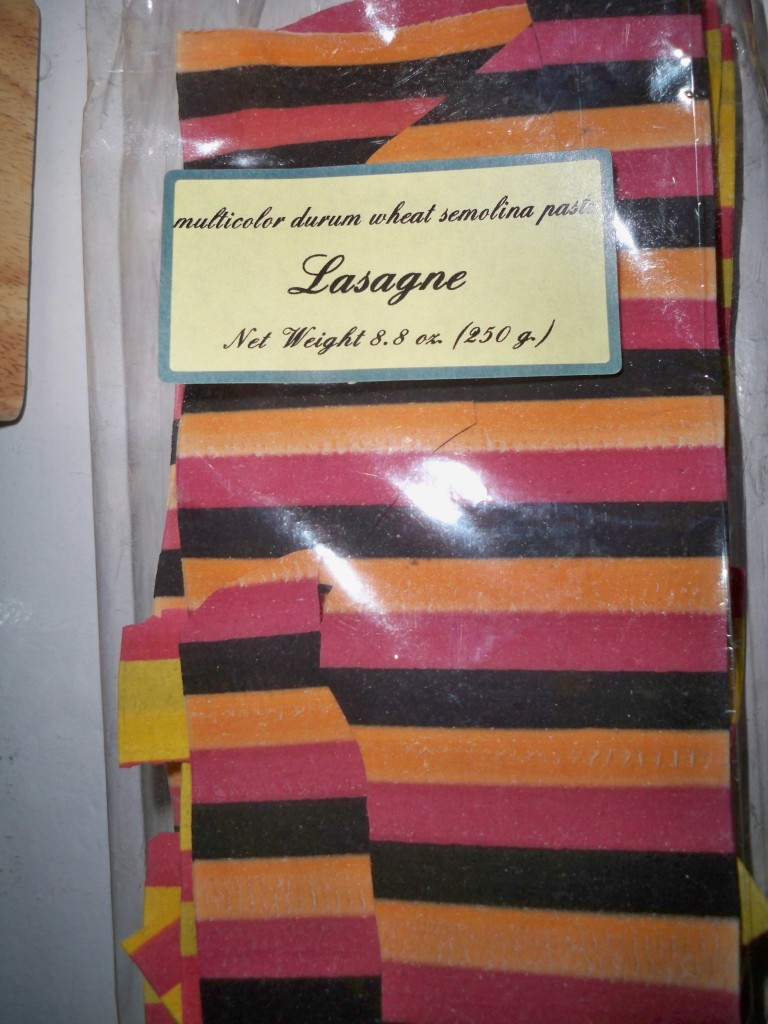 No matter, the noodles still tasted delicious. Here is my modified recipe for artichoke lasagna. It originates from my 1,001 Low Fat Vegetarian Recipes cookbook. Yes I still use cookbooks sometimes!
Prep time: 30 minutes
Cook time: 35-45 minutes
Servings: SO MANY. I lost track, seriously.
Ingredients:
Olive Oil cooking spray
1 ½ cups shiitake mushrooms
1 ½ cups chopped onion
2 teaspoons minced garlic
8 cups loosely packed spinach
1 can (14 oz) artichoke hearts
salt and pepper to taste
3 cups fat-free milk, divided
¼ cups plus 2 tablespoons flour
1 cup (4 ounces) grated parmesan cheese
½ package (8oz size) fat-free cream cheese
? cup finely chopped parsley
1 teaspoon lemon juice
12 lasagna noodles, cooked
1 cup (4 ounces) shredded reduced-fat mozzarella cheese
Directions:
I prepared everything and then refrigerated the lasagna overnight before baking. It worked out perfectly for a weeknight dinner.
Boil lasagna noodles in a large pot. I would recommend adding some olive oil so the noodles don't stick together too much. It was definitely a problem for me. Case and point.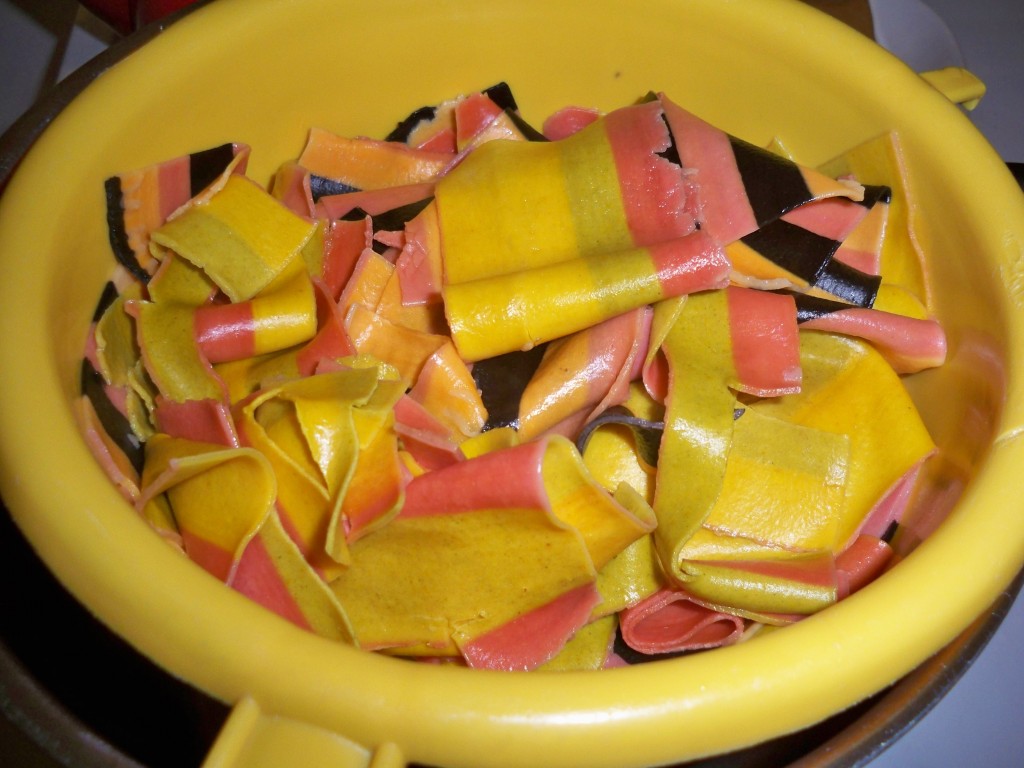 In a large pan over medium heat, saute mushrooms, onions and garlic.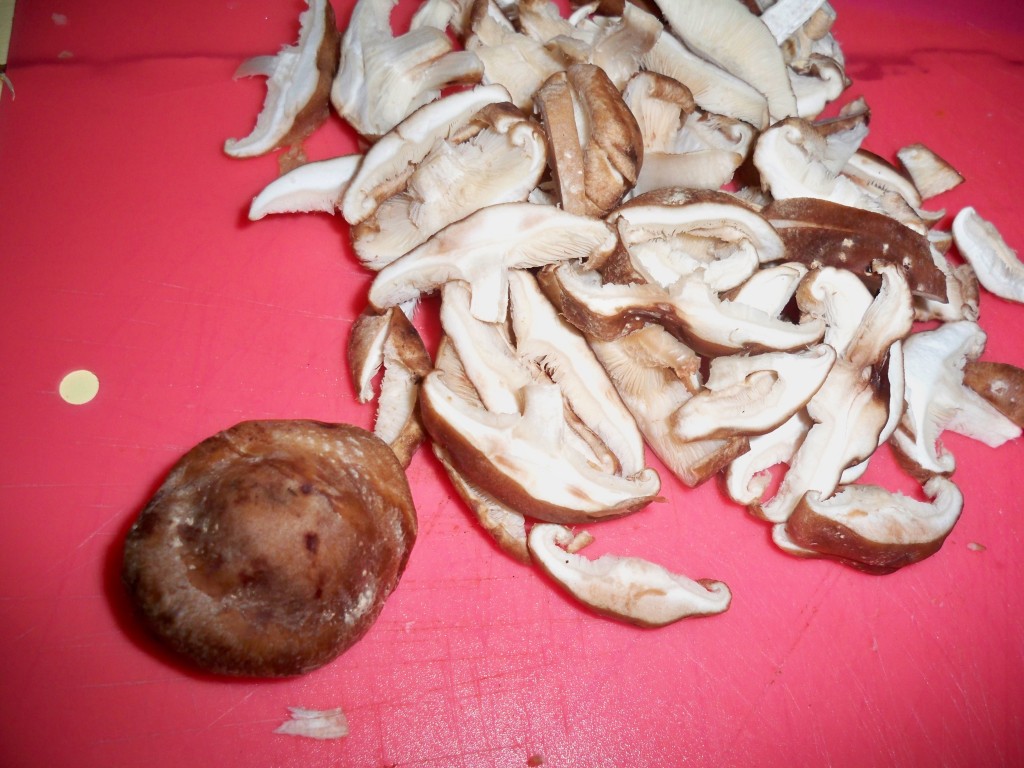 Add spinach and artichoke hearts. Cook until spinach is just slightly wilted, around 5 minutes. Add salt and pepper to your liking, and cook for about 5 more minutes.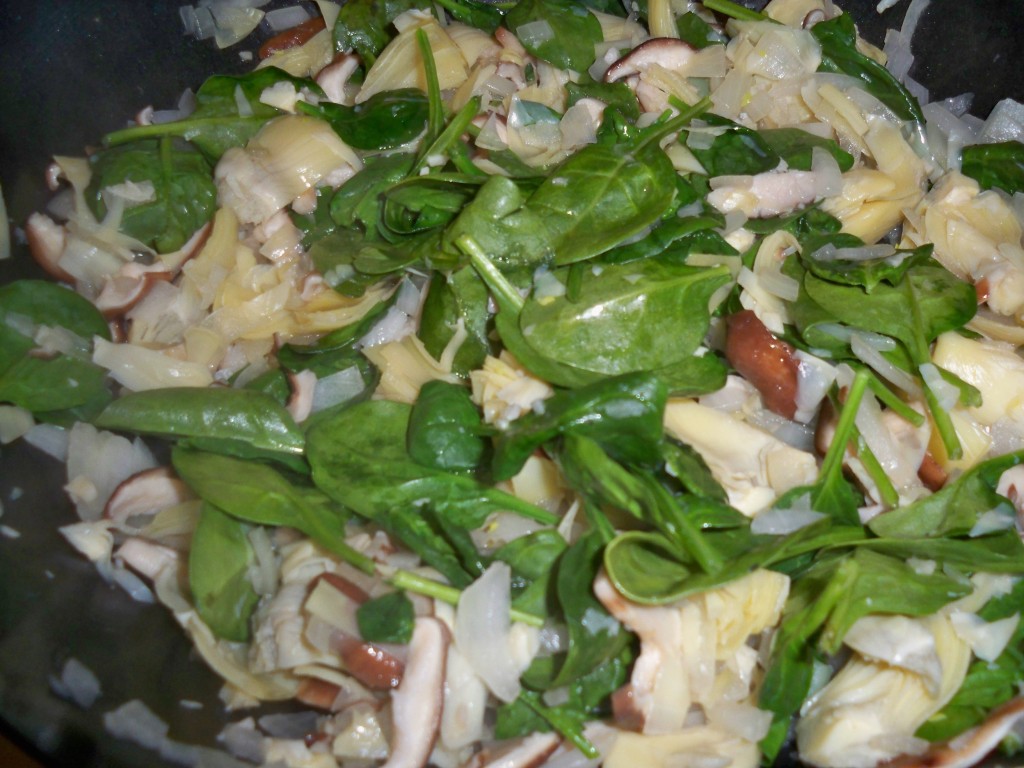 In a medium saucepan, bring 2 cups of milk to a boil. Add additional 1 cup of milk and flour. Whisk, and keep whisking (a lot) until everything has thickened. Remove the pan from the stove and add parmesan, cream cheese, parsley, and lemon juice. Stir until the cream cheese is melted. Add salt and pepper to taste.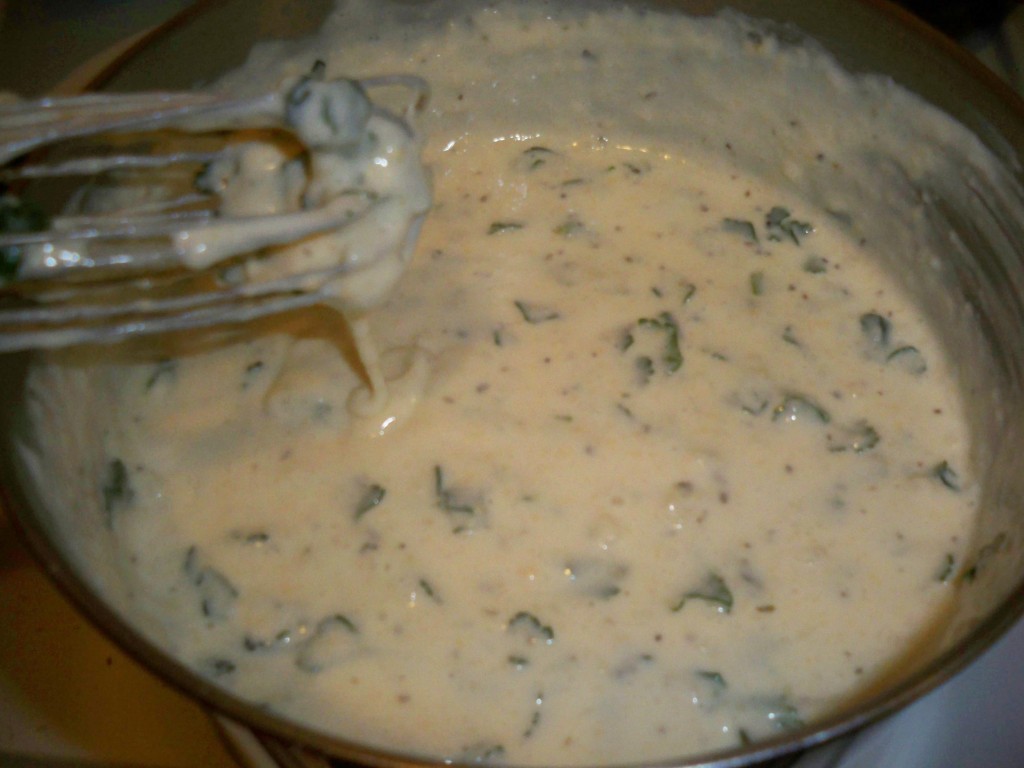 In a 13×9 inch baking pan, start with a layer of noodles on the bottom. Don't mind my super sticky noodles. It just made it slightly more difficult to layout the lasagna.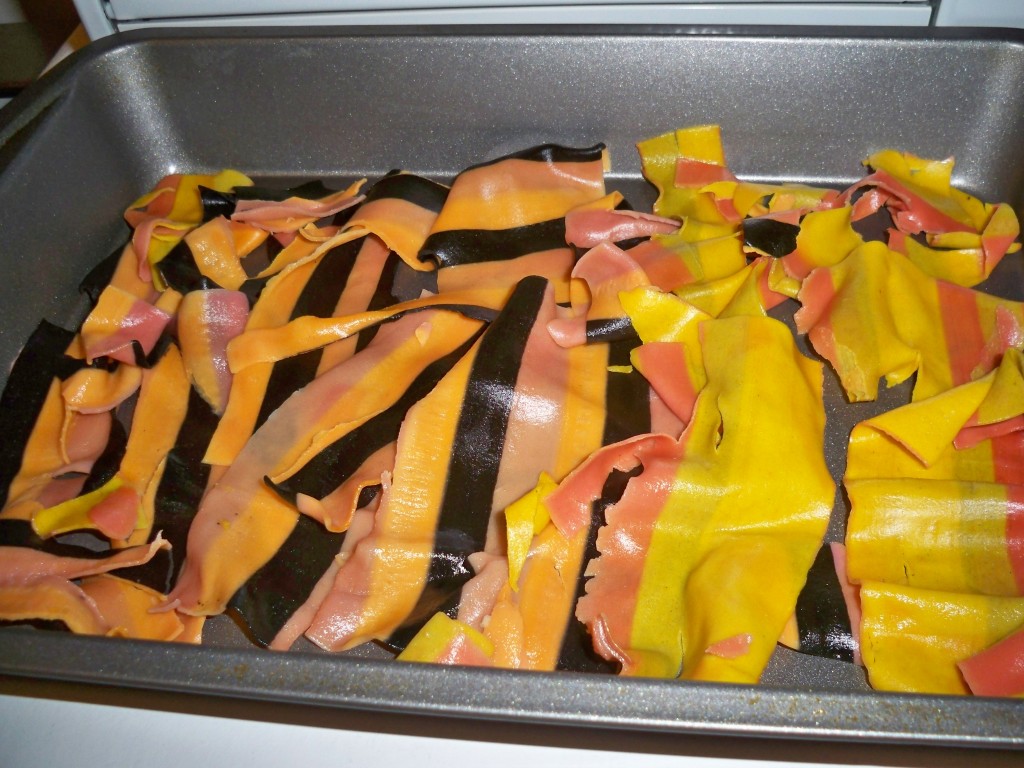 Add a layer of sauce, followed by a layer of the artichoke and veggie mixture. Repeat layers by adding noodles, sauce, and the rest of the veggies, ending with a layer of sauce.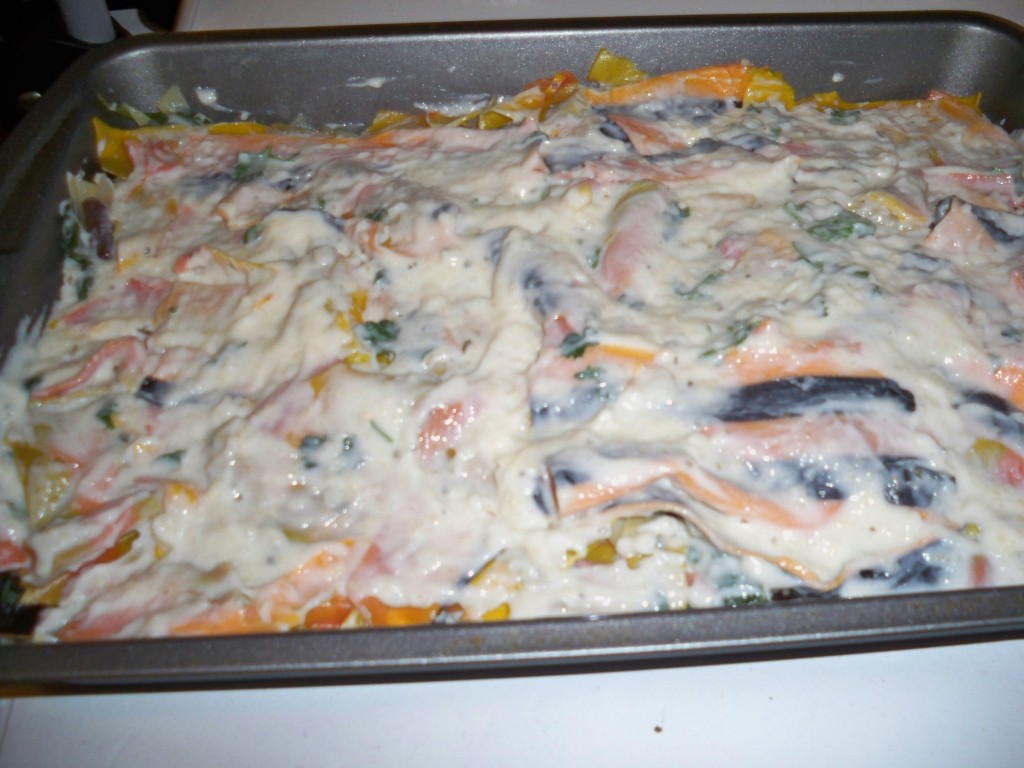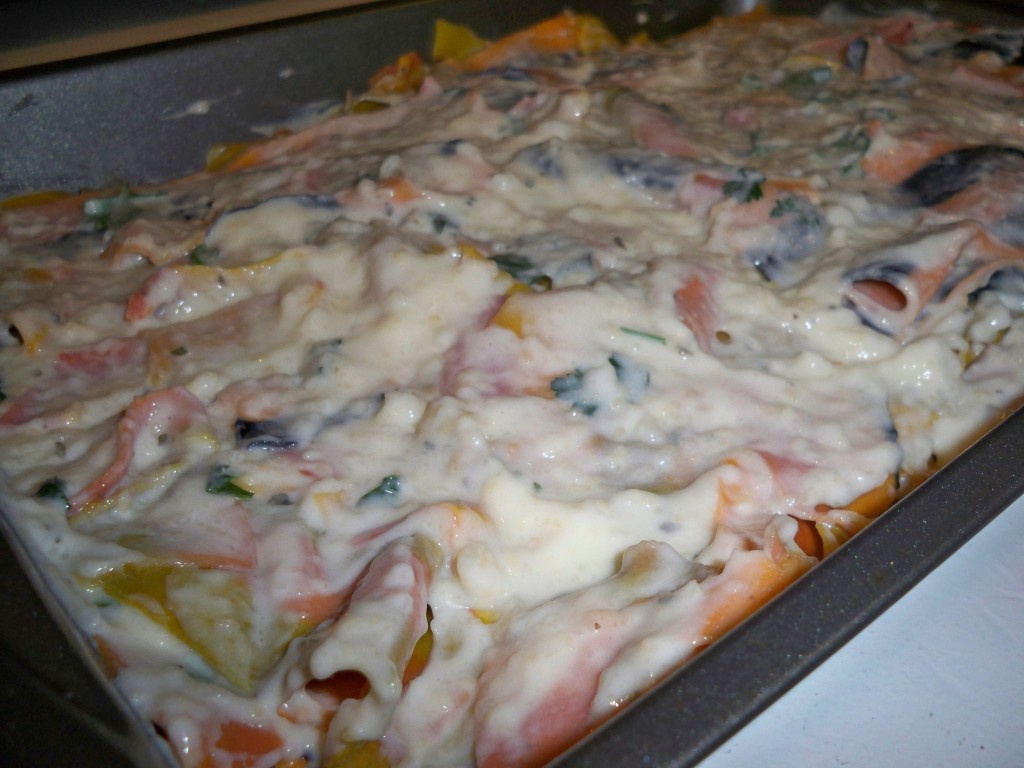 Sprinkle mozzarella on the top and either refrigerate overnight or loosely cover with aluminum foil and bake for 35-45 minutes at 350 degrees. Let stand to cool for a bit, then dive in and enjoy!
Now, to go along with your delicious lasagna, here's a veggie!
Asparagus with Mustard Vinagrette from Jamie Oliver's Food Revolution:
This recipe is really more of a sauce than a recipe, it is SO easy. Use this as a side dish to compliment any meal! I'm even thinking about making this into a salad dressing it is so tasty.
Prep time: 10 minutes
Cook time: 2-5 minutes
Servings: 4
Ingredients:
1 pound asparagus
3 tablespoons olive oil
1 tablespoon red wine vinegar
1 teaspoon spicy mustard
a pinch of chopped parsley
salt and pepper to taste
Directions:
In a medium pot, bring water to boil. Chop off the bottoms of the asparagus and boil for about 3-5 minutes, depending on how soft or crunchy you want your veggies to be.
In a small bowl, mix the olive oil, vinegar, mustard and parsley. Season with salt and pepper to your liking and drizzle over the drained asparagus.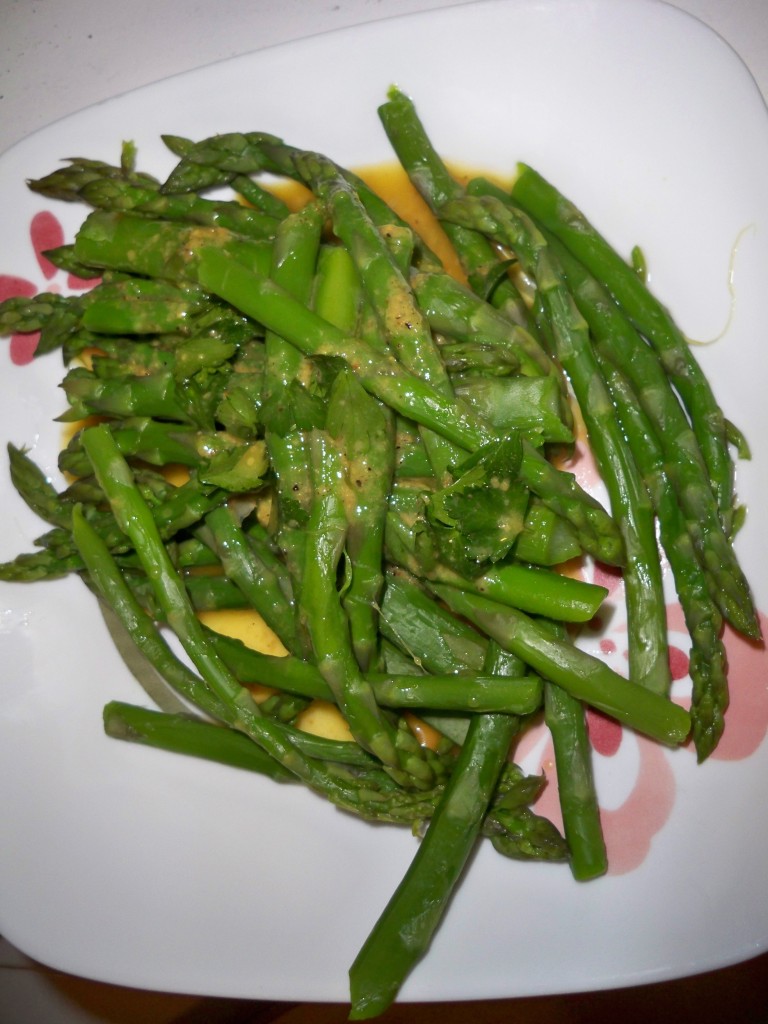 Together, the lasagna and the asparagus were a highly successful meal! I have made the asparagus twice already prior to this post. Feel free to play around with the veggies in both recipes. I definitely want to experiment more with these.
Yum