This month, Corelyn and I joined the Daring Bakers.
The May 2010 Daring Bakers' challenge was hosted by Cat of Little Miss Cupcake. Cat challenged everyone to make a piece montée, or croquembouche, based on recipes from Peter Kump's Baking School in Manhattan and Nick Malgieri.
A Piece Montée is basically a cake made of cream puffs that are filled with custard and dipped in caramel or chocolate, then built into a cone. Here's a finished one, so you get the idea:
Please excuse the cracker box in the background. After Cor and I both burned ourselves, we didn't have it in us to stage the piece montée properly.
This is making the crème patissiere. I choose to make the coffee flavored one.
Notice the constant whisking on the back burner. Because we didn't have enough foresight to move the grits to the back burner. Which, my friends, is another post.
Adding the espresso to the custard. Mmm mmm good.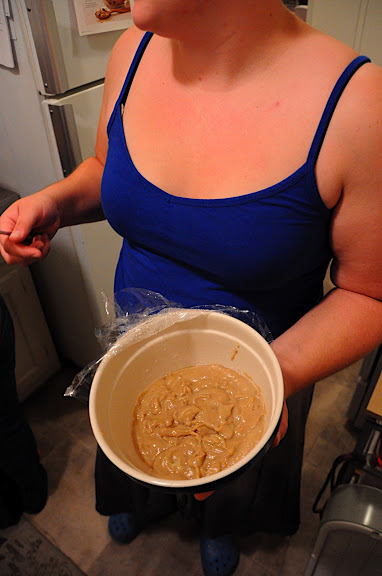 Finish custard the day after — we let it chill overnight.
This is our Pate a Choux. (Basically, this is the cream puff recipe.)
Problem Number 1: We lost the pastry tip after a handful of cream puffs were laid out.
Solution Number 1: What you didn't see was our transfer from a gallon sized plastic bag to a freezer quart bag. Much better.
All laid out. Whew!
Brush on that egg wash.
And, just like that, they're done!
What you didn't see: cooling. We let them cool, whilst eating Indian food. Now, onwards, to the assembly!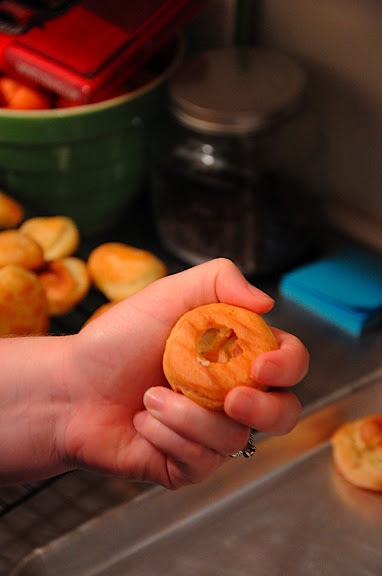 Corelyn gets ready to fill those suckers, while I work on the caramel glaze to hold them together.
Checking the recipe…
Checking the caramel…
Stirring, looking good…
Corelyn's done poking holes.
Filling the cream puffs….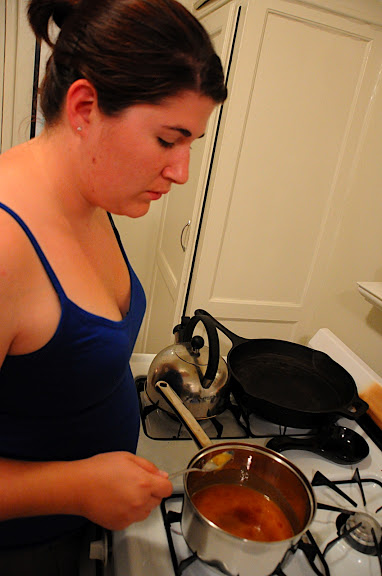 Almost there….and the words, "How do you know when it's done? I can't tell, it's not really clear, but it is amber colored…"
Problem Number 2: Jennie burns the caramel.
Let's review: Corelyn's cream puff filling = perfect.
And Jennie's caramel making = disaster.
And, so we try again. Please notice the placement of the recipe: closer, nearer, better positioned, in case I panic again.
It gets serious: Corelyn looks for smoke, I get ready to stir.
Looking good so far…
Ahh, yes, hello caramel….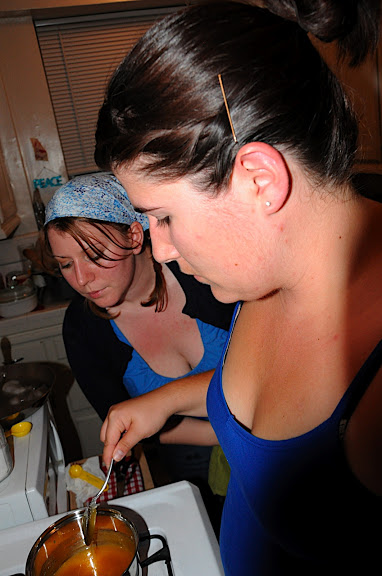 "Is it ready?"
Yes! It is. But it was going to harden fast. Ready?
As you can see, it's already starting to harden. Yikes!!
We had to melt the caramel again, since it was hard.
Now, remember that Corelyn is stacking, I am dipping and Jeff, dear Jeff, is photographing.
Problem Number 3:The caramel is SO HOT that Corelyn and I both burn ourselves.
It's leaning, just a little, because of our speedy assembly.
See the caramel threads? I made them because it was the fancy thing to do. They do NOT look fancy. They look like cobwebs are growing on my piece montée.
[addtoany]
Yum