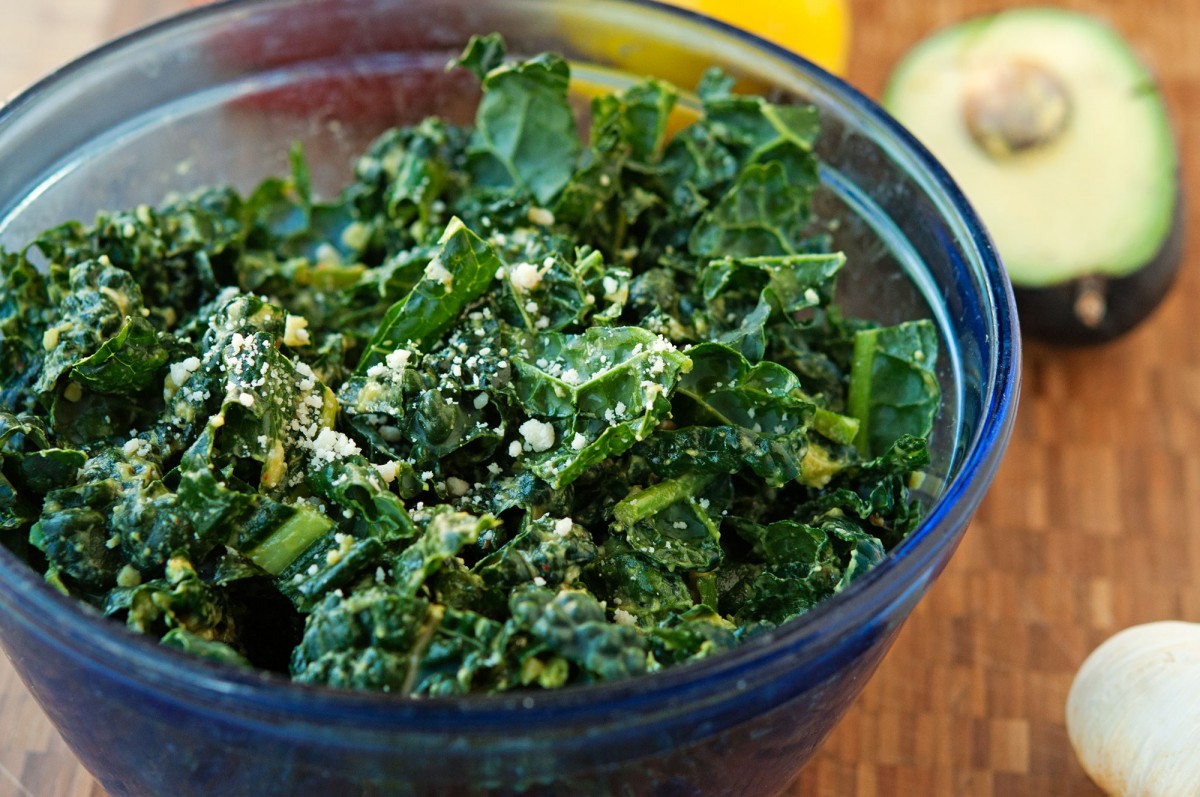 Sometimes your friends just make the best food and then they share the recipe with you and all is right in the world. This is one of those times. My friend Ana makes the best kale salad and it's always exactly what I want no matter the meal, occasion, or setting. It is full of a handful of things I probably wouldn't have thought to put together myself, but luckily she shared the recipe and I'm here to share it with you.
Like most family/friend recipes, it's full of notes and edits and changes based on your preferences and the contents of your fridge, and let me tell you – I have had this salad no less than 10 times, and I am sure it's always been a little different but every bit as delicious.
Servings: 2-3, depending on how much your peeps love kale
Ingredients:
1 bunch of kale
1 avocado
1 tsp (or one good squeeze on the bottle) of yellow mustard (or whatever mustard you have)
2 tsp (or two squeezes on the bottle) of sriracha sauce (or only one if you find it too spicy)
3-4 cloves of garlic, minced or through garlic press (I used 4 because #garlicmysoul)
1 tsp of olive oil
1 tsp lemon juice
1-2 tbsp of Bolthouse Farms Cilantro Avocado Dressing – (Ana's note: I feel like it gives it a really nice flavor. Jennie's note: I used yogurt in lieu of this because I don't like cilantro, but do what feels right in your heart)
Plenty of Parmesan cheese, grated – (Ana: It just takes it to the next level of deliciousness)
Directions:
1. Cut your kale however you like it. Ana does it chiffonaded, and it's a delight, but I used pre-cut kale because it's what I had. Do what you feel in your heart.
2. Throw all your ingredients and a bowl and mix well (without the kale quite yet.)
3. Add your kale and mix REALLY well. You basically want every piece of kale to have some delicious dressing on it. Top with more parm if you feel like it, which you probably do. Eat within 24 hours of making or else it'll be one sad salad, but it's TOTALLY worth making and you probably should make it right now.
Side note: did you know that Trader Joe's is now carrying sriracha sauce? Score. Also side note: two squeezes is not too spicy for me, and I am a wimp.
Let me know how it goes if you do make this, and if you put your own spin on it – I love kale all the ways, and I always love a new kale recipe!
[addtoany]
Yum