When my dad and my brother were visiting I decided to try my hand at breading chicken. I've never been very good at getting breading to stick to items, but I figured chicken is an easy entree that everyone would eat and even if I messed it up they'd eat it anyway. Fortunately, I did a solid job, and thanks to some tips in Real Simple it was not a breading disaster.
The chicken breasts I had happened to be GIANT. I would definitely recommend thinner breasts for cutlets, as this ended up being breaded blocks of chicken. Fortunately, I was feeding giant men so it was all promptly devoured with no questions asked.
There were however some questions about the bit of quinoa that I snuck into the rice. The fact of the matter is I rarely have time to cook fresh brown rice (who has an hour to make rice?!?) and adding the quinoa helps me punch up the white rice and not feel guilty about the fact I'm eating said white rice. Honestly, it might look a little strange, but you hardly notice it when consuming.
When cooking quinoa and rice together you just have to make sure that you get the grain to water proportion right. I usually do a cup of rice, ¼ cup of quinoa, and 2 ½ to 2 ¾ cups of water.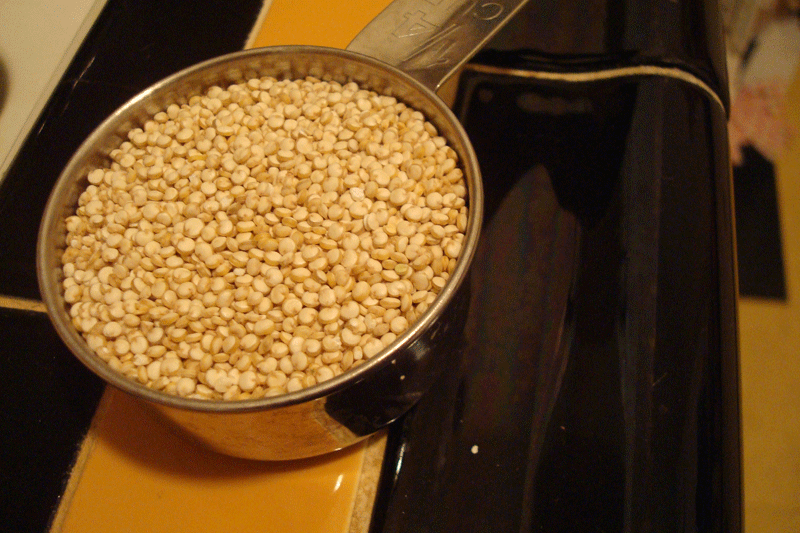 While the rice starting cooking, I started breading. I used Glutino brand breadcrumbs. They are essentially just corn meal with a little salt.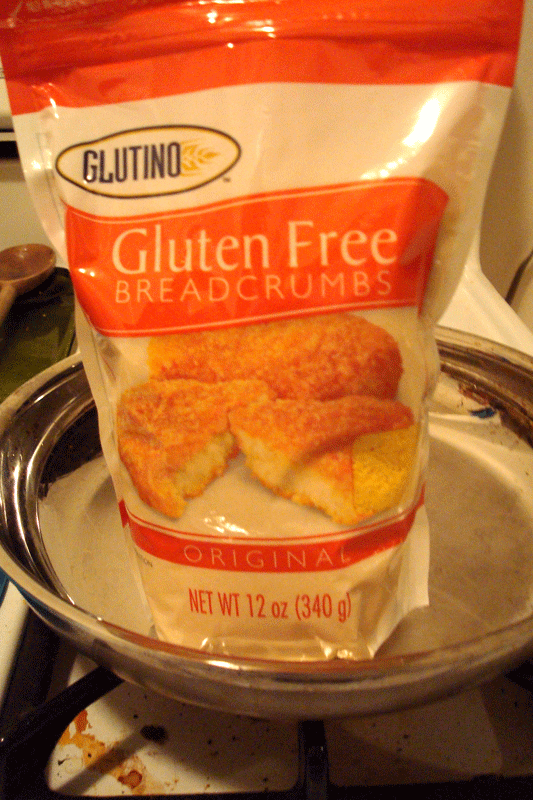 Set up your breading station in the following order: flour, egg, breadcrumbs. Real Simple had a whole thing about a dry hand and a wet hand and whatnot, but because I'm a huge spaz/clutz I just went for it wet/dry hand designation disregarded and it was just fine.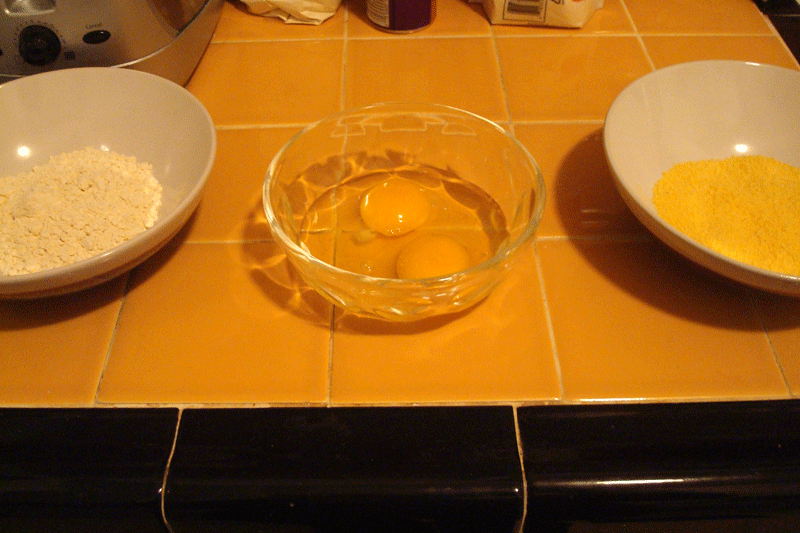 Coat the chicken in the flour, then in the egg letting most of the excess drip off and finally coat in breadcrumbs.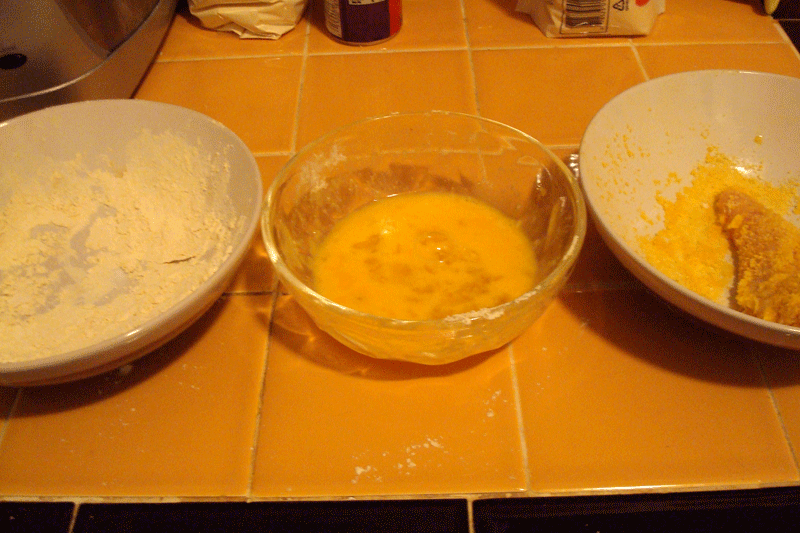 I used my fingers to handle the chicken in the breading process and then a pair of tongs when handling them on the stove. I found that the less you handle it the less your breading breaks and unsticks from the chicken. So handle the chicken once breaded as little as possible.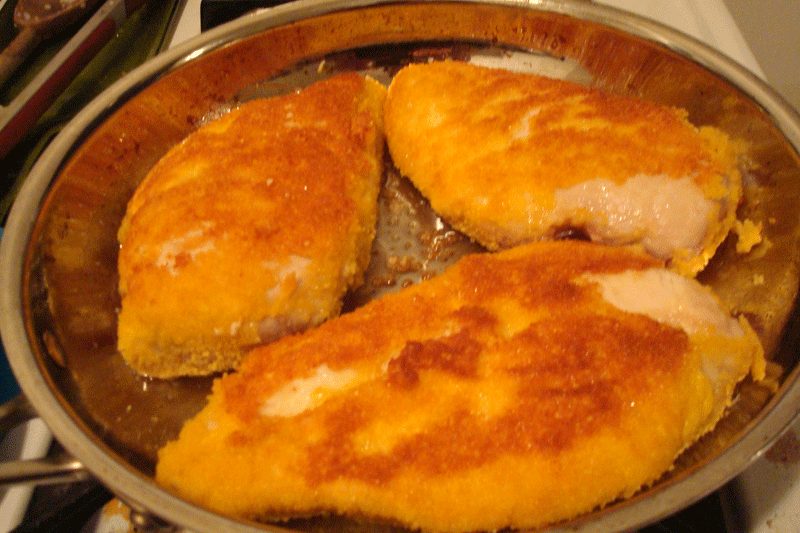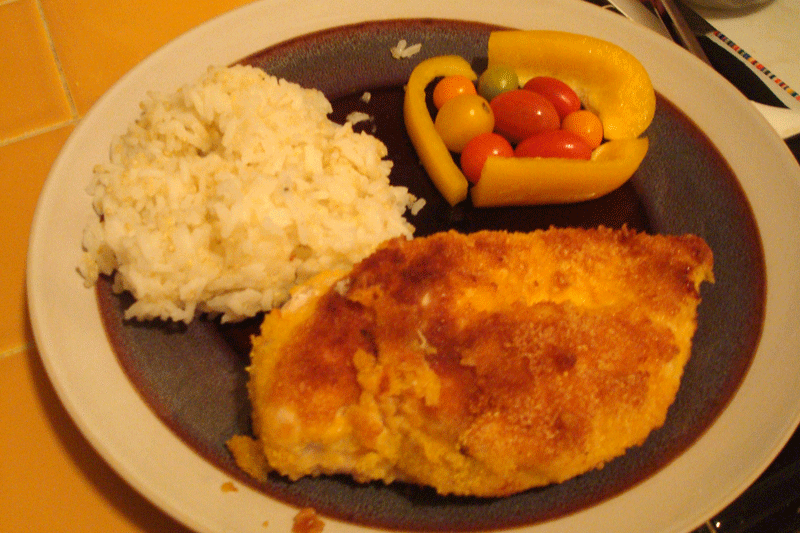 In the end, the chicken ended up being sort of plain without seasoning/herbs/spices in the breadcrumbs which I would definitely like to explore the next time around.
How do you bread your chicken — do you add your spices to the flour, the bread crumbs, or afterwards, on top?
Yum