Recently we had Mary and George over for a cooking double date. We had been throwing around the idea of making homemade pasta for a few months, and finally figured out a weekend that worked for all parties.
Four hours of hard work turned out dozens and dozens of ravioli, not to mention meatballs and fettuccine, and homemade sauce. I don't think Mary and George quite knew how long it would take, but Jeff and I knew what we were in for, as we'd made ravioli ourselves before several times. The recipe for ravioli, out of "The North End Italian Cookbook," even says that the recipe is tedious, and that you should invite a friend over to help since it takes awhile.
Here are some shots from our cooking night!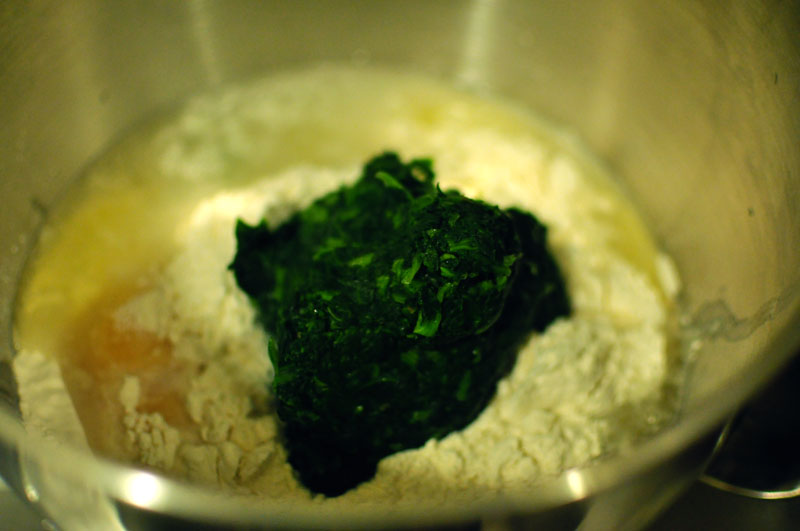 Here's the start – spinach dough.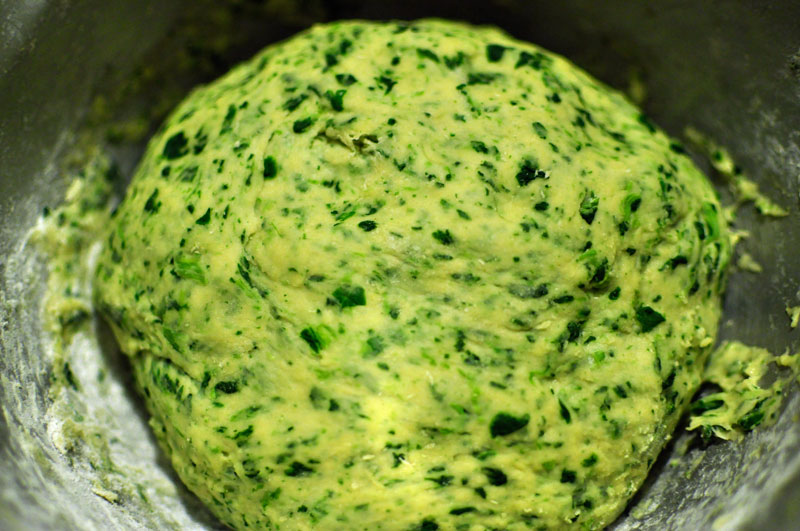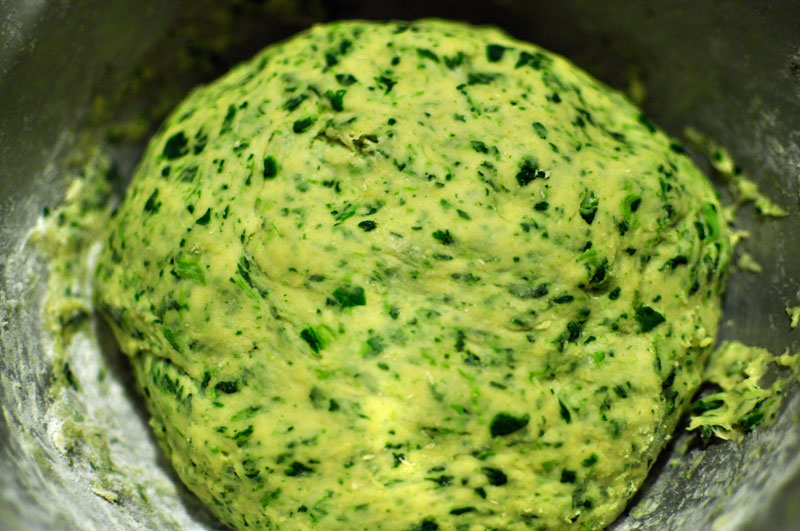 Look at that – delicious dough, ready to be pressed into ravioli.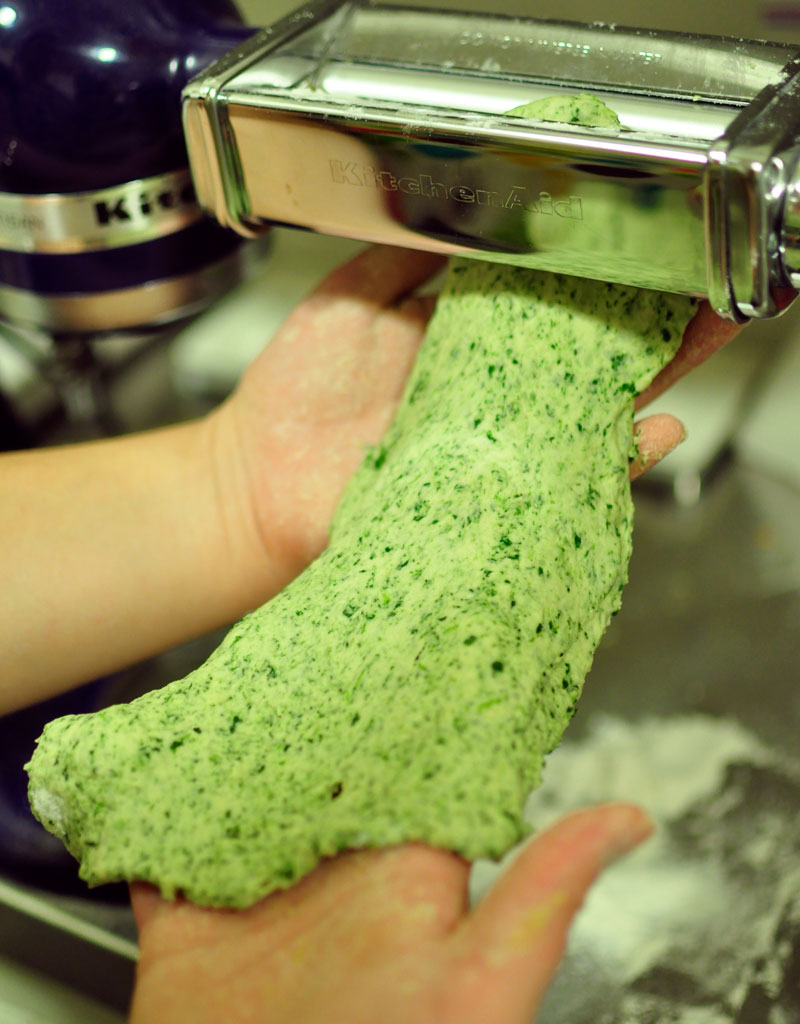 We had to run this through quite a few times to get it to brilliant green…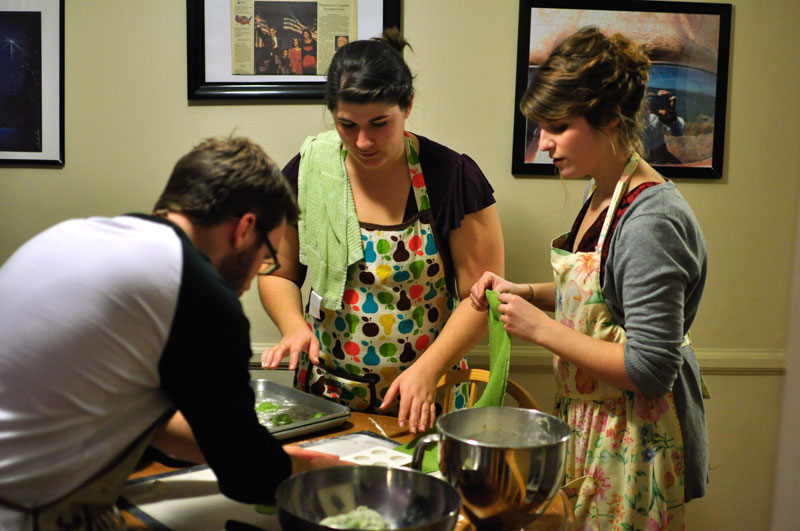 Look at the pasta in Mary's hand…that is the color we got it to! Here, George is pressing the ravioli so it has pockets to add cheese to!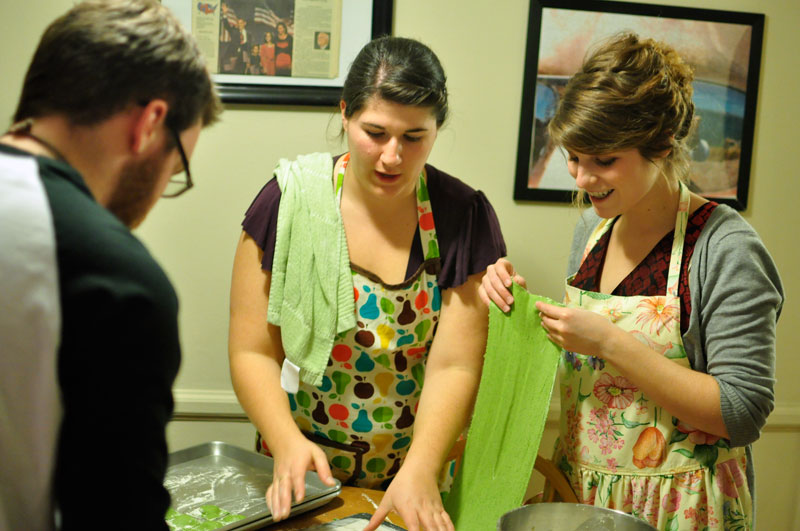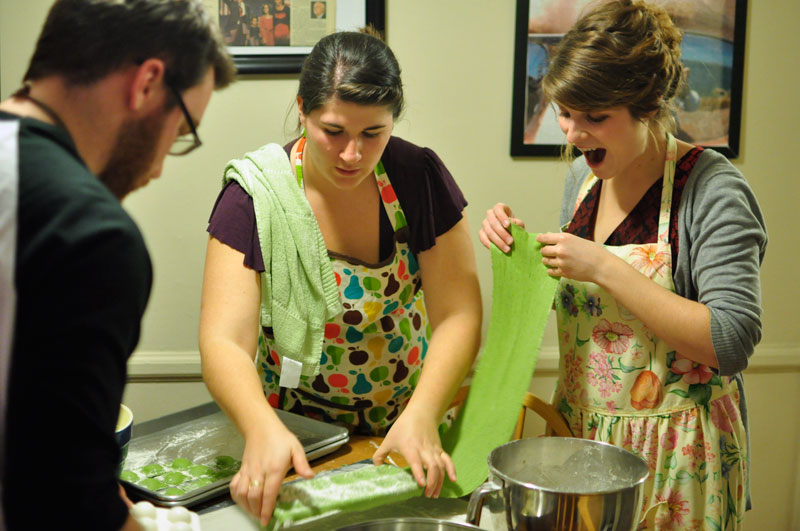 Please everyone look at how excited Mary was. This made my night, because it's fun to see other people as interested in cooking as you are (as opposed to thinking you're kind of crazy for making your own pasta.)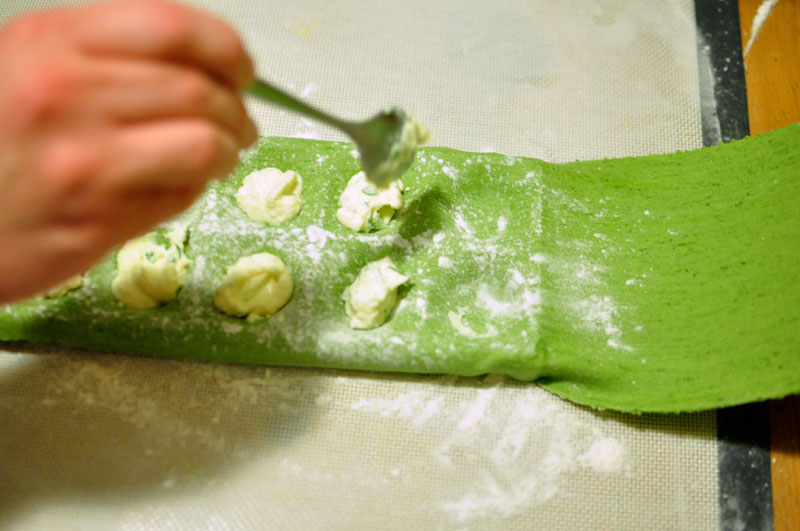 Look at the delicious filling…I just love cheese.
We also made meatballs…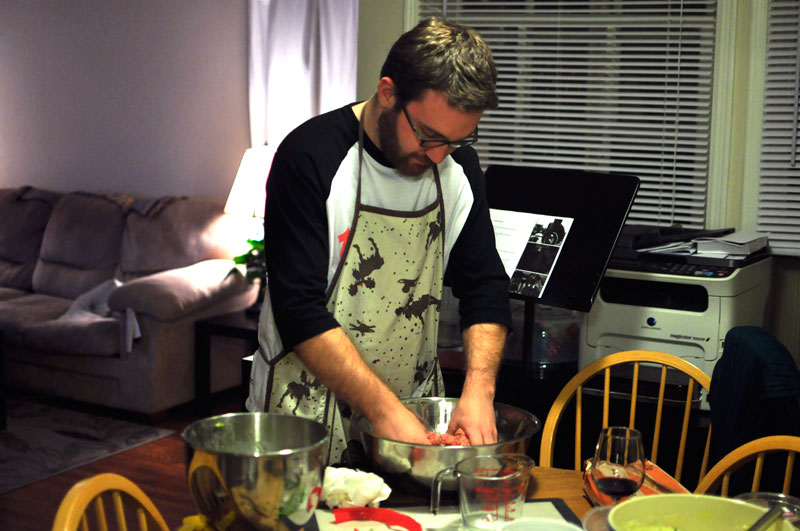 George is mixing up the ingredients so we can get them on the stove!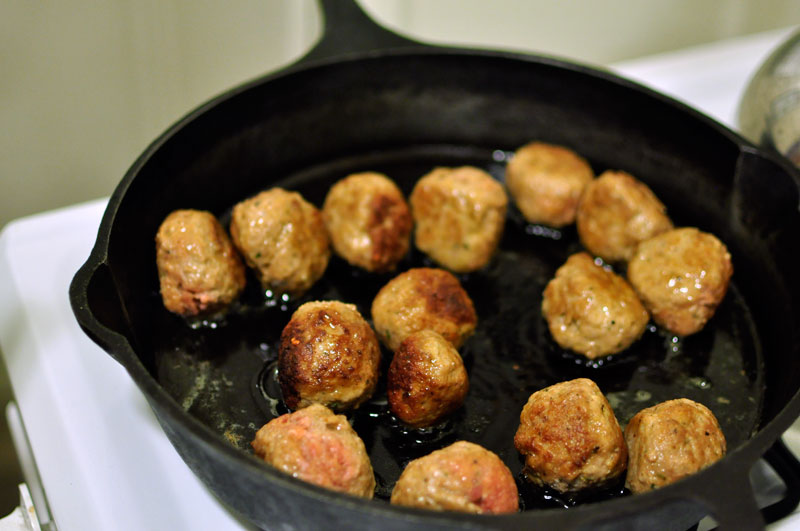 This is Jeff's mom's recipe, and I must say they are some of the best meatballs I've ever had.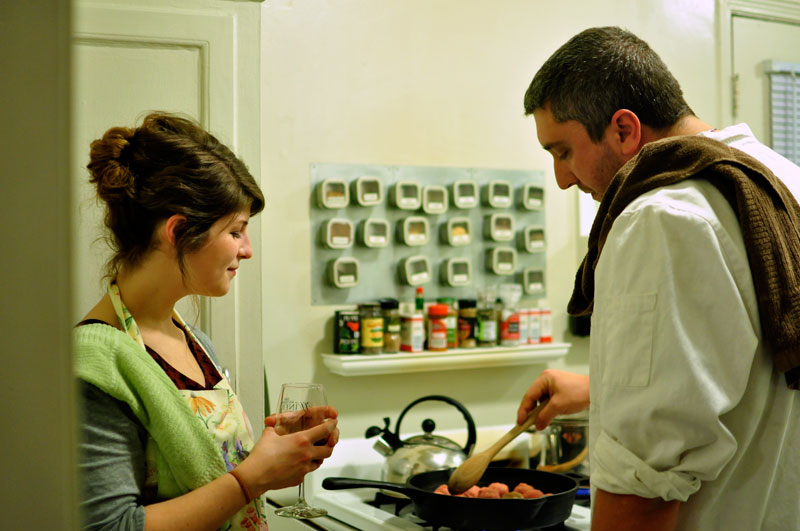 Mary looks on as Jeff tends to the meatballs (and the sauce!)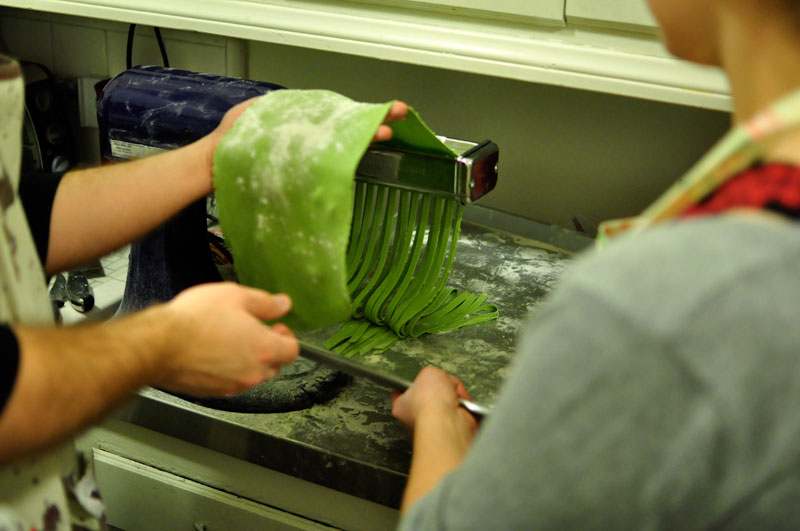 Because we ran out of filling, we used the rest of the dough to make fettuccine.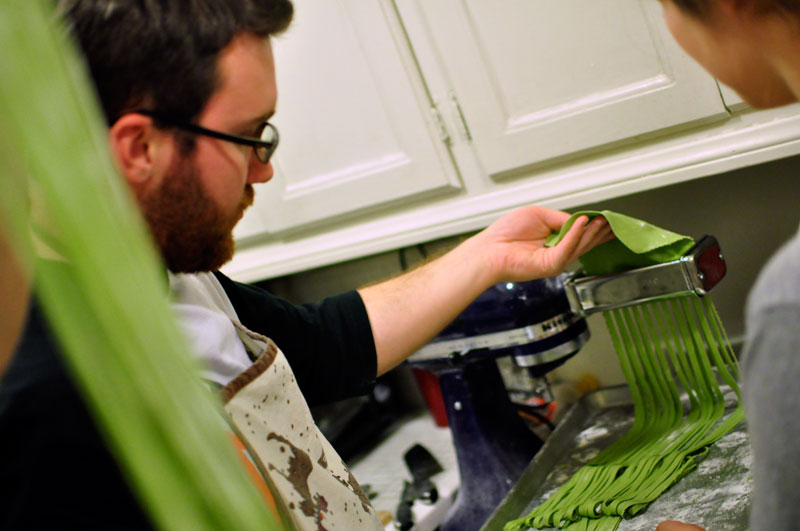 I love having the pasta attachment for my Kitchenaid. It makes pasta night move much faster (and having four people instead of two didn't hurt either.)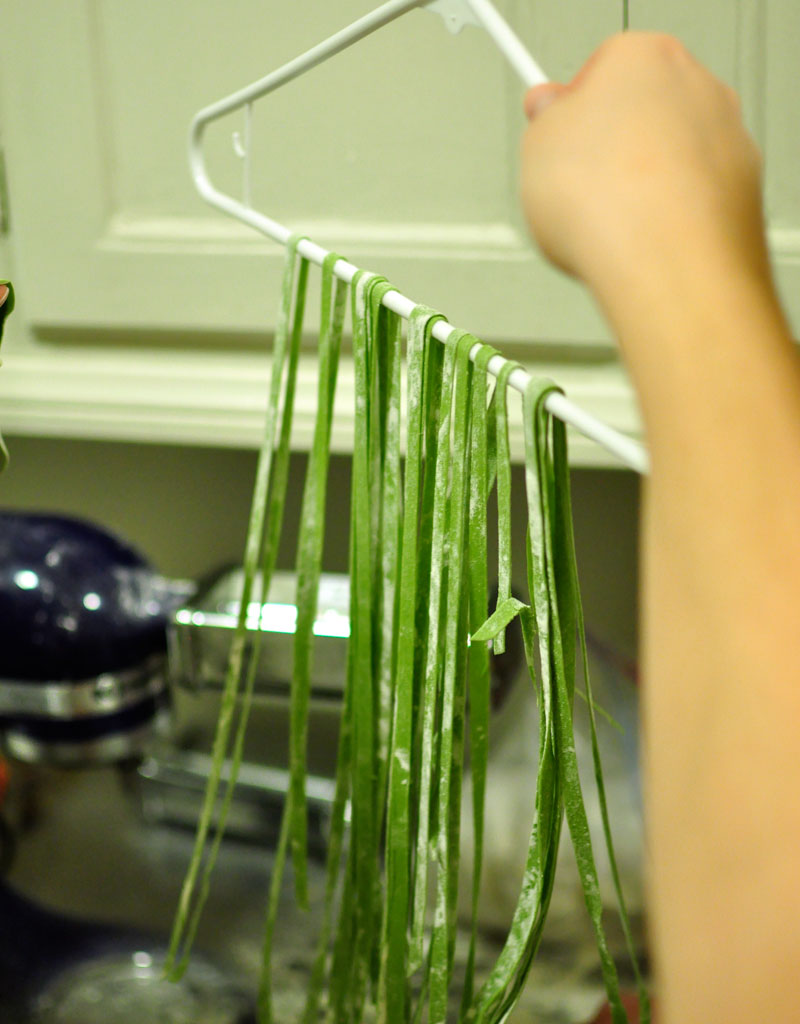 I decided that we should put the pasta on a clothes hanger, which ended with some pasta on the floor in the morning, but I must say that it was definitely dry, so I counted that as a success.
Where the pasta hung out (I know I'm so funny!) for the night.
Have you ever made pasta from scratch? What is your favorite kind of pasta – penne, ziti, spaghetti?
[addtoany]
Yum