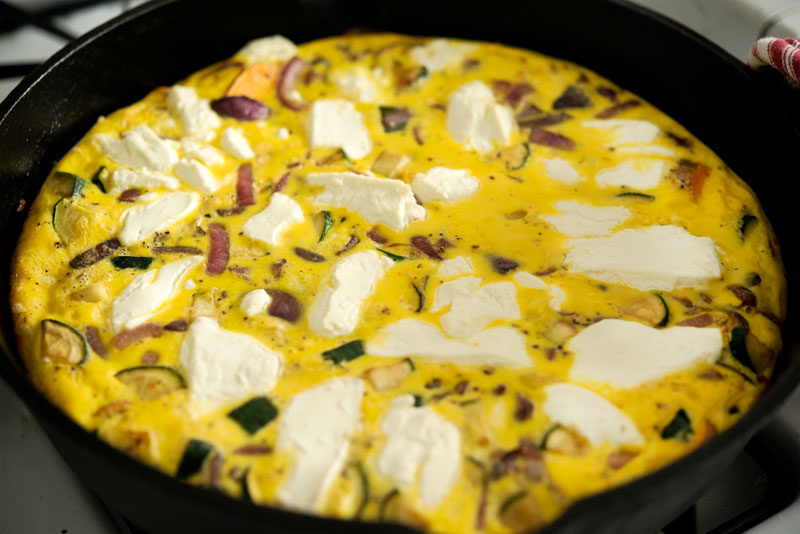 There is something about breakfast on the weekends that just cries fun, freedom, happiness, sunshine…right? It's the start of a day that is open to all sorts of possibilities. The smell of coffee brewing, the sizzle of the cast iron warming, and the colorful cutting board, with several bright veggies waiting to be added to your dish…nothing beats the weekend.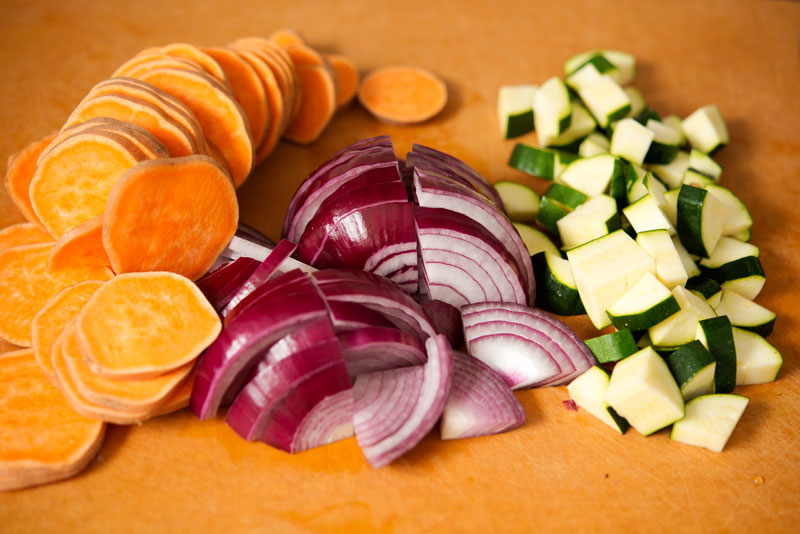 This past weekend, we had the perfect breakfast to start the perfect day of cooking – it was even cloudy out, encouraging us to make more recipes and not worry about missing a day of sunshine, the days we normally reserve for frolicking around outside.

This frittata would easily feed six people, and it is delicious (especially with farm fresh eggs!) And, it's ready in about 25 minutes, making it an easy brunch item to impress your friends and families!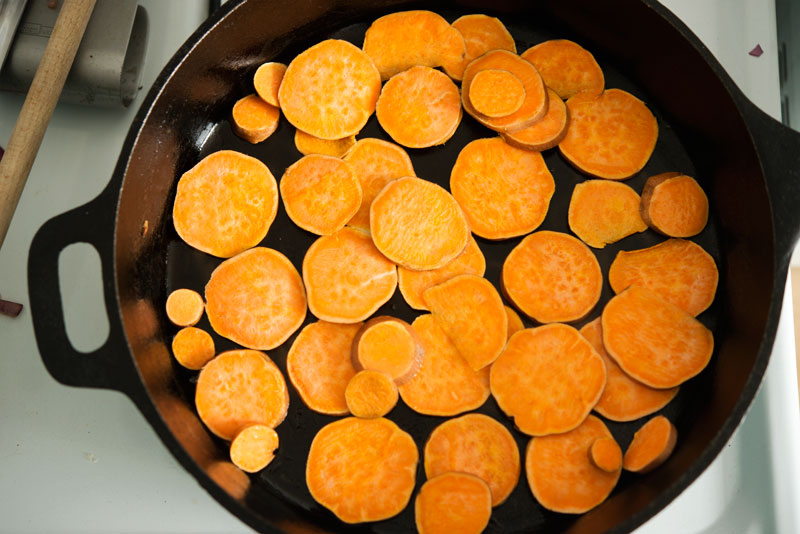 Sweet Potato, Onion, & Zucchini Frittata
Oven temperature: 400
Prep time: 15 minutes
Cook time: 20 minutes
Ingredients:
9 eggs
1/2 cup milk
4 oz goat cheese
1 sweet potato
1 red onion
1 or 2 zucchini
olive oil
s/p
Directions:
1. Preheat your oven to 400. Chop the onion, zucchini, and sweet potato. In a cast iron pan, sauté the sweet potato (with some olive oil) for about 3 minutes.
2. Add the onion and soften, about 3 more minutes. Remove the sweet potato and onion, and re oil the pan. Make a layer of the sweet potatoes on the bottom, then layer on the onions.
3. Add zucchini. Meanwhile, whisk together eggs, salt, pepper, and milk.
4. Add the egg mixture to the cast iron and let cook about 10 minutes, until starting to firm.
5. Dot the frittata with goat cheese. Slide the whole cast iron into the oven, and let bake about 8-10 minutes.
6. Once, firm, pull out (make sure to use your oven mitts!)
Enjoy with a friend or a crowd for a cannot-speak-while-eating-impressive breakfast.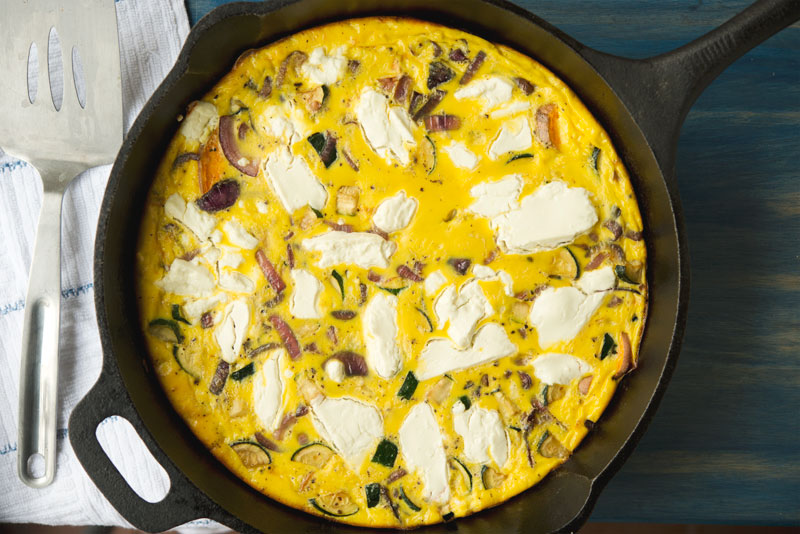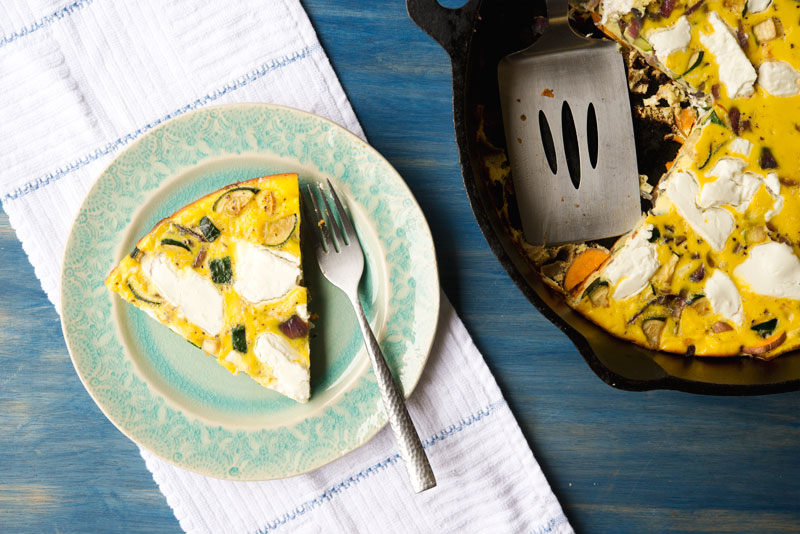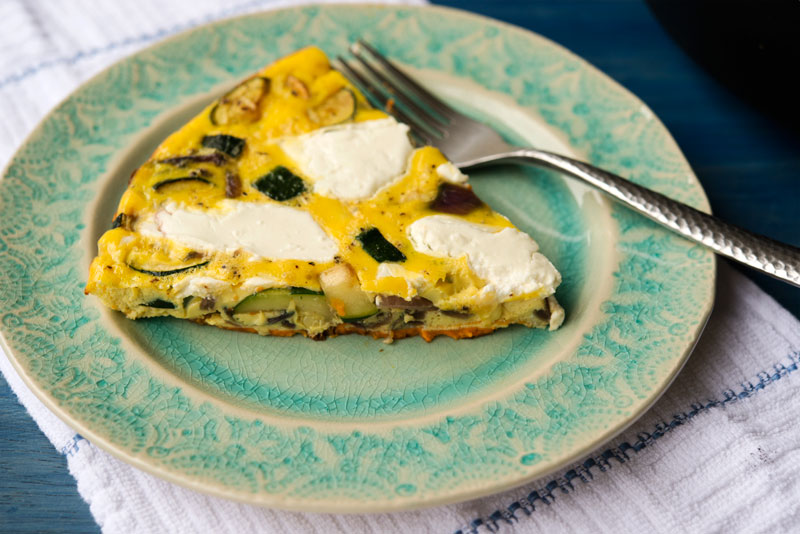 What is your show-stopping breakfast dish? Is it a sweet blueberry muffin, or savory flax pancakes? Tell us what gets your family excited for Saturday morning!
Yum