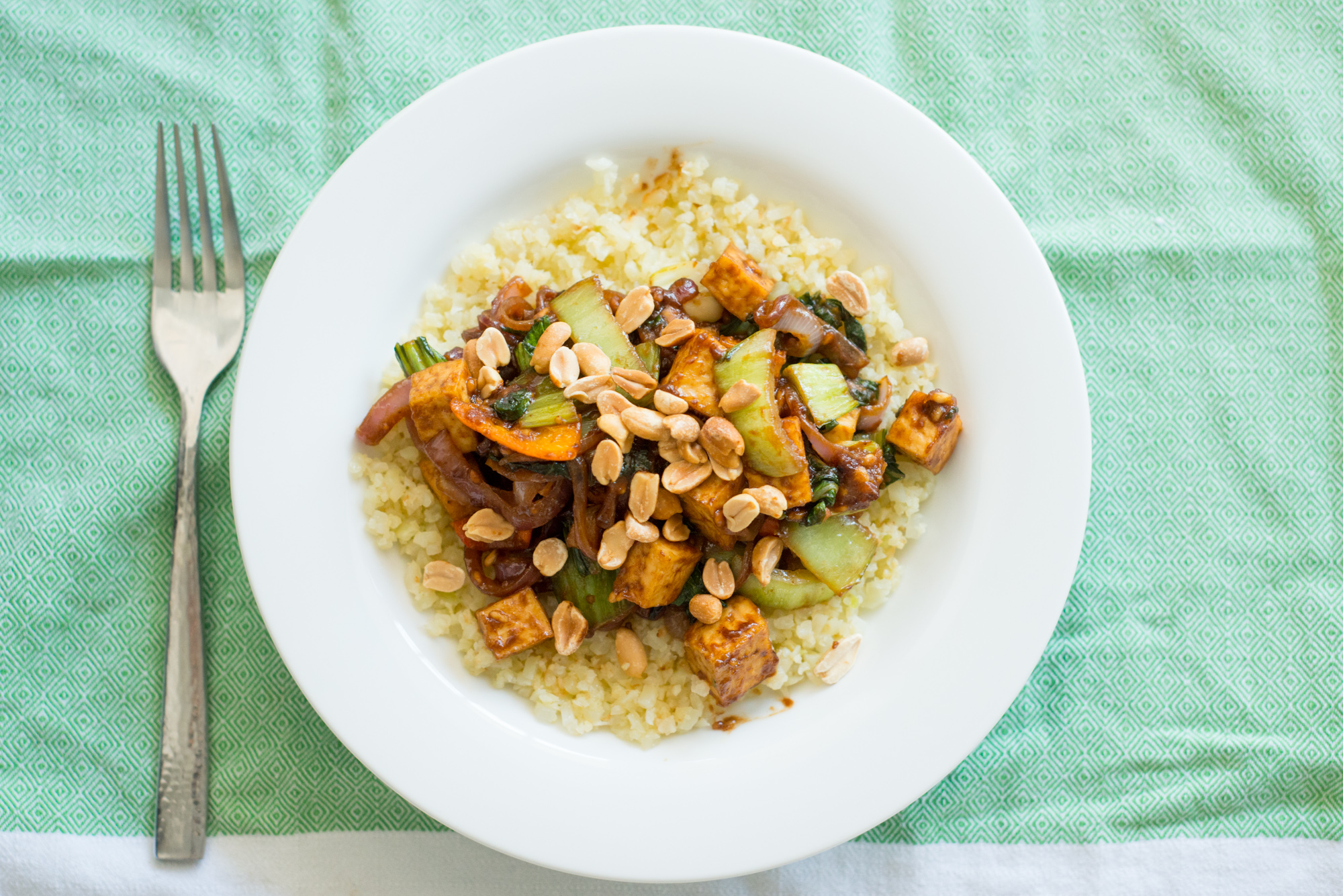 Type: Main Course, Quick Meals, Vegetarian
Author: Jennie
Oven Temperature: 375°
Difficulty: Intermediate
Prep Time: 25 minutes
Cook Time: 40 minutes
Servings: 3-4
Ingredients
1 package firm tofu
3 small heads bok choy
1/2 red onion
7-10 small sweet peppers
1 package cauliflower rice
1 teaspoon Hoisin sauce
1 teaspoon chili garlic sauce
1 teaspoon sesame oil
3 tablespoon peanut butter
3 tablespoon soy sauce
grated ginger to taste
olive oil
peanuts
Directions
Preheat your oven to 375. Press your tofu to remove water, then cube and bake on parchment paper for 20 minutes.
Meanwhile, chop your bok choy, red onion, peppers, and if needed rice the cauliflower.
Mix your Hoisin, chili garlic, peanut putter, and soy sauce in a bowl. Grate some fresh ginger into the bowl and whisk.
Remove your tofu from the oven, then place in a bowl. Put half the sauce on the tofu.
In a sauté pan, sauté cauliflower rice in about a teaspoon of olive oil over medium heat. (This can be done at the same time as the next couple of steps, about 10 minutes.)
Meanwhile, place your veggies in a cast iron with a splash of sesame oil and the other half of the sauce.
Sauté veggies about 5 minutes, then add tofu and warm, about 5-7 more minutes. Serve veggies and tofu over cauliflower rice, then top with more ginger and peanuts.
Yum