Well we've made it a third of the way through Whole30 and we're still at it. I confess, yesterday might have been my hardest night, but we'll get there.
The first ten days, I've been eating a lot of fried eggs & avocado with greens for breakfast. Because I'm home with Evie, this has been easy to whip up in the mornings. And I literally never get sick of fried eggs.
(If you don't follow me on Instagram, get on it. I've highlighted what I've eaten each day so you can get ideas!)
For dinners, we've gone back to some of the things we made last time around, things we normally eat which happen to be compliant, and are trying some new things.
Feelings Update: I am feeling pretty good about Whole30 this time around. It's been easier for me to give up certain things I thought would be hard, like dairy (cheese mostly). I haven't been craving anything I can't have, it's more the lack of being able to eat whatever I want. The two hardest times were once when we were with friends and I wanted to be able to snack (didn't prepare healthy snacks so was craving junk!) and last night I was DYING for some chocolate. I love chocolate, LOVE IT and wasn't missing sugar necessarily, just a creamy piece of chocolate with my tea.
In addition, this may be controversial, but this time around I've not been as strict. I know that I am not allergic to dairy or grains, that beans don't bother me, I'm doing the Whole30 to reset my eating and stop having Chicken Quesadillas for dinner every night and eating tons of cookies. So, I've had a few dips with canola oil and am not looking back. If something says "0g added sugars" but has "May contain less than XYZ" I am eating it. We live in a world with a particular husband and a 3 month old baby and I am doing the best I can with what I got.
Mainly, eating Whole30 makes you pay attention to labels, what you're putting in your body, and how that makes you feel. And that's what I'm gaining from it.
Anyways, on to what we've been eating.
I've got a Pinterest Board of Whole30 Keepers we've tried this time and last.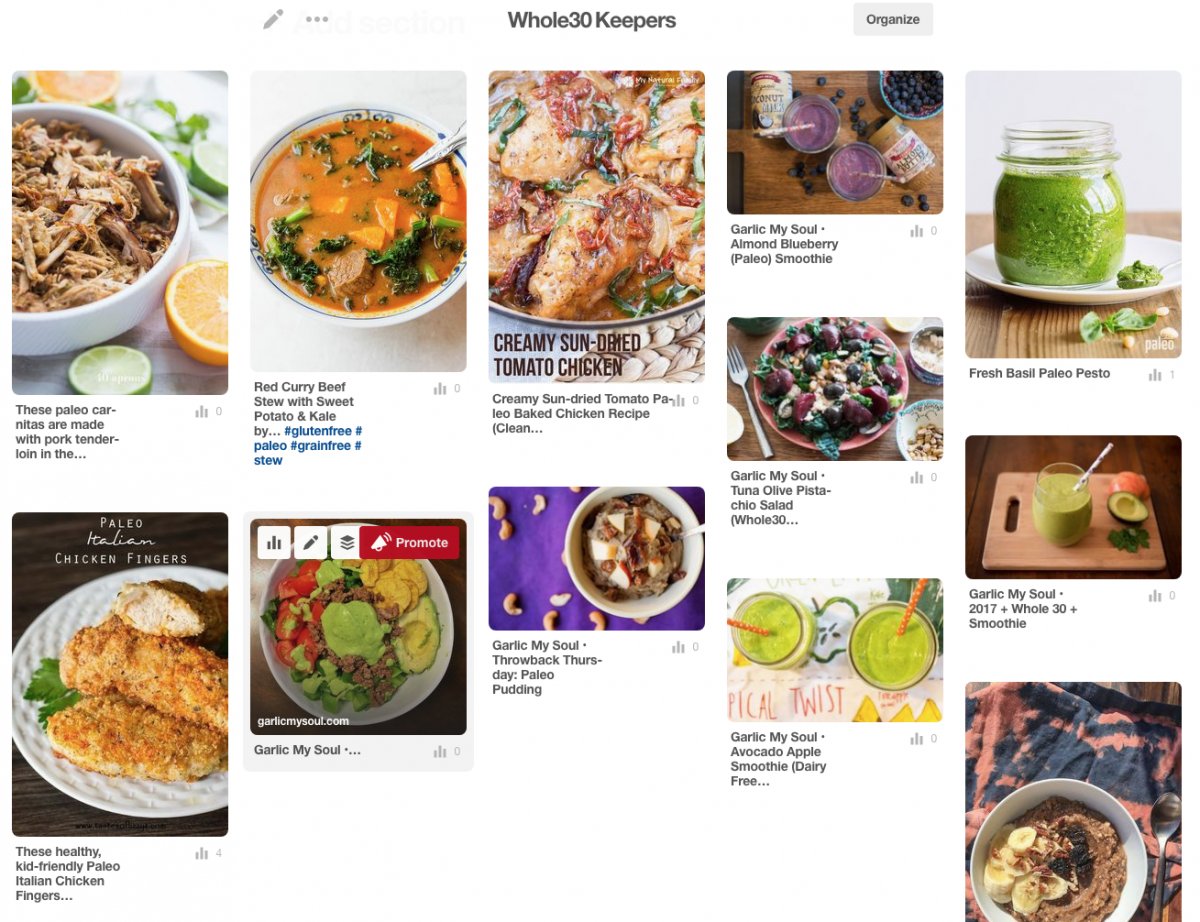 Here's what we've had this first 10 days:
Rosemary Meatballs w/ Greens & Roasted Cherry Tomatoes
Paleo Chicken Fingers
Stir Fry with Cauliflower Rice (Modify this recipe – use cashews & no tofu!)
Turkey Chili
Mustardy Chicken (Modified to be Whole30)
Carnitas Salad with Roasted Broccoli
Chicken Vegetable Soup
Two things that people asked for are here. First off, how to modify a recipe. This is a skill you'll learn as you experiment in the kitchen, and there's no perfect way, but I'll talk you through how I did it for the mustard chicken, above.
So, first here is the list of original ingredients with the modifications I made:
1 tablespoon olive oil
2 pounds bone-in chicken thighs
Kosher salt
Freshly ground black pepper
1/2 cup diced shallots (2 medium shallots)  1 diced onion
1/2 cup dry white wine  1/4 cup apple cider vinegar
1 cup low-sodium chicken broth
2 tablespoons whole-grain Dijon mustard
2 tablespoons Dijon mustard  4 tablespoons compliant mustard
2 tablespoons heavy cream  2 tablespoons coconut milk
Coarsely chopped fresh parsley, for serving (optional)
So here we go. First of all, you can see from above that there are a few triggers of non-compliant things – the wine, obviously, mustard (just make sure you use compliant mustard!) and the cream.
1) SHALLOTS – I used to keep these on hand, but I always end up not using them (I know, that's so silly, they're easy to use!) but I always have onions, so I just swapped that out because that's what I had.
2) WINE – Vinegar makes a great substitute for alcohol – you're looking for something acidic to add to your dish. You usually can make this substitution and get away with a delicious dish. I just happened to have/prefer apple cider vinegar.
3) MUSTARD – I only have the one kind of compliant mustard, but I'm here to report it was delicious.
4) HEAVY CREAM – The coconut milk/cream was just as good, and compliant, and makes your dish dairy free for those with allergies!
Just as delicious, I am sure, and no one was the wiser. Do you guys modify recipes? Do you have other recipe or ingredient-specific questions on substitutions, or suggestions?
Secondly, a few people asked for the Chicken Vegetable Soup recipe. It's easy for me to make a big pot of soup on Monday and eat it all week – easier than making lunch every day with a wiggly 3 month old! The recipe is below – feel free to modify the veggies as you see fit, add spinach or kale or whatever your heart desires!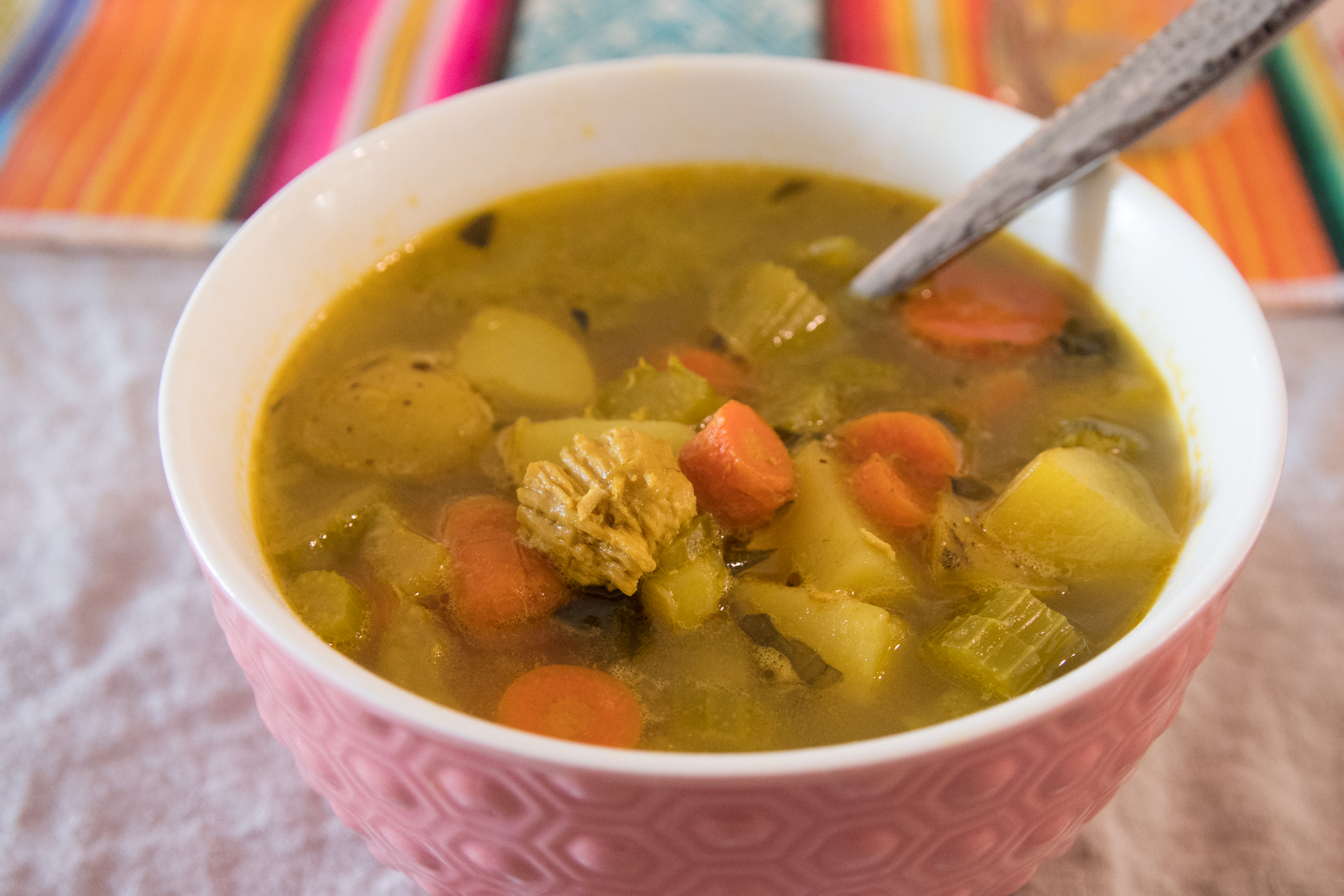 Type: Soups
Author: Jennie
Difficulty: Easy
Prep Time: 15 minutes
Cook Time: 45 minutes
Inactive Time: 60 minutes
Servings: 6-8
Ingredients
2 chicken breasts
4-5 small potatoes
5 carrots
1 bunch celery
1-2 tablespoon olive oil
4-5 cup vegetable or chicken broth
1 lemon, juiced
1 teaspoon turmeric
1-2 teaspoon cumin
1 teaspoon paprika
1 teaspoon salt
Directions
Boil chicken breasts in water. This will take about 20 minutes.

Meanwhile, chop your potatoes, carrots, and celery.

When your chicken is done, remove from pot, drain, and cut into bit size pieces.

In a dutch oven or soup pot, heat oil. When hot, add potatoes. Brown for about five minutes over medium heat.

Add carrots, celery, and broth. Stir and bring to a boil.

Add the lemon juice and spices, and taste and adjust to your liking. Let simmer at least 30-45 minutes. Serve hot!
[addtoany]
Yum