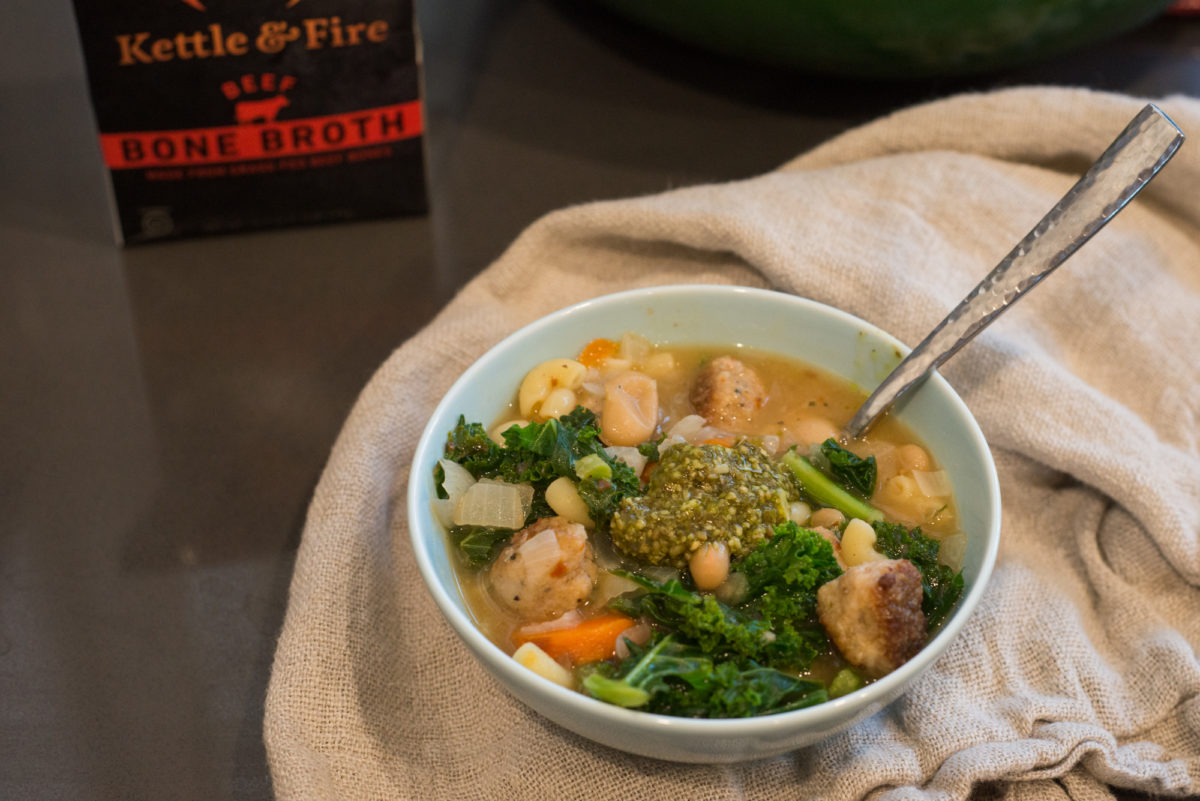 It's October. I am sick of the weather being 95 degrees, and I am ready to turn off the AC. At some point, the weather will oblige, but until then I am ignoring the weather and making soup every Sunday for lunches during the week.
Italian Wedding Soup has been on my list to make for quite some time and I am mad at myself for not making it sooner. Don't be like me – make this soup ASAP. The meatballs are a labor of love, but the soup is great and gets better the next day, and it's the perfect lunch to bring to work. Trust me on this – don't give up on making them tiny. The tiny meatballs are the keys to my heart.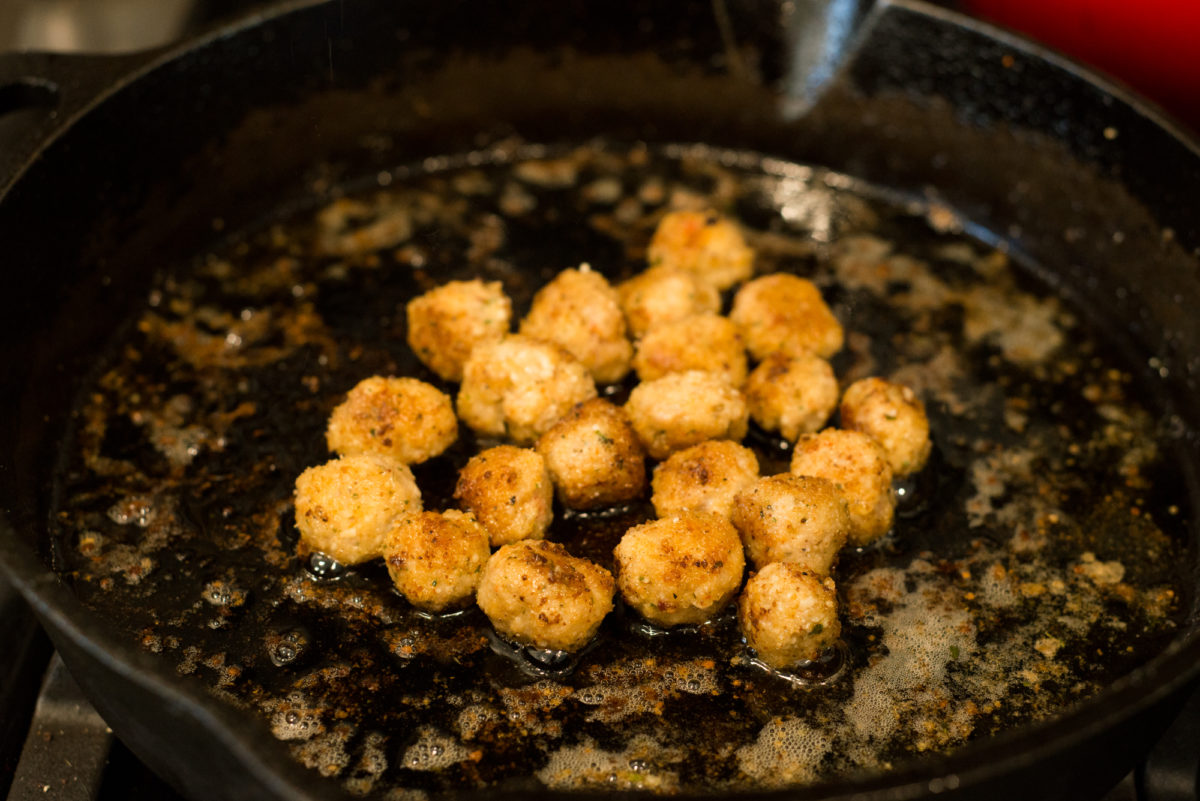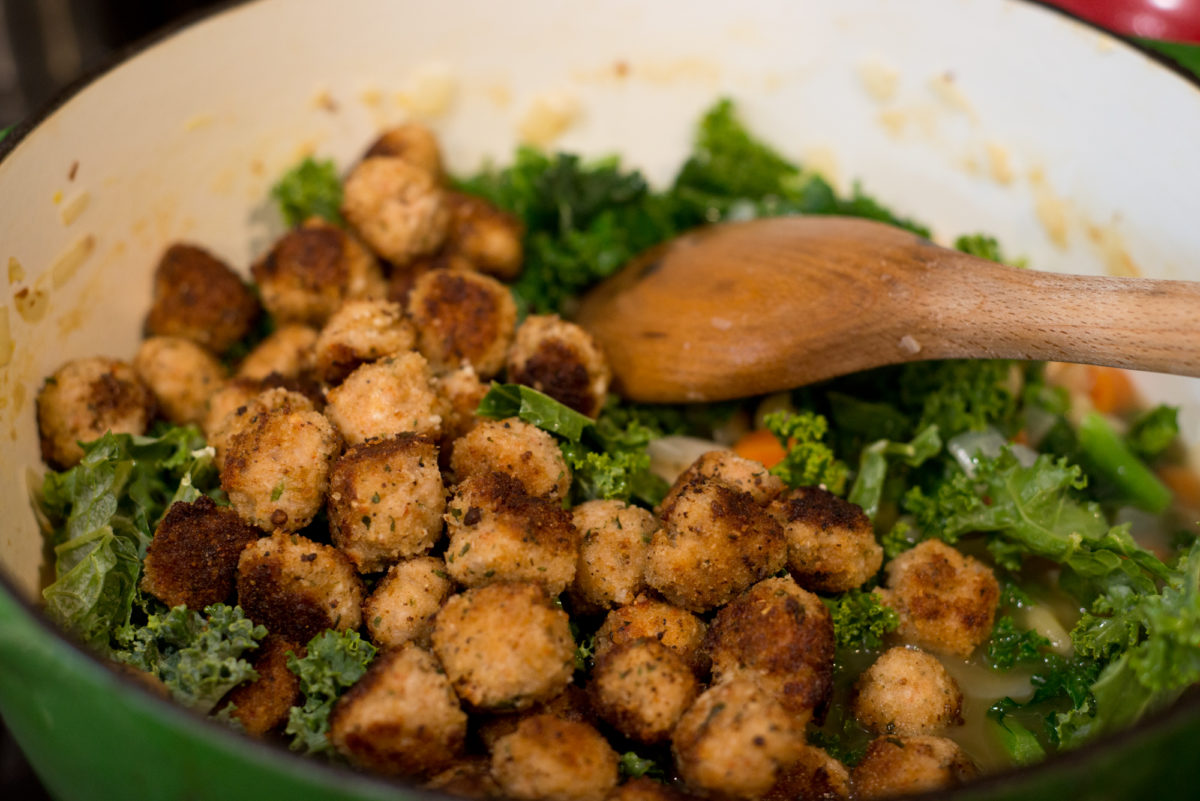 The cannellini beans pair perfectly with the meatballs, the kale adds an earthy heartiness to the soup, and the macaroni gives the whole thing some thickness. I recommend ditalini, but all I had on hand was elbows – just some tiny sized pasta to do the trick. Also, guys I used Kettle & Fire bone broth, and it was delicious. If you can get your hands on some, I think having rich broth makes a difference (or make your own!) (PSST – buy some here. This is an affiliate link, just FYI.)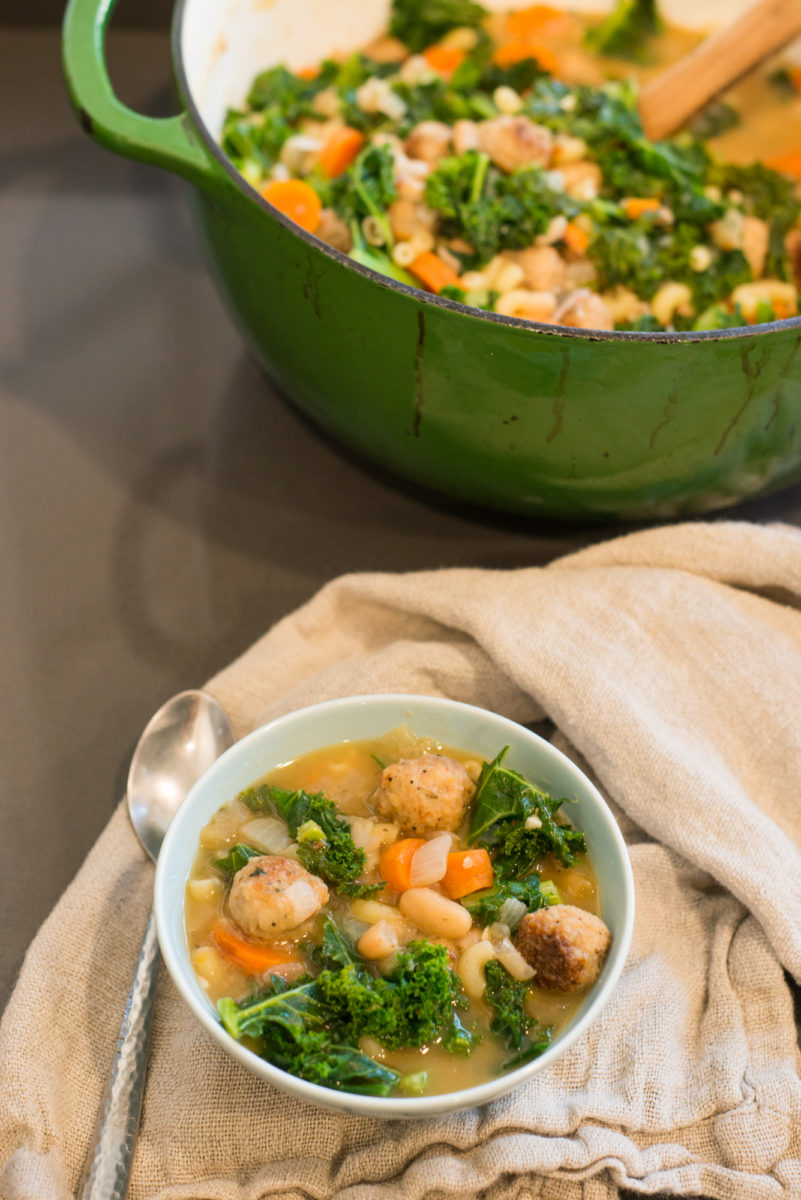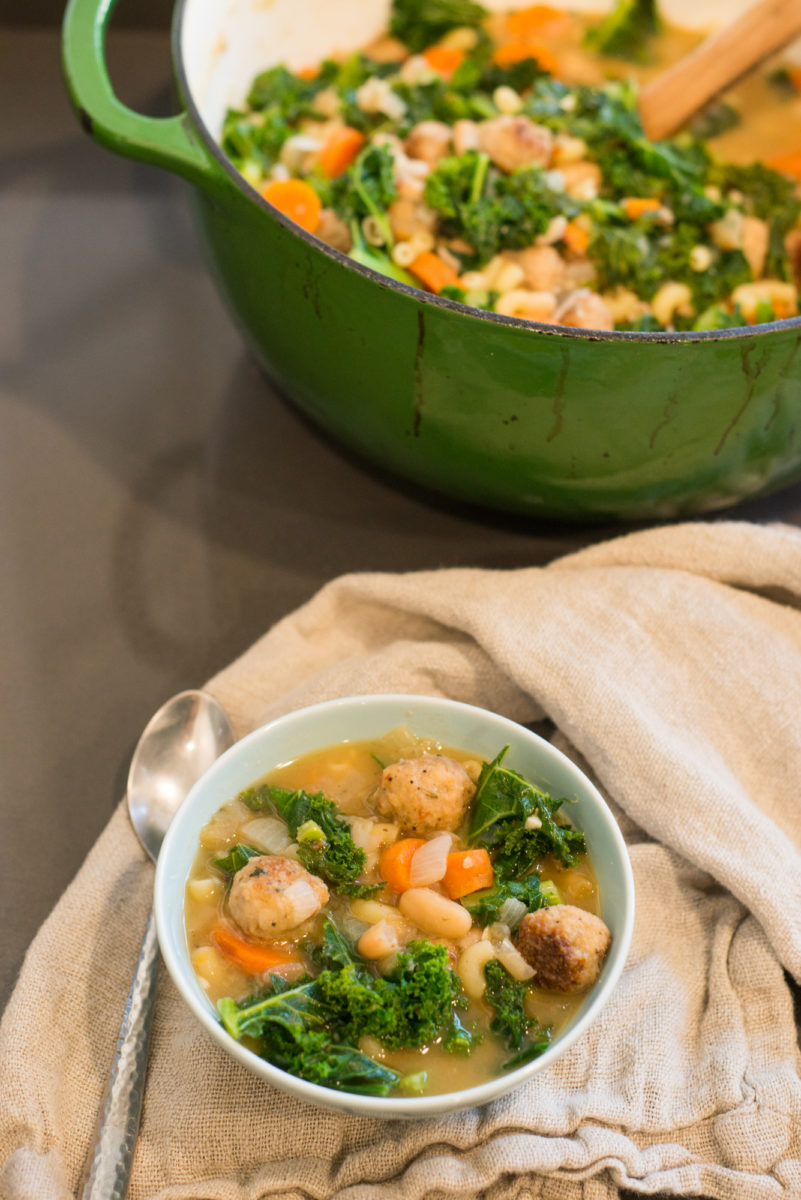 The recipe is below, but feel free to sub out your veggies and green – use celery, or parsnips, or use spinach, etc. Do what you feel in your heart. (Unless your heart tells you to make regular sized meatballs, then ignore your heart.)
Happy Soup Season, everyone!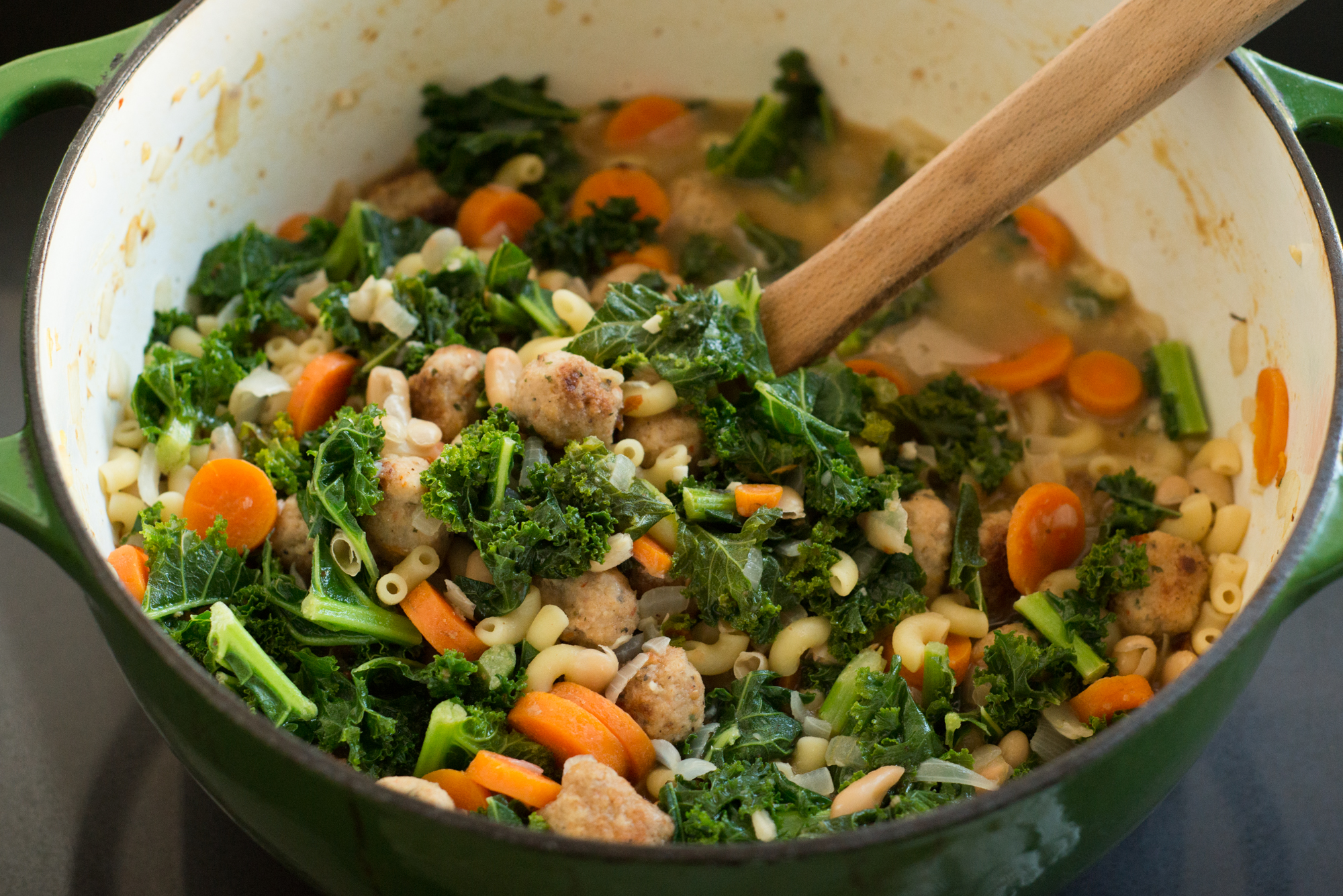 Type: Soups
Author: Jennie
Difficulty: Intermediate
Prep Time: 30 minutes
Cook Time: 30 minutes
Servings: 6-8
Ingredients
1 package Italian chicken sausage
1/2 cup Parmesan cheese, grated
1/2 cup breadcrumbs
olive oil
3 medium carrots, diced
1 onion, diced
6 cloves garlic, diced
4 cup chicken stock
1/2 cup small macaroni (elbows or ditalini)
1 can cannellini beans
1 bunch kale
red pepper flakes
pesto for topping
s/p
Directions
Make the meatballs: Remove the chicken sausage from its casing. Roll into tiny meatballs. In a cast iron, heat a layer of olive oil over medium heat. Roll the meatballs in a mixture of your breadcrumbs and 1/4 cup Parmesan cheese. Brown meatballs in a single layer until golden brown on all sides, about 2 minutes per side.

Make your soup: dice carrots, garlic, and onion. Heat about 1 tablespoon olive oil over medium heat, then add veggies, and sauté for about 4 minutes.

Add 4 cups of chicken stock and bring to a boil. Add cannellini beans, macaroni, and red pepper flakes.

Cook until macaroni is al dente (7-9 minutes), then add in your kale and meatballs. Cook until meatballs are done, about 15 minutes. Serve with a dollop of pesto, more Parm, and crusty bread.
[addtoany]
Yum