Hey there chickadees!
First, I apologize for the long absence. I have no valid excuses and I promise not to let it happen again. I'll hit this scene at least once a month and that's a solemn oath.
Let's get to the good stuff.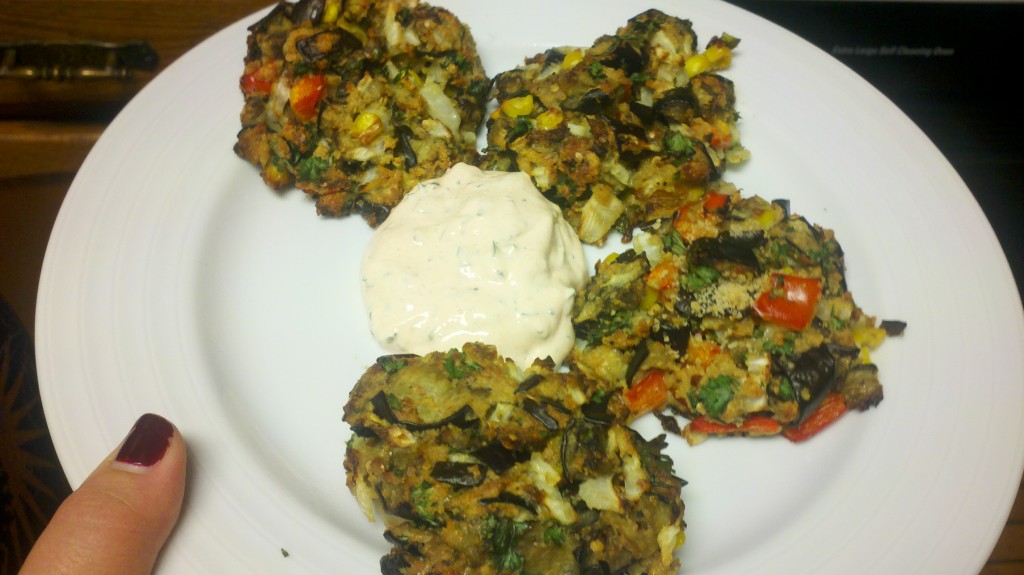 The other night, I sent Ky this recipe, exclaiming that it was perfect and we should make it.
It looks delicious, she wrote back.
Also, why do you love things in patty form? she asked.
I have no answers for that.
Except I just do.
We made a plan for me to pick up ingredients we were missing after work, and were set.
Except that we weren't.
Because I'm always walking into a disaster, chickens.
I left work late Tuesday night, and arrived at the El station only to realize I had left my wallet at the office.
I was with my pal CJ, and she convinced me to just let her swipe me through instead of turning back and retrieving my wallet.
Crisis averted, I thought.
Until I remembered I wouldn't be able to barter at Whole Foods.
Instead, I interrupted Ky's hair appointment (nice to meet you, I waved to her hair dresser, before grabbing Ky's Amex and heading to the grocery store), and then gathered up the goods and headed back home.
It was 8:00 pm by this point, and I was starving.
It was also at this point that I decided to actually read through the recipe, upon which I discovered that I was supposed to dice and roast eggplants before moving onto the next steps.
I turned on the new Mumford & Sons album, strapped on my apron, and started chopping 2-3 eggplants.
I threw them in the oven at 425 degrees, and pulled together some other key ingredients.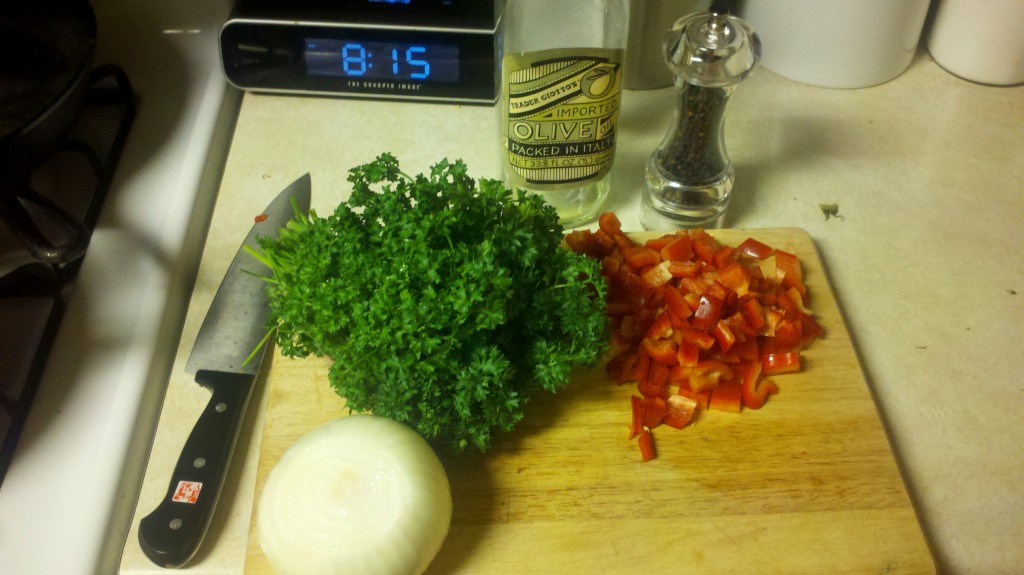 At this juncture, Ky showed up, with a great new haircut and two able hands, so I put her to work chopping the onion, parsley, and basil.
I explained that we only needed a half red bell pepper, but that I had cut up the whole thing, since I felt like storing one half of a red bell pepper was ridiculous.
But only cut up half the onion, I demanded. I feel like half an onion is fine to store.
Because Ky is my best friend, she both understood and agreed with me immediately.
Next up, I defrosted a half cup of frozen corn by throwing it in some water loose.
I would recommend using a colander and just running some cold water over it, but it was almost nine and I was feeling both hungry and delusional.
At this point, we mixed up all of the aforementioned items in a bowl.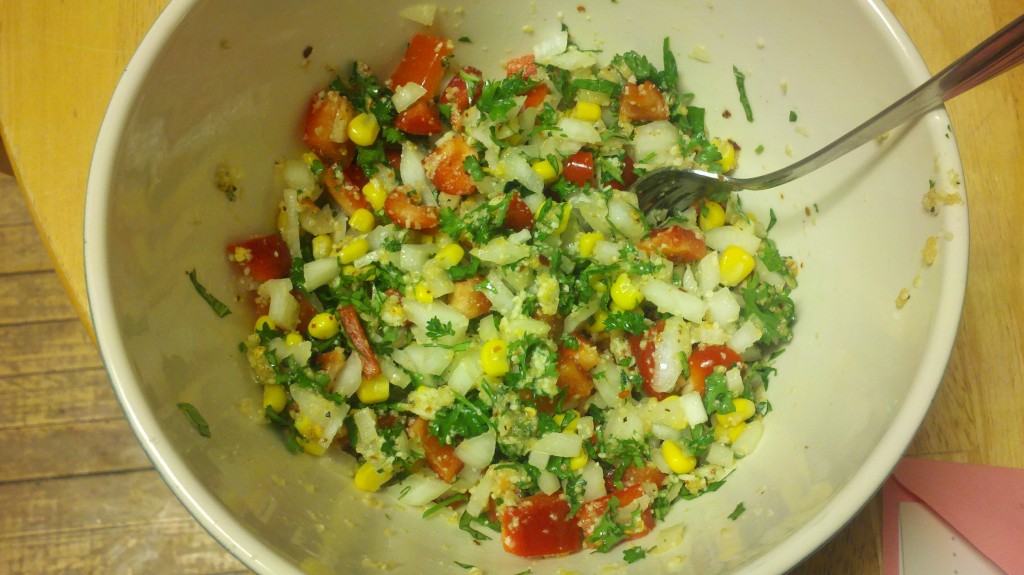 It was a beautiful thing.
After a few more minutes of listening to new jams and whining about how hungry we were, we decided to take out the eggplant.
The recipe says to cool it, I mentioned, eyeing the clock.
I feel like that's dumb, Ky mentioned.
Maybe I should just take it outside to cool down? I suggested.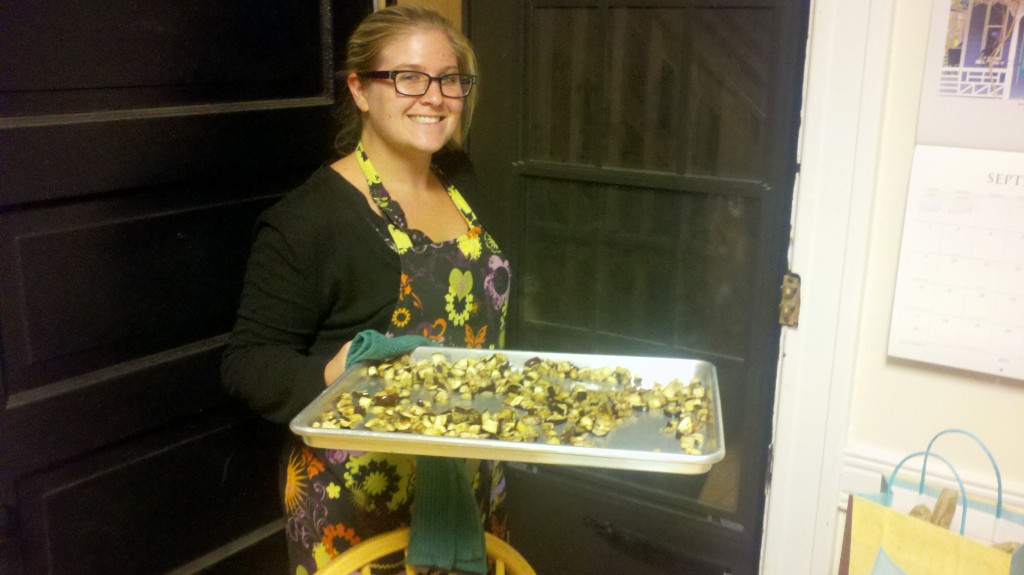 It seemed like a reasonable solution.
After not-really-cooling-the-eggplant-at-all, we mixed it up with the rest of the vegetables, four minced cloves of garlic, two eggs, a few handfuls of romano cheese, a few grinds of pepper, and a few handfuls of whole wheat bread crumbs.
Once this step was done, we gave everything a good mix, and then we tag-teamed the process of forming the mixture into patties.
Read: I made crazy shaped blobs of vegetables and Ky re-made them into patties.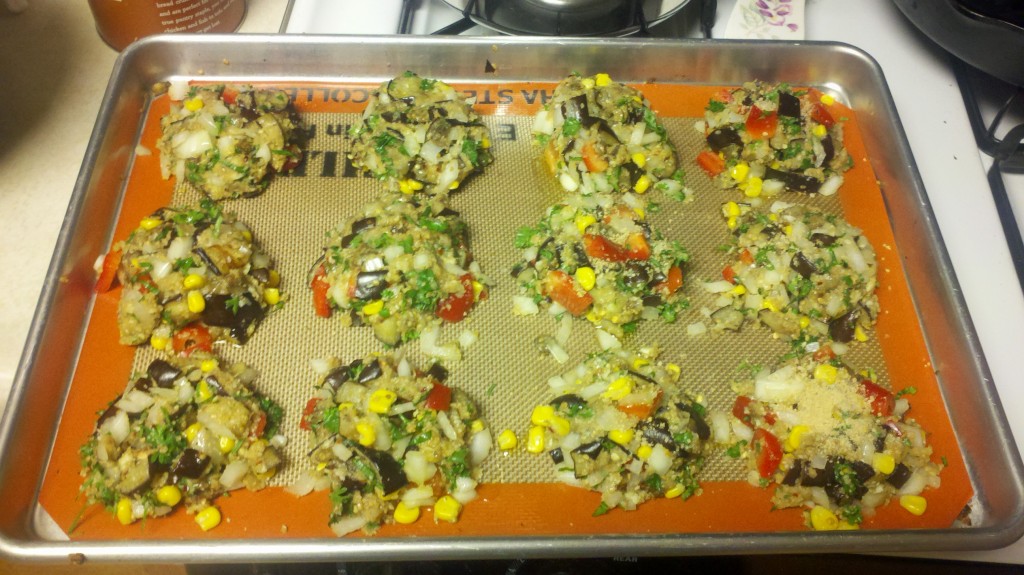 These hung out in the oven for about 35 minutes, while Ky and I bemoaned our situation some more and then wondering about dipping sauces.
We came up with a concoction of sour cream, sriracha and pepper, which worked perfectly.
Then, it was time to take them out.
It was also 9:30.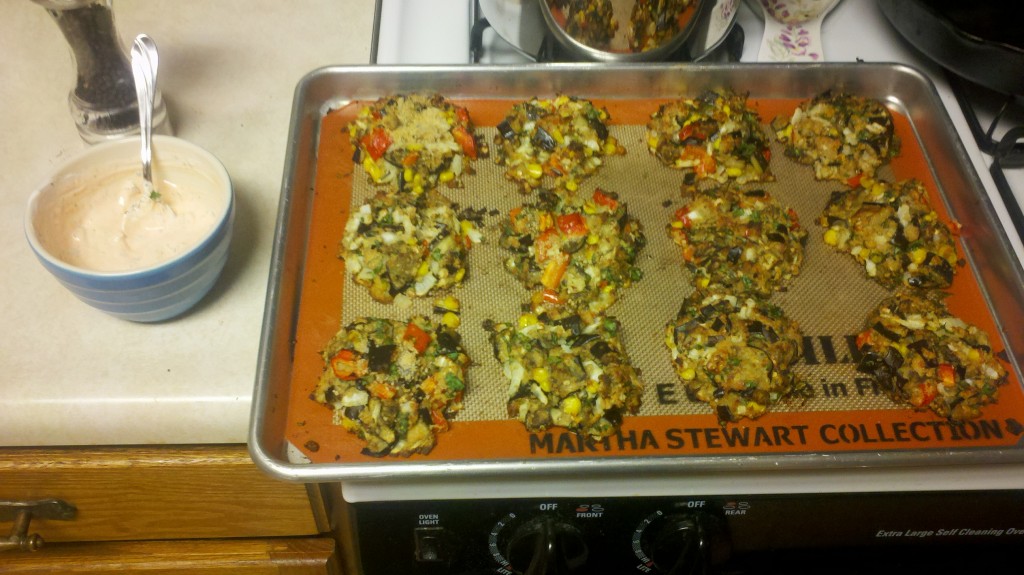 We plated these up with the homemade sauce, and dug in immediately. Since we had nothing on our menu aside from these, Ky and I took down all 12 of them, and I'm not even one bit sorry, since they're made of every kind of good thing.
They'd also probably be delightful with a green salad and a slice of bread.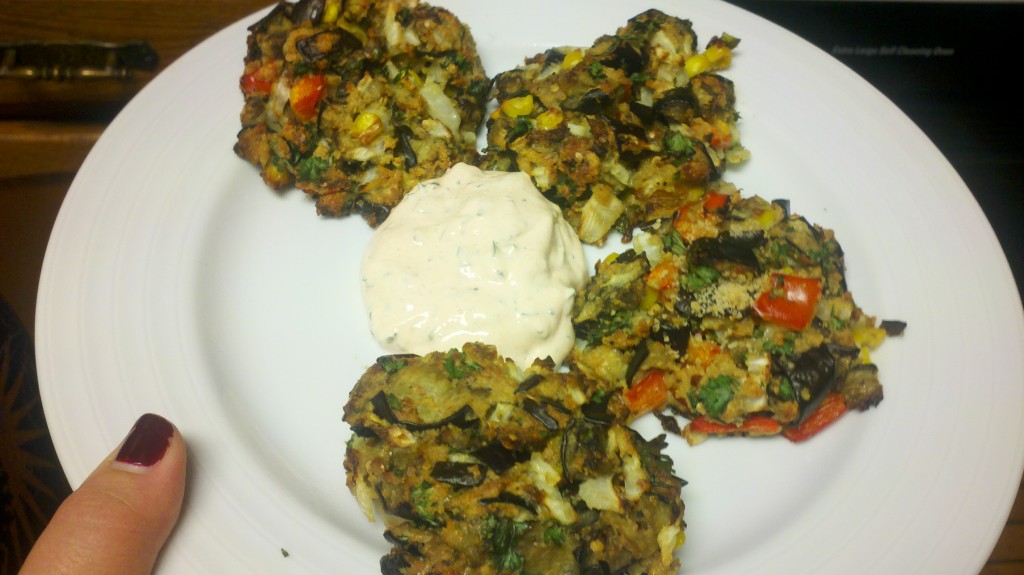 I'd also venture to say that with a sense of timing, a plan, and the ability to hang onto your wallet, these vegetable patties are an easy weeknight option for you and yours.
But what's dinner without a sense of adventure, chickadees?
[addtoany]
Yum