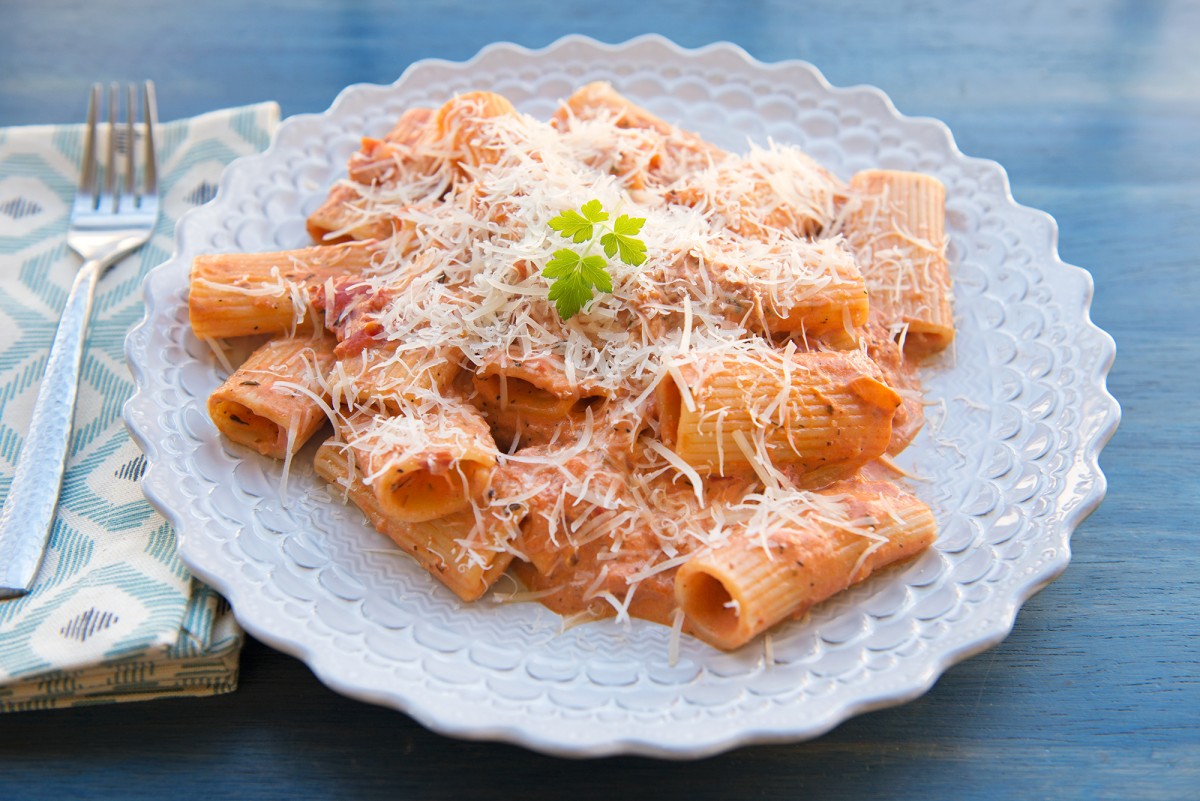 Now that the sun is staying in the sky later into the evening, it's exciting to be back in the kitchen again! With the clocks springing forward, I thought it would be best to step away from liquid libations for a round and focus on a meal instead.
I'm really excited to present this recipe today, because it's delicious and more importantly it's from my family.
The majority of my cooking knowledge has come from my father, who just so happens to also be named George. Watching him cook in our kitchen in New Jersey and helping out when I was old enough informed not only my knowledge but my taste buds as well. He has been making vodka rigatoni for our family for years and I finally convinced him to let me have a solo go at creating it here in Los Angeles. And not to toot my own horn, but it came out awesome!
So thank you Dude for teaching me how to make a great meal and for letting me share this delicious recipe with my readers!
Prep Time: 20 Minutes
Cook Time: 30 Minutes
Yields: 4 Servings
Ingredients:
6 – 8 oz. of prosciutto, diced
1 medium yellow onion, finely diced
2 tbsp. of olive oil
½ tsp. of salt
½ tsp. of black pepper
½ tsp. of crushed red pepper
½ tsp. of oregano
½ tsp. of basil
½ tsp. of dill weed
½ tsp. of thyme
1 4 – 6 oz. can of tomato paste
1 can of whole peeled tomatoes
1 pint (16oz) heavy cream
4 ½ oz. of vodka (3 shots)
1 lb. of rigatoni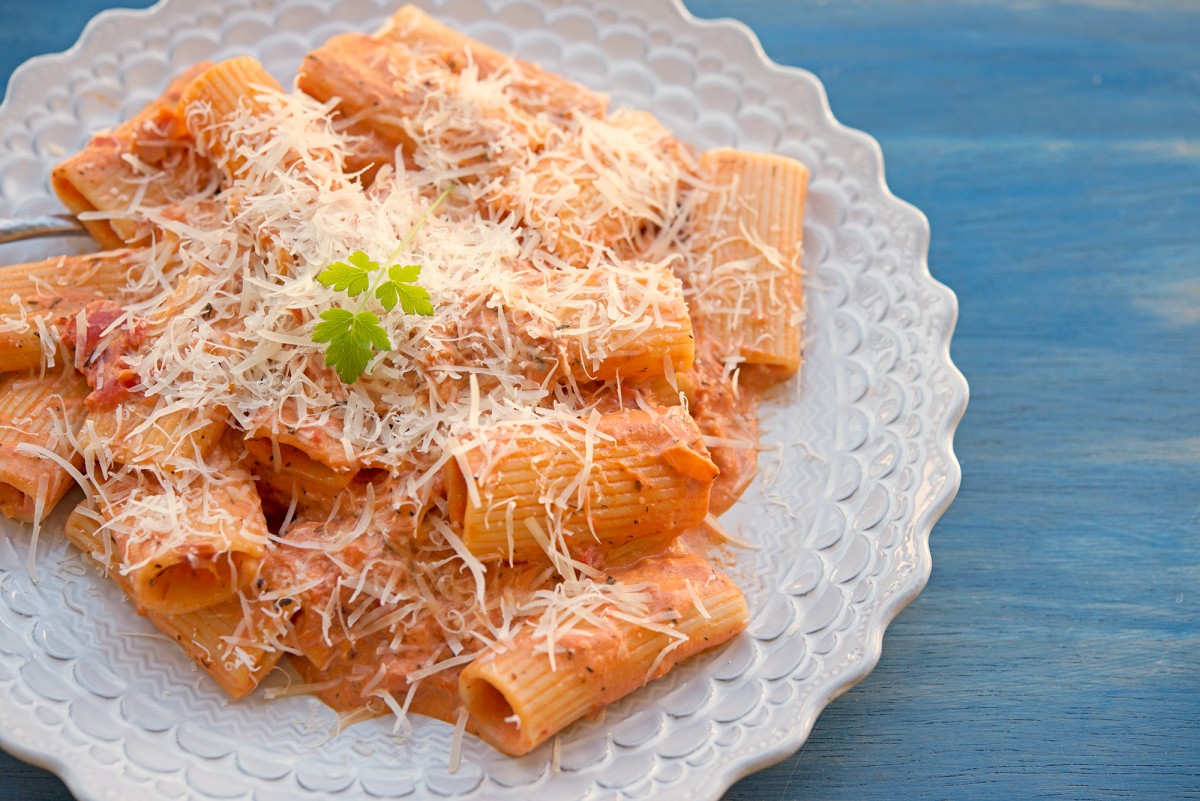 Directions:
1. First thing you are going to want to do is prep your vodka sauce in a large saucepan. Drop in your olive oil and spread it around the bottom of the pan to prevent sticking. Then go ahead and throw in your finely diced onion and sauté for several minutes until the onions are nice and soft.
2. Once the onions are ready, drop in your diced prosciutto and lightly brown the meat. After the meat is lightly browned add in all of you spices and mix with the meat and onions.
3. Next, you will want to add your tomato paste to the mixture. Be sure to mix the paste well with all of your other ingredients thus far. After a few minutes of mixing you will notice that all the ingredients are slightly clumped together. Don't worry about that at all.
4. Now it's time to add the vodka to break up the elements and slightly deglaze your pan. Mix well.
5. Now it's time to get your hands a little dirty! Take the whole peeled tomatoes out of the can and squish them in your hands over the sauce pan and drop them in. Repeat this step for each tomato and then pour in the remaining liquid from the can into the pan. Stir well, and allow the ingredients to come to a light boil
6. The last step is to slowly mix in the heavy cream – you will know the sauce is ready to go when the color of the sauce turns salmon.
7. Now lower your stove top heat to a simmer and start prepping your pasta.
8. Take about 6 quarts of water and bring that up to a boil in a large pot. Once it is boiling, go ahead and drop in a pinch of salt and then your rigatoni. Let the pasta cook for about 10 minutes.
9. Once the pasta is complete to your liking, drain the liquid, then add the contents of your saucepan to the pasta and mix thoroughly. Serve with some freshly grated cheese and enjoy!
Good Spirits Folks!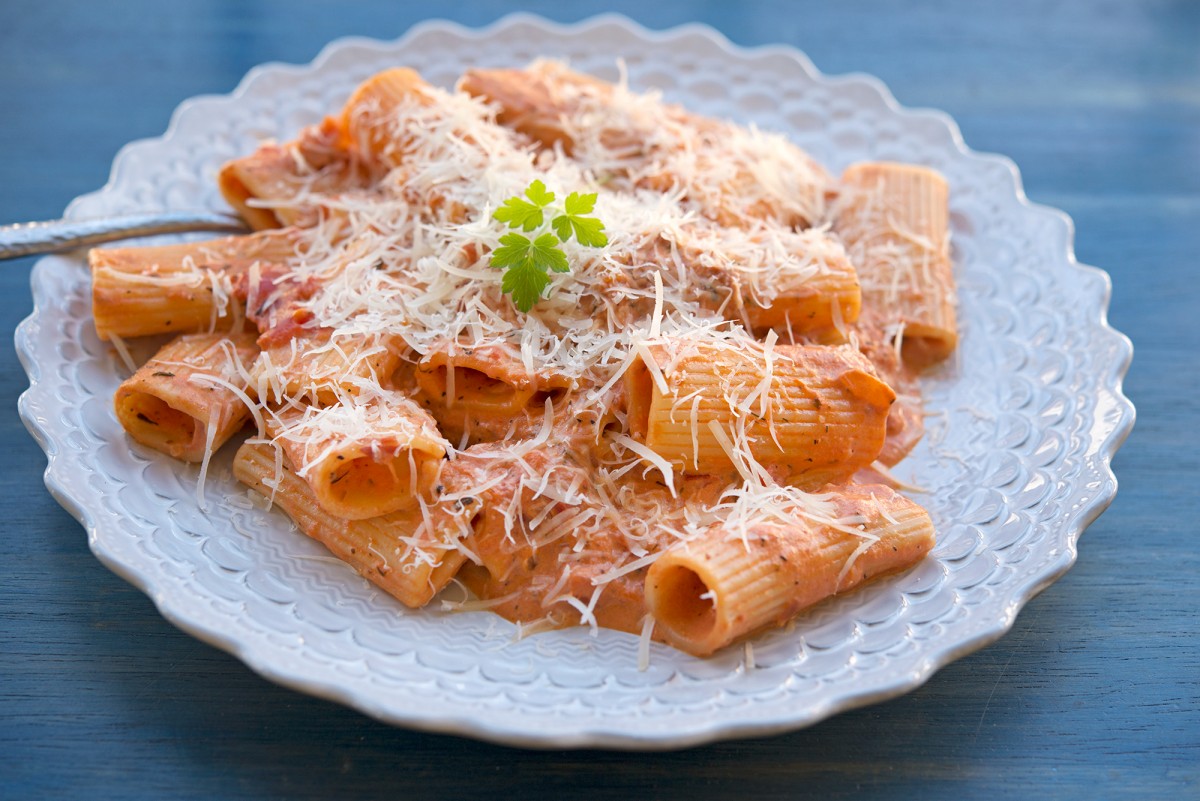 [addtoany]
Yum