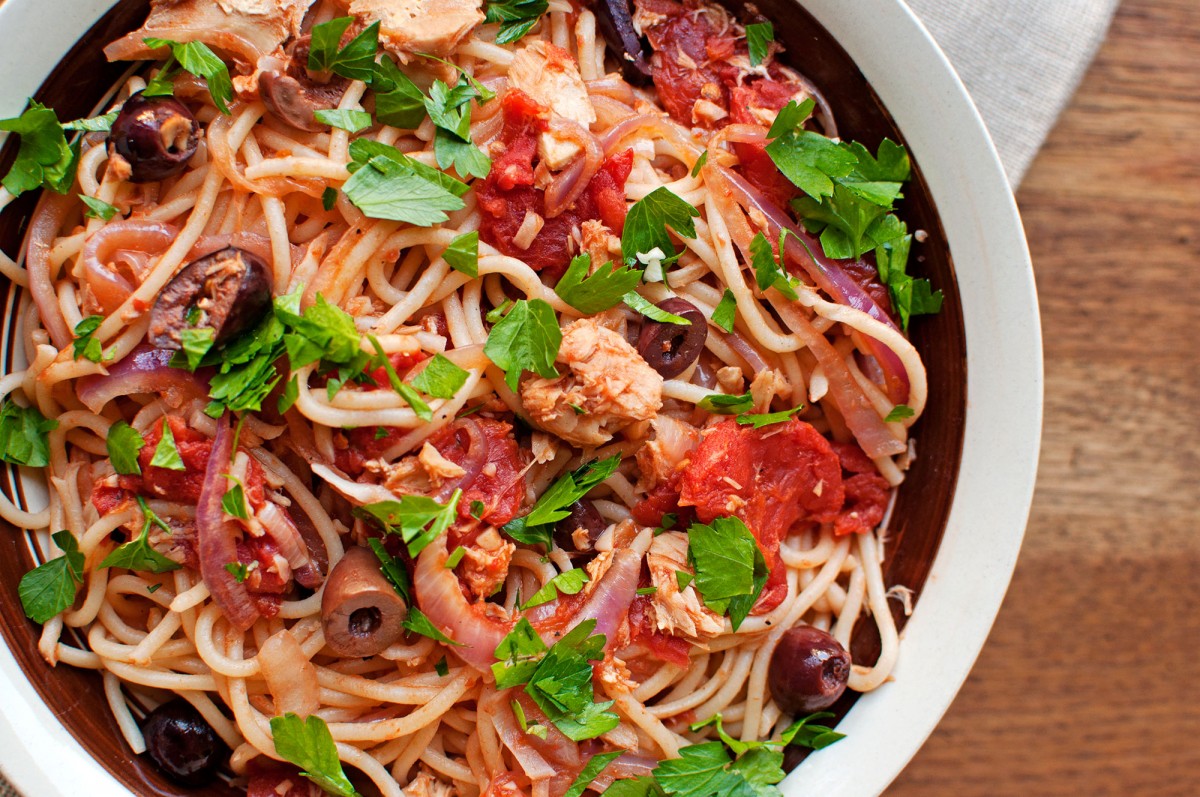 This weekend, I had the pleasure of cooking with my friend Vanessa from Garibaldi Goods. She suggested we make Tuna Puttanesca, and I confess I had never made any kind of puttanesca in my life. Luckily, I am now over that embarrassment and am an old pro. I love making new friends, you guys, because they introduce me to new things, and I especially like V because she loves food probably more than I do – a good friend to have around, indeed.
Garibaldi is great, you guys, because you can buy all Californian goods (I love supporting local business) that are just plain delicious. For those of you who don't live in California, still worth checking out, OR you can try to find something similar in your home state.
We used some awesome products in this, and I encourage you to try it but feel free to mix and match with what you have and love – that is, after all, the heart and soul of puttanesca in the first place.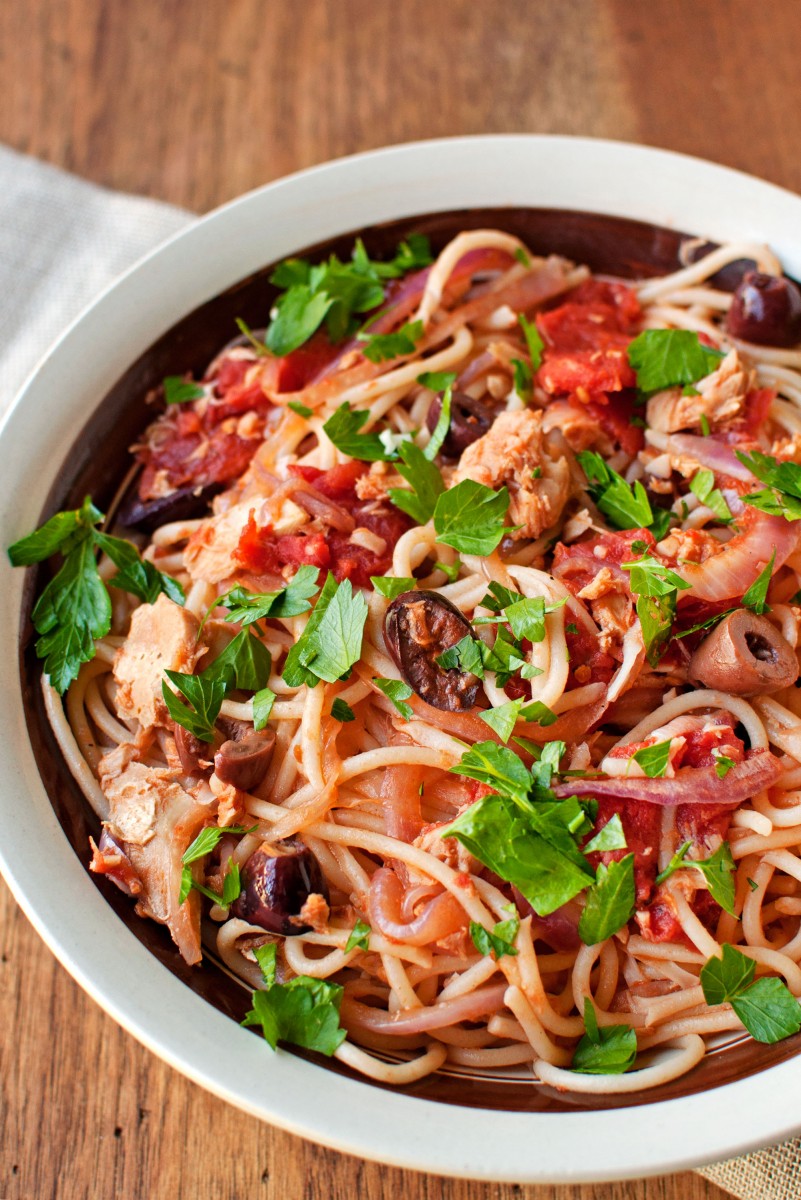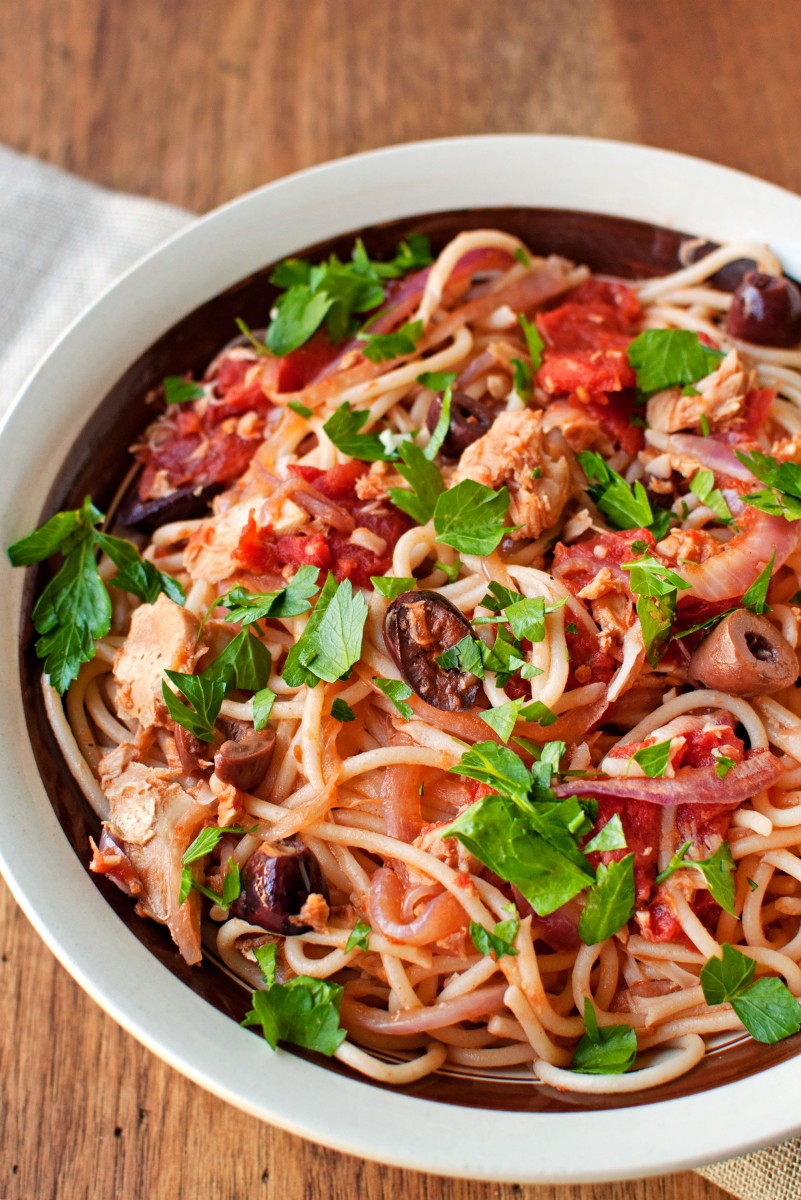 Ingredients:
1 red onion, sliced thinly
5 cloves garlic, minced
1-2 tbsp olive oil, plus some to coat pasta (we used Other Brother Company)
1 can kalamata olives, halved (or black, if you prefer)
1 can whole peeled tomatoes
1-2 tbsp Omnivore Sauce (optional, but suggested – delicious!)
7-10 oz albacore tuna (we used Community Seafood which is 7.75 oz)
1/3 cup capers
1 bunch fresh parsley, roughly chopped
1 lb spaghetti (we used Semolina Artisan Pasta)
s/p to taste (we used Omivore Salt which has some spices in it – divine!)
Directions:
1. Put water on to boil, making sure to generously salt the water. When the water boils, follow the package directions to make pasta, but meanwhile:
2. Open your can of tomatoes and tuna and set aside. Then, halve your olives.
3. Chop your onion and garlic, and then saute with two tablespoons of olive oil until soft, about 5-7 minutes.
4. Using your hand, crushed the tomatoes as you add them to the onions and garlic, and then add your olives. Add the Omnivore Sauce and turn heat to medium low to add your capers and tuna.
5. Salt and pepper to taste, and add half the parsley to your mixture.
6. When the pasta is done, drain but reserve 1/3 cup of the pasta water. Add pasta water and 1-2 tablespoons of olive oil to a bowl, and add all ingredients and mix well. Adjust seasonings to taste, and serve hot, topping with the rest of the parsley!
This dish is easy and comes together for a fast weeknight meal. Don't like tuna? Use chicken! Or go vegetarian and add some cheese or white beans. The power is in your hands. Have you ever made puttanesca? What kind do you like best?
Thanks to Garibaldi Goods for providing these delicious items to try, and for the recipe idea!
[addtoany]
Yum