Hey y'all! You may or may not know, but Jennie is getting married this month, so as we ramp up for the wedding we're winding down the cooking…but that doesn't mean we'd leave you hanging! We're starting a new Thursday post dedicated to oldies but goodies while we plan away the wedding – we hope you'll forgive us! Here's one of our favorite appetizers – spanakopita. It's delicious, looks great, and most people love it – kids, picky eaters, vegetarians alike!
****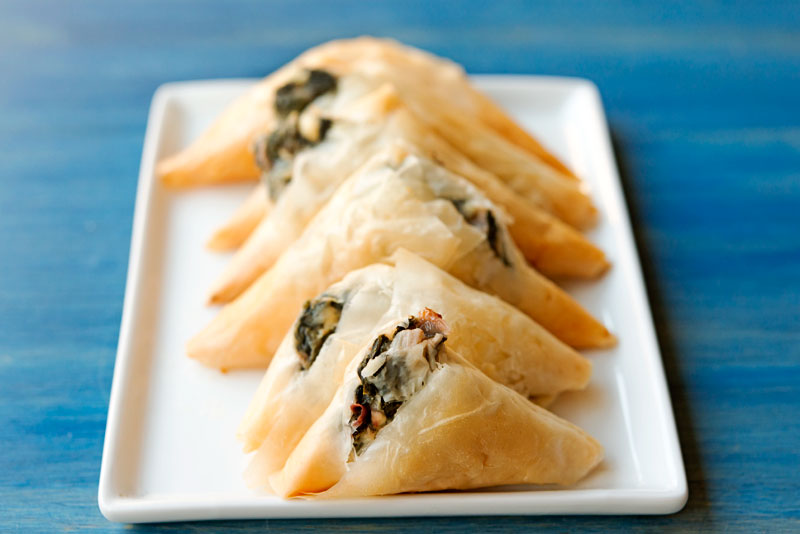 Recently, Jeff emailed me from his job to tell me he wanted me to make him Spanakopita. Jeff is pretty particular about the foods he likes to eat, so when he sends me a recipe I get excited. So the other night I made us some delicious phyllo dough triangles filled with spinach and feta.
The recipe is easy:
Oven Temperature: 350
Prep Time: 10 minutes
Cook Time: 25-30 minutes
1 bag fresh spinach
1/4 red onion
3-4 ounces feta, crumbled
butter for brushing
1/4 tsp nutmeg
phyllo dough
s/p
Instructions:
1. Chop red onion and saute over medium low heat until sweated. Then, add spinach and cook until just wilted.
2. Let cool, and then squeeze out excess water. Mix with feta in a small bowl. Add 1/4 teaspoon nutmeg, and pinch of salt and pepper.
3. Take a layer of phyllo dough and lay out on a cutting board. Melt 2 tablespoons of butter and brush dough with butter, then add a second layer of phyllo dough.
4. Cut phyllo into about 1-inch thick strips – I ended up with four long strips, but it'll depend on your phyllo.
5. Fill the top of each strip with about a teaspoon (maybe a little more) of filling. Then fold the phyllo down (like a flag) until it's in a final triangle. Place on a cookie sheet and repeat with remaining phyllo strips, then repeat steps 3-5 until filling is gone.
6. Brush all triangles with butter, then stick in the oven for 25-30 minutes until golden brown.
These guys were delicious – we ate them right up hot (although they're good cold, too.) I can't wait to make different fillings (I hear cinnamon pumpkin calling my name, anyone?)
[addtoany]
Yum