Hello again, Sorella Tortina here. In addition to vegetarian cooking, I'm also quite fond of baking. Today I want to share with you how to make cake balls! I first saw cake balls at a bakery in the valley owned by Melissa Joan Hart (odd, I know). They came in amazing flavors, looked super cute, and most importantly, were very moist, which is sometimes difficult to attain when baking cake. I had to find out the secret! I inquired around, and a friend of a friend sent me this recipe:
Ingredients:
-1 box cake mix
-1 can frosting (16 oz.)
-1 lb of chocolate melts
-Wax paper
Sounded easy enough! Now I, along with the other ladies of Garlic My Soul, generally scoff at the use of a boxed cake mix. Due to time constraints (I made these for a happy hour at work one random Tuesday night), and my lack of experience in the cake ball making department, I decided to set aside my feelings and give the boxed cake mix a shot. I'm glad I did for my first attempt. I will also, however, include some cake recipes to make from scratch that I would recommend for moving forward in the cake ball making department.
How to Make Cake Balls
1. Start by baking the cake as directed on the box, following directions for a 13×9 inch pan. I would also suggest using two 9 inch round pans if you are making multiple kinds of cake and are in a hurry, as I always am. I don't recommend using an 8×8, the tops and bottoms burn before the middle is cooked. Just me? Maybe? Still, I was not pleased with the results in my 8×8 pan.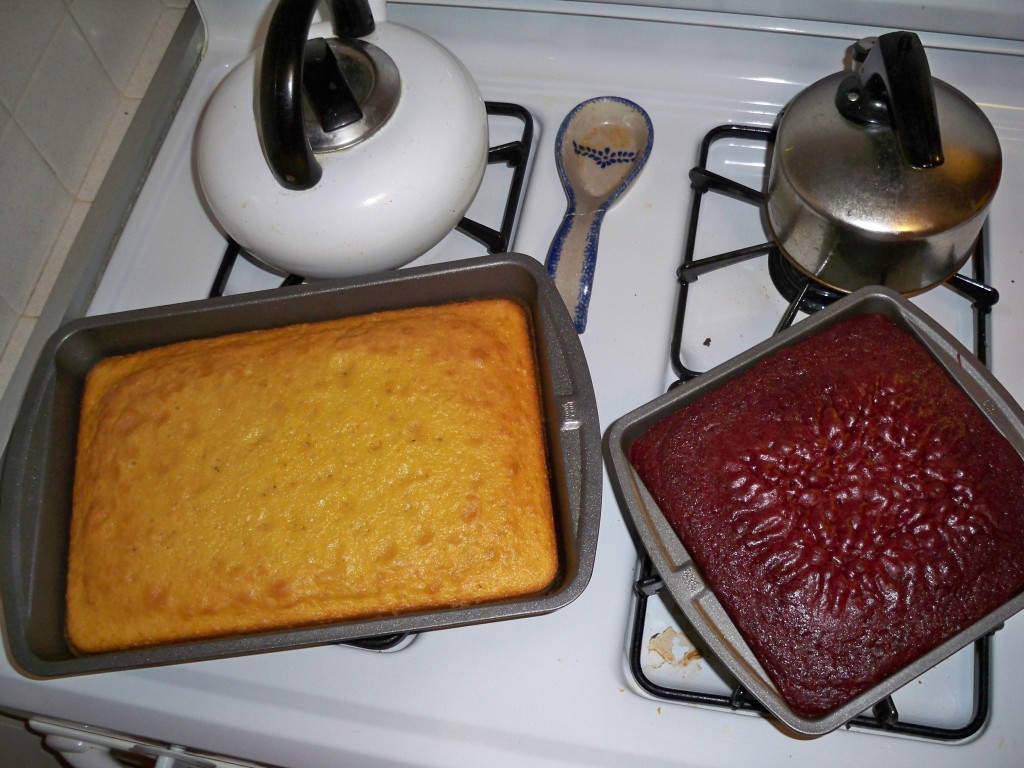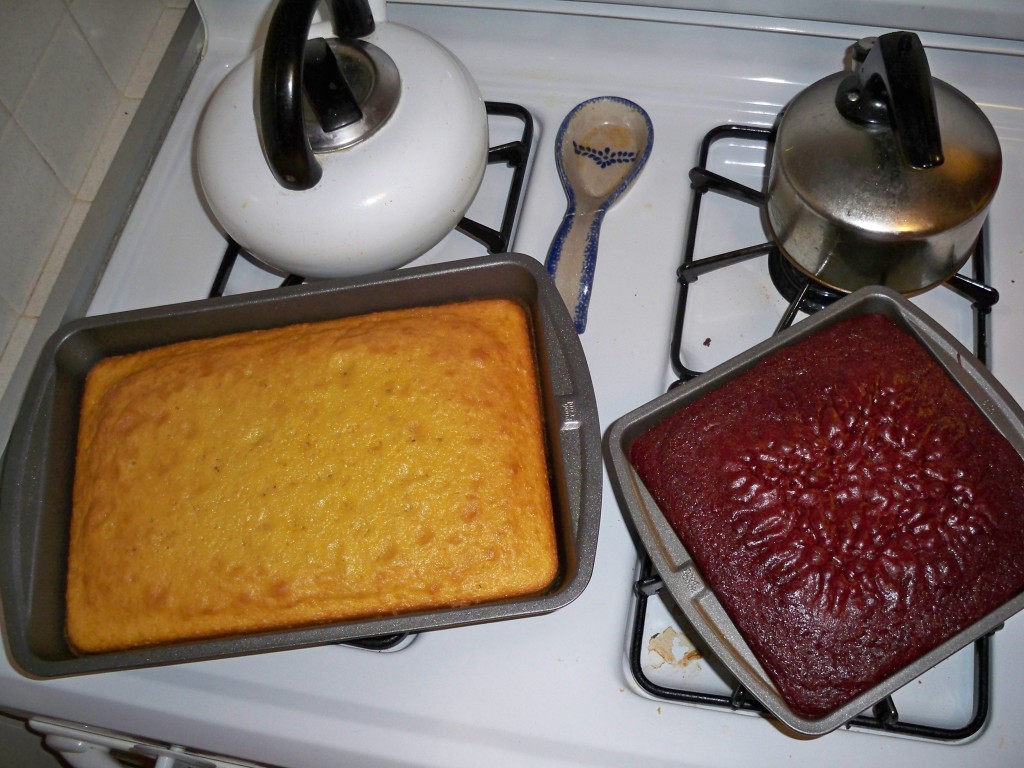 2. After the cake is cooked and cooled completely, grab a fork and a large bowl and GO TO TOWN on that cake. Crumble it up into tiny pieces. Yes, it goes against all the laws of baking, but it's fun to break the rules sometimes. I generally eat any large pieces not easily crumbled (such as the four corners of the cake) just to, you know, make sure they aren't poisonous or anything.
3. Once your cake is thoroughly crumbled, grab your icing of choice and add it to your giant bowl of cake crumbles. For very moist cake balls, use a whole can of frosting. You can also use 1/2 – 3/4 of the can, depending on how you want your cake balls. The cake should be sticking together and easily rolled to form balls.
Here are some cake/icing combos I recommend:
Vanilla cake/vanilla frosting
Chocolate cake/chocolate frosting
Red velvet cake/cream cheese frosting
Carrot cake/cream cheese frosting
Strawberry cake/vanilla butter cream frosting
Strawberry cake/strawberry frosting
*A note about frosting choices. Keep in mind that you are mixing your frosting into your cake, so as amazing as vanilla cake and chocolate frosting sounds, it will probably not look very appetizing. To remedy the situation, you can always dip your cake balls in a variety of toppings. More on that later…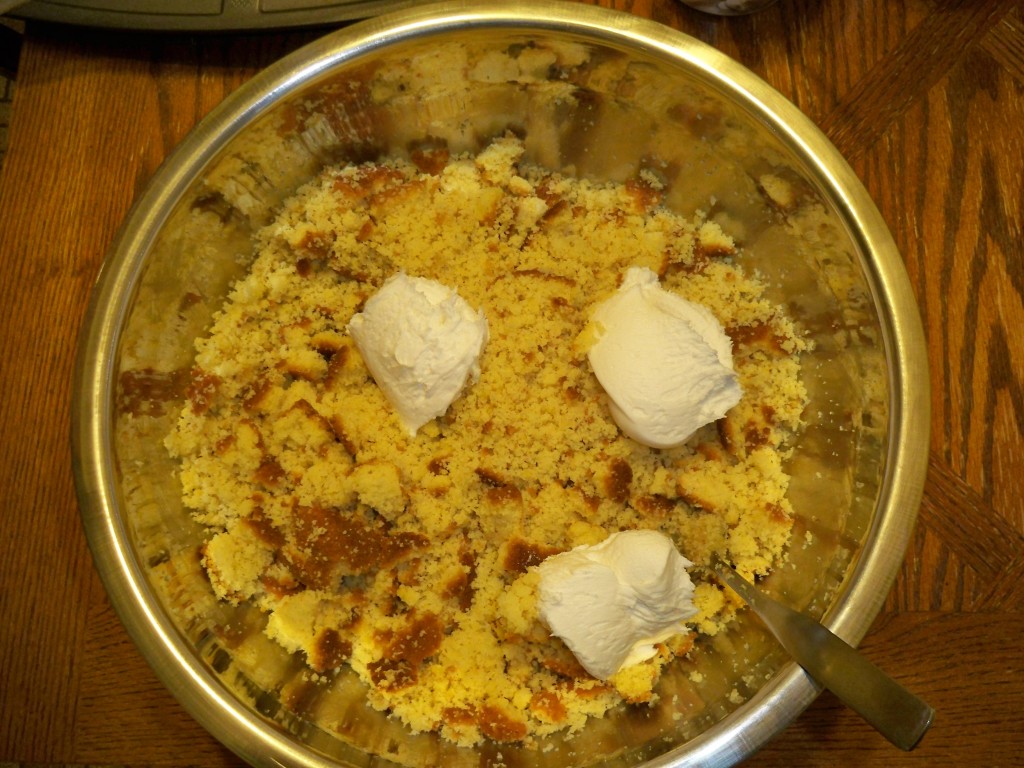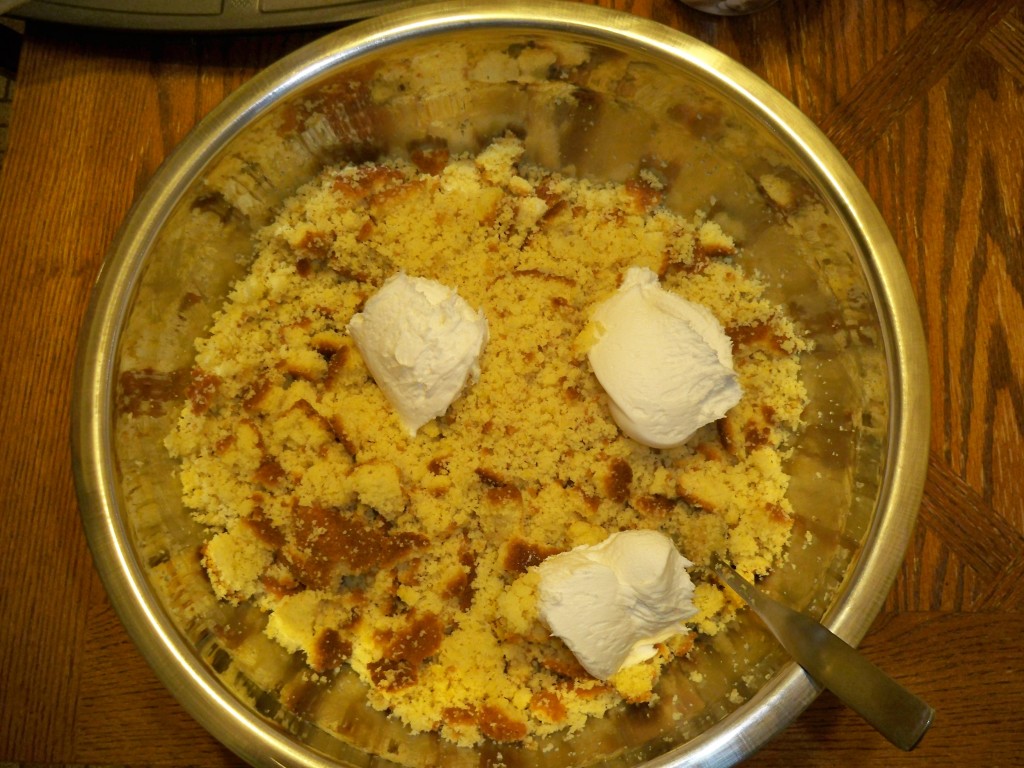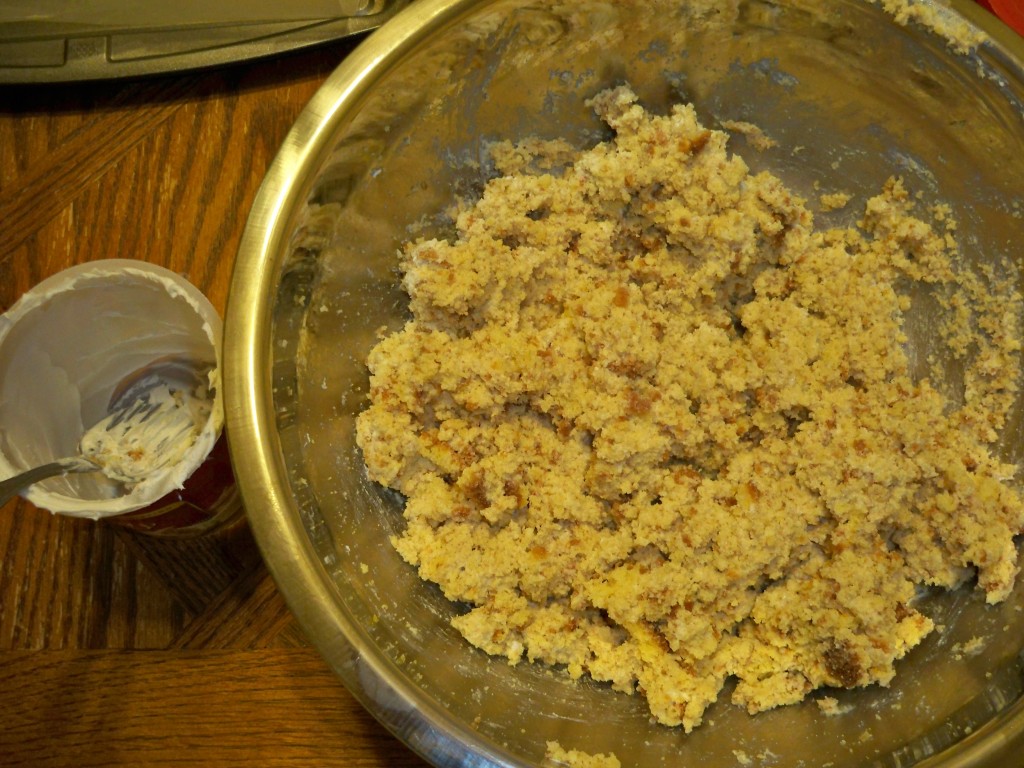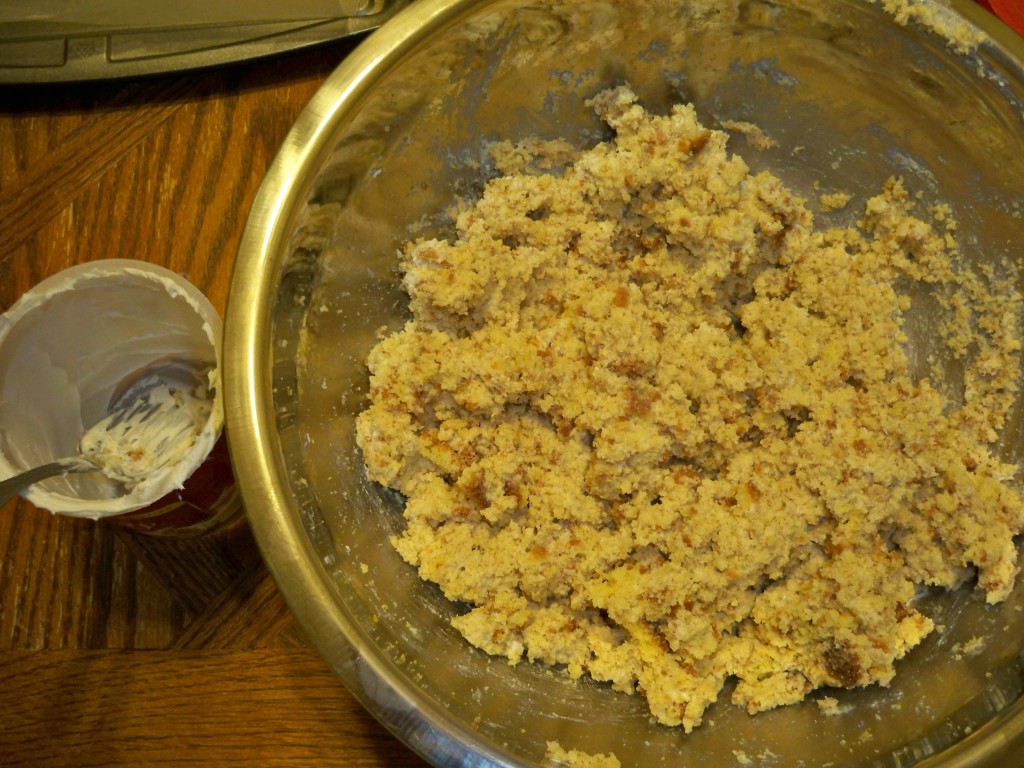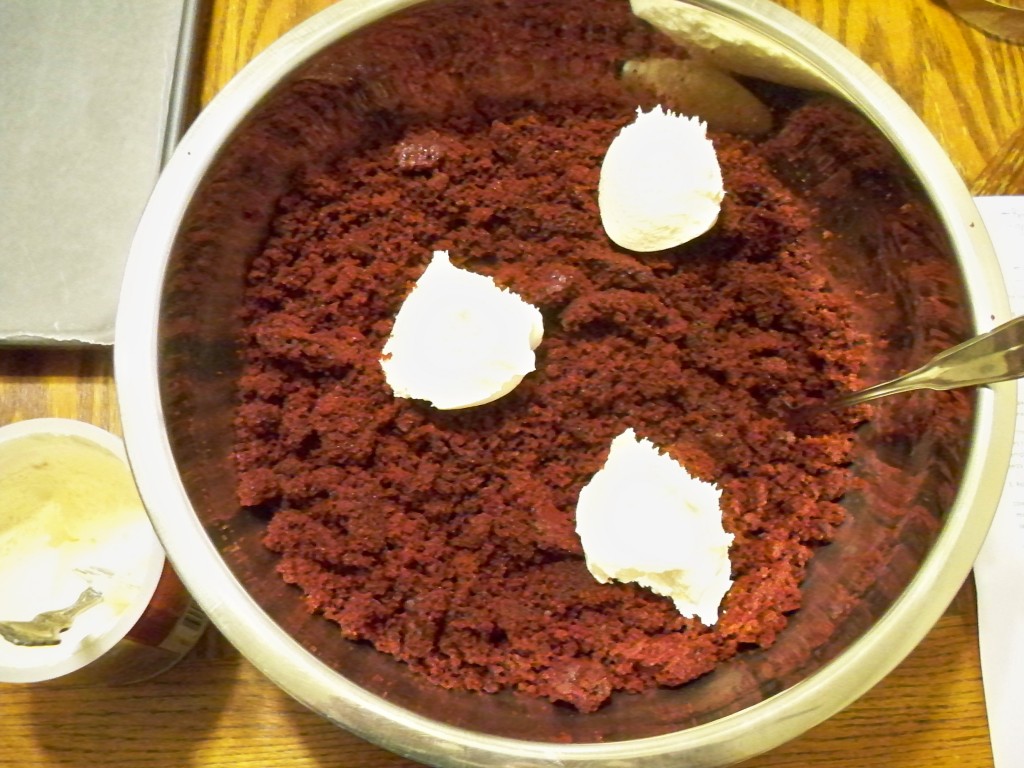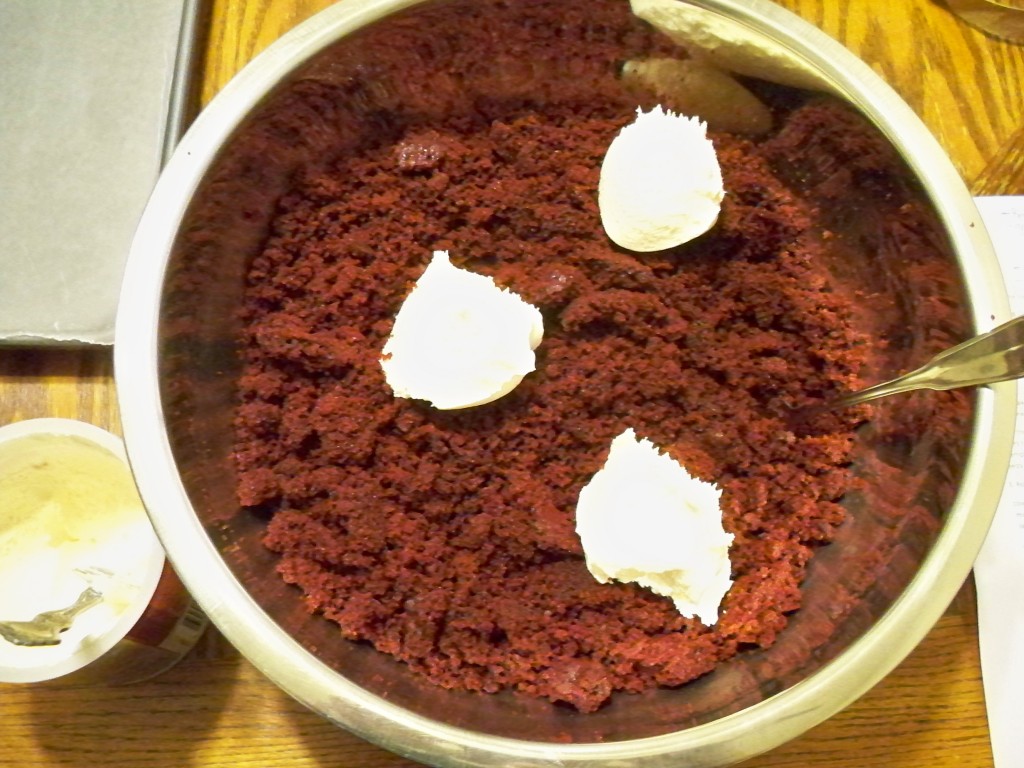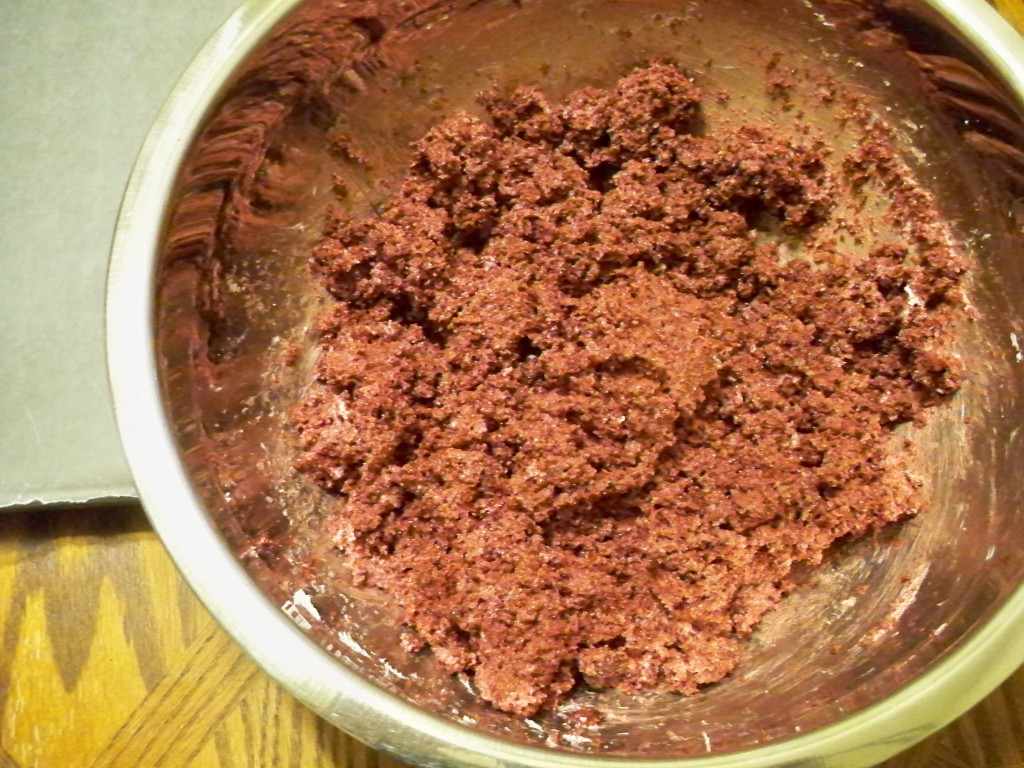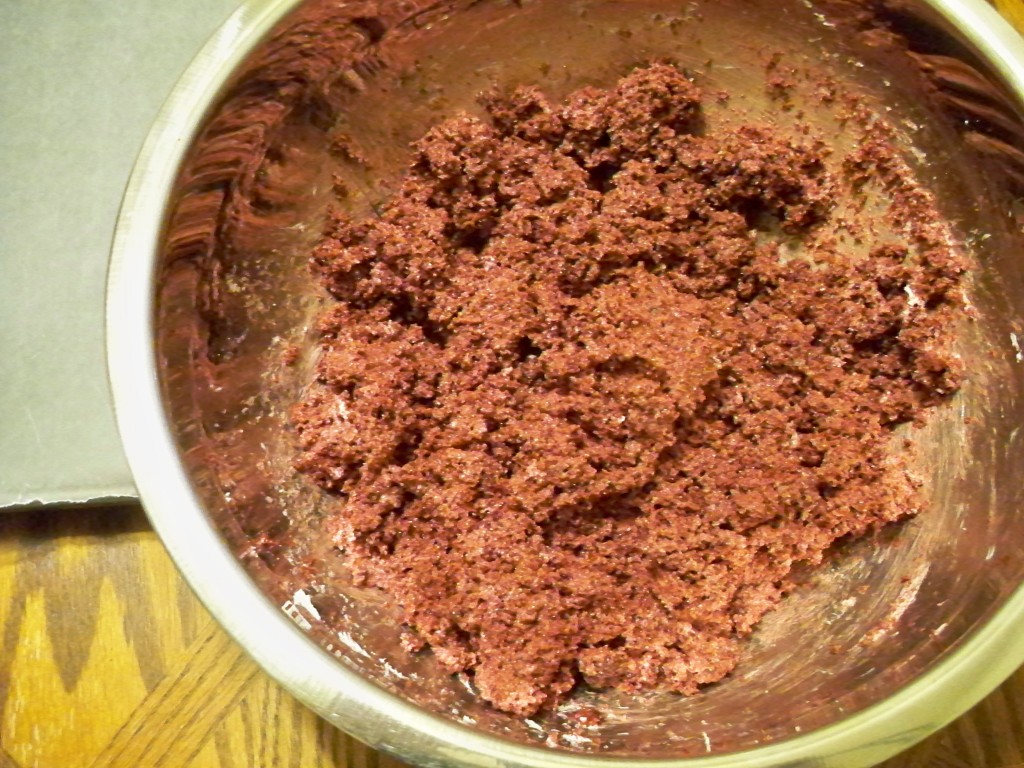 4. Dive into your delicious mixture with a cookie scoop or your clean, freshly washed hands, and roll into approximately quarter-sized balls. Lay your finished balls on a wax paper covered plate, platter, or cookie sheet (whatever will fit in your freezer). Generally for me, the freezer is stuffed and only a plate or two will fit in at a time). You should have anywhere from 35-50 cake balls depending on the size.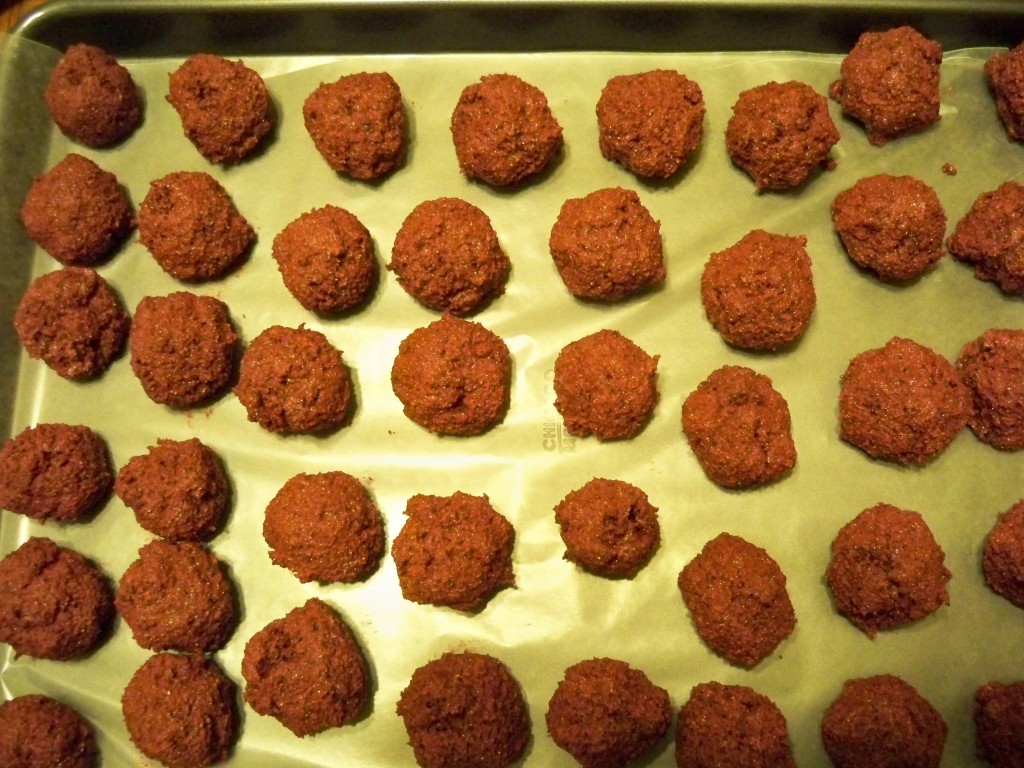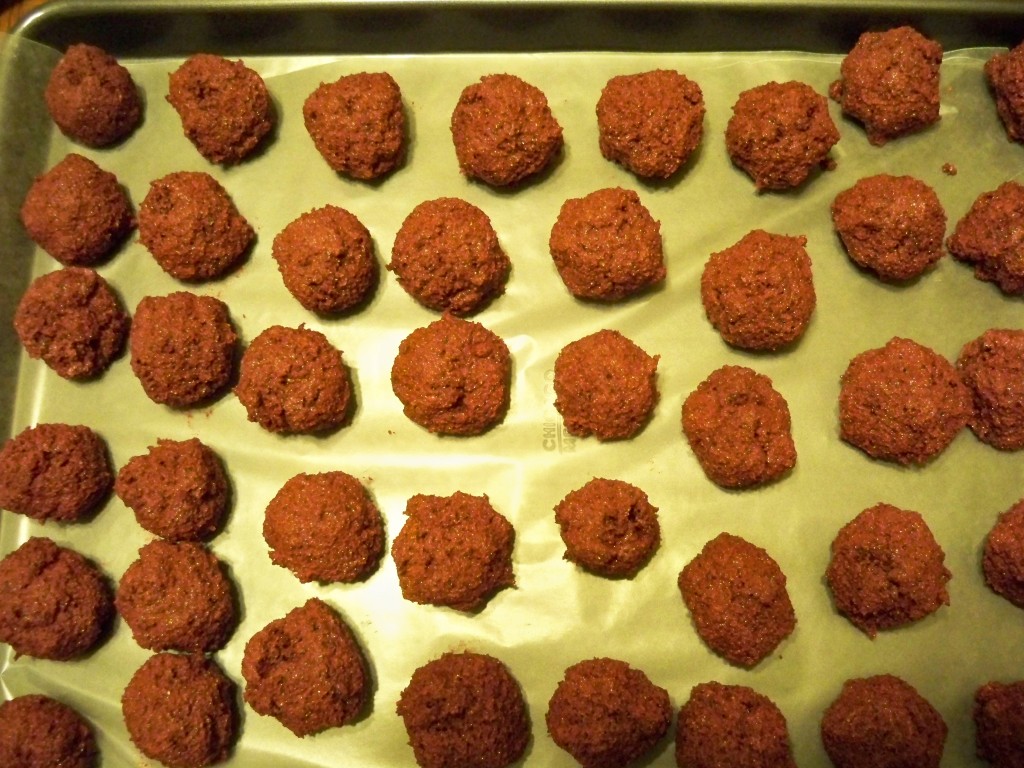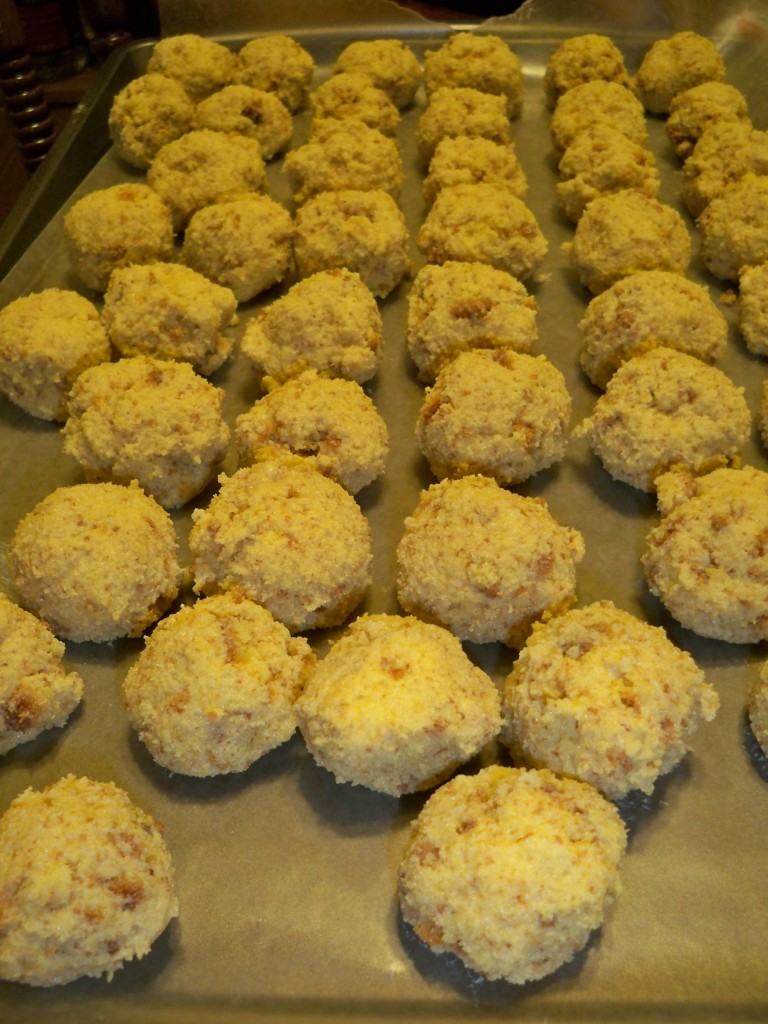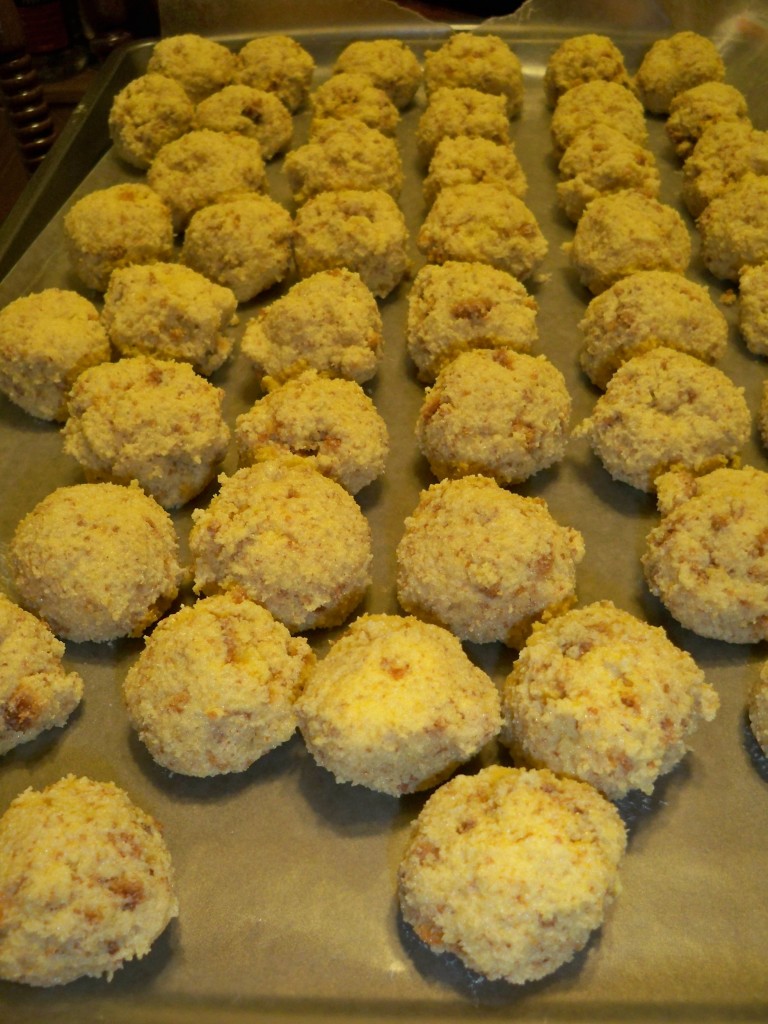 5. Pop your cake balls into the freezer to firm up for about 15 minutes. In the meantime, prepare your rolling stations. Some ideas for what to dip your cake balls in include:
Sprinkles
Melted chocolate
Powdered sugar
Finely chopped nuts
Graham cracker crumbs
Get creative! My only warning is large things will not stick as well as small things. For example, dinosaur sprinkles did not work as well as graham cracker crumbs, despite looking awesome and being delicious. I did manage to make a few cake balls with dino sprinkles, but it was tricky.
6. If you decide to move forward with the melted chocolate idea, stick your chocolate in a double boiler (or two small saucepans, one on top of the other, with water in the bottom one and the chocolate in the top one), a fondue pot, or worst-case scenario, in the microwave for 30-second intervals, stirring in between.
7. Dip or drop your cake balls in the chocolate. You can cover them completely, or just make a little chocolate top to your cake ball. Use a fork or spoon to scoop out your cake ball, and place it on wax paper to harden. If you are rolling in any of the other topping suggestions, I recommend setting them up in shallow bowls, starting with a small amount, and adding toppings as needed. It can get messy!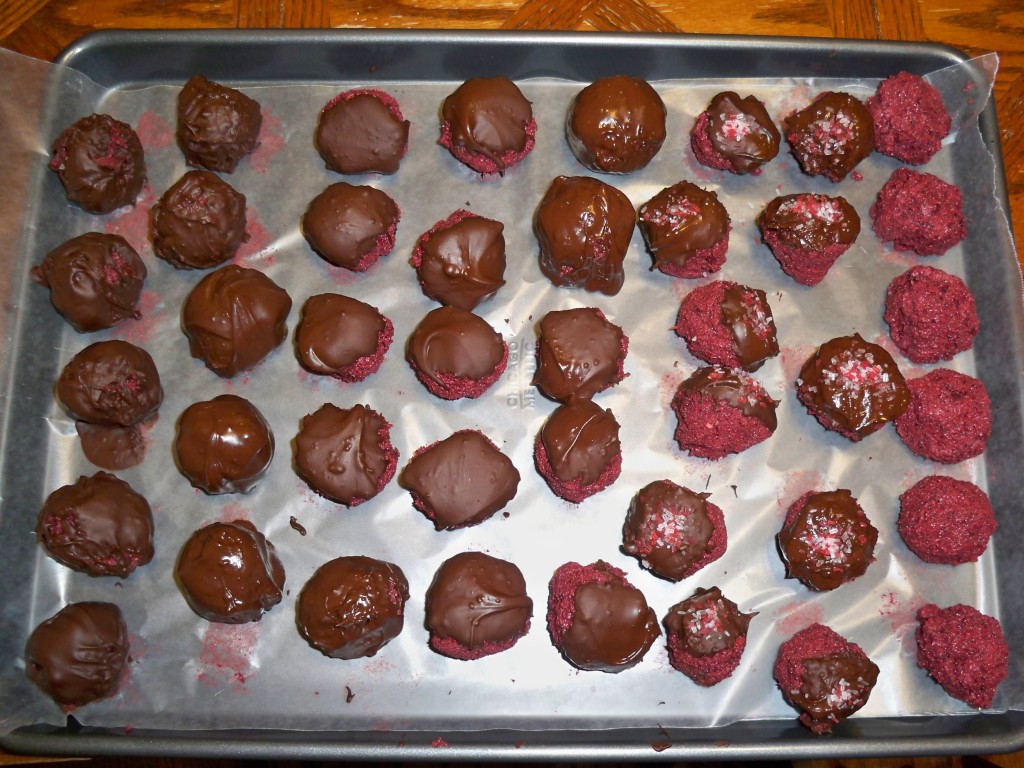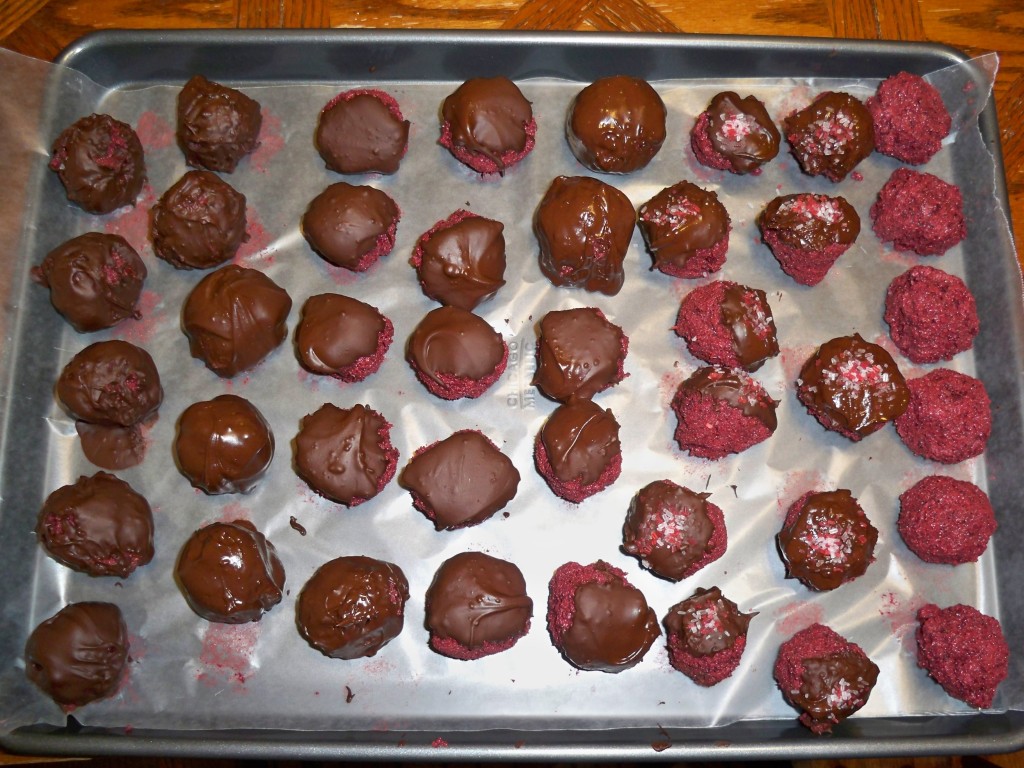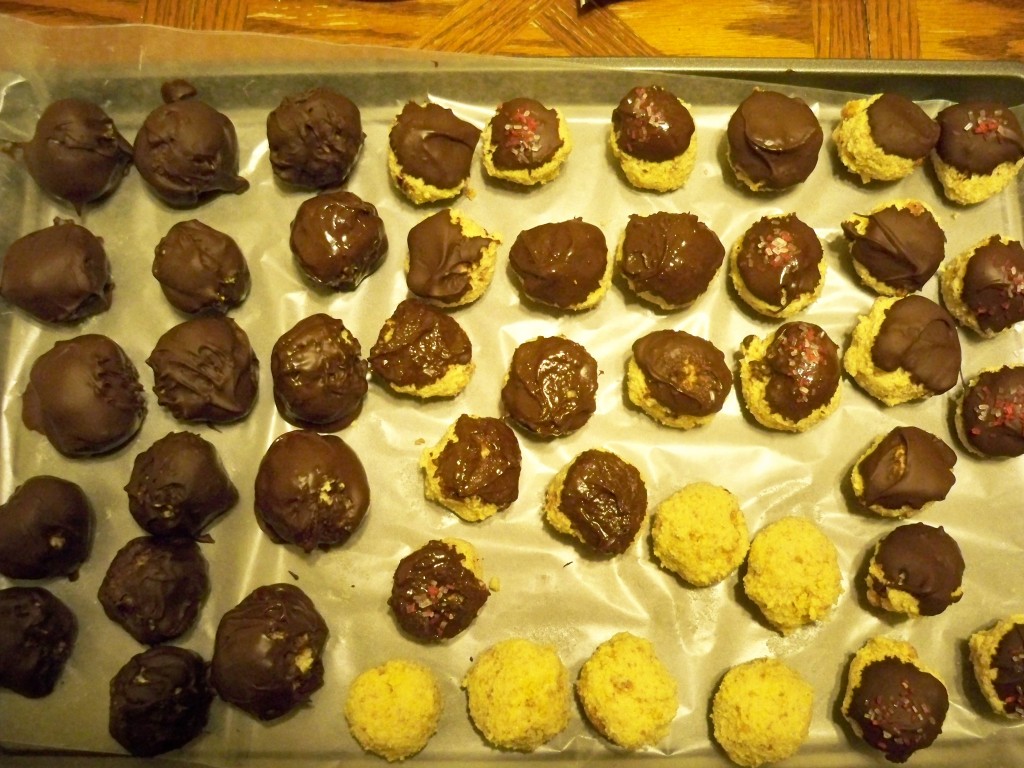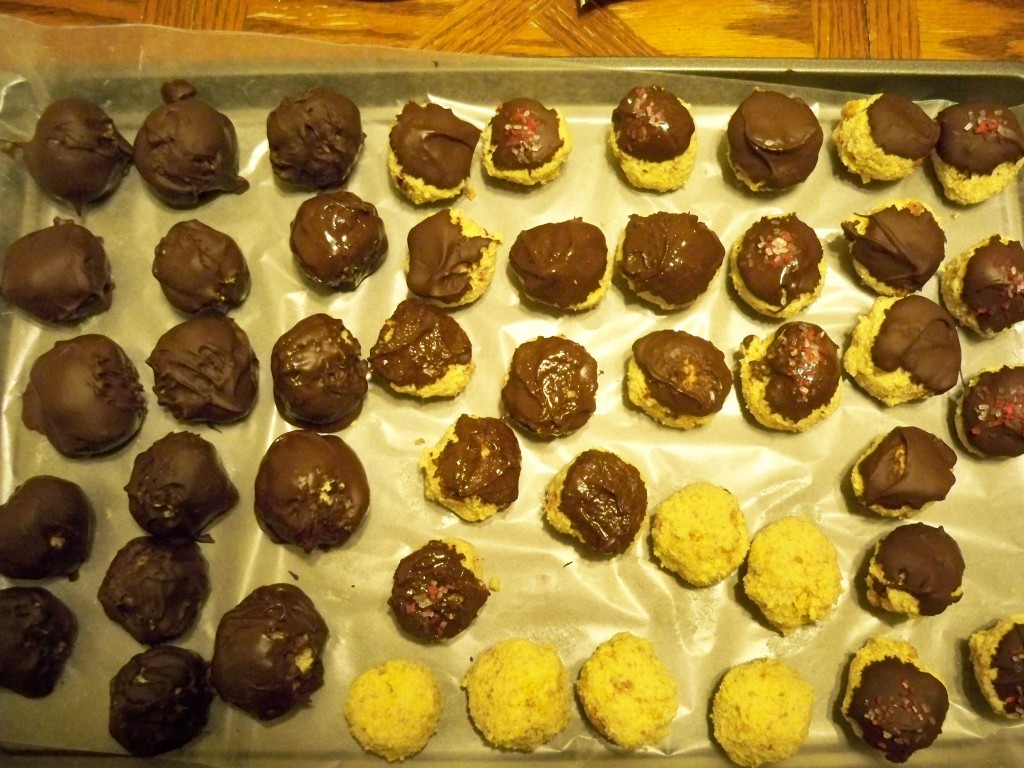 8. Once your cake balls are dipped and decorated, you can place them in the freezer to firm up (about 15 minutes) or proceed to the tasting section and…
9. Enjoy!
I store my cake balls in the fridge or freezer, depending on when I am serving them.
All and all, it can take around three hours to make cake balls. If you have the time, I would recommend dividing the process into two nights. Make the cake (or cakes) one night, and form and decorate the balls the second night. Or, enlist the help of friends, it goes much faster!
The happy hour at my work was a success, not a single cake ball was leftover. : )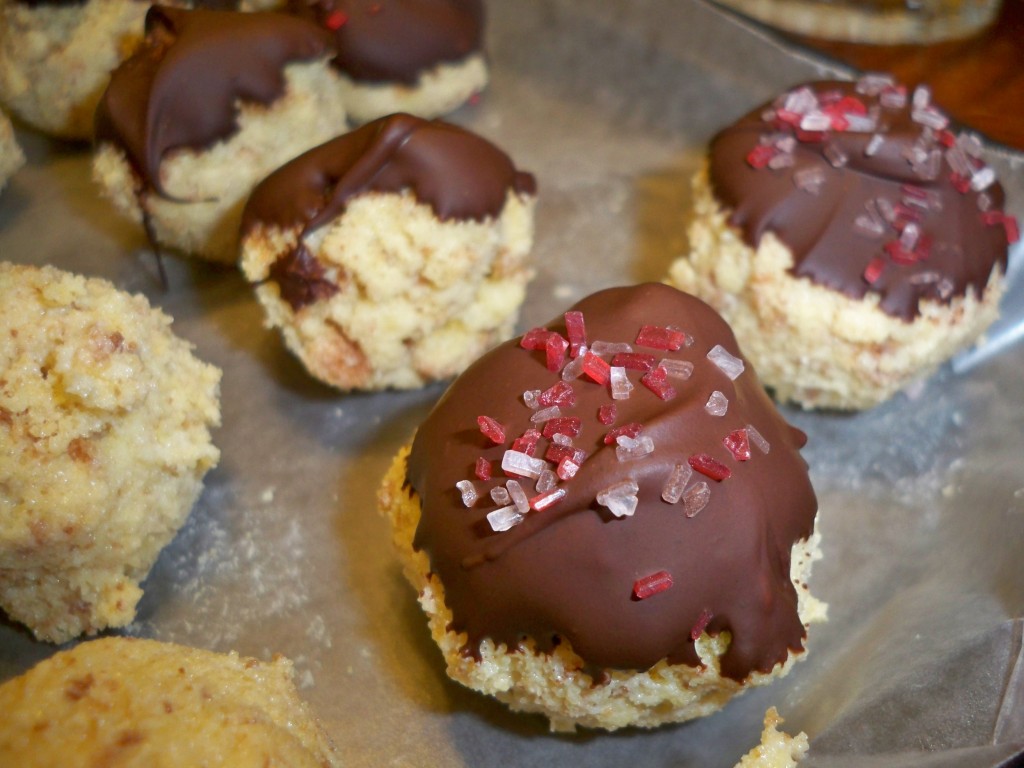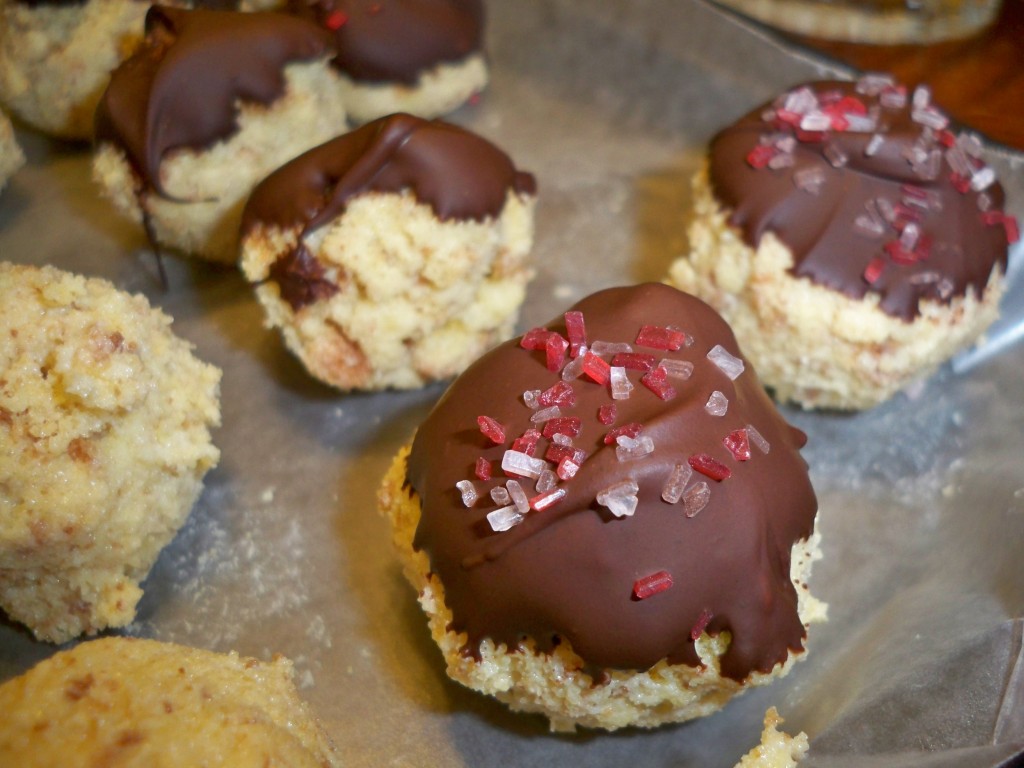 Here are some cake recipes that you could use in lieu of boxed cake mix:
White cake

2 3/4 cups all-purpose flour
1 tsp baking powder
1 cup (2 sticks) unsalted butter, softened
2 cups sugar
4 large eggs, at room temperature
1 cup buttermilk
1 teaspoon vanilla extract
Red Velvet cake
3 1/3 cups cake flour (not self-rising)
2 sticks unsalted butter, softened
2 1/4 cups sugar
2 eggs, 2 egg yolks, at room temperature
6 tablespoons red food coloring (I personally just used a whole container of red coloring)
3 tablespoons unsweetened cocoa
1 1/2 teaspoons vanilla extract
1 1/2 teaspoons salt
1 1/2 cups buttermilk
1 1/2 teaspoons apple cider vinegar
1 1/2 teaspoons baking soda
Strawberry cake – see Jennie's rose cake post!
Vanilla butter cream frosting
1 cup (2 sticks) unsalted butter, softened
6 to 8 cups confectioners' sugar (I used 4 cups, which was about 1 box. I was a little light on frosting though, so you could certainly add more sugar)
1/2 cup milk
2 teaspoons vanilla extract (make sure it's CLEAR vanilla extract)
Another vanilla butter cream frosting
1/2 cup solid vegetable shortening
1/2 cup (1 stick) butter or margarine softened
1 teaspoon clear vanilla extract
4 cups sifted confectioners' sugar (approximately 1 lb.)
2 tablespoons milk
Cream Cheese frosting
4 ounces unsalted butter, softened
4 ounces cream cheese, softened
2 cups powdered sugar
1 teaspoon vanilla extract
[addtoany]
Yum