This morning, Jennie and I arranged to meet at 9 AM for breakfast before she went off to work. Since we had approximately one million vegetables from her grocery shopping trip the day before, we decided a nice veggie-egg scramble would go perfectly with the leftover rosemary bread. We were right!
Here's a look at the gorgeous rosemary bread waiting to be devoured: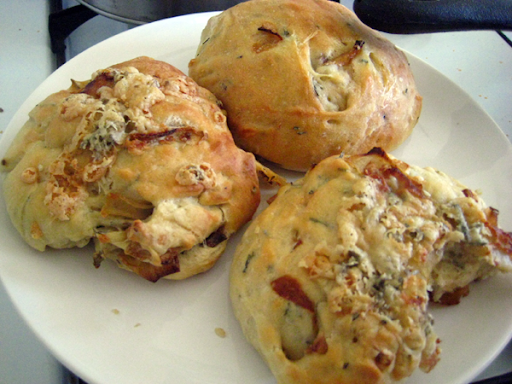 A close up look. Notice the crumbled baked on gorgonzola!!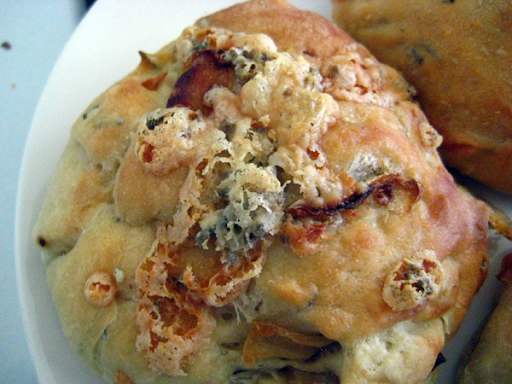 We chopped up some onion, red pepper, and cherry tomatoes to go in the egg scramble. Between the two of us we managed to purchase about 12 onions in the last week so we're using them every opportunity we get.
Here's the egg mixture all ready to start cooking in the skillet. We sauteed the onions first, then added everything else..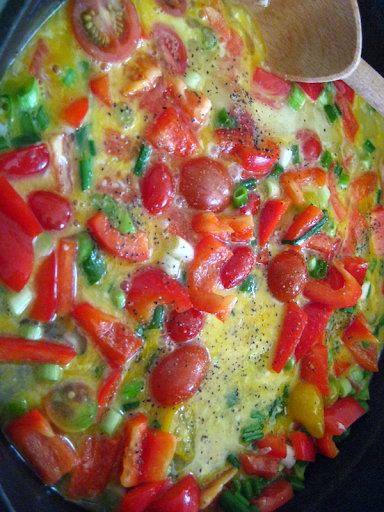 Take a closer look…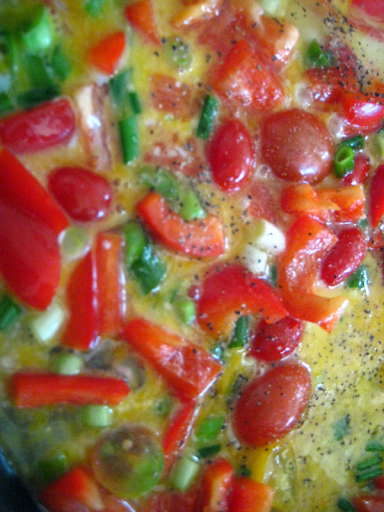 Early into the cooking process I smelled something burning. On the burner behind the cast iron full of egg/veggie scramble the bread was resting covered by a red kitchen towel. I plucked the towel off the stove, and sure enough, The edge that had been nearest the front burner was aflame. I announced "We've got fire." in an oddly calm tone, folded the flame so it was tucked inside the rest of the towel and dropped it on the tile floor for stomping. Voila, no more fire! I must say, I impressed even myself with my quick thinking and calm demeanor. 🙂 But enough about me, take a look at the poor kitchen towel's remains!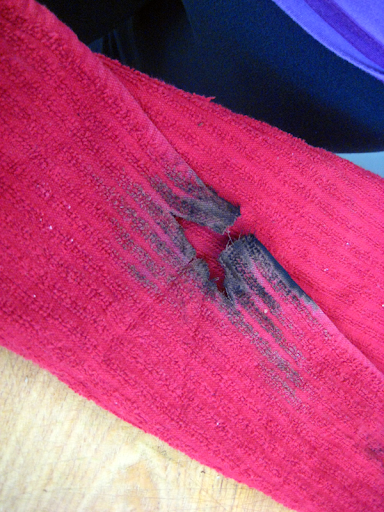 As Jennie describes it, it was a wee fire. Really a firelet, actually. Jeff didn't even wake up there was so little commotion.
So there you have it. We have learned once again that Sunday mornings are a magical time when delicious things are made. We have also learned that when we cook pre-coffee, we tend to set things aflame. A small price to pay, I think…
[addtoany]
Yum