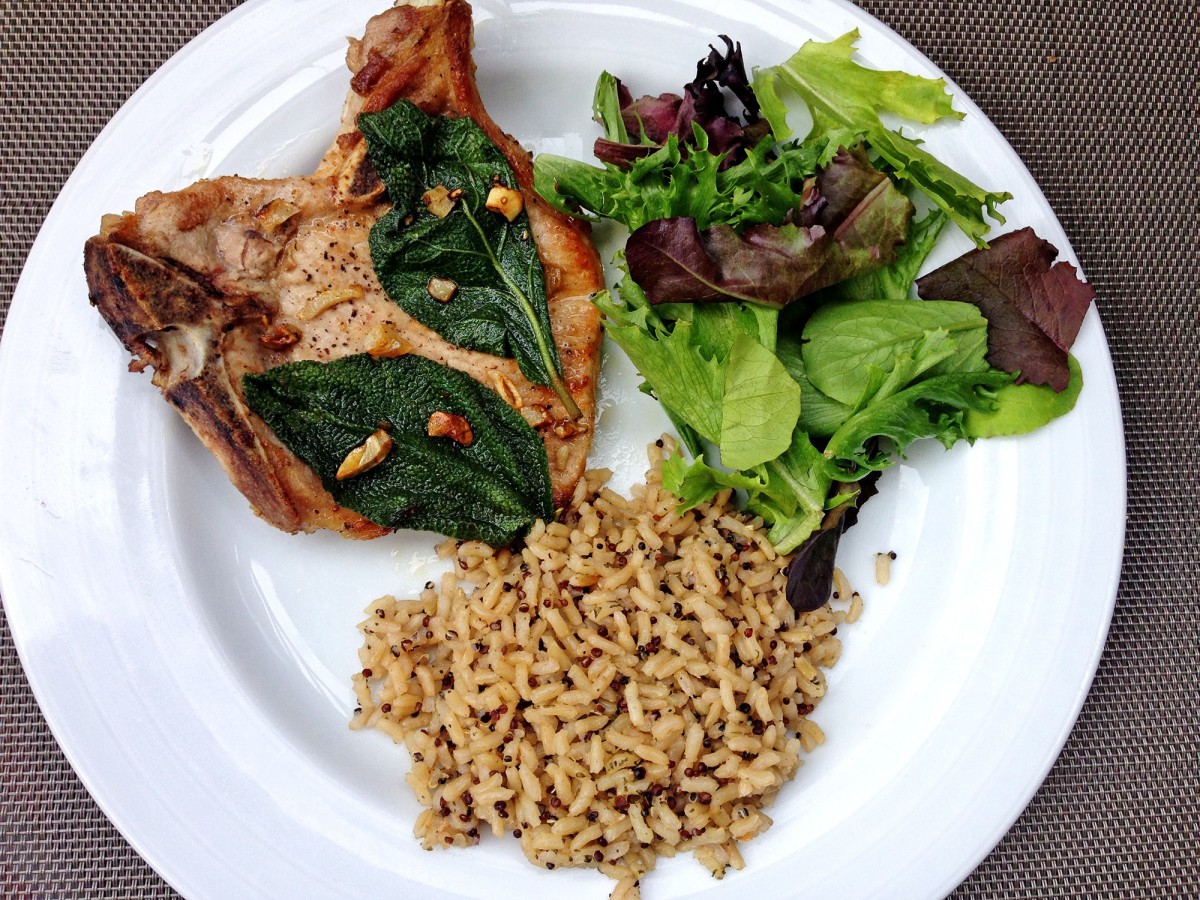 Hey chickens, Nikki here! It's summertime in the city, my friends, which means it's humid and it's light out until almost nine, which I love.
I admit though, I do not love putting a toddler to bed when the sun's still out.
I digress.
Anyway, in the summer in Chicago, the most important thing is to keep it easy.  There's so much to do and while eating is always high on my list of things I want to spend my time on, what I do not want to spend my time on is slaving over a hot stove, sweating more than necessary.
Enter these pork chops. Anyone who knows me or my little family knows that we love pork chops. My husband JW and I basically lived on them the first couple years after we moved into together, and one of Theo's first foods was actually a pork chop (yes, it was on the bone).
We like 'em any way you're making them, but we've got a smattering of herbs on our back porch, including the mighty sage and so I turned to this Bon Appetit recipe for inspiration. It's been adapted, ever so slightly, below.
Serve with a rice/quinoa/grain of your choice, and add a salad, because it's summer and it's easy.
Enjoy, chickadees!
Ingredients
Servings: 2 (but so very easy to double for friends)
1/2 tablespoon olive oil
2 bone-in pork chops (thick ones are delicious, but thin ones work too- just cook them quicker, and I imagine boneless would do in a pinch)
4 sprigs sage
1 garlic clove, diced
1 small knob unsalted butter (aka the random amount left from who knows what)
s/p
Directions
1. Heat oil in a large cast iron over medium-high heat. Season pork chops all over with salt and pepper. Cook pork chops until bottom side is golden brown, about 2 minutes. Turn and cook on other side about 2 minute before turning again. Repeat this process, turning about every minute, until chops are deep golden brown and they're cooked through (this is a little bit of a guessing game, but they'll have clear juices, and chickens, they will smell done. Trust yourselves here).
2. Turn off the burner and add sage, garlic, and butter, smashing garlic into butter. Without burning yourself terribly, tilt the pan and spoon the juices on top of the pork chops. Transfer them to a cutting board and let rest at least 5 minutes, if you can wait that long.
3. Plate it up, and spoon any remaining juices on top of the pan. Enjoy with grains and a big salad!
[addtoany]
Yum