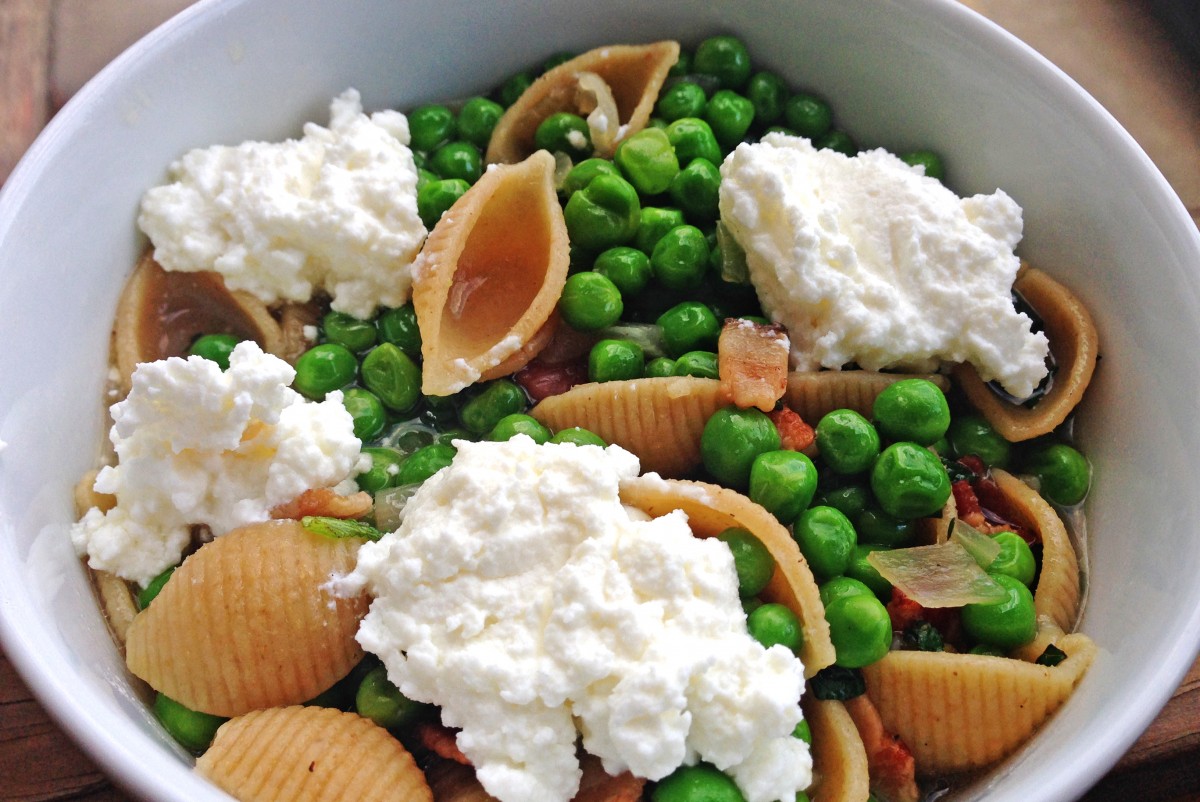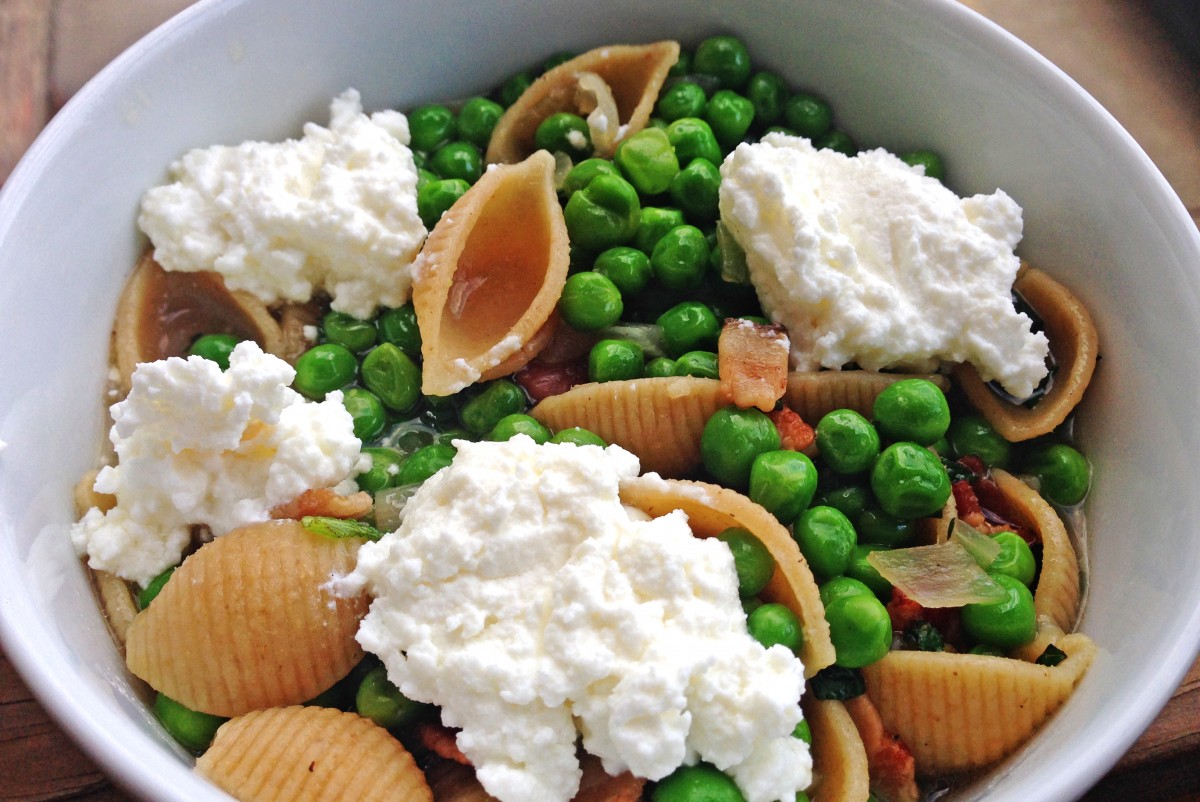 Confession time: I didn't so much make this recipe as supervise it from my kitchen counter while my husband JW did the dirty work.
I feel the need to share the truth with you on that matter. Moving along…
I was so excited to write this post, because we've moved onto spring-like recipes in Chicago, because it's spring here, finally.
And then yesterday, it snowed.
I can't even discuss it.
Until it finally warms up around here though, you've got this dish to keep you warm. Adjusted from Bon Appetit, it incorporates light spring flavors (think peas, mint, and ricotta) with what you need to satisfy you before grilling life takes over (warm pasta and BACON). If I did it again I'd pay attention to the pasta shape, but I could not find fregola for the life of me, so I used medium shells.
Medium shells have always been my jam.
Also, if I was you, I would either up the liquid, or cut it by half. I couldn't decide if this was a soup or a sauce, and there is no need to be confused at the dinner table.
Confusing or not, this was a delicious entry into springtime (and it was fun to watch Theo throw peas around the kitchen), and I hope you enjoy it (and that it's warmer in your neighborhood than mine)!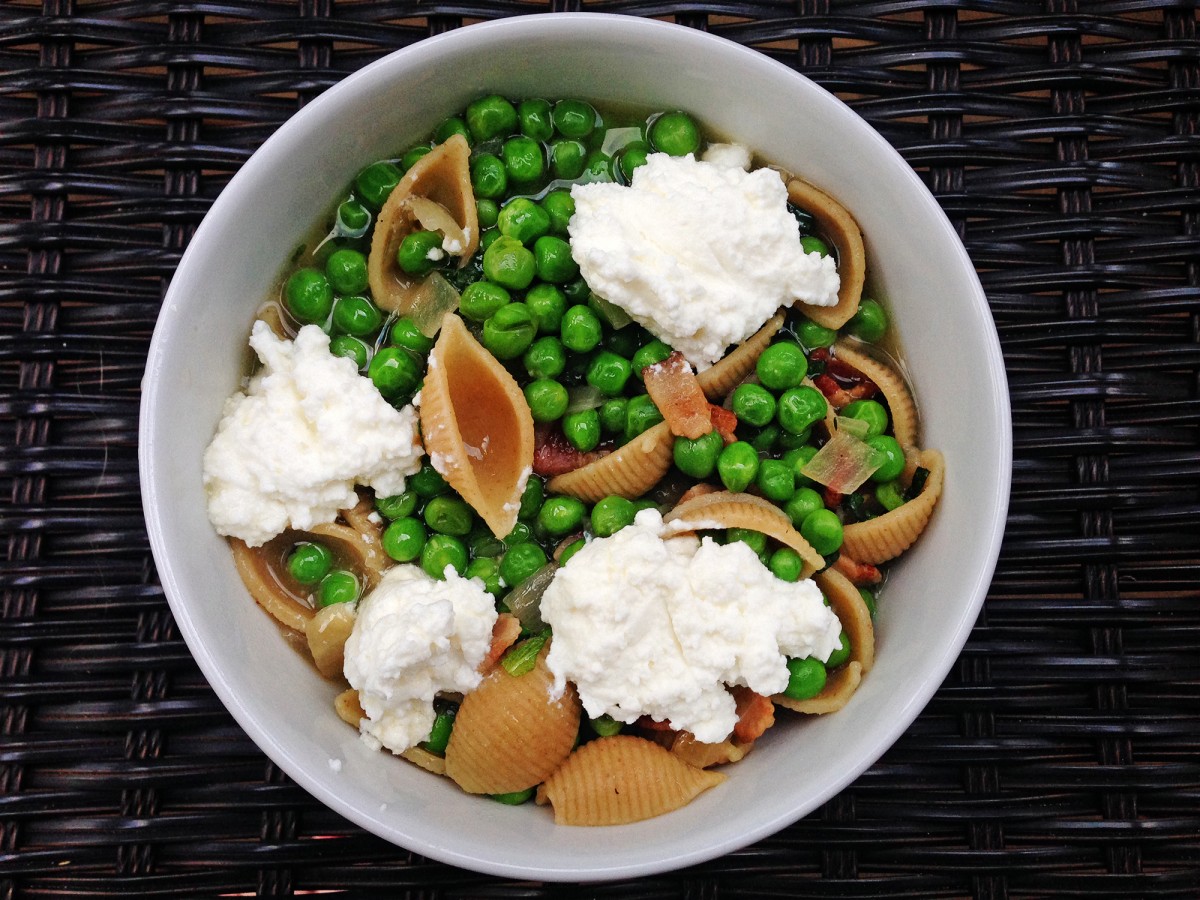 Servings: 4
Ingredients:
8 oz. medium shells
2 tablespoons olive oil
3 slices bacon, chopped
1 medium onion, chopped
1 cup dry white wine
2½ cups low-sodium chicken broth
1 cup frozen peas (we went a little nuts here and used like 3, I think anywhere from 1-2 cups would work)
2 tablespoons chopped fresh mint
4 ounces ricotta
s & p
Directions:
1. Cook pasta in boiling water until very al dente, 7 minutes. Drain pasta and set aside, for now.
2. Heat oil in a large skillet (cast iron is my favorite) over medium and cook bacon, until brown around the edges, about 5 minutes.  Note: You probably don't need the oil, since you're cooking fatty bacon. I'd omit this, next time. Add onion and cook, stirring occasionally, until bacon is crispy and the onion is cooked through, about 5 minutes.
3. Add wine, bring to a simmer, and cook until skillet is almost dry, about 5 minutes. Add broth and bring to a simmer. Add pasta and cook, until pasta is just al dente and broth is thickened, about 5 minutes. Note: Our broth never really thickened, so beware. We just poured a little bit out.
4. Season with salt and pepper to your heart's desire. Add peas and chopped mint and cook, stirring, until peas are warmed through, about 4 minutes.
5. Serve topped with ricotta dollops, which make the whole thing amazing. Enjoy!
[addtoany]
Yum