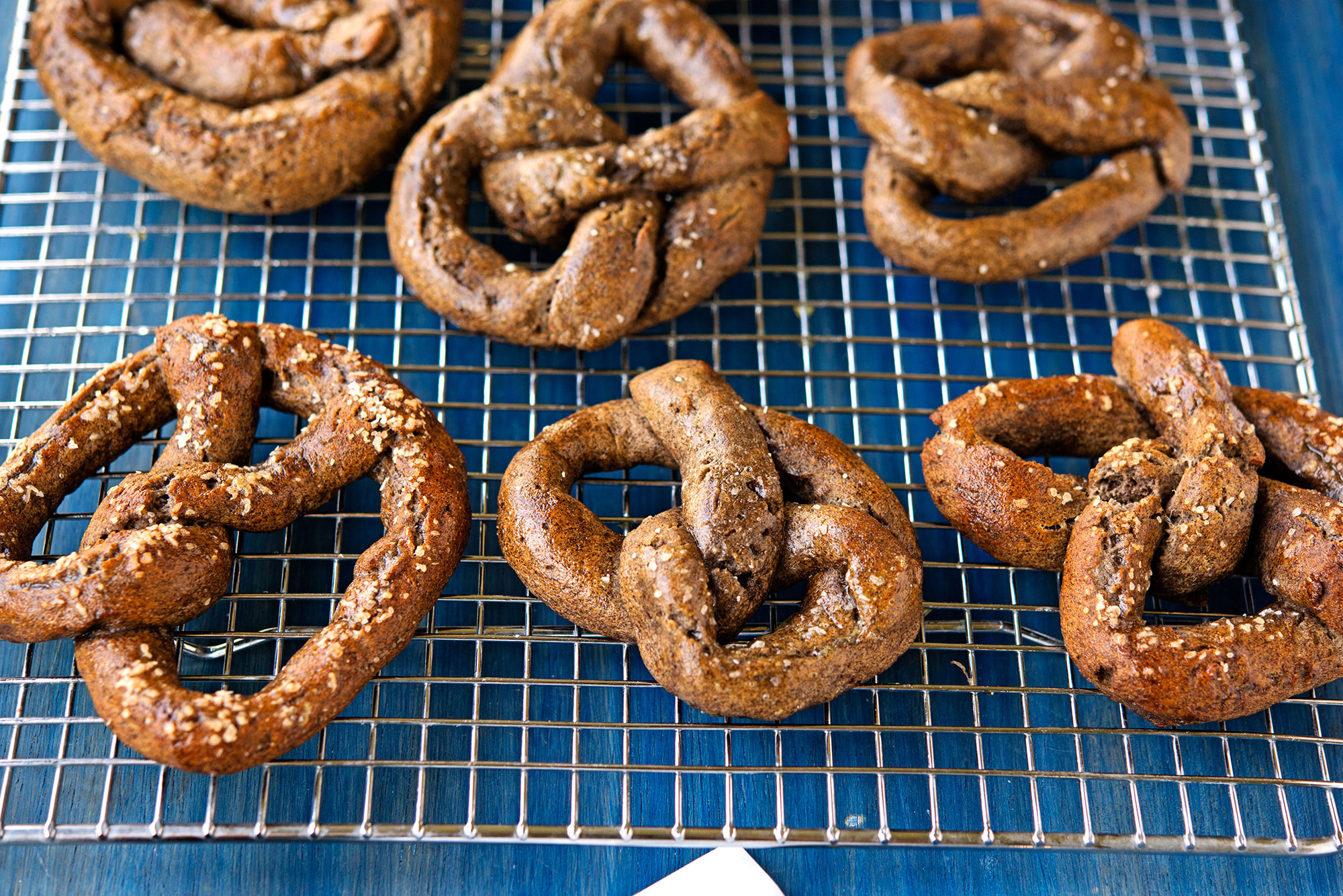 Type: Gluten Free, On The Side
Author: Jennie
Difficulty: Challenging
Prep Time: 40 minutes
Cook Time: 15 minutes
Servings: 4-6 (a couple pretzels each)
Ingredients
1 ½ cup warm water
1 tablespoon sugar
2 teaspoon kosher salt
2 3/4 cup KAF GF Bread & Pizza Mix
1 1/4 cup buckwheat flour
3 ounce melted butter (2 for dough, 1 for brushing)
2 tablespoon vegetable oil
6 cup water
1/4 cup baking soda
1 egg
Directions
Place warm water, sugar, kosher salt and yeast in a large mixing bowl.
Give it one quick stir and then let it sit until the yeast bubbles to life.
Add the King Arthur Flour and melted butter.
Attach dough hook (or use a fork) and mix until well combined.
Add remaining buckwheat flour and mix on medium speed for 3-4 minutes, or until the dough becomes smooth and pulls away from the sides of the bowl.
Rub the dough ball with oil, place a piece of plastic wrap over it (directly onto the dough not just across the top of the bowl) and let sit for about an hour, or until the dough has doubled in size.
Preheat the oven to 450 degrees. Line a sheet tray with parchment paper, brush lightly with oil and set aside.
Crack egg into a small bowl, mix with 2 tablespoons water and set aside as well.
Place the 6 cups of water and baking soda in a large stock pot over medium heat.
While you're waiting for the water to boil, turn out the dough onto a lightly oiled surface. Knead slightly and form a dough ball.
Pull off a roughly tennis-ball sized (maybe a smidge smaller) chunk of dough. Cover the rest with plastic wrap while you work. Roll small dough mound into a long rope.
To make the pretzel shape, begin to form a circle from the bottom, then cross at the top and fold the ends back to the bottom, center of the rope. It took us a while to get them even remotely pretzel shaped so don't be afraid to try, try again. Place finished pretzels on your oiled tray.
Using a flat metal strainer or spatula, lower the pretzels into the boiling water and allow to cook for approximately 30 seconds each.
Remove from water and place back on tray. When you've boiled your tray-full of pretzels, brush with your egg wash, sprinkle with salt and slide those suckers into the oven for 12-14 minutes.
Remove and drench with butter. Enjoy at your leisure. Or on the run from terrifying hybrid dinosaurs, as the case may be.
Yum