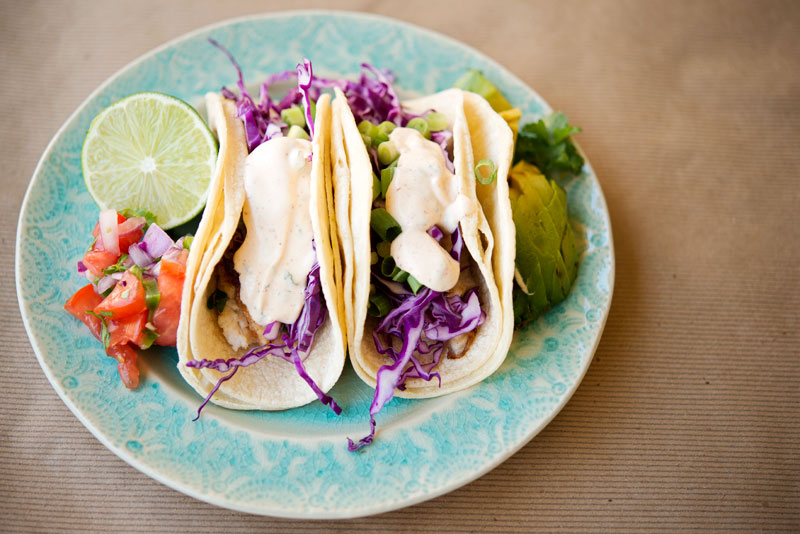 Prep Time: 15 minutes
Cook Time: 15 minutes
Servings: 4-6 tacos
Taco Ingredients:
1 lb white flaky fish
4 scallions, chopped
2 cloves garlic, finely chopped
3 tbsp grapeseed oil (can sub vegetable or canola oil)
juice of 2 limes
1 cup shredded red cabbage
corn tortillas
salt and pepper

Remoulade Ingredients:
½ cup mayonnaise
¼ cup sour cream
1 tsp chili powder
1 tbsp lime juice
1 tbsp chopped parsley
¼ tsp coriander
salt and pepper
Directions:
1. Cut fish into 3-4 inch strips and place in dish with lime juice, half of the chopped garlic, and salt and pepper for 5-10 minutes.
2. Combine remoulade ingredients while the fish marinates.
3. Heat the grapeseed oil and garlic over medium heat, fry fish for 5-6 minutes each side, then place on layer of paper towels to drain excess oil.
4. Warm corn tortillas for 1-2 minutes on a griddle or skillet over low heat.
5. On a double layer of tortillas, serve the fish with red cabbage, scallions, and remoulade sauce.
Yum