Lemon bars continue to impress me. They are so easy to put together, and every time I make them I'm just wowed by the ease of making them and yet how good they are. They make me never, ever want to make a cookie again because cookies are so damn annoying – you have to scoop them all out and pray they don't hit each other..not worth the trouble, if you ask me. But we're not here to talk about cookies, we're here to talk about these Raspberry Lemon Bars.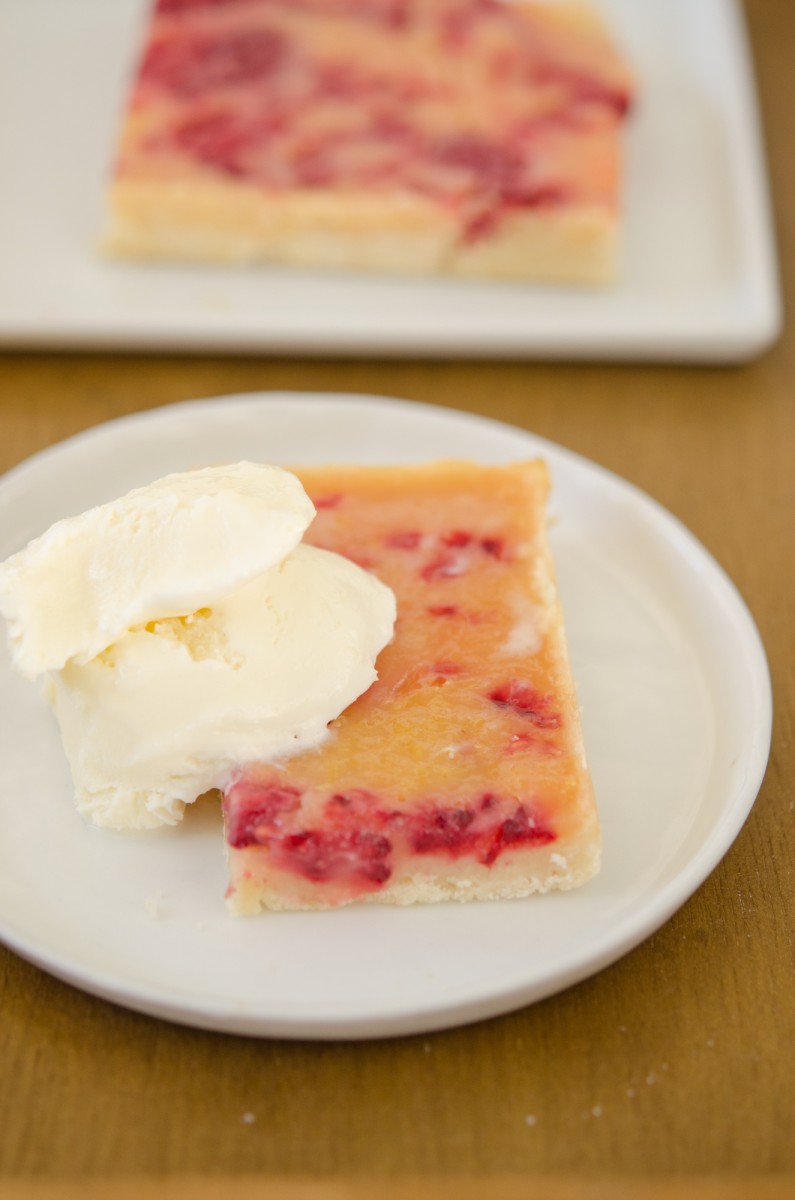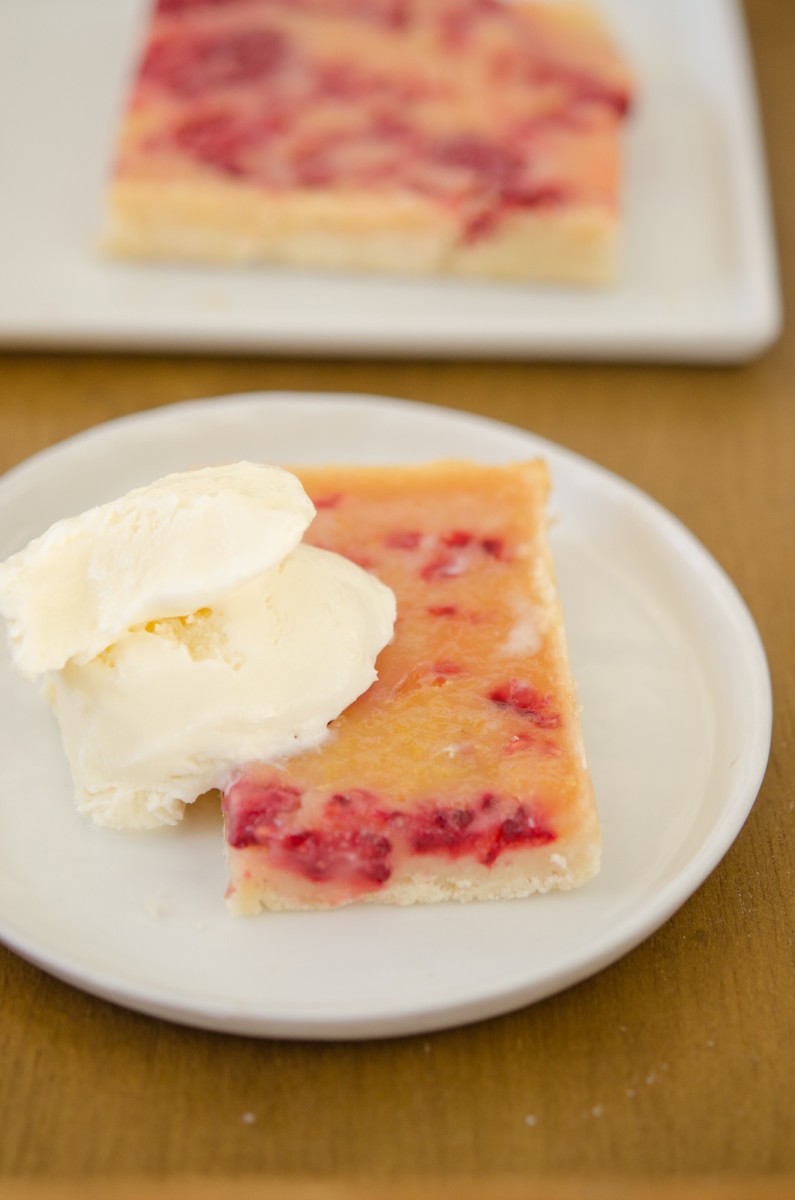 If you're ever hosting a dinner party and you want an easy dessert you can put together ahead of time, this is your dessert. Going to a dinner party and you've been tasked with making something? Again, these are your game, baby. The best part is that it's easy to add in a second fruit and the flavor just gets better. Seriously. The first time I made lemon bars, I made them half lemon and half blood orange, and I didn't think I could top that. I was wrong, you guys. These raspberry lemon bars are perfect.
You should make these this weekend or the first chance you get. We served ours with ice cream to cut the tartness of the lemon and it was the perfect combo. These are light enough to be served with a heavier meal (like we did) but substantial enough that you don't feel like you're being duped (hello, I know that fruit salad dessert is just fruit in a bowl. You're not fooling anyone.)
I can't wait to try these with blueberries and blackberries. I am basically treating lemon bars like cobbler – the options are endless!
Happy baking, kiddos.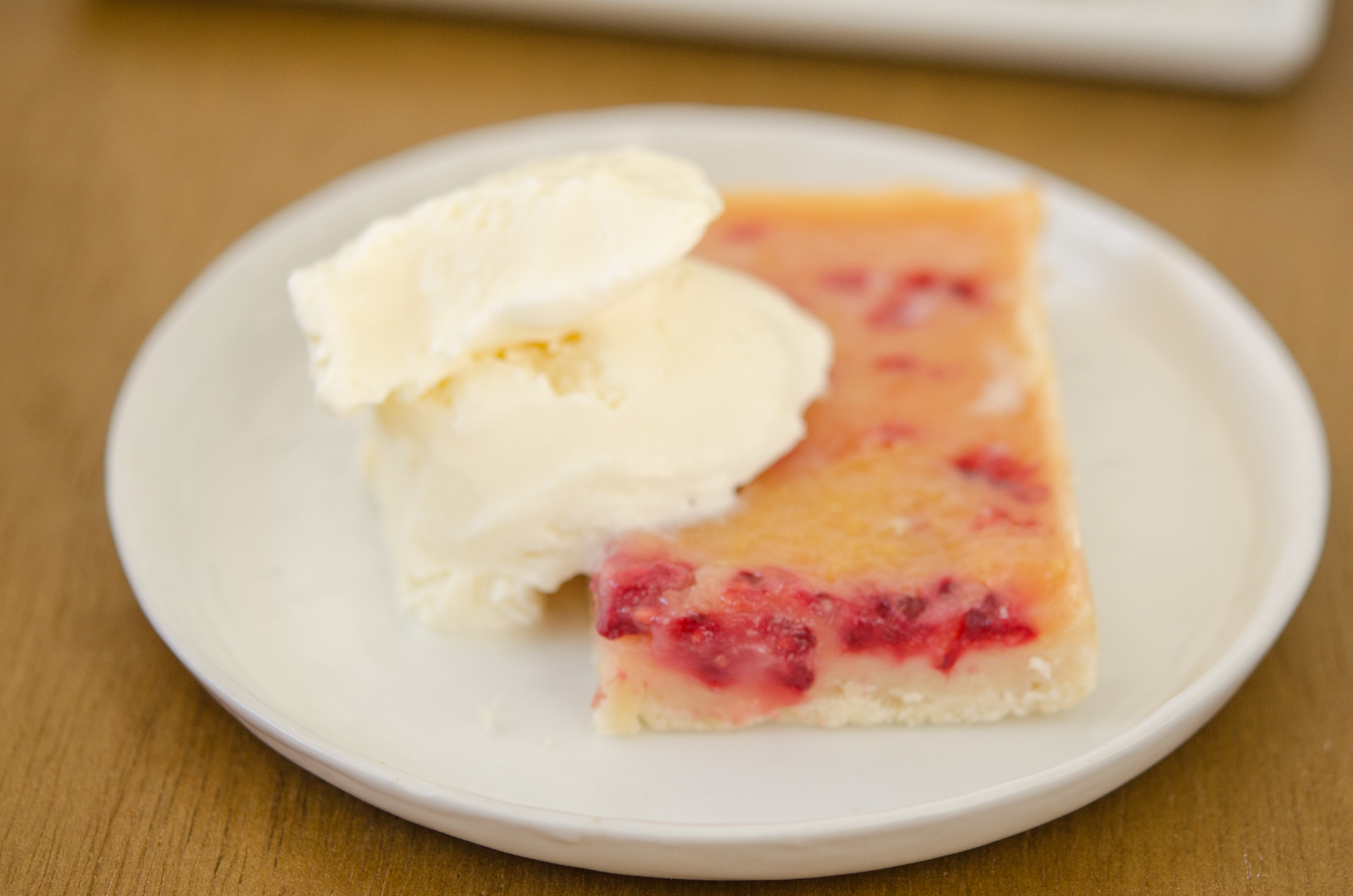 Type: Baking, Dessert, Treats
Author: Jennie
Oven Temperature: 350°
Difficulty: Intermediate
Prep Time: 15 minutes
Cook Time: 30 minutes
Inactive Time: 1 hour
Servings: 9
Ingredients
1/2 cup butter, at room temperature
1/2 cup granulated sugar
1 cup all-purpose flour
1/4 teaspoon salt
2 eggs, at room temperature
3/4 cup granulated sugar
1 lemon, zested and juiced
3 tablespoon all-purpose flour
1/2 cup raspberries
vanilla ice cream, for serving
Directions
Preheat oven to 350 degrees F. Grease a 8×8-inch baking pan, line with parchment paper (so that it over hangs slightly from the pan) and grease the parchment paper. Set aside.

To make the crust, in the bowl of a stand mixer fitted with a paddle attachment cream together butter and sugar until light and fluffy, 3 to 5 minutes. Stop the mixer and scrape down the sides of the bowl. Add flour and salt. Beat on low speed until dough is incorporated. Dough may come together, but if it remains shaggy, that's fine too.

Dump the crust into the prepared pan and use your fingertips to press the dough into the bottom of the pan. Bake for 15 to 18 minutes until just browned around the edges.

You can make the filling while the crust is baking! In a medium bowl, whisk together eggs and sugar until well combined and slightly thick. Add the flour, lemon juice, and zest and whisk until blended. Then, add your raspberries and mix once or twice, breaking some but not all the raspberries.

Pour the filling over the still warm baked crust. Return to the oven and bake for 18 to 20 minutes, or until lightly browned on top and no longer jiggling in the center.

Allow to cool completely in the pan. Run a knife around the edges of the pan. Slice lemon bars into nine squares. Use the over hanging parchment paper to lift the squares out. To store the lemon bars, place them in an airtight container separated by wax paper layers.
[addtoany]
Yum