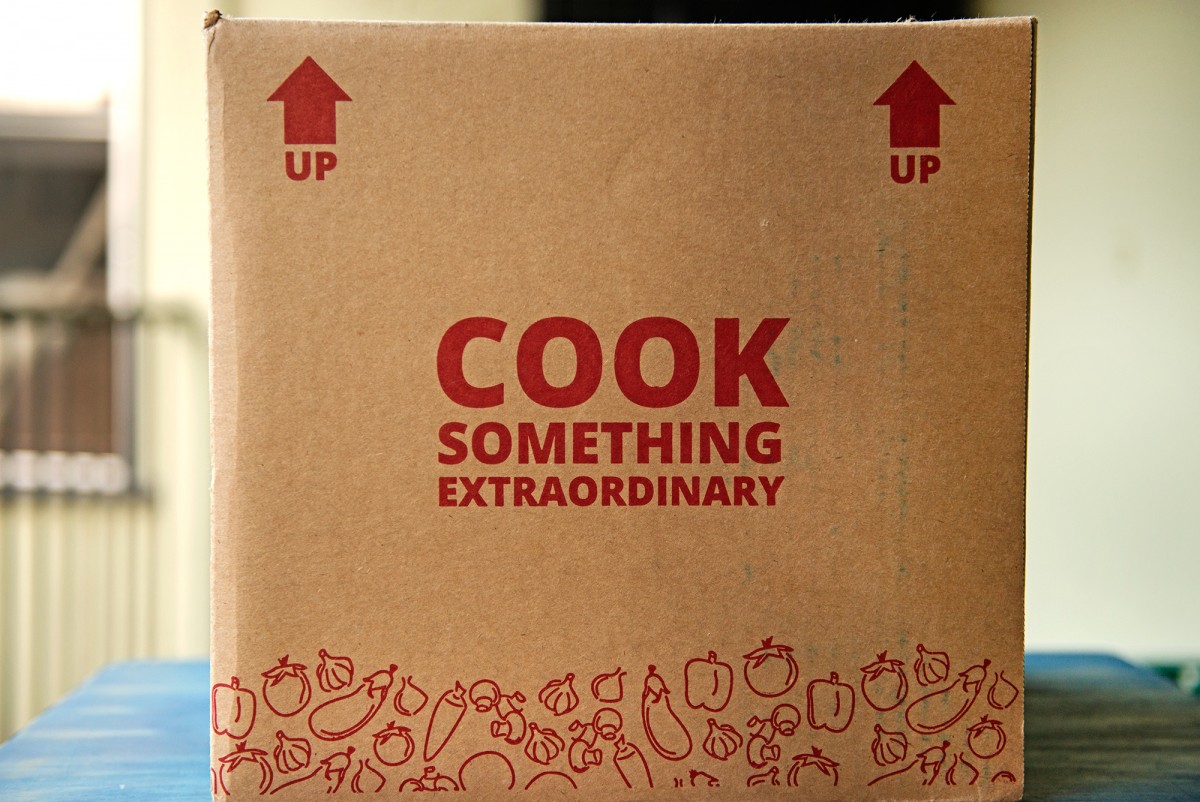 Recently, Jeff and I got a Plated delivery to try something new (and because we had a deal!) Overall, I think the experience taught me that people surprise you, recipes surprise you, but that I like the way I cook all the same.
The premise, for those of you who haven't tried it, is this: you pay a certain amount to get the items needed to cook a meal delivered to your house. The general idea is that you get enough to make however many plates you specify, and then cook the meal according to their recipe and specifications. We tried two meals out for a couple nights.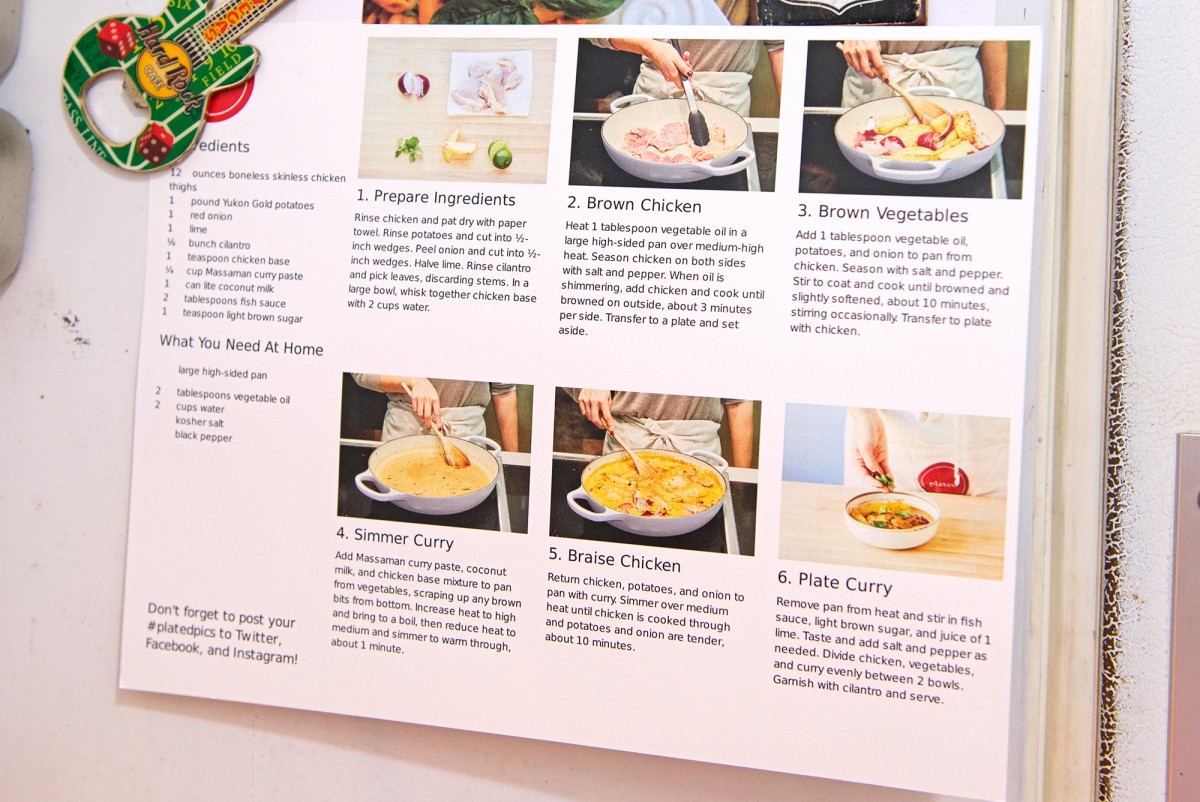 Meal 1: Braised Massaman Chicken
We learned how to make a new dish here. Curry is something I shy away from because I don't do spicy well. In addition, the recipe had coconut cream in it and fish sauce, which I don't tend to use because they're not ingredients Jeff likes. But he loved it, and I loved it (and it wasn't spicy!) and I learned that if things enhance a dish but aren't overpowering, we can add things that I previously thought were off the table. However, the meal just missed the mark – we had ton of sauce left, nothing to put it on, and the chicken we used was chicken thighs, which were a little fatty.
Jeff's take on that first meal:
The chicken was delicious however I did find it to be a bit fatty. The potatoes were cooked well but didn't absorb the sauce enough. I found myself trying to soak up more of the sauce with the potatoes. I almost wanted a piece of bread or something to soak up the curry sauce. Which brings me to my favorite part, the sauce was exceptional. I enjoyed it a lot, I wish I had more options for food so I could dip it in the sauce, like a rice or quinoa. Overall a very positive experience, it was delicious and hit the spot, might have been just enough for a meal but I still had a snack later.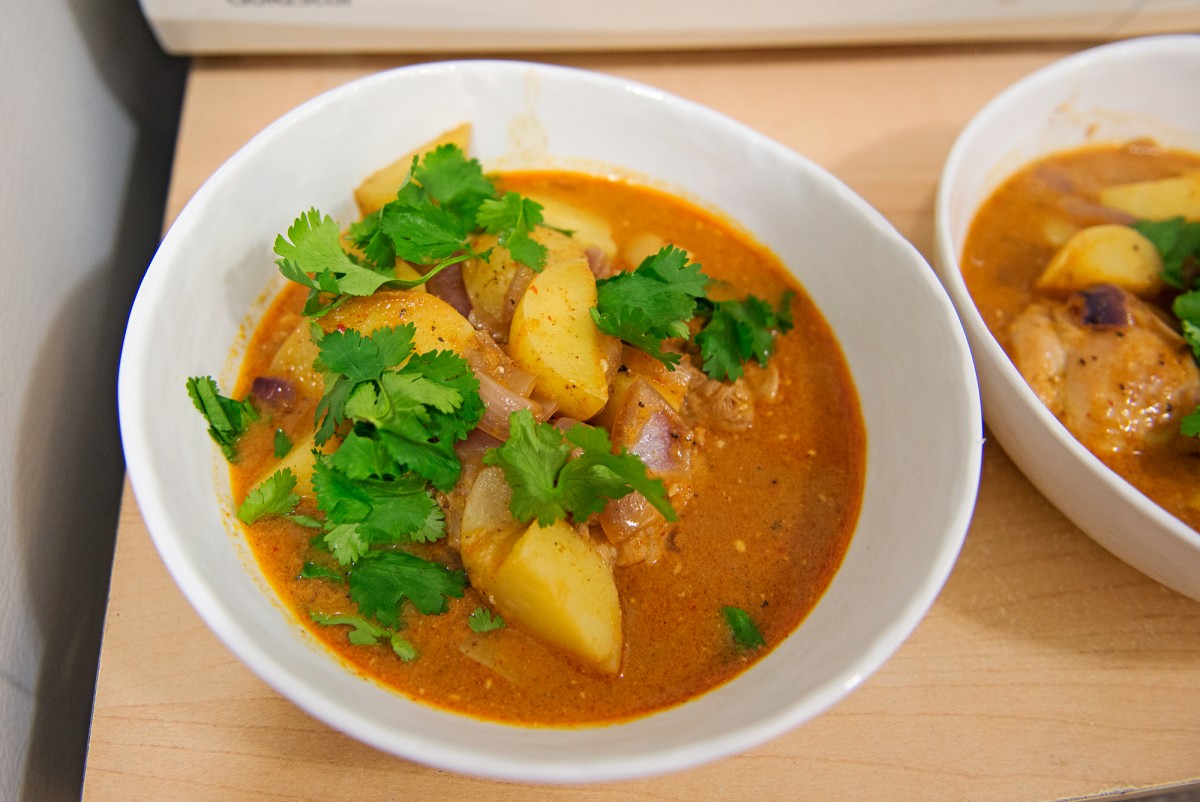 Meal 2:  Creamy Garlic Spaghetti Squash
This was a meal we both loved. We make spaghetti squash a lot, but adding kale to it was exciting because I love kale and want to put it in everything – and Jeff, like most normal people, doesn't cozy up to kale quite as much as I do. But blending it in here was like an "ah-ha!" moment for me, another lesson in hiding marrying flavors in order to make them more palatable. We didn't get photos of this because we ate it so quickly, and because this dish was a little light (in fullness, not in calories!) we added chicken sausage to it.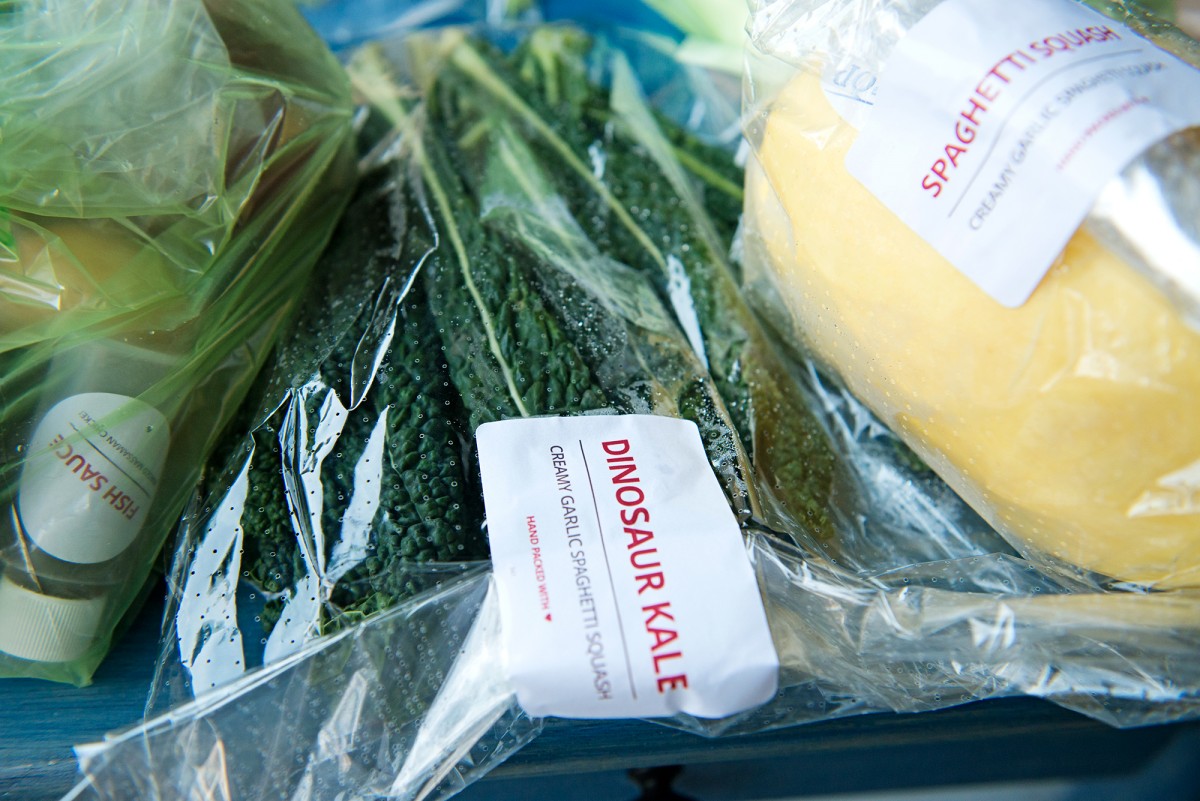 Overall impressions: Here are a couple of my thoughts about Plated.
1) Time: I liked the idea of trying new dishes, but both recipes took about 15 minutes longer than they stated, and I cook almost every night. If you are a novice or simply don't spend a lot of your time cooking, I could see these dishes being overwhelming. In addition, I found a few mistakes in the recipes, places that ingredients were never added, etc. That can especially turn people off to cooking who don't have the experience to know when items should be added and can fill in the blanks.
2) Waste: These dishes have everything perfectly portioned out, which was great for trying new things (curry paste, fish sauce) or having small amounts of things you don't think you'd use all of (like buying a whole thing of heavy cream for a few tablespoons). But each of those pre-portioned items comes in a tiny plastic container, which while recyclable still seems wasteful for everyday use. However, Plated is working on this.
3) Cost: Honestly, the cost of Plated for someone who cooks a lot is just not worth it. If you want to learn how to make a specific dish, then I would say maybe try it through Plated and then attempt on your own. But otherwise, the cost is comparable to what you'd pay for a restaurant meal – and we had to supplement both of ours with food from home. For that cost, I think I'd rather not cook.
4) Convenience: For us, despite our best efforts, we got busy and almost missed our opportunity to make the second meal. Now, some of that is a pro because it might force people to make time to cook (which I fully endorse!) but it also caused undue stress about figuring out how to fit in another meal in our pretty busy schedule.
5) Food Sourcing: This is a big plus for Plated. More info here but I think that their sourcing is valuable and appreciated given my views on locality and seasonality. I think that as more of these services exist, the kinks will be worked out and it'll educate people about our food system – and that's something I am very in to.
I am glad we tried this service, and hope I have the opportunity to try the other ones out there, but I just don't think it'd be practical to use on a regular basis. I think that it's great for people to learn about cooking, about new types of food, and about how to pair foods together, but I don't know if it's for our family.
What do you think, have you ever used a meal delivery service? Did you like it?
[addtoany]
Yum