I have a confession. I love Jamie Oliver. Moving to the UK has only amplified this love. He is my go-to for everything I could possibly want to make. On Jamie's 15-Minute Meals a few weeks ago, Jamie prepared an amazing lamb kebab coated in crushed pistachios and honey. I immediately decided that this would also work with falafel and be delicious. I was right! It took me a little bit longer than 15 minutes to make, but I was close Jamie, very close! Feel free to get creative with the seasoning and fresh herbs in this recipe. My choices were different from Jamie's, so use any of the spices you love. Here is my version of Pistachio and Honey Falafel Wraps.
Prep time: 20 minutes
Cook time: 10 minutes
Yields: 6-8 servings
Ingredients:
2 400g cans of chickpeas
4 garlic cloves
1 red onion
4 tablespoons flour
4 tablespoons olive oil
2 tablespoons fresh thyme leaves
2 tablespoons fresh parsley leaves
1 tablespoon curry powder
½ tablespoon cayenne pepper
2 lemons (for zesting and juicing)
Sea salt
Pepper
2 large handfuls of shelled pistachio nuts
2 tablespoons honey
1 bag mixed salad
4 tomatoes
2 tablespoons fresh mint leaves
6 pita breads
1 cup plain Greek yogurt
Directions:
Rinse and drain the chickpeas. If you have a food processor, throw them in there and chop until they are still slightly chunky. Alternatively, mash with a fork or potato masher for the same slightly chunky effect.
Chop the garlic, red onion, thyme, and parsley. Zest one lemon. Combine with the mashed chickpeas. Season with curry, cayenne pepper, salt, black pepper, and lemon juice from the zested lemon.
Heat oil in a medium frying pan. Form small balls or patties of the chickpea mixture and fry on low heat. Don't worry if they fall apart, they will still taste great! For a healthier option, you can also bake the falafel in the oven until brown.
While the falafel is frying, unshell the pistachios (or get your sous chef to do it for you, thank you C!) and crush them with a mortar and pestle if you have one. Otherwise putting the nuts in a bag and hitting them with the end of a fork works too!
Add the honey and crushed nuts to the frying pan when your falafel is browned all over. Cook for about 2 minutes more to heat the nuts and absorb the honey.
Chop your salad and mint leaves. Combine, leaving some mint for the yogurt. Coat the salad with a little bit of olive oil and the juice of half a lemon. Chop the tomatoes and add to your salad.
Add the juice of the remaining half a lemon to the cup of Greek yogurt. Add a small handful of chopped mint leaves and stir to combine.
Warm pita breads in the oven for a few minutes.
Assemble wraps with salad, falafel, and yogurt.
 Enjoy!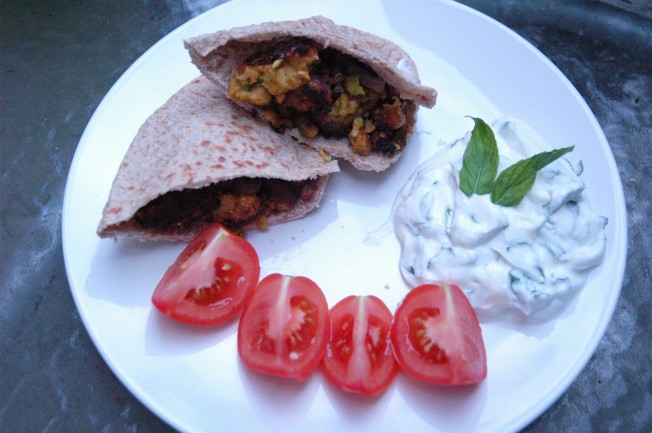 What seasonings would you add or exchange in this dish?
Yum